The second phase of artists playing Lightning in a Bottle 2018 has been released and there are tons of acts to catch!
---
Having already released a massive phase 1 music lineup that was epic in all the right ways, the DoLaB stunned us today with the release of more artists who will be playing Lightning in a Bottle 2018. The second phase highlights artists playing the Grand Artique, the Favela, the Pagoda, and the Compass, all of which are immersive music areas to explore over the weekend.
We were stoked to see the return of Grand Artique to LiB this year, bringing in tow the Lightning Orchestra that will give the festival some truly unique sounds. Of course, you also cannot ignore the inclusion of Con Brio, The Herbert Bail Orchestra, and Too Many Zoos. Don't sleep on Treavor Moontribe and Pink Mammoth founder Zach Walker, as both will be playing some epic sets at the fest.
Joining the roster of talent will be some fan favorites here at EDM Identity, as Fransis Derelle, Kraddy, Pigeon Hole, and Goldrush were announced today. Viken Arman and Be Svendsen are two additions to the lineup that will also keep you dancing throughout their entire set.
Check out the full second phase of the Lightning in a Bottle 2018 below and let us know who you're most excited to see in the comments!
Tickets for Lightning in a Bottle 2018 are available now via Eventbrite!
---
Lightning in a Bottle 2018 Phase 2 Lineup: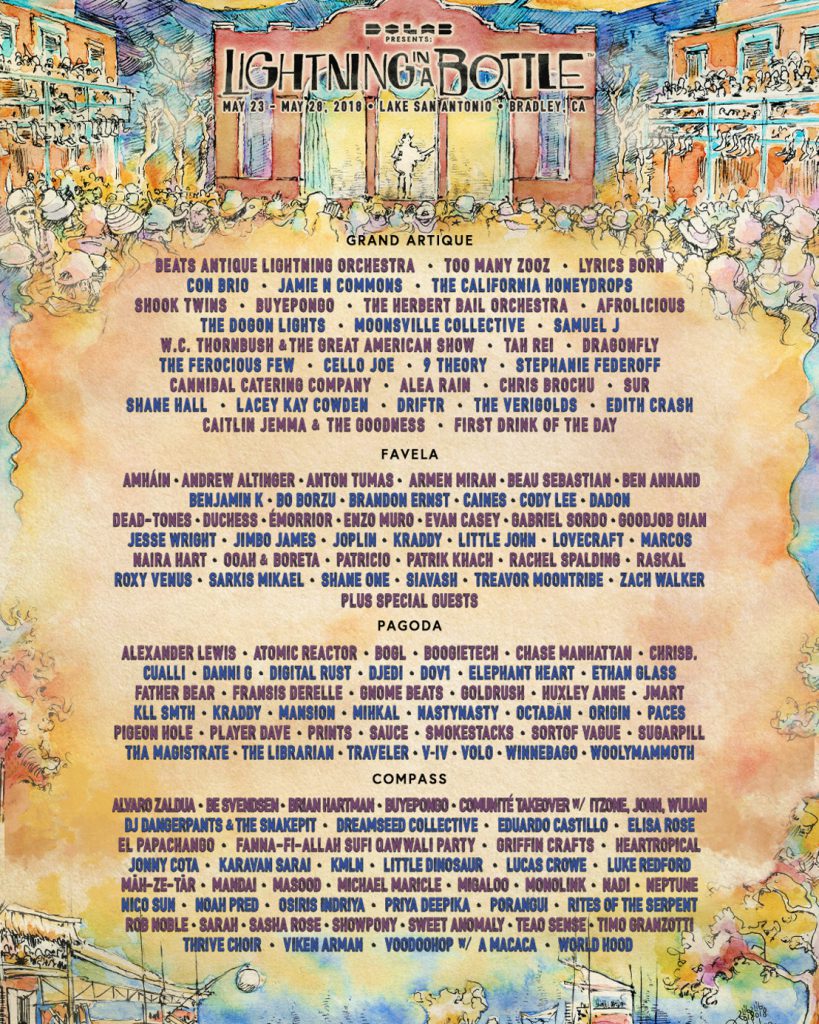 ---
Lightning in a Bottle 2018 Phase 2 Lineup by Artist:
Lightning: 
Beats Antique Lightning Orchestra
Too Many Zooz
Lyrics Born
Con Brio
Jamie N Commons
The California Honeydrops
Shook Twins
BUYEPONGO
The Herbert Bail Orchestra
Afrolicious
The Dogon Lights
The Moonsville Collective
Samual J
W.C. Thornbush and The Great American Show
Tah Rei
Dragonfly
The Ferocious Few
Cello Joe
9 Theory
Stephanie Federoff
Canibal Catering Company
Alea Rain
Chris Brochu
Sur
Shane Hall
Lacey Kay Cowden
Driftr
The Verigolds
Edith Crash
Caitlin Jemma & The Goodness
First Drink Of The Day
Favela:
Amhain
Andrew Altinger
Anton Tumas
Armen Miran
Beau Sebastian
Ben Annand
Benjamin K
Bo Borzu
Brandon Ernst
Caines
Cody Lee
Dadon
Dead-Tones
Duchess
Emorrior
Enzo Muro
Evan Casey
Gabriel Sordo
Goodjob Gian
Jesse Wright
Jimbo James
Joplin
Kraddy
Little John
Lovecraft
Marcos
Naira Hart
Ooah & Boreta
Patricio
Patrick Khach
Rachel Spalding
Raskal
Roxy Venus
Circus Mikael
Shane One
Siavash
Treavor Moontribe
Zach Walker
+Special Guests
Pagoda: 
Alexander Lewis
Atomic Reactor
Bogl
Boogietech
Chase Manhattan
ChrisB.
Cualli
Danni G
Digital Rust
DJEDI
Dov1
Elephant Heart
Ethan Glass
Father Bear
Fransis Derelle
Gnome Beats
Goldrush
Huxley Anne
JMART
KLL SMTH
Kraddy
Mansion
Mihkal
NastyNasty
Octaban
Origin
Paces
Pigeon Hole
Player Dave
Prints
Sauce
Smokestacks
Sortof Vague
Sugarpill
Tha Magistrate
The Librarian
Traveler
V-IV
Volo
Winnebago
Wooly Mammoth
Compass:
Alvaro Zaldua
Be Svendsen
Brian Hartman
BUYEPONGO
Comunite Takeover w/ Itzone, Jonn, Wuuan
DJ Dangerpants & The Snakepit
Dreamseed Collective
Eduardo Castillo
Elisa Rose
El Papachongo
Fanna-Fi-Allah Sufi Qawwali Party
Griffin Crafts
Heartropical
Jonny Cota
Karavan Sarai
KMLN
Little Dinosaur
Lucas Crowe
Luke Redford
Mah-Te-Zar
Mandai
Masood
Michael Maricle
Migaloo
Monolink
Nadi
Neptune
Nico Sun
Noah Pred
Osiris Indriya
Priya Deepika
Porangui
Rites of the Serpent
Rob Noble
Sarah
Sasha Rose
Showpony
Sweet Anomaly
Teao Sense
Timo Granzotti
Thrive Choir
Viken Arman
Voodoo Hop w/ A Macaca
World Hood
---
Connect With Lightning In A Bottle On Social Media: