The legendary Markus Schulz took to the decks once again for a New Year's Eve Open to Close set at Avalon Hollywood, but this time he had some tricks up his sleeve.
---
It was time to lock myself into a black box for an Open to Close set and Markus Schulz held the keys, but it was I who had to turn the key to metaphorically let myself out. Tonight was going to be a night of introspection and a journey not unlike The Nine Skies had taken me on just weeks ago.
Originally, I had two friends who were going to join me but due to certain circumstances, I ended up being by myself for the night. The only thing I could rely on to get through this journey was myself, the dance floor, and the music. I arrived around 9:30 PM to virtually no line, getting into Avalon Hollywood with the plan to conserve my energy and my phone battery and to listen to some of the best from the boss of Coldharbour Recordings.
I made my way upstairs after I quickly picked up a bottle of water and a vodka with Red Bull to help start off the night. While there are VIP tables upstairs, there are also seats for anyone to use. This area would be my post for the first half of the night to make sure I would make it through the Open to Close set.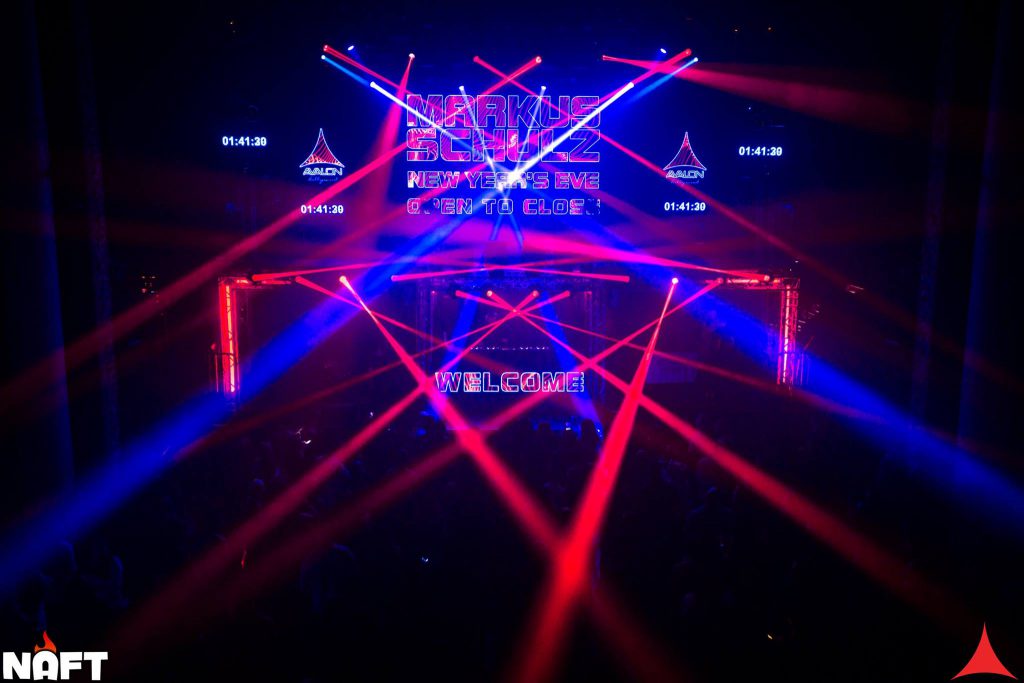 In large letters on the LED screen in front of Markus Schulz were the words "WELCOME" and he was already grooving with some great warm-up tunes.
For those that are familiar, it was similar to sounds that you'll find on his "In Bloom" sets that are part of his four season series on Global DJ Broadcast. It was dark inside with only flashes of the light from the stage, and on the screen was a countdown showing how many hours we had left in 2017 together.
Less than three hours remained in 2017, and things started to pick up around 11:00 PM transitioning from melodic uplifting to building up toward his main stage sound. The New Year's Eve event didn't sell out like it did the previous year, but it was still packed on the dance floor, especially during the peak hours. After that, the crowd thinned out more and more each hour with only the strongest surviving until the end.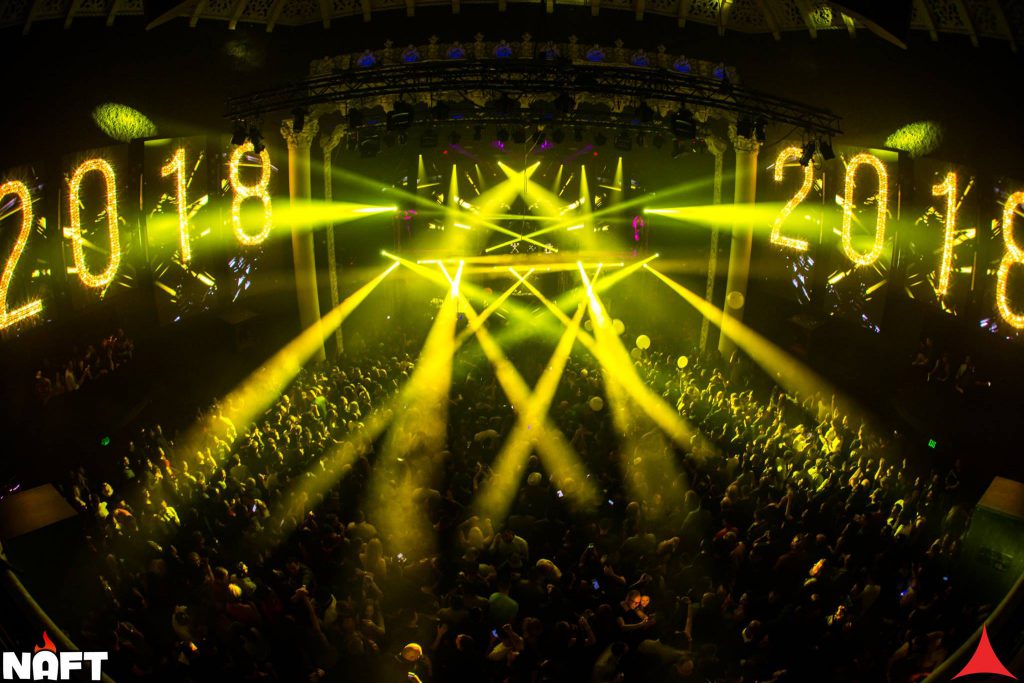 As I looked around the room during the last few minutes of 2017, it was poetic to see people around me taking selfies with each other, while I felt more connected with the DJ taking me through the journey of the night.
The clock counted down to the final minute of 2017 and the crowd counted down together. At the stroke of midnight, the room erupted in applause and people were hugging along with everyone wishing each other a Happy New Year! Fireworks exploded across the screen as Markus Schulz spent the next 20 minutes going through some of his best hits.
Shortly after midnight, Adina Butar made her way to the stage to sing several tracks. Her last track was "Destiny", the track with Markus Schulz that remains one of my favorites of theirs. Seconds after the song began, the Unicorn Slayer himself made his way in front of the DJ booth as the words "will you marry me?" flashed on the screen. I, along with many others, rose from our seats to cheer and congratulate the newly engaged couple as tears ran down our faces.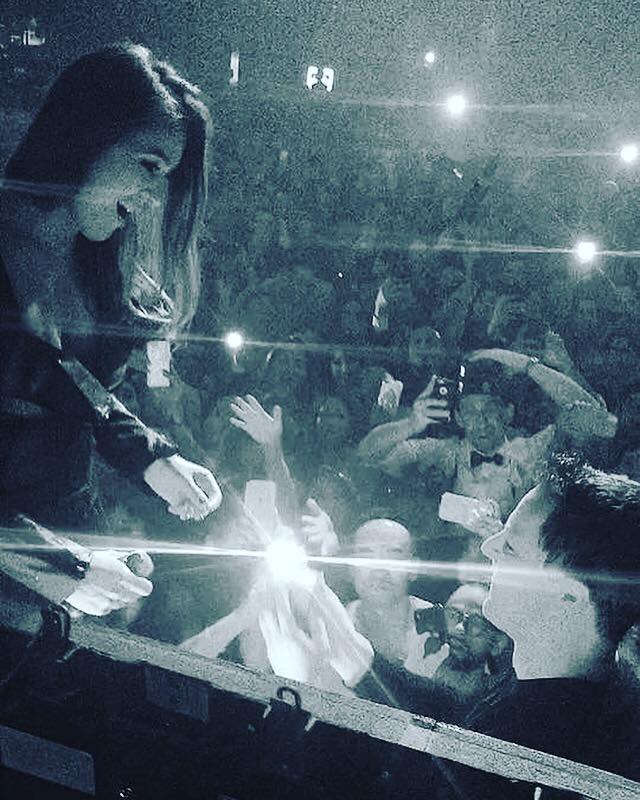 While many were celebrating love and togetherness, I felt isolated being alone at the event.
This was especially evident when Markus Schulz had been playing love songs for hours celebrating his engagement. It allowed for some introspection into my own life that I hadn't planned on exploring that night. By this point, nearly six hours in I had processed more therapeutic moments than any psychologist could accomplish in the same amount of time.
By 3:00 AM, I had contemplated leaving for the night. However, I looked around at the room and thought that I didn't want to be outlasted by some of the veteran clientele of Avalon Hollywood. After a quick restroom break to freshen up, I made my way down to the dance floor and found some of the Schulz Army members who took me in like family. They were the ones who changed my night from a feeling of isolation to warm and welcoming.
It was also perfectly timed to the beginning of Markus Schulz playing his rabbit hole set. If you've not experienced this part of his sets, it perfectly blends techno, progressive, and trance to bring you to a state of trance for hours at a time.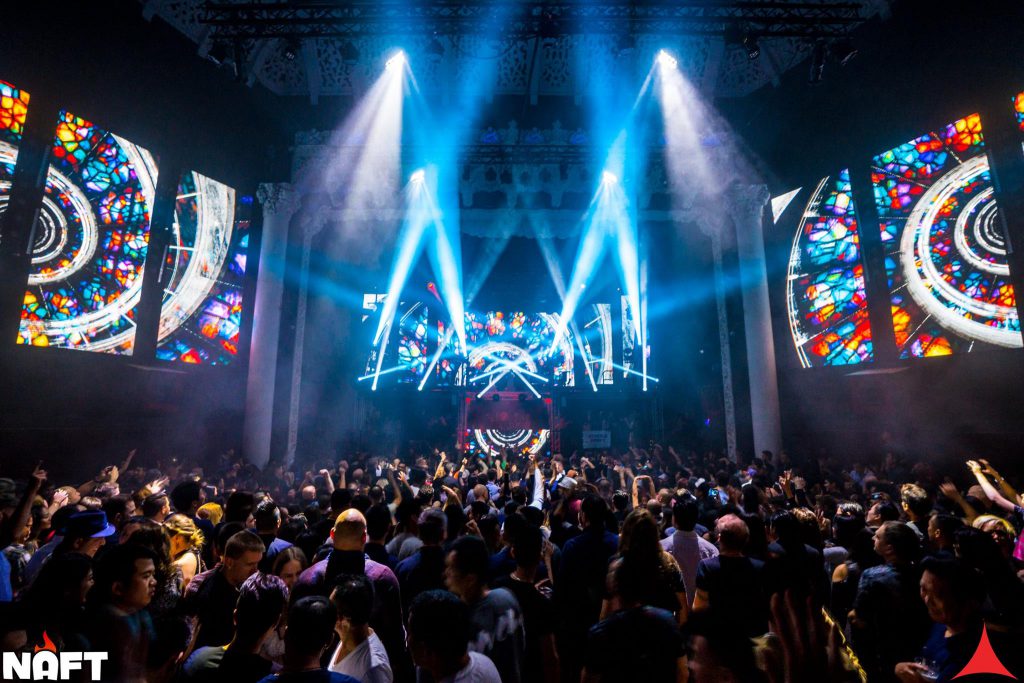 This was my church; the only higher power that I held in Avalon Hollywood was my own consciousness and the music.
At one point during the night, Markus Schulz played the Gareth Emery track featuring Bo Bruce called "U" while the entire room lit up like a cathedral. We were also treated to several Dakota tracks off of the new album around that time as well.
With the explosion of electronic music in the late 2000s, it seems that nearly 10 years later what was old is now new again with the rise of melodic and progressive sounds. As the night went on, it was harder and harder to keep track of the setlist because of the massive amount of tracks we went through, but I distinctly remember hearing the Markus Schulz vs. Grube & Hovespian remix of "Safe And Sound", which was comforting.
It had been a few years since I had been to Avalon Hollywood in Los Angeles and the additions of LED screens and impressive lasers made the club feel even grander than it was before. There wasn't a bad spot to be at in that room with the massive view and excellent placement of speakers. The VIP booths had a bit less obstructed views of the stage due to the way the lighting was placed, but the placement wasn't a deal breaker.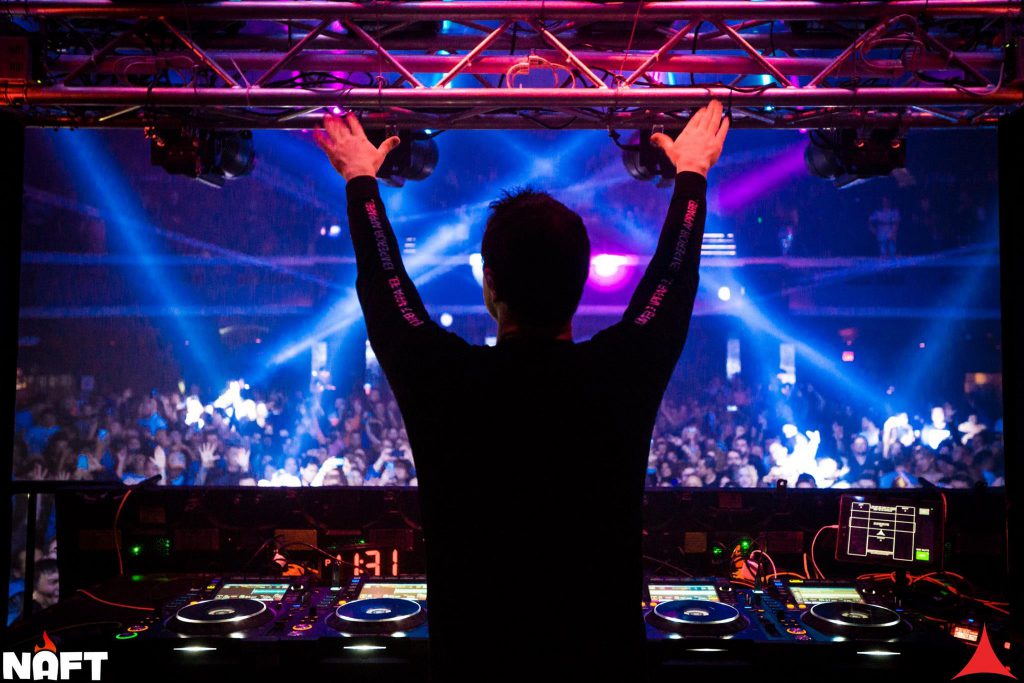 If you've never experienced a Markus Schulz Open to Close set before, you must attend to understand why he's one of the best DJs in the game.
There are very few other artists in the scene that can keep a room going for as long as Markus can. I turned off my phone for hours at a time to conserve its energy and even used a small portable charger at one point so I could take some more pictures and video to remember the long night.
The night left me with the thought that I wouldn't be mad if Markus Schulz left the mainstream trance sound to go exclusively into his darker, progressive, and techno vibes that he's able to command the dance floor with for hours at a time during the rabbit hole portion of his sets. For an 11 hour set, Markus Schulz only picked up the microphone to speak four times, and that included his proposal to Adina Butar, an achievement that some can only dream of.
I can't imagine a world where I wouldn't be able to share the beauty of music with people. Thank you to Markus Schulz, Adina Butar, Avalon Hollywood, and the family we call the Schulz Army, for one of the best New Year's Eves I have ever had.
---
Follow Markus Schulz on Social Media:
Website | Facebook | Twitter | SoundCloud