Kyau & Albert talk new sub-label Euphonic Visions, Matching Stories, and more ahead of their set at Avalon Hollywood on January 6!
---
Kyau & Albert continue to play an important role in the scene with their Emotional Dance Music and have for more than 20 years. Their ability to pair infectious melodies with vocals, often performed by Steven Albert, has blossomed classic club anthems like "A Night Like This" and "All Your Colours".
Now, they're raising the bar again with their new sub-label Euphonic Visions showcasing some of the best in deeper electronic sounds. But don't be fooled into thinking they're going anywhere with Trance: Kyau & Albert sat down with us to share some of their secrets to pumping out quality music and working together as a duo.
Enter to win tickets to Kyau & Albert at Avalon Hollywood on 1/6!
Win a Pair of Tickets to Kyau & Albert at Avalon Hollywood

---
Congratulations on launching Euphonic Visions earlier this year, the new sub-label on Euphonic Records. You've already had some exciting releases including Anden – "Apologies". What can we expect from the sub-label in 2018?
Steven Albert: More exciting stuff is ready for release. For example, the next release comes in January by Then & Starkato, including a cool Boss Axis remix. Euphonic Vision is our platform to try out new sounds besides our typical Euphonic style. It's planned to have releases once a month only, but always high-class stuff.
Ralph Kyau: On the mother-label Euphonic we will keep trance alive with strong tracks in 2018. We will test some new stuff at Avalon.
You'll be playing an extended set at Avalon Hollywood in January with support from Anden and Johnny Yono. Will fans be able to catch some of the deeper club sounds you've been releasing on Euphonic Visions during your sets going forward?
Ralph Kyau: We always play deeper sounds at the beginning of every set, much more of this stuff at our Open to Close sets of course. Always depends on the set length and set time. We just had a 5.5 hour OTC on a boat on the river Seine in Paris. 1.5 to 2 hours, in the beginning, was the sound direction we will release on Euphonic Visions.
At Avalon on January 6, we have Anden to bring the deeper sounds before we start to play. Heard Anden are really excited as it will be their LA debut and we really like this creative brother duo from NYC. More to come from the boys on Euphonic Visions in 2018.
Steven Albert: We possibly drop a few progressive tracks at the start of our set but then drop more trancey this time. After us comes Johnny Yono behind the decks, he is closing the mainfloor with a banging set. Johnny had such a great year with big releases on Euphonic and also on Armada.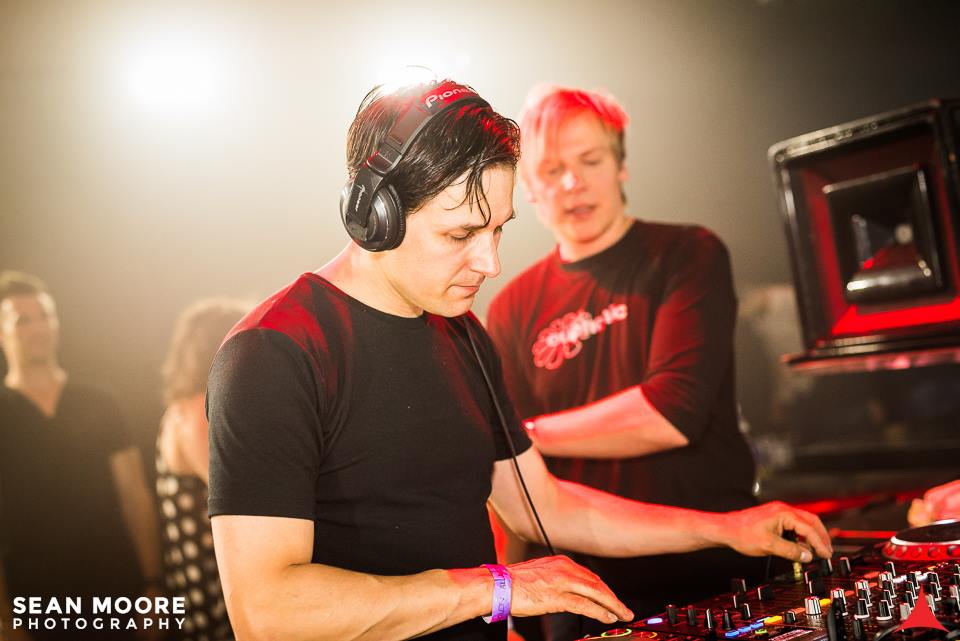 The lines continue to blur between the Trance and Progressive music genres allowing for a more sonically-varied journey. Why do you think the scene has become more receptive to closing the gap between genres of electronic music?
Ralph Kyau: We also noticed that people are more open-minded than a few years back. I cannot say you why. Personally, we were always listening to various genres.
Steven Albert: Especially when we play long sets, we have the chance to take the audience on a real journey. We try the same with our radio show Euphonic Sessions, just play the music we like. I have the feeling our fans love to fly between the genres. Recently someone told this to us in Czech Republic.
Your latest artist album, Matching Stories, featured two experimental tracks sung by Steven with German vocals. What were the inspirations behind "Mein Herz" and "Spüren"?
Ralph Kyau: As we are Germans, it was an easy thing to do it. Initially, both tracks were only made as album tracks. Straight after this new 5th studio album was out, we got massive feedback especially on "Mein Herz". So we decided to make a single release.
Right now this track is also very successful on various radio stations in Germany and made it on ASOT Tune of the year #33. I think it was definitively interesting for our fans to hear Steven singing in his mother tongue. Next vocal material will be in English, maybe some German again on the next album.
Wow! Cool to see 'Mein Herz' being #1 on Germany's biggest dance radio station @sunshinelive 👍 …from our album MATCHING STORIES 😍#trancefamily #dance #Germany #trance pic.twitter.com/aKsvh8ndwW

— Kyau & Albert 🇺🇦 (@KyauAndAlbert) December 19, 2017
You're both classically trained musicians who have produced and remixed timeless sounding tracks for more than 20 years. What are the most important elements to creating your signature sound in the studio?
Steven Albert: We both share the same musical taste, therefore we possibly work so long successful together. Our main elements are strong melodies. And experience is important I guess.
Ralph Kyau: We often work quite long on a track until it is finished. We test new material in the club, adjust the mixdown and arrangement over the time. Often new ideas come with a little distance, I mean to listen to a track in the club or in the car is good. It is always good to revisit a production a few weeks later and make then the final polishing of the sound. We call this to put gold dusk over the track.
The two of you play a part in all aspects of your craft, including on stage and behind-the-scenes. For aspiring artists, can you explain the importance of being authentic to your fans and retaining creative control over your work?
Ralph Kyau: What I learned is that creative control is a huge comfort. I am so happy that we have Euphonic and can keep control. Even when we have people who help us, the final creative decisions are on us. Honestly, I also like the change between record label, studio, traveling and deejaying.
Steven Albert: True. Normally we have 90% same taste and also respect each others opinion, if not, we are open-minded for the other one's ideas.
The 20 Years album released in 2016 featured your greatest hits remixed by a plethora of artists. Were there any particular tracks featured on the album that took the original in a direction that was surprising or unexpected?
Steven Albert: Not really. Of course, every remix can be a surprise. On the other hand, when you give the parts to remixers, you normally know what they are doing musically.
Ralph Kyau: It is always interesting to hear the results, quite often we give creative input to optimize the remixes. I just heard this 20 Years album with my son in the car, it is awesome. Also, I was happy to have new fresh versions of our big hits to just play them in our sets.
We've seen artists come and go over the years in the scene, but the two of you have remained an influential duo. Are there any particularly difficult moments you've had to work through together that strengthened your bond as not only artists but business partners?
Ralph Kyau: We know each other very well. People who know us say that we are quite different as individuals. Maybe that's the reason for our success.
Steven Albert: We did not really have difficult moments. I think we both know each other very well and we both do not like conflicts, so are respectful to each other. We don't really fight, we're both very constructive.
With the transition from vinyl, to CD, to digital sales and streaming, have we lost anything of value with the diminishing rate of physical ownership of music?
Ralph Kyau: Since we released our first music in the 90's, music sales fall down massively, so we make most of the money with touring nowadays. I am not a person who says, "the past was better," if you know what I mean. I see this with my son, he loves to listen to music. He just streams music and that's how he grows up now.
The Internet has changed so many things. That's how it is. Music transports emotions, everybody has emotions. I look forward as music will always take people away from their life problems.
Steven Albert: And as we said before, our label Euphonic means musical freedom. I am happy that we can make music, being creative without borders. Hope we can still do this for a very long time. It is our passion.
Finally, what is something the electronic music scene in 2017 will be remembered by?
Steven Albert: Hard to say. Electronic music is very diverse. But I have the feeling that trancey melodies are coming back. When you listen to new tracks by acts like Pryda or Stephan Bodzin you recognise they transport a very trancey vibe.
Also, the trance scene is very stable and loyal and gives people a family feeling. I think this will attract more and more people in the future. And I also have the feeling that this typical banging EDM is slowly fading away.
---
Follow Kyau & Albert on Social Media:
Website | Facebook | Twitter | Instagram | SoundCloud | YouTube