Mija defied genres at The Fonda last weekend along with guests Kelli Schaefer, Tennyson, and MadeinTYO! 
---
Ever since her impromptu back-to-back early morning set with Skrillex at Bonnaroo back in 2014, Amber Giles a.k.a. Mija has been on every bass lover's radar. However, Mija recently proved that she's not so easily categorized by launching her FK A Genre brand and tour. Although the young DJ/producer is no amateur when it comes to trap or bass, she's also not afraid to push her boundaries when it comes to music and experiment with all kinds of sounds and styles.
After the launch of her wildly successful tour last year, Mija brought FK A Genre back for a second tour and made sure to once again invite all of her celebrity BFFs to join her. I was lucky enough to catch her last stop at The Fonda in LA, a venue I just so happened to have had my Bat Mitzvah at when I was 13 when it was still the Music Box. Déjà vu indeed.
Mija was joined by long-time friend Kelli Schaefer who opened up the night and returned throughout, followed by Canada-based duo Tennyson and MadeinTYO, respectively. Yes, everyone's favorite Skateboard P made an appearance as well.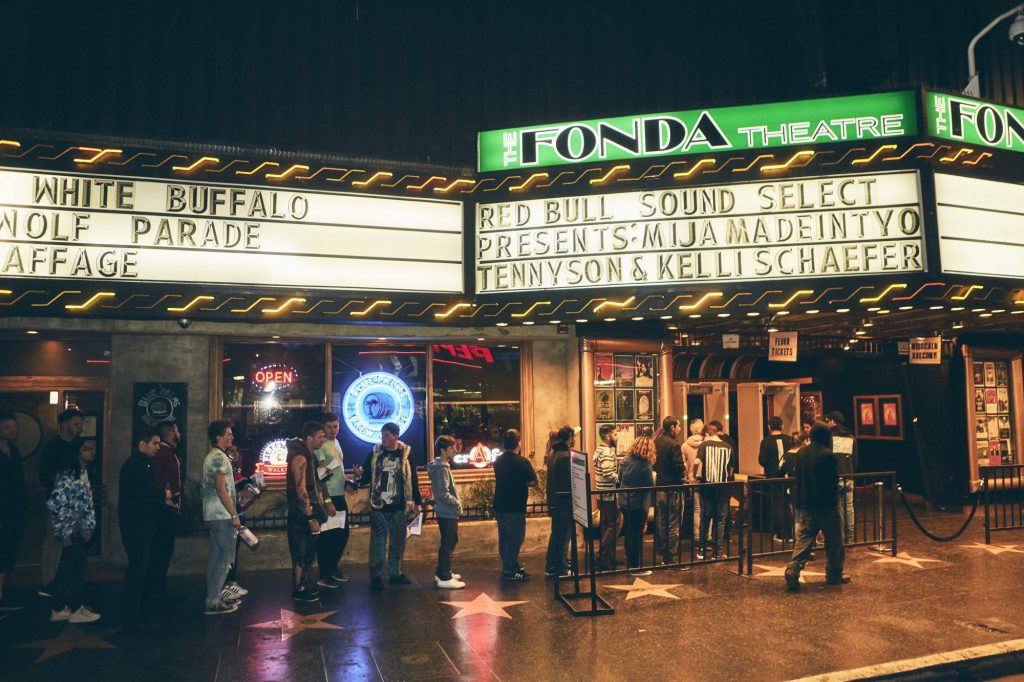 Despite The Fonda's stunning retro-theater aesthetic, the award for most Instagrammable moment of the night goes to the neon photobooth presented by Red Bull Sound Select. 
Although not exactly a booth, this corner of the venue was devoted entirely to providing attendees with well-lit photo memes from the show. Its rainbow neon lights were hard to miss amidst the otherwise dimly-lit theater and I'd only arrived at the show mere minutes prior to my friend, who's never been known to turn down a good photo-op, insisting we check it out. The line was relatively short and organized and it was only a few seconds after taking our pictures before we were able to text them to ourselves.
The neon photo corner, as I've dubbed it, was fun, unexpected, and I'd argue was even an excellent foreshadowing of Mija's set to come. As is the essence of FK A Genre, the mismatched colors and lights were a spectacular chaos that somehow still managed to complement each other. My only disappointment came when the photographer, unfortunately, denied my request to use one of the giant neon daisies as a prop. The photos turned out alright anyway, though, so I suppose I'll survive.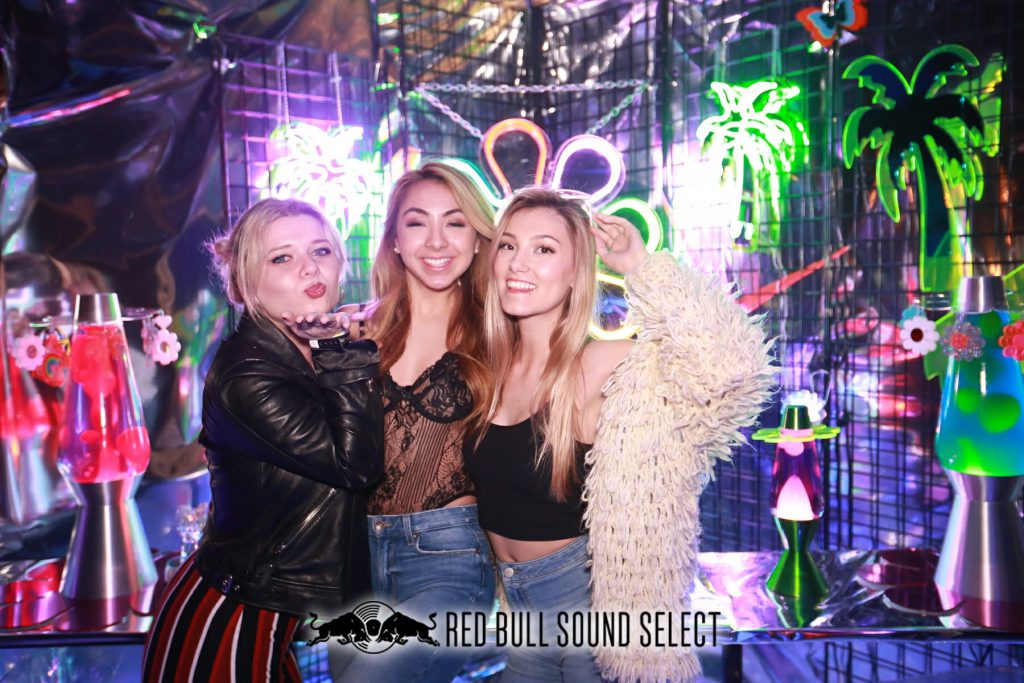 Although my knowledge of MadeInTYO's music hardly extends beyond "Uber Everywhere" and "Skateboard P", his set was an energizing hype up for the night. 
Although the theater was still far from capacity at the time of his set, MadeInTYO delivered a high-energy performance filled with old and new tracks alike. I heard his most popular singles, which I easily recognized, and also discovered some new music to download when I got home, which I feel is the ideal combination those unfamiliar with openers of any show want to experience. He hyped up the crowd and got people moshing before Mija even went on, an excitement that carried over to her set.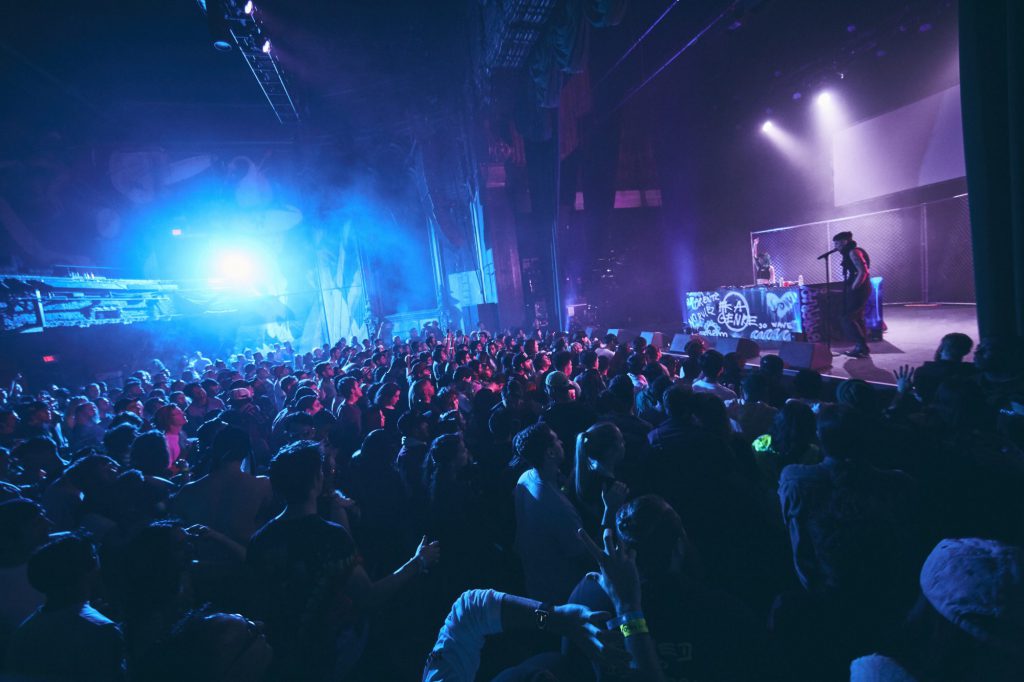 Mija started off with her pop portion of the set, dropping remixes for the whole crowd to sing along to.  
Ella Vos joined Mija onstage for her opening track "Down In Flames", drawing the audience in with her dreamy vocals. Mija then dropped some lighter house beats after asking the audience if they were "Ready to get fucking weird tonight?" Her remixes of DJ Snake's "Middle" and Doja Cat's "So High" followed, which the audience gleefully shouted the words to.
Cardi B's "Bodak Yellow" was next on Mija's chart-topping pop list to drop that night and acted as a smooth transition to some of her harder beats. The venue was immediately transformed into an underground club, complete with fog machines that added to the atmosphere. What So Not's remix of "Innerbloom" was up next, with an added Mija flair of course.
By the halfway mark, Mija had transitioned to her classic techno-house sound reminiscent of her early turntabling days.
By now the Fonda had been entirely transformed into an underground speakeasy as Mija "made it rain" with her house remix of Yaeji's "Raingurl". I caught myself doling out imaginary hunnids to everyone around me and admittedly had to stop myself from dropping it low several times. This portion of the set is definitely on par with my music preference and I loved how diverse each track she chose to drop was.
From this point on, Mija seemed to abandon genre entirely, jumping from emo-punk to drum and bass to dubstep to footwork. She finally slowed down again toward the end and brought up Kelli Schaefer to close out the night with their most recent single "Bad For U".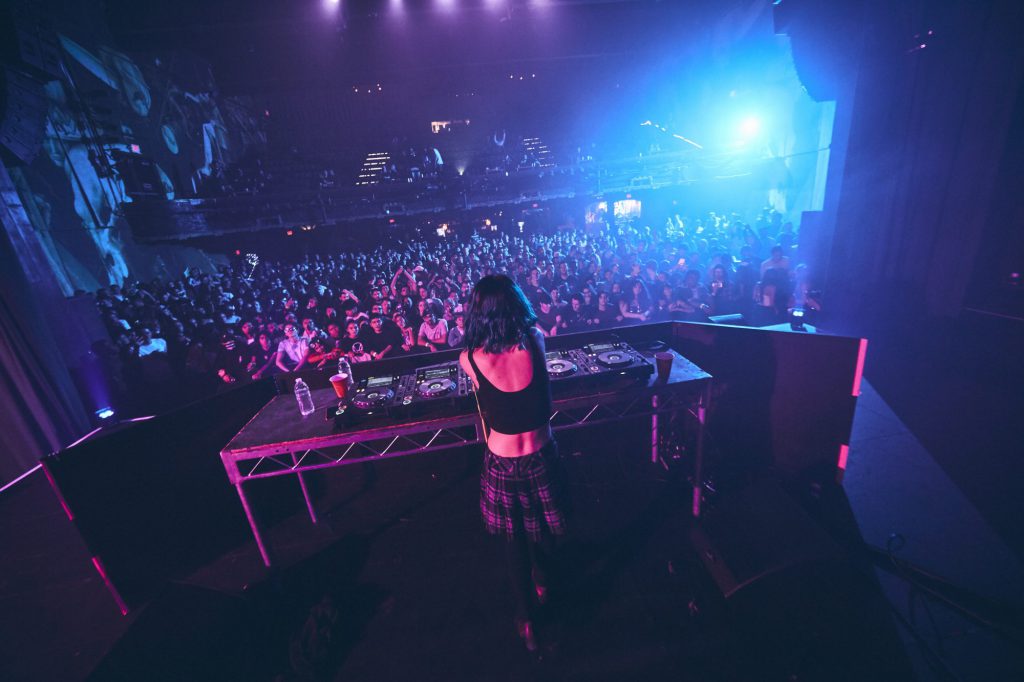 Unfortunately, there was no encore, but although the show ended a bit abruptly, "Bad For U" acted as the perfect slow-burn out to an otherwise upbeat set. 
From her killer house beats to more pop-enthused remixes, Mija's FK A Genre tour definitely stayed true to its name. Although at times jarring, her transitions between sounds worked just as the contrasting neons did at the photo booth. The crowd was also one of the most fun I've had the chance to be a part of and clearly fully supported Mija's opposition to genre, dancing along with her to every track no matter how diverse.
Overall, FK A Genre was a definitely one of the most unique and contrasting shows I've ever been to. As soon as I'd get used to a certain sound, Mija would switch it up on me. She transitioned dubstep to acid house and pop-electro to trap. Amber Giles is clearly an artist capable of tackling any genre and I'm thrilled to have gotten a chance to see her eclectic stylings live.
Also, the show raised $1200 for My Friend's Place, a charity that provides shelter to homeless youths in LA, which is awesome. I can't wait to see where Mija takes her FK A Genre brand in 2018; I'm just hoping she'll go on another tour to take her fans with her for the ride.
---
Follow Mija on Social Media!
Facebook | Twitter | Instagram | SoundCloud