Our love for music and our communities go hand in hand, and for the second year the LA scene creators are showing us their dedication.
---
Last year, IHEARTCOMIX collaborated with seven other LA scene creators to host a very special holiday event called LA Gives Back, and once again they are coming together for a benefit show. Hosted at Union Night Club, last year's event raised over $54,000 and promoted awareness about the homeless epidemic happening in Los Angeles.
The list of collaborators are no strangers to the nightlife scene and include Brownies & Lemonade, Ham on Everything, Space Yacht, Echoflex, Restless Nites, and Late Night Laggers. They all have hosted events in various downtown nightclubs and will be bringing their curation talents to this event. The night will be full of special guests and big names that you won't want to miss. There will even be an Adult Swim curated Santa room.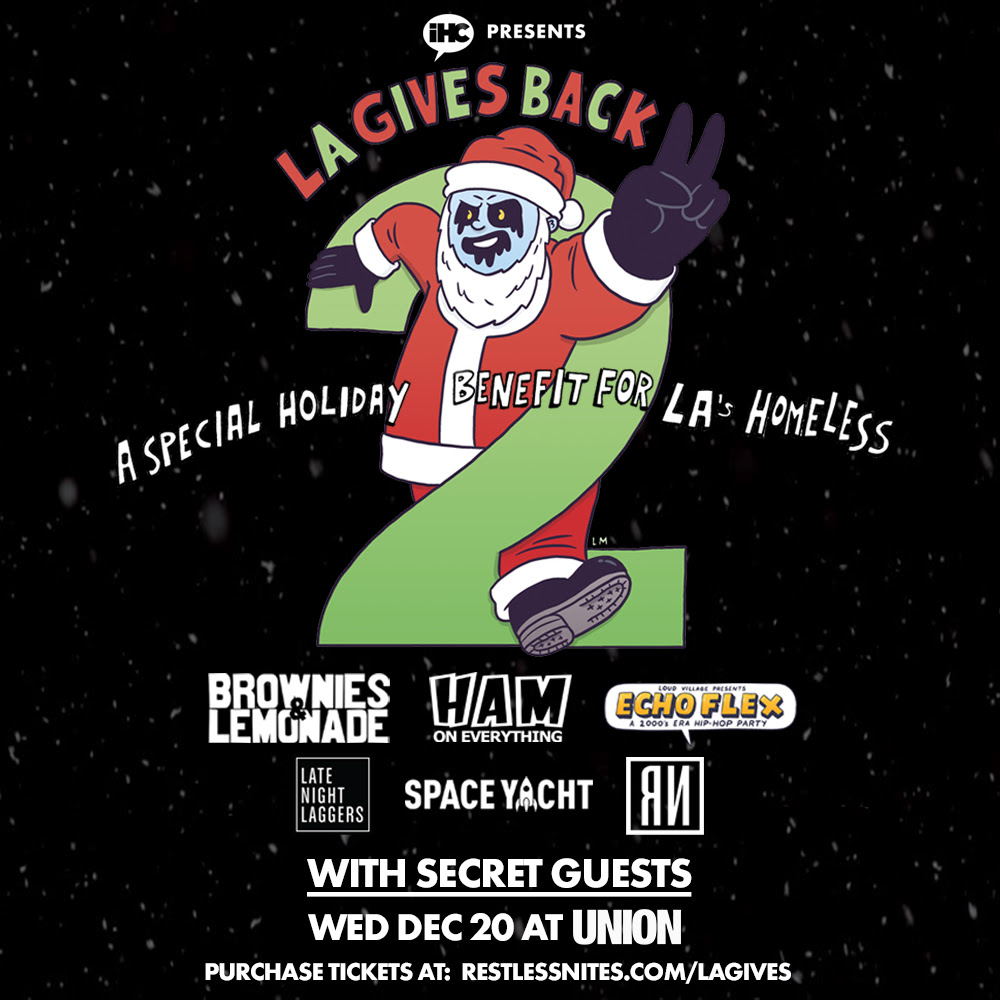 If you haven't been to Union Night Club, it's a huge venue. There are six different rooms equipped for music and on this night there will be a toy, food, coat, and women's products drive in each! On top of that, 100% of all proceeds will go to benefit the local charities of My Friend's Place and Downtown Women's Center.
LA Gives Back is an event unlike any other and definitely something you'll want to check out. Walking from room to room will transport you to every type of electronic dance genre from house to trap. There's something for everyone and the lineup is such that DJs will literally walk out of the crowd and on to the decks right in front of you! This is the holiday party that not only let you rage with some of your favorite DJs but also give back to the community that has supported so many.
Tickets starting at $25 can be purchased here. They will be $30 at the door and 100% of these proceeds will go to local charities.
---
LA Gives Back 2017 – Event Information:
Date: Wednesday, December 20, 2017
Location: UNION, 4067 W Pico Blvd, Los Angeles, CA 90019
Ages: 21+
Facebook Event Page: HERE
Tickets: HERE
---
Watch the LA Gives Back 2 Teaser Video on YouTube:
---
This is what the creators have to say about LA Gives Back:
LA GIVES BACK is exactly that, our community giving back. After the success of last year's experiment, we all decided that this needs to become an annual thing. It's so cool that so many of LA's top promoters and talent can come together and create one special night that draws attention to a huge crisis in our community.

For IHEARTCOMIX, this is our holiday party. I feel strongly that Los Angeles is the best city in the world for music and creative energy. Over the decade+ that I've lived here I've seen this town change so much for the better. It's not just the talent that is amazing, but the sense of community that makes it special and has drawn so many people here. However, the unplanned consequence of that growth has been the rise of the homeless population in LA. It's our responsibility to address this problem and fix it. In 2017 the homeless population grew 23% alone. As we grow, we must bring everyone up with us. Hopefully this event shows our city and the world that we can stand as one to create positive change.
– Franki Chan, IHEARTCOMIX
We were so surprised at what we could achieve by teaming up last year, and we're excited to be back. We have been fortunate enough to build a fan base through Space Yacht, and LA Gives Back is a chance to give back to the city that built us. To anyone reading this, I encourage you to take a look at everyone around you every once in a while, listen to them, and have open dialogues to them about can be done.
– Space Yacht
We love throwing parties, but if you have a platform and don't use It to bring awareness of issues in your own community then you're being irresponsible. The LA scene means EVERYTHING to us. And the fact that all of these amazing LA parties that make up the fabric of our scene can all come together, not only to raise awareness but to raise actual money to and create REAL change is incredibly moving. We're so proud to be a part of this. Last year exceeded our expectations 10 fold and we can't wait to see what this year's LA Gives Back has in store. We love our community, and this event is a beautiful representation in what "community" actually means.
– Ham on Everything
---
About My Friend's Place:
My Friend's Place assists and inspires homeless youth to build self-sufficient lives through a broad continuum of care including meals, employment and education assistance, case management and more. Founded in 1988, My Friend's Place serves nearly half of homeless youth in Los Angeles.
---
About Downtown Women's Center:
Downtown Women's Center provides permanent supportive housing, skill-building workshops, and accessible healthcare to homeless women in Skid Row. Founded in 1978, the Downtown Women's Center's mission is to create a safe and healthy community to foster dignity, respect, and personal stability, and to advocate ending homelessness for women.
---
Connect with the Organizers via Social Media:
IHEARTCOMIX | Ham On Everything | Brownies & Lemonade | Space Yacht | Restless Nites | Late Night Laggers | Echoflex | Union Club