Bass music lovers and adventure seekers, 

Costa Rica's Bamboo Bass Festival has just released its loaded 2018 lineup

!
---
Bamboo Bass Festival is an epic adventure featuring the world's top bass music artists playing two stages powered by PK Sound systems. It's an experience like none other in the heart of the Costa Rican jungle where there are endless opportunities to explore including in the area surrounding the festival itself.
Mark your calendars and ready your travel plans – Bamboo's annual gathering is headed our way, returning for its third year on February 16-18, 2018 in Jaco, Costa Rica. It will take place at Jaco Ropes Adventure Park, off of Costanera Sur Highway 34, just minutes from downtown Jaco Beach.
This event draws travelers, explorers, music and art lovers from all over the globe with its grand scenery, epic artist lineup, and loving energy.
As if the festival's boundless prospects for adventure and exploration weren't enough, its incredible lineup should get us booking our tickets. It features all manner of Sleeveless Records family from Costa Rican beat master JLEON, the PNW's Pigeon Hole and Stylust Beats himself, to bass heavy-hitters like Truth, ill.Gates, Esseks, Minnesota, Paper Diamond, and Shlump. Attendees will also be treated to funky bass stylings from Stickybuds, Fort Knox Five, Slynk, and other favorites including Psy Fi, Abstrakt Sonance, Kozmo, Kowta, and so many more!
Tickets for Bamboo Bass Festival are on sale now! Visit the Bamboo Bass Festival for tickets and more festival info!
---
Bamboo Bass Festival 2018 Lineup: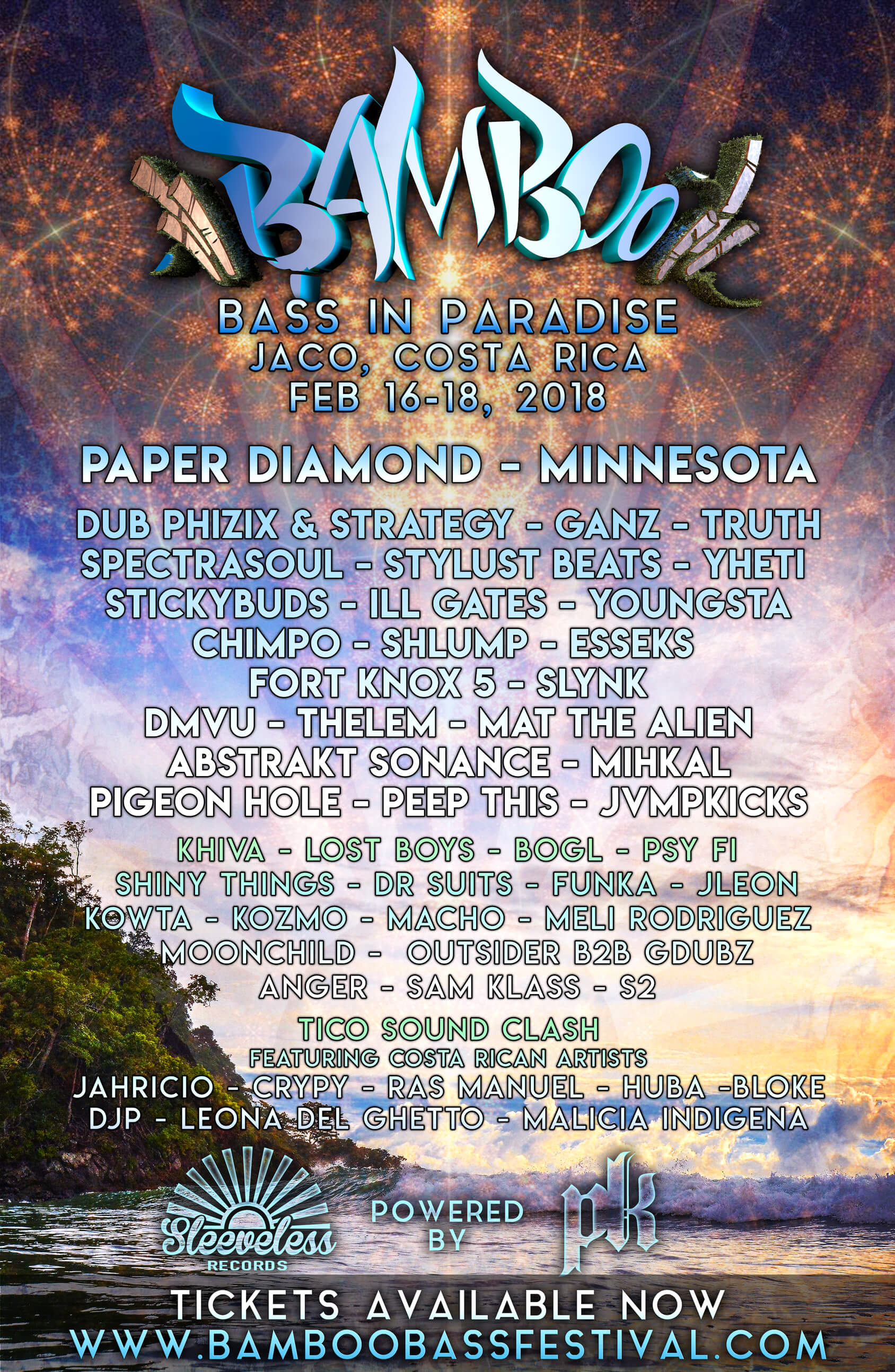 ---
Bamboo Bass Festival 2018 Lineup By Artist:
Abstrakt Sonance
Anger Music
BOGL
Chimpo
Crypy
DJP
DJ Youngsta
DMVU
Dr. Suits
Dub Phizix & Strategy
Esseks
Fort Knox Five
Funka
GANZ
Huba Bloke
ill.Gates
Jahricio FireLion
JLEON
Jvmpkicks
Khiva
KOWTA
Kozmo
Leona Del Ghetto
LostBoys
Macho
Malicia Indigena
Mat the Alien
Meli Rodriguez
MiHKAL
Minnesota
Moonchild
Outsider B2B GDubz
Paper Diamond
Peep This
Pigeon Hole
Psy Fi
RasManuel
S2
Sam Klassik
SHINY THINGS
Shlump
Slynk
SpectraSoul
Stickybuds
Stylust Beats
Thelem
Truth
Yheti
---
Bamboo Bass Festival 2018 – Essential Information:
Dates: Feb 16-18, 2018
Location: Jaco Ropes Adventure Park, Jaco, Costa Rica
Ages: 18+
Facebook Event Page: RSVP HERE
Tickets: Purchase tickets HERE
---
Check out Bamboo 2017's Preview Video via YouTube:
---
About Bamboo Festival:
Bamboo Bass Festival is a project driven to create an international epicentre for the celebration of Bass Music, Bass Culture, and Art. It is a Costa Rica Music Festival Experience for the Bass Lover and adventurer.
---
Connect with Bamboo Bass Festival on Social Media:
Website | Facebook | Twitter | Instagram | YouTube
Feature Photo Credit: Kamphyre