JLEON discusses his new EP Nerve Damage , working with Stylust Beats, and stops by for EDMID Guest Mix 082!
---
In just a couple years, Costa Rican bass alchemist JLEON has found his place and shaken up the bass music scene. He's now signed to Stylust Beats' Sleeveless Records and has recently released his gritty new EP 'Nerve Damage'. It's seven seductive, bass-laden tracks loaded with his unique hip hop, West Coast bass and Costa Rican "jungle" style.
After completely losing ourselves in the EP, we were left wanting to know more. In this week's Artist Spotlight, JLEON discusses his entry into the musical realm, his collaboration with Stylust Beats, and the interesting details of his grimy new EP 'Nerve Damage'. Make sure to check his expertly constructed Guest Mix as well.
Stream EDMID Guest Mix 082 || JLEON on Mixcloud:
---
The music you've released has a unique sound, even as far as weird, deep bass standards go. With bass music's popularity rising in the US, how do you stand out in a competitive scene?
It took me around three years to really understand the direction I wanted to take as JLEON. Before, I was putting my energy into a drum&bass project I had with a friend, while I was producing hip-hop mixtapes for another friend. Both projects were taking lots of my time and I wasn't able to focus on my music. However, these projects helped me to craft my sound, as well as doing lots of great things like playing World of Drum&Bass in Miami.
To be honest, I wasn't even thinking what was happening up in the U.S. Everything online sounded the same to me until last year, when I went to Emissions WestCoast Bass Music Festival (2016). Lots of different new artists I didn't know, new sounds, textures and that strong influence of west coast hip-hop in one festival. This completely changed everything. Right now I'm in a state of mind where I just want to focus and compete with myself; take the best out of me and share it with the world. Everything else out there is just inspiration and influence to me, not competition.

What originally lured you into the bass music world?
I've been a metal head since high school, so punch, loudness and distortion were all already wired in my head. I also lived in Puerto Rico for a few years, so I got to appreciate and learn a lot about Caribbean music. Back in 2009, when I was attending Audio School in Tampa, FL, a friend took me to a dubstep show back in 2009 at the Honey Pot in Ybor city. Then the next year another friend invited me to Revolution Club in Ft. Lauderdale to see Roni Size, I think Juan BassHead organized this party.
Both shows marked the beginning of my bass path. I wasn't much familiar with the bass culture but the punch, loudness, and distortion were there and that was all I needed.

Your new EP, Nerve Damage, was released on Sleeveless Records. What is it about the record label that made you feel this was the right home for you?
I've been with Sleeveless since day one and before. We did a party with Geoff (Stylust Beats) down here Costa Rica back in 2013 and we became really good friends, to a point where I see him as my older brother. He inspires me in so many ways.
We ended up doing our first collab called "BABY I'M A PRO" for his R.Y.F.S.O album. Geoff is always pushing me to do better on every new track. I have to give a shout out to Shelby G too; he's the other partner with Sleeveless Records and he's been supporting me since day one too. Another amazing older brother!
We've had your EP on repeat since we first listened to it. What inspired your track names, in particular "I Just Told You It's Enough"?
That's a great question. I tried to relate them to real life experiences. When I was 16 I fell from a roof, damaging my sciatic nerve for life, and I had a hip surgery four years ago. I've been in pain constantly since that. And a month before the EP was released I got stung by a gnarly insect which completely paralyzed my right leg for days. So I did Nerve Damage & Acid Drop while my leg and nerve were both killing me.
"PRESSURE" is like my first airplane song flying to my first Canadian tour this past June. I love playing the piano, believe it or not. "PIANO" started with me composing the ending of the track first, then it developed into a nice dubstep style. "THE FLU" with ESQUINA was made in a hotel room in California before heading to Emissions this year.  The name is simple: we called it that because it's sick. "I Just Told You Iit's Enough" is me talking to my leg trying to end the chaotic pain.
How did the collaborative VIP remix of Stylust Beats – "BANDANA" come to fruition? What was it like working with Stylust Beats?
I was working on one of my tracks and that day Stylust sent me a dubplate of Bandana and my reaction was "WOWWW." Both tracks were in the same tonality but different tempos, so I did like a mash up and sent it to him. He loved the idea and asked me for the stems to come with a VIP version, then the rest is history.
Again, the great thing about working with Stylust Beats is his encouragement to do better, his great taste in music, and his vision.
Are there any special moments in your career so far that you're proud of?
Definitely playing Emissions Festival for my first time this year. It was crazy. From technical difficulties with a CDJ to no crowd, to a raging full house halfway through my set, it was pretty special. Including a nice sunset and the best friend in the world. It was a full spectrum of experience.
You're originally from Costa Rica. What was the music scene like growing up for you? Did it influence your taste in music?
My influences were mainly foreign artists and sounds. I started from Ska, Punk, Hardcore, Death Metal and ended up loving Norwegian Black metal. I grew up in a small town far from the city, so I wasn't able to go to concerts or anything like that. All I could do was wait for friends to buy new music.
Having since moved to Miami, what were some of the new opportunities that presented themselves?
I moved back to Costa Rica in 2011 but my parents still live there, so I try to visit during the Winter Music Conference to play some gigs, workshops, and lots of great parties like Future Sound of Breaks (F.S.O.B).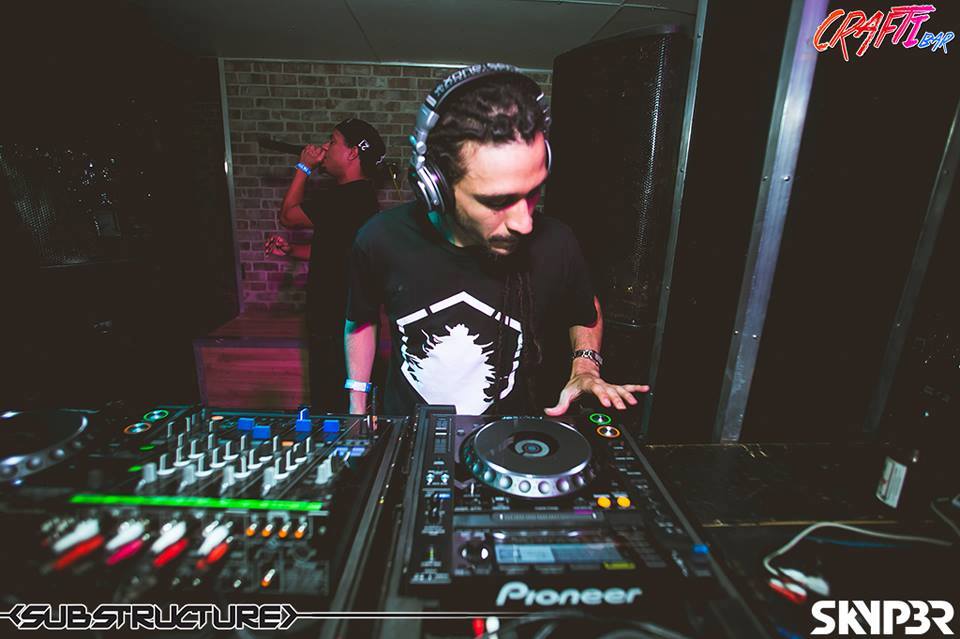 What has been one of your favorite moments of this year so far?
Getting to perform alongside MALA and BUKU at Bamboo Bass Festival this year was just legendary.
If you could play a set anywhere in the world, where would you play?
Fabric in London
---
Follow JLEON on Social Media:
Facebook | Instagram | SoundCloud
Follow Sleeveless Records on Social Media:
Website | Facebook | Twitter | SoundCloud