Mielo talks his new "Illusory" single, the role music played growing up, and his current tour!
---
Mielo has had an incredible year with performances at Okeechobee, Summer Set and 515 Alive on his Illusory tour. The 22-year old artist from Chicago blends electropop and future bass with haunting vocals to create memorable tracks currently stuck on my Spotify playlist.
He took a different approach with his new single by skipping vocals to let the song speak for itself. Mielo's new track, "Illusory", was just released and it showcases his production talent perfectly with a sense of melancholy that I tend to hear on Porter Robinson tracks.
Take a listen to his new single, read about his journey so far, and then catch him on an upcoming tour date including San Francisco, New York, and Washington DC!
Stream Mielo – "Illusory" on SoundCloud:
---
Your new track "Illusory" came out on Tuesday featuring a fun dance floor ready melody after teasing it on your current tour. What is the meaning behind naming your tour and track "Illusory"?
The song is inspired by the innocence I had when I first got introduced to the music that leads to me doing this music project. I really wanted to put out an instrumental song that made me feel something.
You're embarking on the second half of your Illusory Tour starting on October 12 in San Francisco. Do you have any special moments from the tour so far?
There has been so many to pick, but anytime crowds scream when I play original music makes me feel great.
Having recently announced you've joined Spin Artist Agency, which does bookings for major artists such as BIJOU, Arty, and more, what is your dream venue or location to play?
Lollapalooza!
The tracks "Surreal" featuring Abby Sevcik, "Pretty When U Cry" featuring Ieuan, and "All We've Lost" featuring Danél showcase your incredible production talent paired with smooth, haunting vocals. What are the important elements to keep in mind when producing emotional tracks?
I like to create a visual in my head of what the song means & try to channel that in my writing. I don't do anything purposely to draw out emotions, it just happens I guess. [Laughs]
You played at Okeechobee, Summer Set and 515 Alive this year. With dubstep and heavy bass music dominating the Midwest scene, what has been the crowd response to your feel good and synth-heavy future bass style?
The response has been amazing! Crowds keep getting more and more receptive as I grow as an artist.
Your music connects with fans on another level as seen by the message you received on Reddit recently and it reminded you why you started making music. What role did music play in your life growing up and how did you get started producing?
It has been a huge part of my life. I grew up listening to metal as my first true love in music. I took piano lessons and played trumpet from 5th grade to junior year of high school. I found an interest in electronic music in my senior year of high school then started dabbling in production soon after. I was in need of a hobby and I found that in music production and now we are here!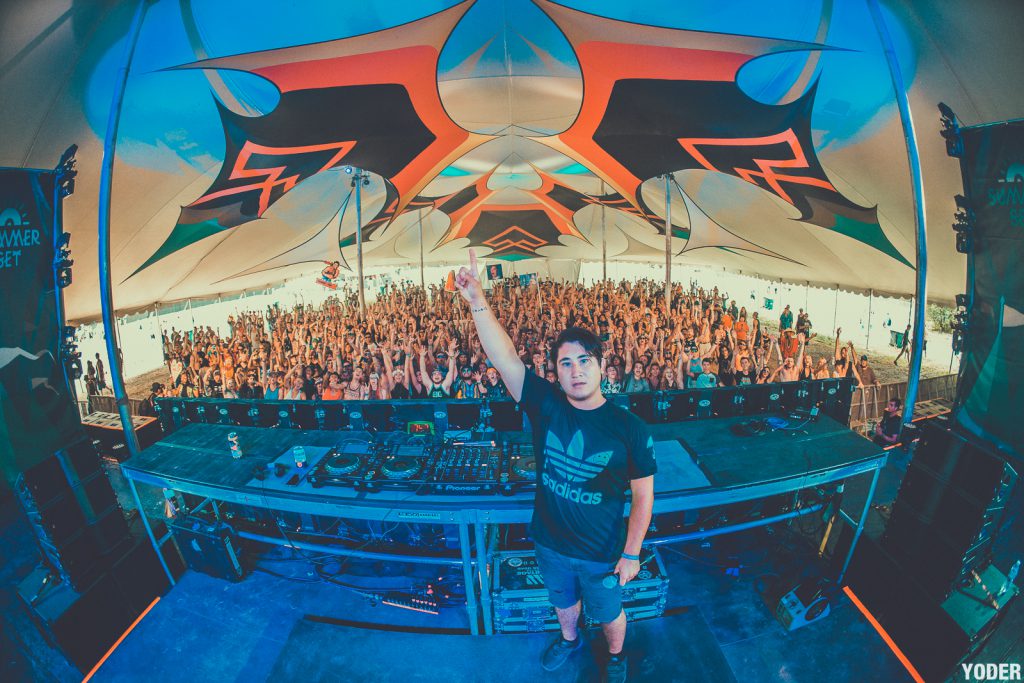 Having played alongside Jai Wolf, Kaskade, and Porter Robinson, who would be your dream collaboration?
Porter Robinson!
When you're not touring or producing, what do you enjoy doing in your spare time?
Hanging with my dogs, family, & watching movies!
---
Catch Mielo in a city near you!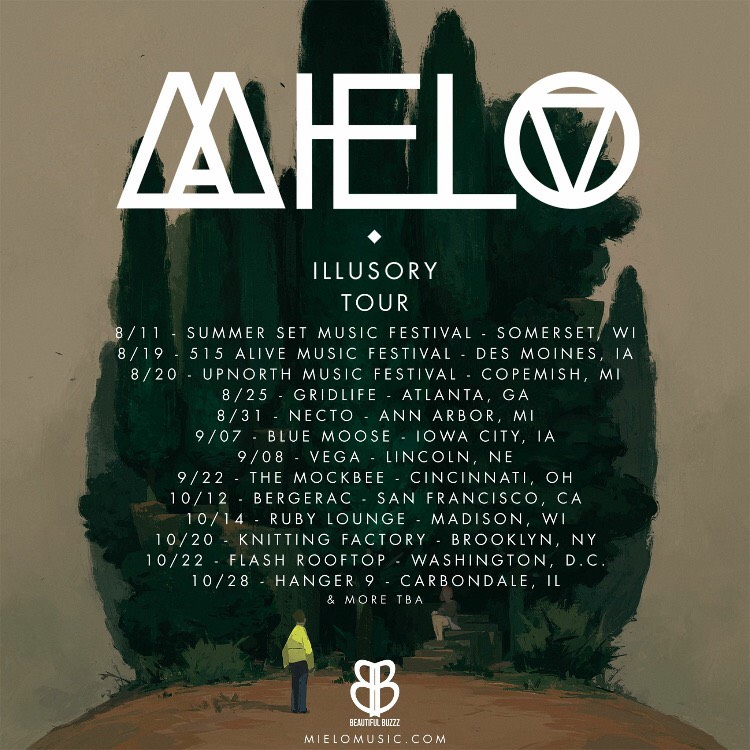 ---
Follow Mielo on Social Media:
Website | Facebook | Twitter | Instagram | SoundCloud | Spotify