The15th Anniversary of 515 Alive Music Festival has announced its biggest lineup EVER including Excision, Griz, and more!
---
515 Alive Music Festival dropped its 15th-anniversary lineup today that includes bass juggernaut Excision, master of funk GRiZ, and hip hop maestro Gucci Mane. A phase 2 lineup will be released in the coming weeks as well featuring supporting and local acts. This year, 515 Alive Music Festival will take place at Water Works Park in Des Moines, Iowa on August 18-19. A special 24-hour sale on tickets is going on NOW to celebrate the lineup release, which you can buy HERE!
The festival will also feature a new massive location and needed improvements for 2017. New seems to be a theme this year as the 2-day festival will introduce on-site camping, a second all national act stage, and exclusive campers only on-site after parties. If you haven't been to the largest music festival in Iowa, check out our review from last year.
As we previously reported, the 515 Team has been able to figure out a solution to the two main issues we had with the event in 2016 by changing the venue and the date. A new location will provide reduced sound overlap between stages allowing bigger and better staging and production, while the change of date will make sure we don't melt in the sun.
We're excited for a hybrid camping/city festival experience that the festival is introducing for 2017. Few festivals are able to provide camping while being able to pull out to the street and be blocks from downtown. Spots are extremely limited for on-site camping, so be sure to book your spot sooner rather than later!
515 Alive Music Festival 2017 Lineup: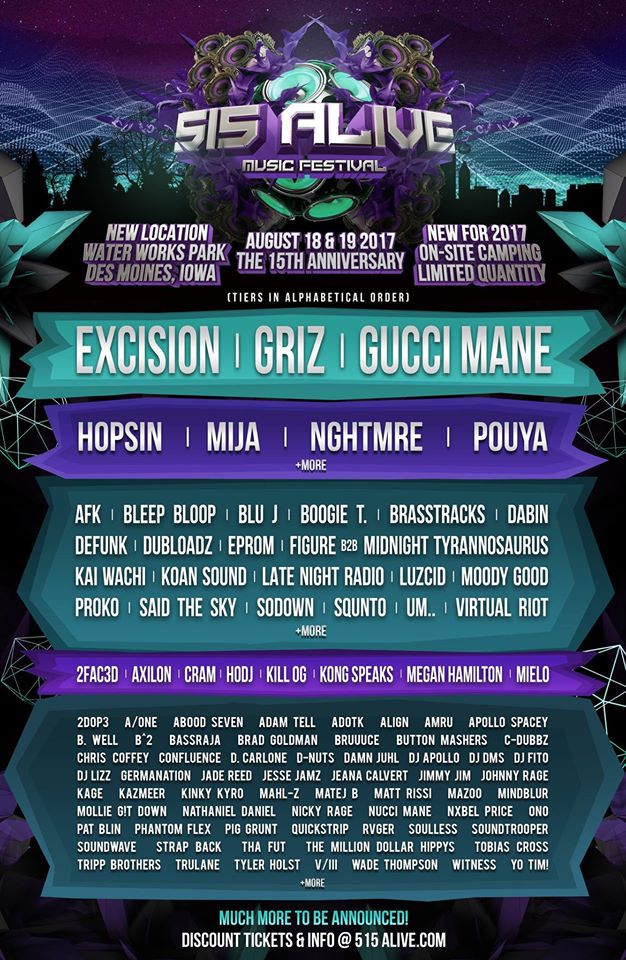 ---
515 Alive 2017 Lineup By Artist:
Excision
GRiZ
Gucci Mane
Hopsin
Mija
NGHTMRE
Pouya
AFK
Bleep Bloop
BLU J
Boogie T.
Brasstracks
Dabin
Defunk
Dubloadz
EPROM
Figure b2b Midnight Tyrannosaurus
Kai Wachi
KOAN Sound
Late Night Radio
LUZCID
Moody Good
Proko
Said The Sky
SoDown
SQUNTO
Um…
Virtual Riot
2FAC3D
Axilon
CRAM
HODJ
Kill OG
Kong Speaks
Megan Hamilton
Mielo
2DOP3
A/One
Abood Seven
Adam Tell
AdotK
Align
Amru
Apollo Spacey
B. Well
B*2
Bassraja
Brad Goldman
Bruuuce
Button Mashers
C-Dubbz
Chris Coffey
Confluence
D. Carlone
D-Nuts
DAMN JUHL
DJ Apollo
DJ DMS
DJ Fito
DJ Lizz
Germination
Jade Reed
Jesse Jamz
Jeana Calvert
Jimmy Jim
Johnny Rage
Kage
KazMeer
Kinky Kyro
MAHL-Z
Matej B
Matt Rissi
MaZoo
mindblur
MOLLIE G!T DOWN
Nathaniel Daniel
Nicky Rage
Nucci Mane
Nxbel Price
Ono
Pat Blin
Phantom Flex
Pig Grunt
Quickstrip
RVGER
Soulless
Soundtrooper
Soundwave
sTrap Back
Tha Füt
The Million Dollar Hippys
Tobias Cross
Tripp Brothers
TruLane
Tyler Holst
V/III
Wade Thompson
Witness
Yo Tim!
---
Watch the 515 Alive Music Festival 2016 – Official Aftermovie:
---
Follow 515 Alive Music Festival on social media: