GRiZ took fans on a unique musical journey this Labor Day weekend, incorporating live elements to create an effect unlike any other at Red Rocks.
---
For many musicians around the world, playing Red Rocks Amphitheatre is like a dream come true. For GRiZ, who lives in Denver and has a special connection to the fans here in town, his two-night performance over Labor Day weekend was an opportunity to flip the script and provide the audience with something they weren't expecting.
The day before, GRiZ had debuted his live-band performance to great fanfare, with audiences proclaiming it to be one of the best GRiZ sets they'd seen. I was excited to see what elements he would incorporate into his special DJ set the second night, and after seeing the stops he pulled out, I was absolutely not disappointed.
Red Rocks is one of the world's most iconic venues, and it served as a perfect backdrop for GRiZ's special two-night run.
As always, the journey to Red Rocks was a substantial one, but it provided an opportunity to experience one of the most beautiful parts of Colorado as we journeyed upward to the venue. It was a chilly evening, but that hadn't stopped fans from steadily flowing into the venue, most of them filtering into the stands toward the front to get the best possible view.
Ahead of GRiZ's performance, Brasstracks delivered a funky, fresh set full of soulful melodies and groovy beats.
Although we only caught a couple of their songs, their set was an unexpected highlight of the evening and did a fantastic job of setting the stage for GRiZ's show. Their performance was reminiscent of a 1920's big band with a new-school bass music twist (a sound that they refer to as "future brass").
For the duration of their performance, soulful, contemporary hip-hop with a jazzy twist flowed across the airwaves and the crowd that had started to assemble was enjoying what they were hearing, grooving to the beat. Toward the end of their set, Ivan Jackson took a moment to acknowledge how grateful they were for their success and to encourage the creators in the audience to believe in themselves and take a chance, a message which was met with rousing applause and cheers from the crowd.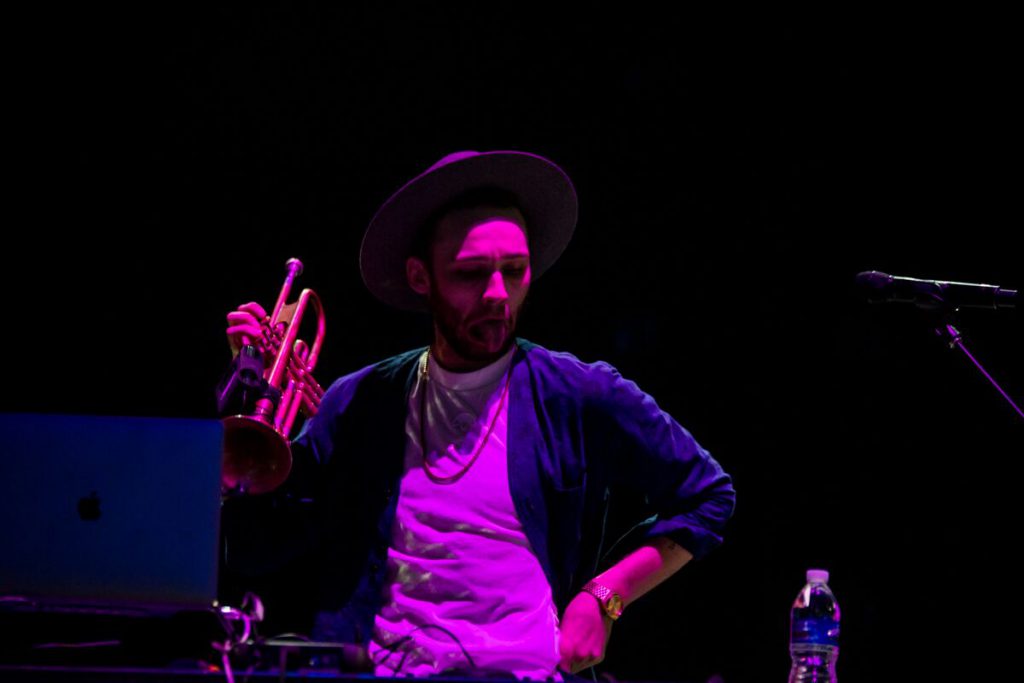 After the changeover, GRiZ came onto the stage, microphone in hand, alongside Ivan Jackson from Brasstracks, frequent collaborator Muzzy Bearr, and a host of others.
As they kicked into their first song, GRiZ actually didn't DJ at all. Instead, he lent his vocal stylings, giving the effect that the audience was attending more of a rock concert than a DJ gig.
That theme would continue throughout the evening – the modular stage design allowed for a variety of different configurations that provided GRiZ and the opportunity to cycle through songs as DJ, frontman, and saxophone soloist at various points. It allowed for a completely different feel than your standard DJ set, giving the audience a view of the interplay between the musicians onstage and the energy they created in their live productions.
The unique thing about Red Rocks is that the venue is essentially a blank slate, surrounded on all sides by captivating scenery but with little in the way of built-in production. GRiZ and team truly outdid themselves, with moving stage pieces bedecked in LED panels, moving light rigs with lasers, and smoke machines. It may well be the best production I've seen there yet.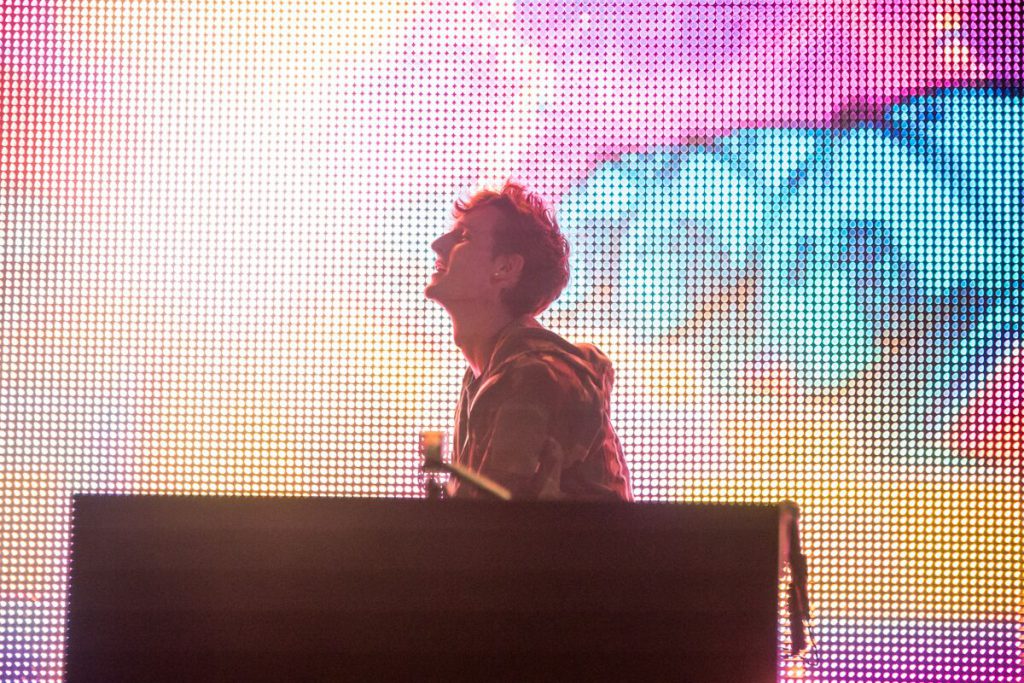 The effect was a wide-ranging performance that kept the audience constantly wondering what would happen next.
The set included crowd-pleasers like "Can't Hold Me Down" and "PS GFY" from Good Will Prevail and old-school favorites like "Too Young For Tragedy" intermixed with jammy productions featuring GRiZ on sax and Muzzy Bearr on guitar that had me thinking I might have been teleported to the Phish concert a few miles north at Dick's.
If anybody was unsure where GRiZ was headed next, the answer was clear: he's taking his signature style and putting it to work with more and more of the live music elements that make his music so unique. If this is any indication of what's to come, I can't wait to see where he takes it. As one of the scene's most beloved DJs and live performers, GRiZ has clearly shown that he is continuing on his path of innovation and taking audiences where they have not gone before.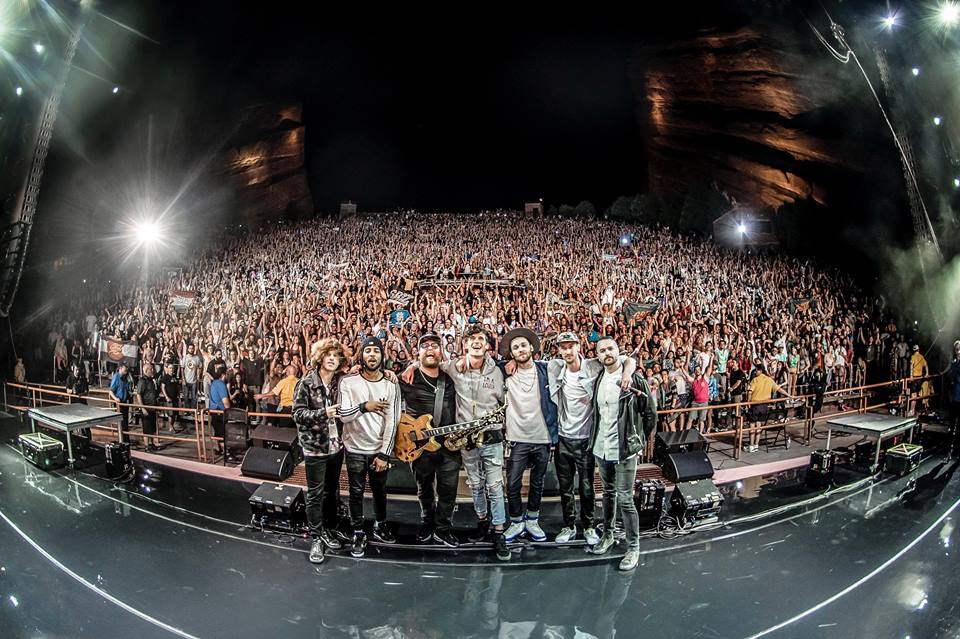 Did you catch GRiZ at Red Rocks? What did you think of the show? Let us know in the comments!
---
Follow GRiZ on Social Media:
Website | Facebook | Twitter | Instagram | SoundCloud
Featured Photo Credit: Meg O'Neill