Electric Zoo stole our hearts this year with a mind-blowing lineup and curated stages by elrow and Awakenings. 
---
The most important thing about Electric Zoo 2017 for me was the music. Everyone featured on my top picks list had me dancing from start to finish, including deadmau5 & Eric Prydz. Several genres of electronic music were graciously spread out this year, such as the Riverside stage, which had trance artists on Friday and bass artists on Sunday.
No words can describe the moment you first enter a festival and leave your worries back home. It's an even greater feeling when you enter a new festival for the first time. You immerse yourself in your new surroundings remembering where the help desk is, bathroom locations, what stage is which, and water station areas.
What made the Electric Zoo experience great was not only the extravagant stages but also the music with its diverse lineup. Rain or shine, the music and dancing continued all weekend.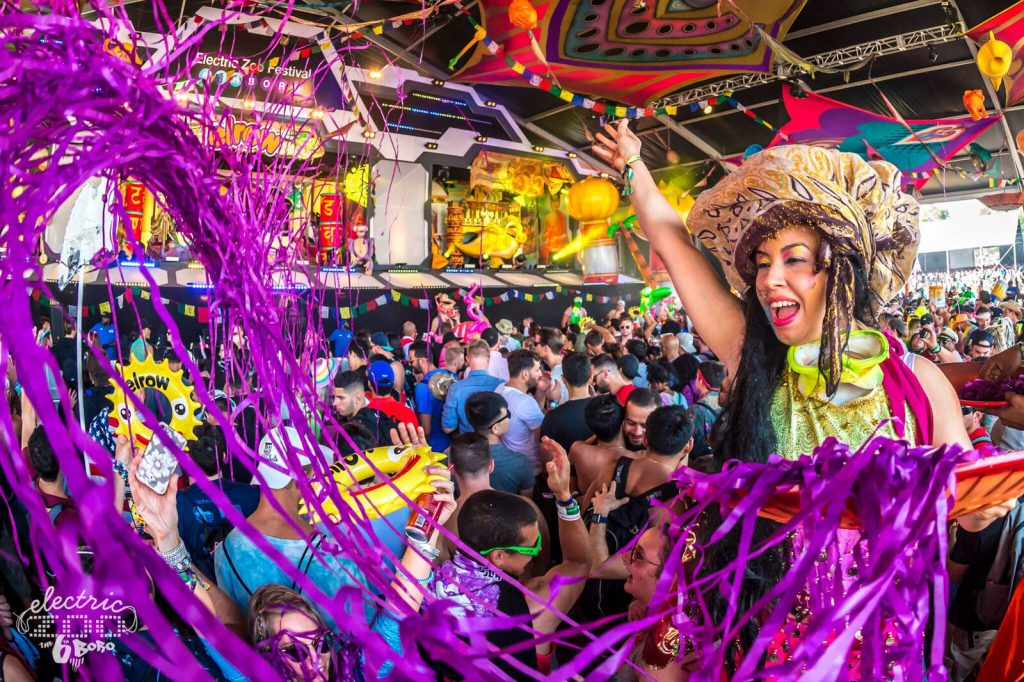 The artist curating from eElrow and Awakenings was absolutely flawless and highly enjoyable, including sets by Sasha and John Digweed.
Both elrow and Awakenings are specialty music brands from Europe known for their underground feel or party throwing. Every time I entered the Awakenings stage, a wave of joy swept over and I lost track of time to the techno sounds that dominated the stage. No other festival in the United States got Sasha and John Digweed to play for three hours this year so far. The only time I heard a full on vocal track was when Yotto dropped a remix of Frankie Goes to Hollywood's "Relax".
Elrow brought the party to Electric Zoo with their "Bollywood" theme which added to the music and fun to the stage on Sunday. Performers on stilts threw streamers by hand one by one into the crowd. Free inflatables, hats, eElrow stickers, and turbans were thrown into the crowd.  The vibes were great and the music coming from The Black Madonna and Claptone made it hard to venture to other stages.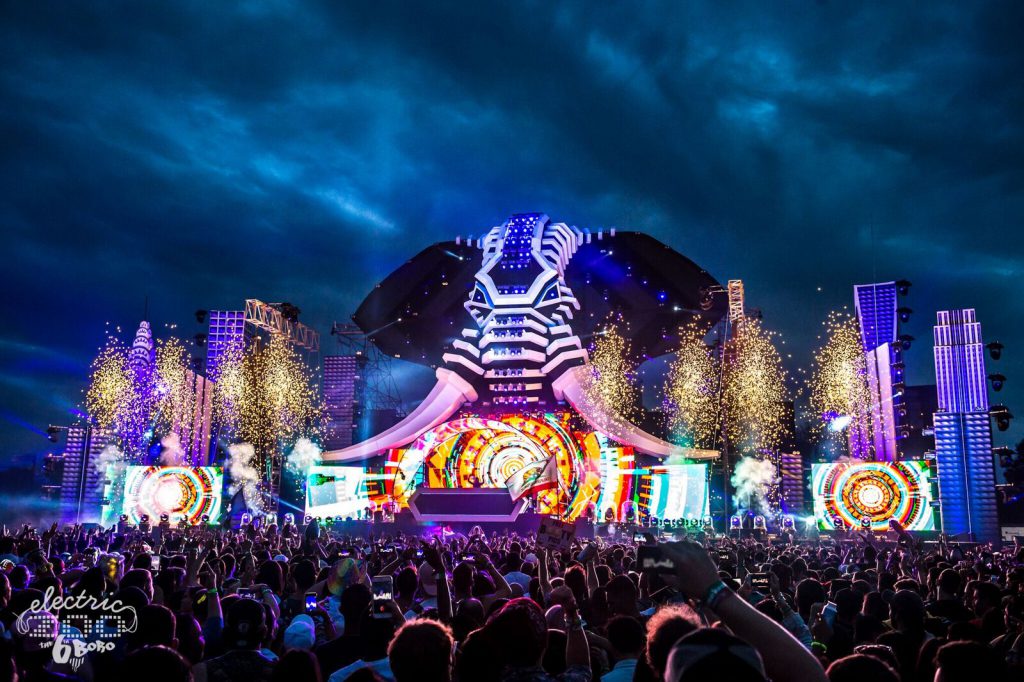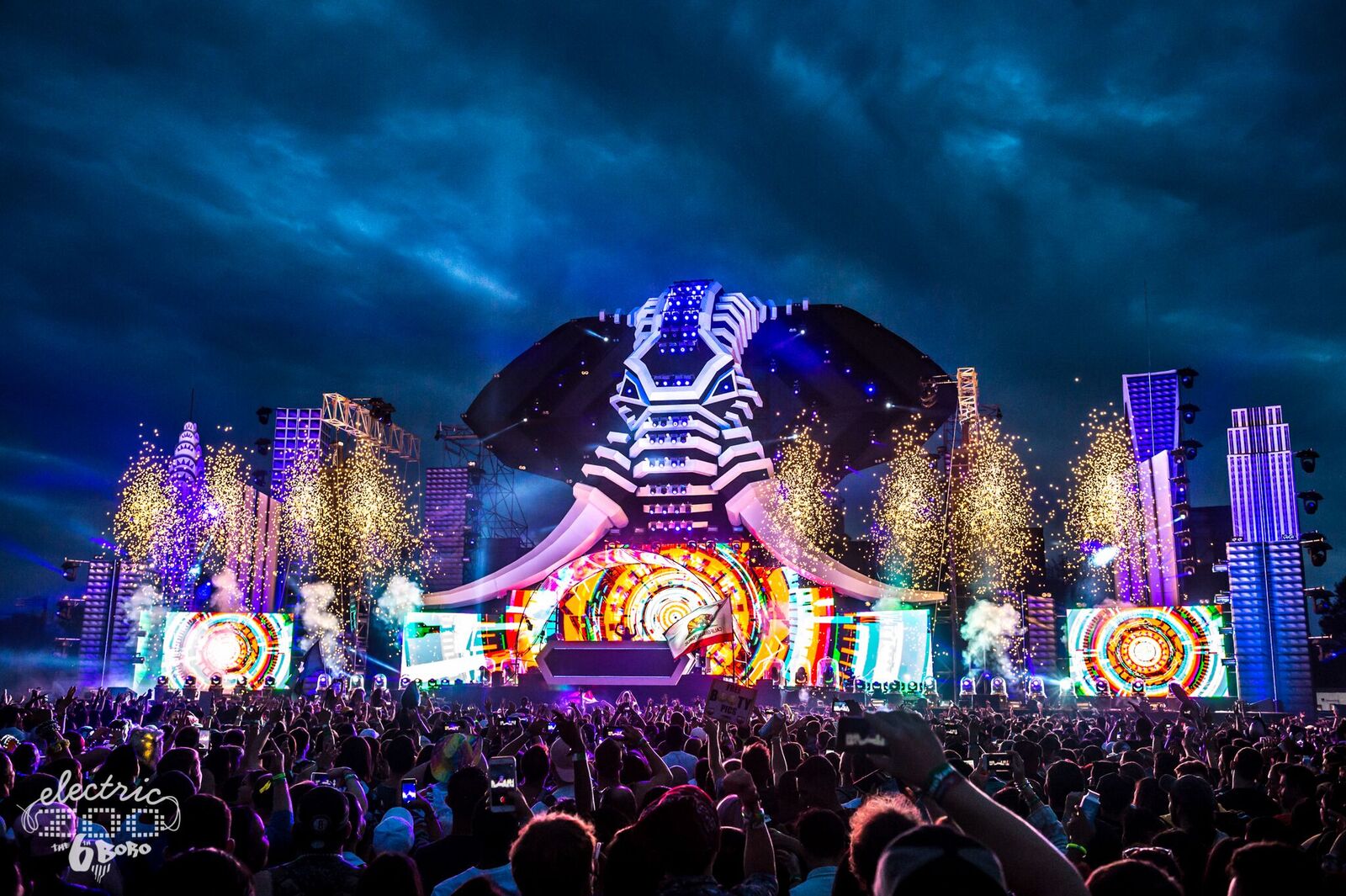 The entire weekend featured many great performances, including deadmau5 and Eric Prydz who stole my heart and ears with their techno-heavy set.
Many attendees anticipated deadmau5 and Eric Prydz would play their greatest hits alongside each other. No one could have expected the massive amounts of techno they played that night. For the first time ever, I witnessed a closing b2b techno performance on the main stage. There would be no "woot woot" or "JUMP JUMP JUMP" or "how you guys doing", both artists commanded the stage with purely with music.
The only issue with the set was that it stopped too soon. This would have been an amazing chance for a two or three-hour set. Instead, the set ended abruptly at 10:57 pm and the closing fireworks fired into the New York skyline. Next time, I hope both artists get a longer play time or even an open-to-close set. If you want to relive this set or many others, make sure to check out our Electric Zoo live set post HERE.
The main stage became barren on Saturday with the rain. Rain did not stop attendees from watching Above & Beyond at the main stage. I stood it in the rain for an hour listening to Above & Beyond alongside a group of 15 attendees huddled together under a big sheet of plastic. VIP attendees were sheltered by their tent. Some people were prepared with umbrellas and the help desk had ponchos too. My cold is a souvenir from the set but it was beautiful to listen to Above & Beyond in the rain.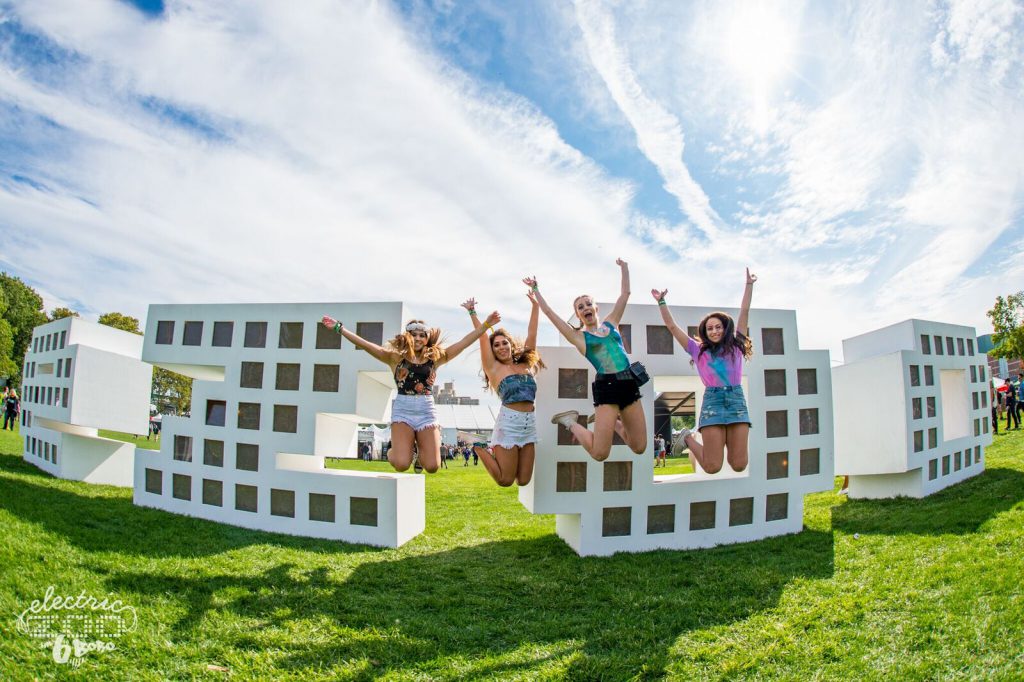 In addition to the lineup, Electric Zoo offered convenient transportation options, a cashless payment system, and a themed main stage.
Though attendees went through a ferry security check point, the line was always short or non-existent every time I went before 5 pm. The ride itself was smooth and about 30 minutes to Randall's Island. Ferry riders must go through a second security line at the festival entrance. We were greeted by the security wearing blue shirts that were polite and smiled at us. For the first two days, security wished me to have fun or stay hydrated while sporting several kandi bracelets proudly. The venue smart security near the bathrooms promptly reminded girls to not forget their phones in the port-a-potties.
Like Tomorrowland, Electric Zoo's cashless system from Paylogic allows attendees to drink, eat, and buy merchandise without having to bring cash or credit cards. Attendees received a bonus $5 for every $150 they added to their wristbands before September 1st. The alcoholic drinks and food were rather pricey at Electric Zoo, but service moved quickly. I rarely saw any long food lines with more than 6 people and a delicious waffle cart.
On to the festival stages, the main stage Elephant bore a striking resemblance to last year's cobra design but I figured it meant for the "Electric Zoo" theme to continue by featuring a new animal yearly for the main stage. The stage was outfitted with lots of lasers and pyrotechnics, but not enough LED or screens. In the far back of the stage, it would have been nice to see the artist performing since the crowd became so dense as during the closing performances.Not to mention, the screens were on the bottom section of the stage design instead of above for people enjoying the main stage in the back.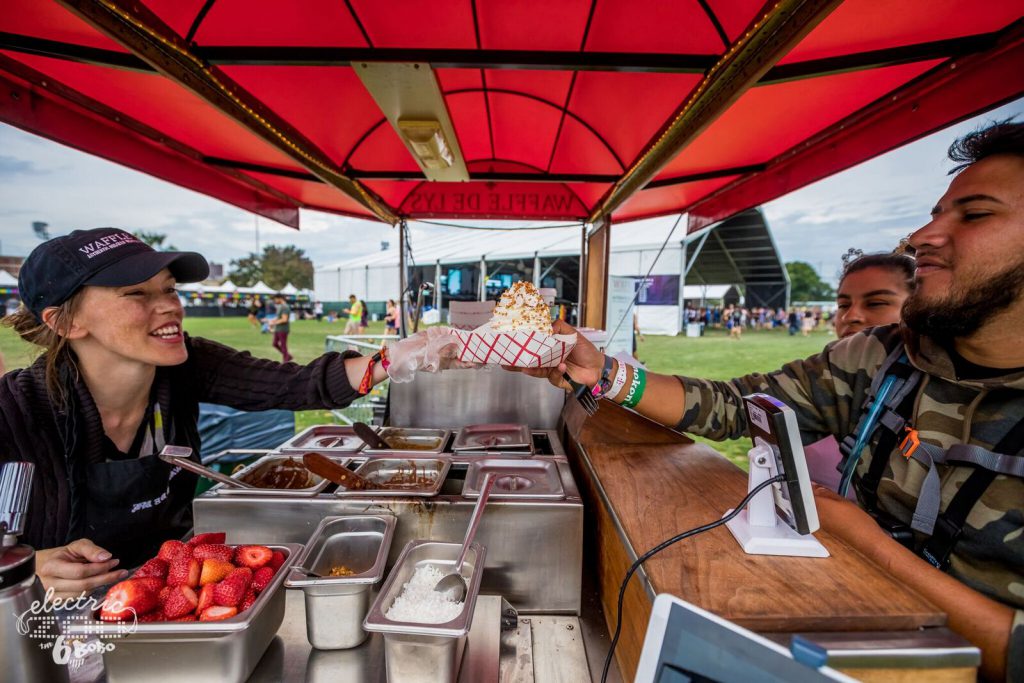 My friends, the E.S.T. crew, were down to keep dancing the night away after Electric Zoo ended, so we headed to one of the weekend's after parties at Brooklyn's Output.
Luckily for us, deadmau5, BlackGummy, and ALX played at Brooklyn's Output for the Electric Zoo Afterparty. We came back after waiting for an hour in the ferry line to get back to Manhattan, have some pizza, and we set off for the after party. We got to Output late and caught 50 minutes of deadmau5's set who went on at 1 am to 3 am.
I enjoyed BlackGummy for a good hour before going to see ALX in the other room. It was surprising to see that Output had a more warehouse vibe in one room and a "club" type vibe in the other. Not to mention, the rooftop patio with a bar was a nice place to take a break from all the dancing. We danced the night away until the club closed at 5 am.
Overall, Electric Zoo: the 6th Boro kicked ass. It's one of the best festivals I have attended this year and feel we got our money's worth, especially if you were lucky enough to snag early bird prices. I can't wait to return to Electric Zoo, especially if next year's lineup trumps this year.
---