Get to know rising star Bob Lemon in this week's Artist Spotlight!
---
When life gives most people lemons, they make lemonade, but Bob Lemon isn't most people. When life gave lemons to Bob Lemon, he turned them into some sick beats that pack a punch.
Serenading listeners with an audio journey that contains elements from multiple genres and live instruments, his infectious original tunes have begun to creep into our playlists. Add on the fact that his mixes are full of good vibes, taking you on a trip in their own right as he throws down tracks that will get anyone moving, and you have the making of a future star in front of your eyes.
Most recently he released an album entitled Instructions Not Included that is stocked full of quality tracks that made us fall deeper in love with music and left us absolutely stunned. Stream the album for yourself: it's a must listen for anyone who loves live instruments, bass music, and awesome vocalists.
We had the chance to chat with Bob about his love for citrus, the recent album, and more. Listen to the exclusive guest mix below and read on for the chat with the man himself!
Stream EDMID Guest Mix 080 || Bob Lemon on Mixcloud:
---
First and foremost, when did you develop your passion for lemons? Was there a specific moment when you realized that was the citrus for you?
Well… lemons are the best type of citrus. Dangerous in your eyes, delicious on seafood. Not too sweet, not too tart – just right for me. Deep down, I've always known that lemons were a part of my soul. I don't have a passion for lemons… lemons have a passion for me.
What led to you finding a passion for electronic music and eventually getting behind the decks as a DJ?
Initially I didn't like electronic music. I had the "they aren't using real instruments; how can this be real music?" mindset for a while. Then I realized the freedom of electronic music and how it has the power to create any sound you can imagine. That's what drew me in. Classify music however you want but digitally-made tracks are still art. And as far as getting behind the decks as a DJ – I'm a producer first and foremost. I only know the basics of DJing so that I can play my songs live.
Your Citrus Mix Series features tracks from a variety of genres, does that represent your own personal listening habits?
For sure! I love all types of music. My music library has death metal, screamo, Justin Beiber and even some Jon Bellion. I love jazz and classical – I also like industrial and experimental. So, when I go about making a mix my goal is to just spread my love of music without the boundary of genres.
With such a variety in style, who have been some of your biggest influences on the production side of your life?
I always admire people who push boundaries and keep a clean crisp production sound. It would be impossible to name them all… but a few off the top of my head (in no particular order) are: Mat Zo, Trent Reznor, Netsky, Gammer, Just a Gent, Deadmau5, Pendulum, Porter Robinson, and Jerry Finn.
Recently you released your debut album Instructions Not Included, which features 17 tracks. Was the 17 intentional due to the release coming in 2017?
Haha, no it wasn't intentional… maybe subconsciously or something though.
Stream Instructions Not Included on SoundCloud!
One of my favorite tracks on the album is "Resonate", and I loved the B-Side of it with Scotty B as well. Did you record B-Sides of other tracks on the album?
That's one of my favorite tracks of mine! I'm glad it "resonated" with you. I made that song as a rap track for my friend Scotty Panic. But before we got a chance to record it I showed it to one of the people who frequently records with me. He loved it so much he put a verse and a hook on it. Then another one of the singers I work with a lot liked his verse so much she wrote a counter verse. By the time it got to Scotty, the song was pretty much done. I had a hard time deciding which version to put on the album, so I just put the version with the rap as a B-side. This happened with a few of the songs, but the B-sides either never got finished or I didn't feel they were up to par with the rest of the album. I play them out live sometimes though.
Many tracks on the album feature vocalists like Mara Lee and Ross Herner, what was the production process like for these tracks? Did you build the tracks around their lyrics/vocals?
I've been fortunate to work with some very talented artists and singers. Sometimes they write a little melody and some verses. Then I just record their voices and build a song around them. Other times I have a finished song and they come in and write something over it.
The album brings a live feel with it through the inclusion of instruments like saxophone and guitar on certain tracks. Do you feel it is important for artists in the digital realm to incorporate these elements in their music?
I do. Music is a constant progression. New instruments/software/techniques further the industry and sound. People love the humanness and imperfections that come with live sounds. On top of that, I had a perspective changing moment when I went to see GRiZ perform live. He wasn't just pressing play and fist pumping behind a DJ deck, he was playing a saxophone, engaging the crowd and getting hype. He was playing something different than what everyone who bought his mp3's had heard. That was a special realization that this is where organic instruments and electronic production meet. They create something new. This is what I strive for in my music.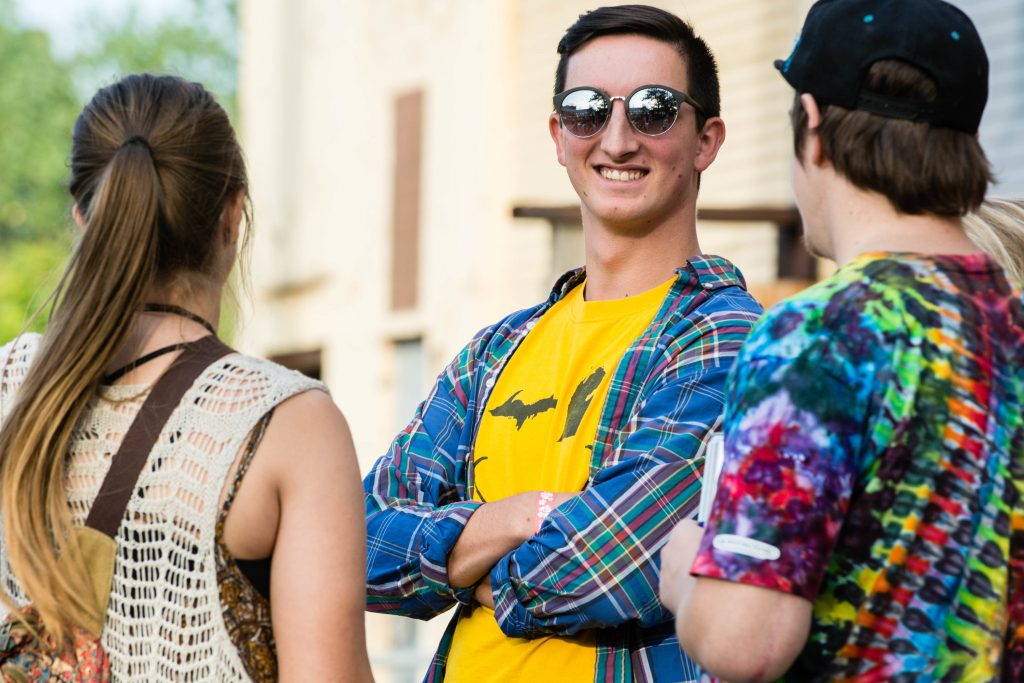 Where is a dream festival or venue that you'd like to play in the future?
Red Rocks, hands down. That is my dream.
Based out of Detroit, what are some of your favorite things about the scene in the city known for its sick house and techno vibes?
The atmosphere is amazing here. The city is full of rich history and awe inspiring architecture. To be so close to the places where electronic music started in the US, Detroit and Chicago, I am very lucky to be surrounded by the community that resides here.
Finally, do you have any special lemon-based recipes or a favorite lemon flavored drink or dessert?
I bartend when I'm not making music and Lemon Drops are probably the most ordered drink at my restaurant. I make a killer Lemon Drop.
---
Follow Bob Lemon on Social Media:
Facebook | Twitter | Instagram | SoundCloud
Featured Photo Credit: Nate Archambeau