Get to know Golden Boy Mike in this week's Artist Spotlight!
---
Over the past 29 years, Golden Boy Mike has made a name for himself in the electronic music scene as an artist, tastemaker, and now he's tackling the scene heading up his own label as well. Playing shows all over the US and Mexico he's played alongside major names in the OG scene like The Warp Brothers, Thee-O, and DJ Keoki. His release history boasts of multiple mixtapes and album releases, and the creative juices have never stopped flowing for this DJ who fell in love with trance.
Coming from an era that was rooted in skills on actual turntables with crates of vinyl as a source, he dominated the electronic scene here in San Diego with residencies at clubs who were at the forefront of the movement such as Onyx Room, Decos, and Montage (now known as Spin). His talents behind the decks have given him plenty of love nationwide as well, having played gigs at premier clubs in Las Vegas, Chicago, Miami, and more.
Debuting the first release on MJS Records in 2016, his plans to take over the scene on the production-front is in full force. The future is bright for this trance artist who is backed by decades of experience in the music industry, so check out his exclusive guest mix below and read on for our chat with this OG of the San Diego Scene!
Stream EDMID Guest Mix 079 || Golden Boy Mike on Mixcloud:
---
What originally drew you to electronic music and pushed you to begin a career as a DJ?
My dad was a record collector and amassed almost 10,000 pieces of vinyl and my uncle used his military training in radio communications to build a giant speaker system on wheels. When people heard about those things, they started hiring my dad to DJ company picnics and mobile gigs. I helped him from about age 8, and although he never specifically pushed me to do this, he always supported me, and a love of vinyl and DJ'ing just became part of the DNA in my blood and has never left me since.
To this day, those experiences drive me to relentlessly pursue this business even though I don't fully understand why. I was completely fascinated by vinyl, its cover artwork, liner notes, and even the spinning turntables. When my dad started letting me take out the system for my bookings in the late 80's, living around Chicago, I played house music on vinyl, although it wasn't really called "electronic" music at that time.
I moved to San Diego in 1995 and maybe 2-3 years later there was a Saturday night club at the Del Mar Fairgrounds called Velvet by John Stinson and that's where I heard and really turned to trance and have stayed with it ever since. That is also when I started hearing the term "electronic" related to many styles of music. A lot of people ask me when I am giving up vinyl and going all digital but to do that would be like turning away from my upbringing and changing the very core of who I am to go against these very deeply rooted influences inside me.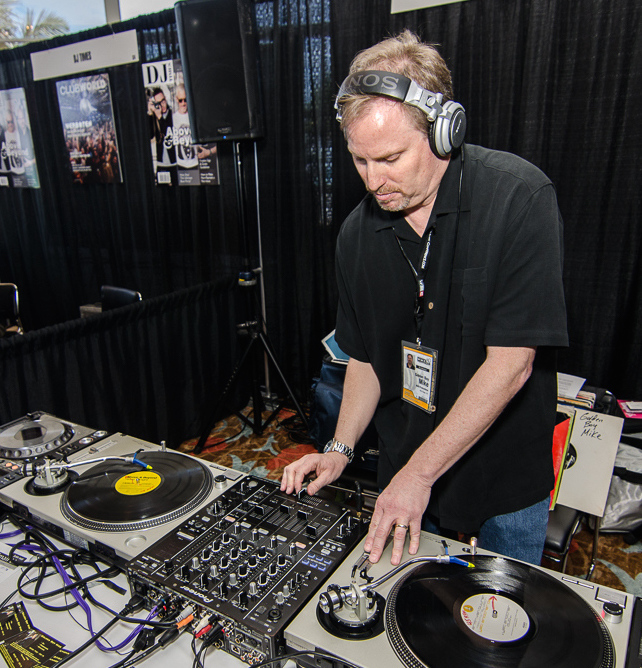 You're good friends with DJ TL SPANX. How did that friendship form and lead to you working together?
DJ TL SPANX had this huge vision to start his comeback in 2014 and was putting a team together. A mutual friend recommended that he contact me and when we met his story was fascinating and our mutual DJ background was identical. I realized my company resources and his talent would be a good fit and about 1 year later we signed him to the MJS Productions Artist Management Agency and launched his 20 – Year Comeback Tour in Miami at the Winter Music Conference (WMC) and he has been with us ever since.
We also started producing together and really clicked in the studio using concepts from our DJ background. He used to splice tape together to make his radio mixes on 92.5 FM and he translated that into a studio process we used on some of our remixes. We have spent countless hours side by side the last few years in the studio, traveling on airplanes and in cars, and he has become a very important part of everything I do with my own music production, MJS Productions, MJS Productions Artist Management Agency, and now MJS Records.
There has been a resurgence in popularity of trance over the past two years. What are your thoughts on the comeback of the genre?
I think trance was always seen as an underground sound in the U.S. and more culturally accepted as mainstream/commercial in Europe. I DJ'd and promoted a lot of trance shows in San Diego until about 2008, especially at Montage and Spin, as it is called now. But then it seemed like there weren't many trance shows being offered in San Diego for awhile.
About two years ago, Kailin Hwang from K-Lin Events sort of picked up the ball for trance events at Spin and revitalized them. I really admire how he rebuilt a good culture around it for his shows there and connected it to his trance events in Fresno and other cities. I think some of your people at EDM Identity have also been pretty instrumental in that resurgence as well and I am very excited and grateful to see that happening.
Spinning tracks and playing sets for many years now, what has been your favorite era of electronic music and the scene?
My first favorite era would be when I started DJ'ing in the Chicago suburbs when house music was hitting in the 80's. There was a feeling and excitement in the air that was very tangible but hard to describe. To realize that a small neighborhood type of thing like that eventually ended up with the worldwide recognition that it has now is pretty amazing and makes that era more and more special as it continues to last. A lot of people have heard that lyric "house is a feeling" and know what it means, but it means just a little more to the people from that area.
However, since I found trance in the mid 90's I enjoy spinning it the most when I DJ because otherwise I wouldn't be true to myself first and the dancefloor would probably see that. I found that article by MyStro on your site about Solarstone's quote to be pretty insightful on how these new eras are needed to evolve.
With all the changes to the industry, scene, and even production of the music, is there anything you miss from past eras?
I miss the record store as the hub of DJ culture. It was a great place to get new music, connect with people, buy gear, pick up flyers for events, and just talk to people in the industry. All of that personal connection and a little sense of the "scene" was lost when record stores started closing and I valued those personal connections. As for music production, I am about 6 years into it and never had the chance to build an analog studio although I would love to play around in one sometime.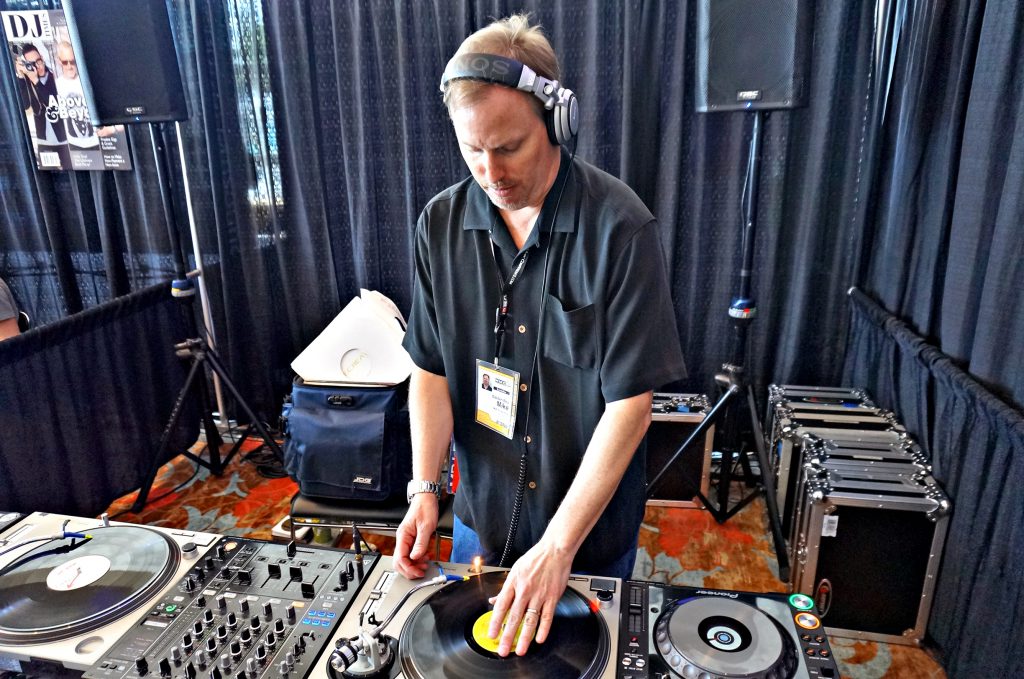 Where have been some of your favorite venues that you've been able to play in your career?
Montage / Spin has always been and still is my favorite venue to play in San Diego or anywhere else. I've had several residencies there and the building, stage, and lighting set-up there just fit my style of trance perfectly and that hasn't changed throughout the years. One of the original owners, John McCusker, was always very supportive of me as a DJ there and also the events that I promoted there.
Seven in Las Vegas, now the Cosmopolitan, was my one-off favorite. We brought a bus of 50 fans from San Diego to hear myself and the artists from my MJS Productions Artist Management Agency play – DJ Evolved, LEVIT8, and Sgrigs, and see 4 of our GoGo Dancers perform a choreographed night. It was one of those once-in-a-lifetime shows where everyone nailed their set and came together for an incredible show that lasted well into the next day.
The GoGo dancers had like 75 people follow them down the strip from our hotel to Seven and combined with the people we brought, it was "game on" immediately at 10pm. I played before Ollie from the Warp Brothers and ended my set about 3am but Ollie forgot his needles and the club didn't have any extras so they gave our whole management agency bottle service so I would stay and let Ollie use my needles. So needless to say, some people went right from the club directly back to catch the bus the next afternoon for the ride home. Later that summer, we ended up doing it again at the Las Vegas Hilton.
Magic Waters in Rockford, Illinois was a water park where I had a summer DJ residency playing to 3000 people every week and it really helped to establish me in the Chicago area. It was very similar to the pool parties in Las Vegas.
Outerlimits in Bradenton, Florida is my favorite club on the East Coast. With Florida being known for breaks they really liked the trance music I spun and the people were truly there to have fun dancing, which is my kind of crowd, as opposed to trying to be seen in the VIP or something like that.Also, any venue or pool party in South Beach, Miami is a favorite of mine to DJ at during the Winter Music Conference. Again, just being with all the like-minded people makes for a great set.
Also, any venue or pool party in South Beach, Miami is a favorite of mine to DJ at during the Winter Music Conference. Again, just being with all the like-minded people makes for a great set.
Who are some of your top influences as an artist?
On the DJ/artist side, I admire what Armin Van Buuren has done with his DJ style, music production, A State of Trance radio show, Armada Music label, and even his personal character in sharing his success by helping so many others boost their careers. I would like to do all of those things as well. Again, DJ TL SPANX also influences me in our studio projects because he thinks so out of the box and develops sounds in very unique ways.
But most of my true influences come from the people closest to me who understand what I try to do. I want to do well to reward them for their investment in me. First and foremost was my dad for instilling that love of vinyl in me and supporting my early DJ career. My best friend Jim Sikora, who started MJS Productions with me, always encouraged me to take risks and develop my DJ talent.
My former manager, Demola Atiba, always kept me motivated by knocking down so many doors with his entrepreneurial spirit, revitalizing MJS Productions on many levels, and I admire that he went on to build his company, Pluto Management Group. I also have to especially mention my wife who has been through all the ups and downs for the last 17 years with me in this crazy business.
Do you feel vinyl still has a place in the modern electronic music scene?
Yes. All the articles and sales reports I see indicate that it is growing much more than any other tangible form of music. Vinyl pressing plants are being re-opened and massive new ones are being built and they still can't keep up with the demand. I think the music industry is realizing it shot itself in the foot with the smaller profit margins in digital.
All digital SoundCloud has had so much financial trouble lately and on the other side, Sony Music, one of the majors, just announced they are re-opening their vinyl division to press their artist's music on vinyl again. The physical product seems to have a bigger profit margin versus digital.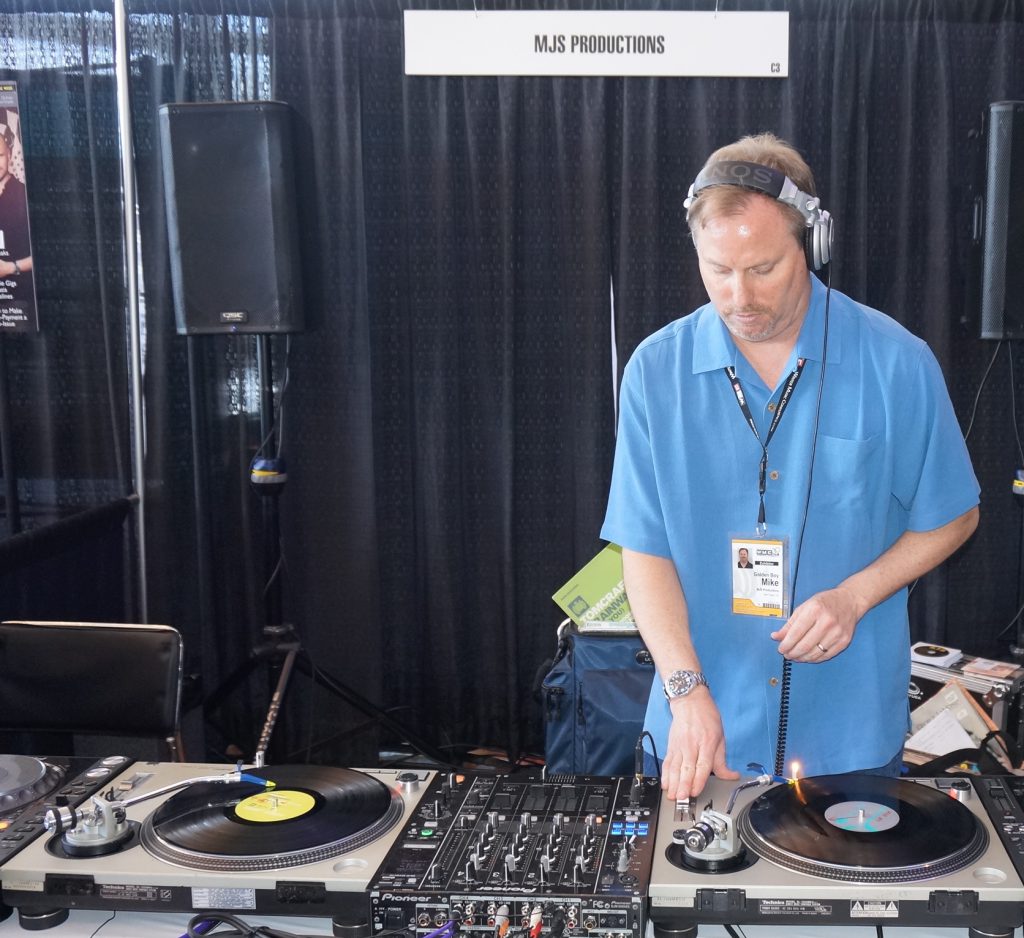 What are your thoughts on the scene here in San Diego, and how do you feel it differs from other areas like Los Angeles or Las Vegas?
There is a huge talent pool of DJ's and artists in San Diego, just as much or more as those other cities, but I think the culture that values DJ talent in San Diego isn't as big as in Los Angeles. Plus the 2am closing time here doesn't compete with other cities. DJ's really have to get gigs out of town to get the recognition and support they deserve from inside San Diego. San Diego also needs a formal structure to "come up through the ranks" or some sort of "proving ground" to nurture DJ talent, which I think is currently missing.
I think Las Vegas really values DJ entertainment in terms of the money it generates and how it pays DJ's and artists. So in a lot of ways, it is more viable for DJ's there, but only if you are in the big hotel/casino nightclubs. Although in a certain sense, it is somewhat the same everywhere. Last month, I had a great meeting with a very prominent DJ/producer there, Nico Salazar, and in some ways, his story is similar to ours in San Diego. Nico is getting recognized all over the U.S. and regularly playing out of town in Reno, and in Chicago at the House Music Block Party with absolute house legends, and other cities as well, and yet his hometown is under-utilizing his talents and not realizing how big he is in other areas and the draw he has there in Las Vegas.
Are there any upcoming projects, shows, or releases you'd like to share with our readers?
Yes – about one year ago I launched my record label, MJS Records, and my originals "Angels Cry" and "Hover" are currently out on MJS Records plus distributed globally to online music stores, with more of my originals to be released in the fall. They're also in the exclusive guest mix I did for you here at EDM Identity! I am also working on a song with singer/musician Shyla Day. When all those songs are all released I will be taking more DJ bookings again.
On Friday of last week, MJS Records signed DJ TL SPANX to a 2 Song Recording Contract to be the foundational recording artist on MJS Records with those songs coming out in early 2018. This week we also signed GM Music from Wales (via London) and his song "The Feeling" which was produced with Denizen featuring the beautiful vocals of Calte Jones. We think this song has huge crossover potential both in the U.S. and Europe club, radio, and commercial markets, so we're very excited about its release in the fall.
DJ TL SPANX and I remixed "Never" by Billboard charting Kim Cameron and Side FX and then SamiVeli from Belgium joined us in remixing "Falling Stars" for them as well. All of those songs are out on the Side FX Partners label. All 3 of us also remixed "Summertime" by Raquela, which is out now on the House of Pride Music label.
Finally, our favorite question for artists from San Diego. Where's your favorite taco shop, and what's your usual order?
This sounds terrible and probably isn't very authentic but the Del Taco near the entrance to the 163 and 5 freeways from downtown San Diego is my guilty pleasure. After a night in the clubs, I can't resist picking up a quick combo beef burrito with rice and french fries to eat as I drive on the freeway heading home. At 2am it totally hits the spot!
---
Follow Golden Boy Mike on Social Media: