Get to know rising stars in the hard dance scene, NONToxic, in this week's Artist Spotlight!
---
When you talk about hardstyle as a genre, specifically the artists who are rising up or dominating the scene, having them in your backyard here in California isn't all too common. While the genre has begun to grow in popularity over the past few years, we look to some hometown heroes to pave the way for the scene to make bigger moves in the future. Enter Chris Steele and Ruben Avila, who have combined their skills in the studio and behind the decks to make their mark on the hard dance community as NONToxic.
After getting a track signed to Hard Dance Nation back in 2016, their journey truly began in showing off the growing hardstyle community in the US. The duo has gone on to reach greater heights as they received support from promoters like Insomniac Events via brand Basscon, and Fresh Entertainment. Sharing the stage with some acts who are powerhouses in their own rights like Zatox, Coone, Wasted Penguinz, and Wildstylez, NONToxic has their sights set on superstardom in the hard dance scene.
Catch them this weekend at Project: Z, listen to their exclusive guest mix, and get their thoughts on the hard dance scene below!
Stream EDMID Guest Mix 077 || NONToxic on Mixcloud:
---
This weekend you'll be taking the stage at Project: Z! Is there anything special that attendees can expect from your set?
They can expect NEW unreleased music mixed into a high energy set. We were able to snag a couple of unreleased tunes from artists that have kindly allowed us play them at Project Z.
In the past, you've played other Basscon events. What has it been like working with and getting support from Insomniac?
Amazing! We couldn't be more thankful for what these events have done for us over the last year and a half. We have gotten to share the stage with our inspirations and it's a dream come true. Insomniac treats their artists respectfully and equally, whether they are a headlining act or an opening act. It really has changed our world as artists coming from the underground scene.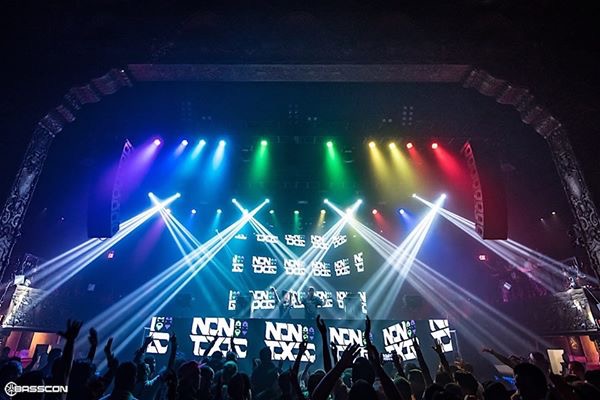 How did the two of you become Hardstyle DJs? Have either of you had any formal training or are you both self-taught?
Ruben: I first discovered Hardstyle at a very young age. It was a sound that had always stuck with me throughout any other genre. I remember going to house parties, and a buddy of mine would always DJ old school Hardstyle (aka Showtek, early Zatox, Headhunterz etc, etc) and from there, I immediately fell in love with the sound of Hardstyle. I became a Hardstyle DJ after many years of being a House DJ and one day decided to give my good buddy Chris here a call and asked him to work on a tune with me.
Originally, it was supposed to be house, but we both felt it needed a little more energy. Thus from that came our first tune as NONTOXIC "Rythmic," and after seeing how the reaction was when we first played that track live, I knew from there I wanted to be a Hardstyle artist. Ok Chris, your turn…
Chris: I was introduced to Hardstyle by a track made by Blutonium Boy called "Make it Loud," and I fell in love with the sound right away. I also started in a different genre before that just like Ruben did, but I actually started out with Drum n' Bass. Artists such as High Contrast, Metrik and, Duo Infernale were big inspirations to me because of the melodies they created in Liquid DnB. After a while of DnB, I was shown the ways of house music. The first time I played an all house set is when I knew that the world of 4 to the floor was for me, especially Minimal House and Tech.
While we were working on our first track "Rythmic" originally as a house tune, I was booked on a small underground event by myself. I had some hardstyle tracks that I messed around with but never played live before. That night, I started to experiment and take the tempo from 128 to 150 and continue the set into hardstyle. The people were feeling it, the vibe was amazing. After that night, I was so inspired to take it even further. All of this happened at the same we were trying to find ourselves as Nontoxic. Since then, Hardstyle has really been more and more a part of my life.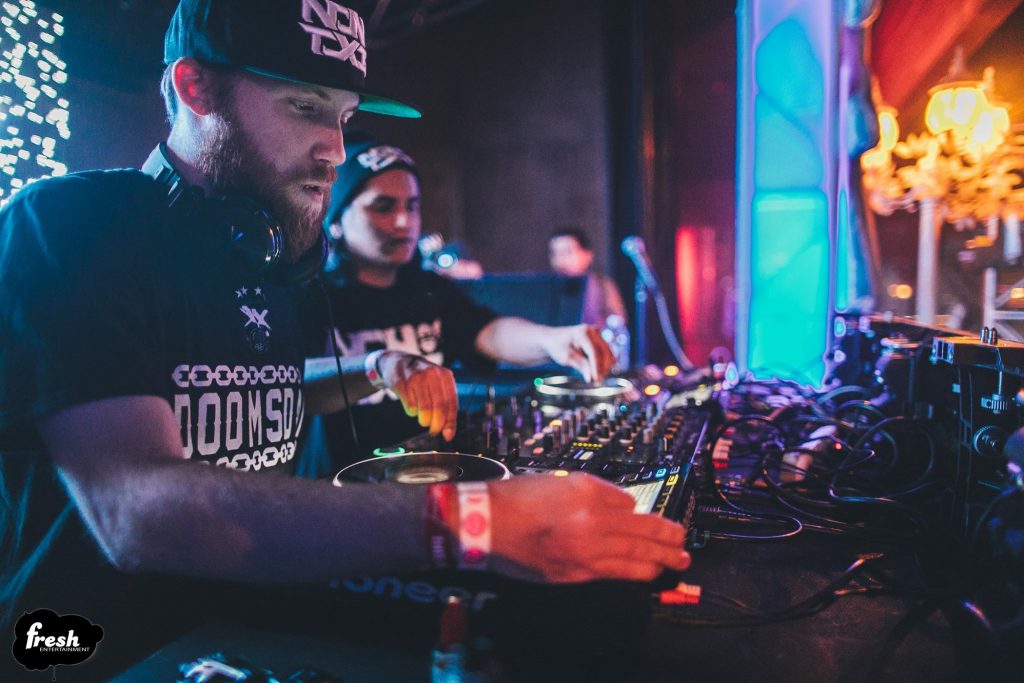 What are the dynamics between the two of you as hardstyle producers and DJs? Does one of you excel more at mixing or producing?
Chris: When it comes down to the production aspect of NONTOXIC, Ruben definitely holds the reins on that end. While Ruben and I are in the studio working side by side on the tracks, my role is in the mixing and running the business end of the duo. Making sure that the right moves are being made for the direction of NONTOXIC.
Your original tracks and remixes, such as "Elation", are fresh euphoric Hardstyle productions with infectious melodies. Can you describe how you felt when you heard one of your own songs played at an event for the first time?
It was an amazing experience to finally hear something that we worked countless hours on over a huge concert size sound system. To get that feeling and seeing the crowd reaction really opened our eyes and inspired us to make our productions better with every new tune.
Hardstyle is a genre known for some amazing collaborations. Are there any upcoming collaborations you're excited about?
YES! A new collaboration is in the works as of now with yet again Aerolite. The songs name is "Apophis" and has a bit of a darker side to it. The release date is unknown at this moment, but hopefully, it should be out the week of or following Project: Z.
The hard dance scene here in the US is still growing, what do you feel fans of the genre can do to help increase its presence?
By bringing Hardstyle to more local and high-end clubs outside of mainstream festivals. We feel that venues allowing Hardstyle as the main sound for more nights will help branch out the genre that much more.
Do you think Hardstyle is getting more recognized in the US, and what do you think the future of the genre looks like?
Absolutely, especially in the Los Angeles area. We see a lot of up and coming talent including ourselves playing more mainstream events. It also helps that more developed artists who are not in the Hardstyle genre are starting to incorporate this sound into their live sets.
Hardstyle has and forever will hold its main spot in the European electronic dance music scene. For here in the US, we feel it will rise in the ranks of house, trap, dubstep, and more over the next couple years. Hardstyle has really made its impact hard enough in the US already, that there is nowhere to go but up for the genre.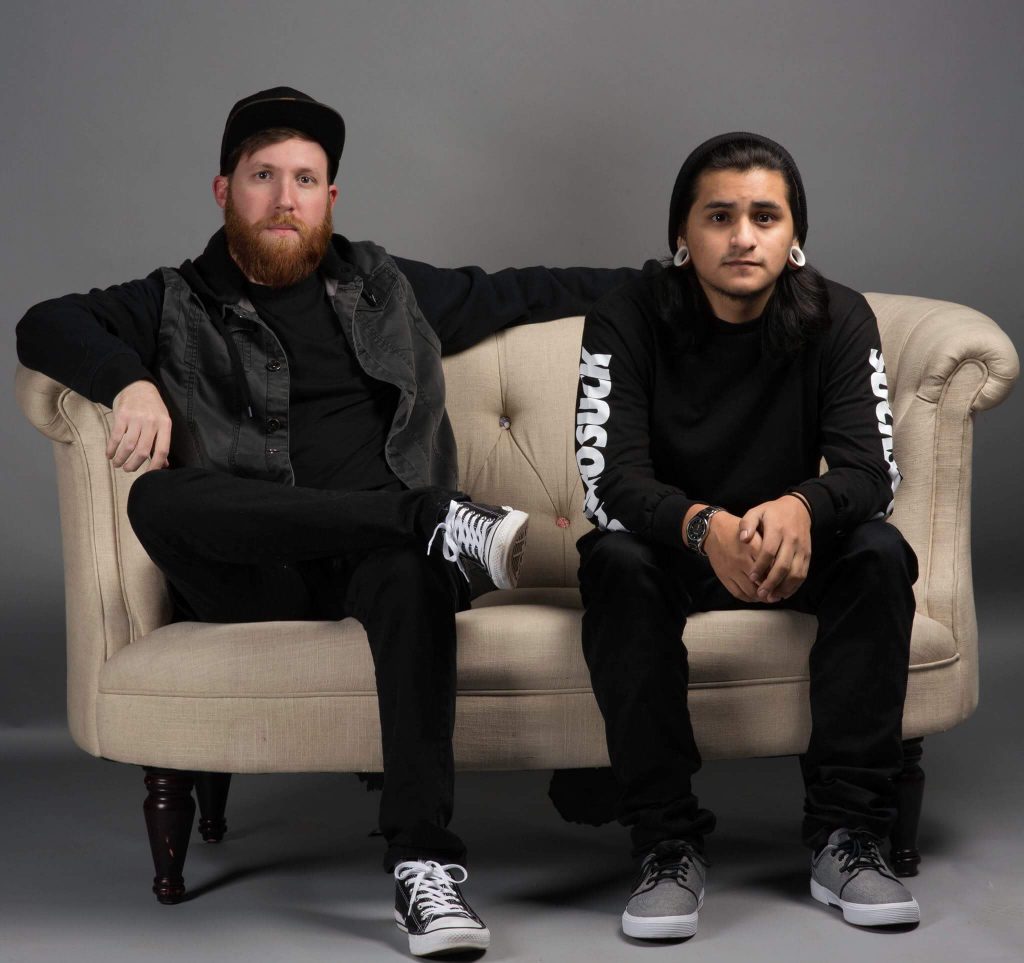 As newer acts in a smaller scene, are there any struggles you face that wouldn't be as problematic if you were in Europe?
Compared to here in the US, there would be a lot more connections in Europe. Most of the other artists that we work with and know personally, stay out in Europe as well. So definitely, making more connections in the US and meeting new people, is challenging which makes it a harder road to travel to make it in the hardstyle scene, but not impossible.
What are your thoughts on how traditionally non-hardstyle artists are incorporating hardstyle tracks into their sets, such as Nicky Romero, Armin Van Buuren, and Hardwell?
We think it's awesome! Having such bigger names play Hardstyle helped open people's minds to the sound itself. We feel that without the help of these artists, Hardstyle wouldn't be where it is in the US today.
Do you have any new releases or shows in store for the rest of the year?
At this current moment, we have four upcoming releases. Three of which are collaborations with some well-known artists. One is a brand new original that we might debut at Project Z. As for shows, we have one coming up September 9th in Fresno California and we are sharing the stage with Frontliner, Lady Faith, and Deejay Pez. We also might have a couple other shows towards the end of the year that are To Be Announced.
Finally, what are your favorite pizza toppings?
Ruben: Hmm…I'm a simple man, who lives a simple life. The only topping I ever choose…..is…..Pepperoni.
Chris: Well, I'm not as simple as Ruben is. However, meats and cheese are very important, such as pepperoni, breakfast bacon, grilled chicken, ham and grounded meatball and for the cheeses, mozzarella, parmesan, feta, and ricotta. All on one pizza! With some garlic and Sriracha sauce. No marinara though….BBQ sauce is the way to go.
Both: BUT PINEAPPLE DOESN'T GO ON PIZZA AT ALL!
---
Follow NONToxic on Social Media:
Facebook | Twitter | Instagram | SoundCloud