If you're looking to spend a couple of days out in nature with your best friends and enjoying music from some of the best DJs in the world of techno, house, and trance, then check out AIM Festival in Montreal!
---
Whenever I go to a music show, be it a festival, club or after-hours, I do one thing: dance! However, this time around I decided to explore all that the festival grounds had to offer for a simple reason. Dancing for 18+ hours non-stop from midday to late morning is a daunting task. There comes the point where your body tells you to take a break. If ever you want to see the end of the road, then you should probably listen to your body. Luckily, during those breaks, I was able to roam the area and discover what the festival had to offer. While I'll go in more details further down, the short takeaway is clear. AIM Festival is more than a camping festival. It's also more than a gathering of people to listen to music. Its scope is to combine the freedom of being outdoors with high-quality electronic music to educate people musically. If you're expecting commercial or mainstream EDM, then this is not the place for you. However, if you want a sophisticated, cutting edge, underground musical exploration in a joyful and happy setting, then this is the perfect destination. For the majority of the time I was at the event, that's what I experienced.
For over 170 years, Canadians have navigated the river that banks the Carillon Park. However, for one weekend a year, the park transforms into a multi-stage festival.
The whole premise of a camping festival is to be far away from civilization and become one with nature. For this reason, AIM is located about one hour outside of Montreal (on a good day with out traffic), in the French Canadian country side. At the end of the drive, you reach one of Canada's Historic Sites, Carillon Park. As you reach the parking lot, you can take the shuttle that'll lead you to the camping grounds. I did not camp, however, the grounds are within walking distance. Far enough to let the music die down, but not far enough that you don't want to venture back. From what I could see, a fair number of people set up their tents, rubber water pools, and even barbecues. When I arrived, in the early afternoon on Saturday, security was non-existent. As long as I had my wrist band, I was ready to go. Even at club events in Montreal, apart from an ID request at certain venues, checks are minimal.
Once inside, everything was within a 2-3 minute walk. On one side, you had the main stage. The stage had plenty of lights and a big LED screen. A big crowd cover was installed in the middle of the dancing area to provide rain shelter. At night, the powerful lights illuminating the sky were visible from all over the park. To the opposite side of the grounds, you could find the trance stage.  Here, the setup was smaller; however, a crowd cover existed as well. The stage had only a few lights, but rather large speakers by the sides. Trance being an energy driven genre, the speakers seemed appropriate. In between the two, there was another smaller stage. Also, one could find the all the merchandise shops and catering area here. To my surprise, the organizers hid an unannounced small stage in between the trees. Its theme was rather psychedelic. It provided the perfect means of relaxing to the sounds of psy-chill and slower tempo music.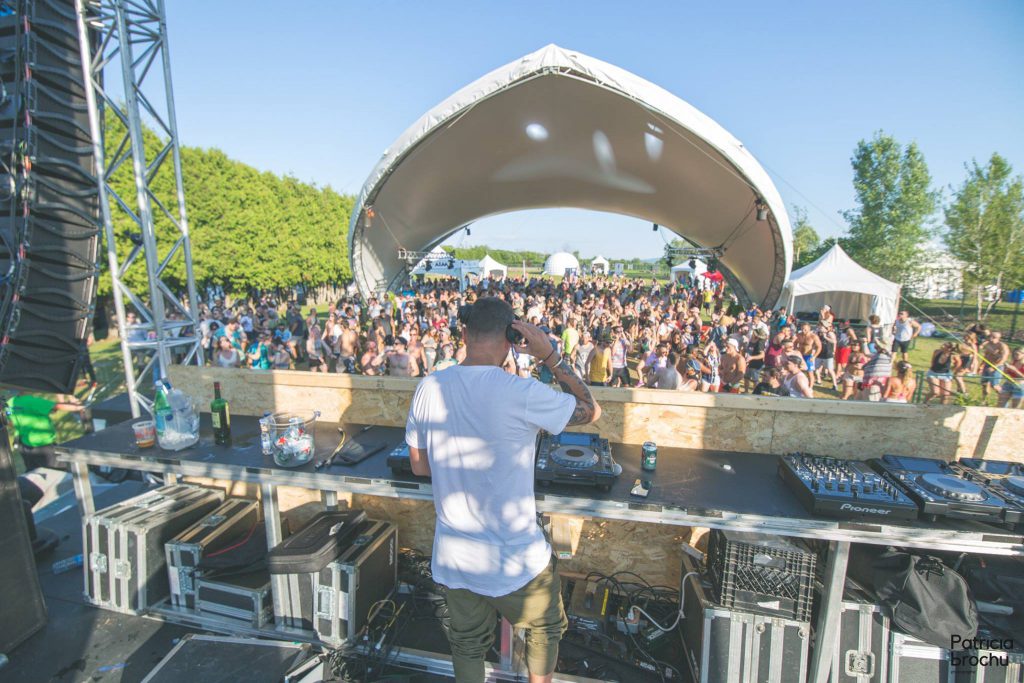 Before I move on, I want to talk about the catering. Even the hardcore festival goers can't go three days without eating. To that end, two food trucks were regularly serving food. You had the option of either Subway or a hamburger/grill type of food. The latter also offered the famous poutine (french fries with loads of gravy sauce and cheese). You simply can't get greasier fast food than that, and it's delicious! In the morning, a separate tent offered fresh smoothies, fruits, and breakfast food. Overall, I felt the prices were more than fair. Drinks were in some cases half the price of what you'd pay in a club. The food was also acceptable and not much more expensive than in the city.
With the addition of the trance stage, it proved the organizers were paying attention to what people love to hear.

AIM Festival is in its 3rd edition. Nevertheless, trance music is the new born child. This year it's making its debut with a trance only-stage throughout the three-day event. To help stir interest, the promoters from both Montreal and Toronto (the two largest cities in the area) joined forces. Most of the main artists booked are regular visitors to either or both of these locations. Names like Simon Patterson, The Thrillseekers, Will Atkinson, or Jordan Suckley are known worldwide. In short, the lineup was stacked!
While I'm not a connoisseur of techno artists, I can say the same thing for the house stage. Guy J is among the top tier house DJs. Others like Guy Mantzur, Eelke Kleijn or Nic Fanciulli are not far behind. It also just so happens that these artists are regulars in Montreal #1 after-hours club, Stereo. In other words, the organizers tailored the lineup to what people love to hear. This approach gets a big thumbs up from me. While I love exploring new music, I feel hard pressed to do it in a festival setting where you're stuck and can't leave if you're not enjoying it.
Trance music is all about emotional roller coasters intertwined with moments of high energy. One minute, you hear piano melodies in the breakdown. The next, rolling baselines push you onward on the dance floor. On the other hand, techno and house, featured on the other stages, revolve around the groove. Repetitive beats and subtle variations in textures help create it. With such distinct musical characteristics, you'll be hard pressed to find a lot of attendees that enjoy both. The techno and house stages saw plenty of comings and goings. The trance area, not so much. The majority of people left either for food, some much-deserved rest, or short breaks.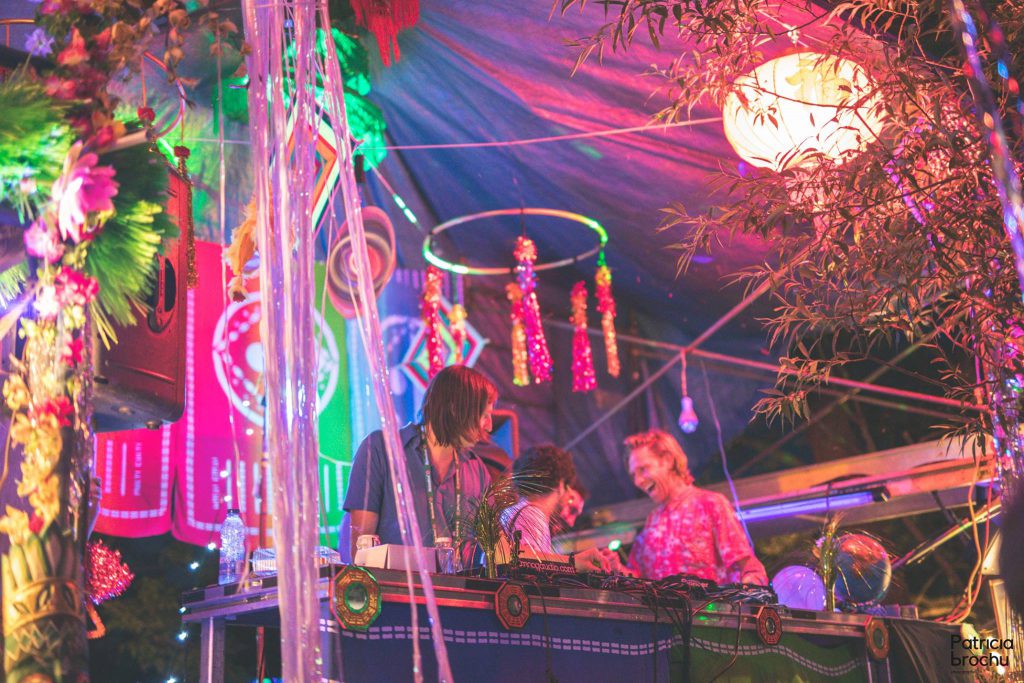 In some ways, trance being a different genre had a large impact on the crowd.
Trance is the type of music best experienced in a club in the early morning hours. From the moment I got there until sunset, there was little interest in the stage. I don't think there were ever more than 200 people present. This had nothing to do with the artists playing. Solid Stone has signed to Markus Schulz's label Coldharbour and is our prominent local talent. Gai Barone is part of Solarstone's Pure Trance movement. Sunny Lax and Jaytech are Anjunabeats artists. The music these DJs play is more progressive and subdued. Perfect for a day out in nature or when at the beach. Nevertheless, they never managed to pull in the size of a crowd I wanted and expected.
As if by magic, the moment the sun set the number of people multiplied and the night hours showcased a different experience. Evidently, it's at this time that the headliners also made their appearance. Nevertheless, the mood shifted rather quickly. Gone were the relaxed, out in the sun vibes. Instead, everyone was keen to get the party started. In all my years of clubbing, I've never seen another music genre have such an impact on the crowd. At times, I felt inside a club. Other times, I was at a rave out in the forest. As the morning crept in, I flew to an island from where I could see the sun coming over the horizon. Nor was I the only person present that had this voyage. Only trance music has this power. One that I'll happily try and enjoy as often as possible.
I do have one small nibble about the stage setup. Trance is a genre of peaks and valleys.  When the rolling baselines are out, it's impossible to hear music from the other stages even if they're close. However, during the breakdowns, when only a piano or a synth is playing, things are different. With the current stage placement, the techno baselines were audible throughout the low key moments. I couldn't help but feel slightly irritated. Instead of listening to that melancholic melody, kick drums invaded your eardrums. I hope this issue can be addressed in future years. As simple as redirecting the sound can solve most of the issues, so it's something I deem doable.
The schedule appropriately planned DJs to keep the night going, beginning with progressive and ending with Balearic trance. Longer set times let the artists shine.

I don't know about you, but I go to events to listen to the music I enjoy. Sure, being outdoors, or with a big gathering, or seeing a well-produced show helps. Nevertheless, if the music is not to my taste, then I'll probably leave. When I saw the lineup for this event, I knew that I'll have a great time. I've seen every artist on multiple occasions and each one brings their personalized take on the genre. I've already discussed the unique vibe at trance shows. There's one more element that makes this style of music stand out for me. That is diversity. Progressive, vocal, tech-trance, uplifting, psytrance, Balearic, classic. These are nothing but a few sounds on offer. A good festival, like AIM Festival, showcases a mix of these styles in a coherent schedule. Progressive to warm you up. Vocal to attract the girls. Uplifting to elate you. Tech-trance to make you dance. Psytrance to transport you to a rave. Balearic to calm you down and enjoy the sunrise. The planning was as good as you can hope for from a festival.
I was also happy to see the DJs having more time for their sets. Far too often, festivals try to cram as many DJs in their schedule. You end up with 60-minute mixes, and in some circumstances, even shorter ones. Everyone plays the same material to please the crowd. There's no progression in the set and the focus is on playing as many tracks as possible. Here, everyone had at least 90 minutes. Due to a couple of unforeseen events, some headliners got as many as three hours at AIM Festival. Nevertheless, even with 90 minutes, you can already start to explore songs that are usually avoided. Whether it's a different genre, some back catalogue material of the DJ playing, or why not classics. Every song that helps break the boring structure is a warm welcome.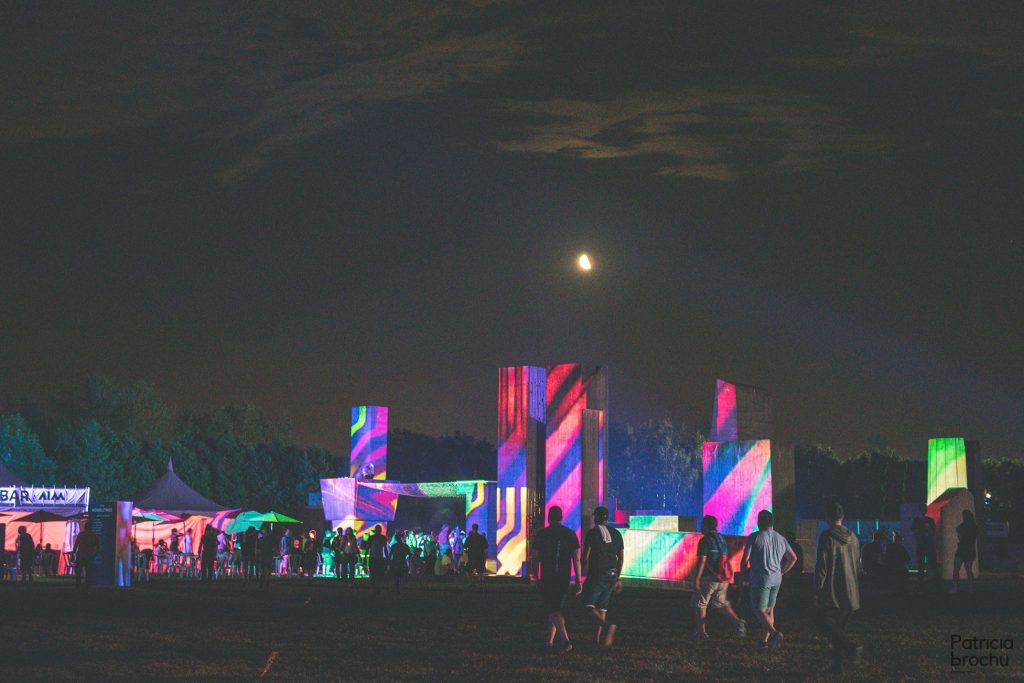 Gai Barone, Kyau & Albert, and The Thrillseekers provided the energy needed to warm up the festival.

Overall, I felt that the majority of DJs delivered quality music. Gai Barone was at his usual best. The first half of his set was all about establishing a progressive groove. The second half was a different story. He mesmerised everyone with his signature melodies. A combination of older and new material plus two remixes of some of the biggest trance songs of all time did the trick. Humate – Love Stimulation has an incredibly haunting melody and it's my highlight of every set it gets played in. In recent times, Kyau & Albert are exploring different musical avenues, mostly influenced by Anjunabeats. Rest assured though, they made sure their fans also experienced the tracks that made them famous. Sprinkle in a few classics from their own label Euphonic, and the result is a melody driven set just as we shifted into the night.
The Thrillseekers is responsible for some of the biggest anthems in trance and especially Balearic. His shows are full of classic vibes. With that in mind, you'd expect the same thing here. Well, the exact opposite happened; we were thrown a massive curveball!. Outside of the opening track, only new, energetic music was on offer. At the time, I was rather upset. With hindsight, I think this was the better choice as it kept on increasing the energy level. It also shows the skills of a great DJ. One that can adapt to whoever playing before and after him and making sure that he fits in. Not everyone can do it, nor are they willing to sacrifice the experience their fans expect for the greater good.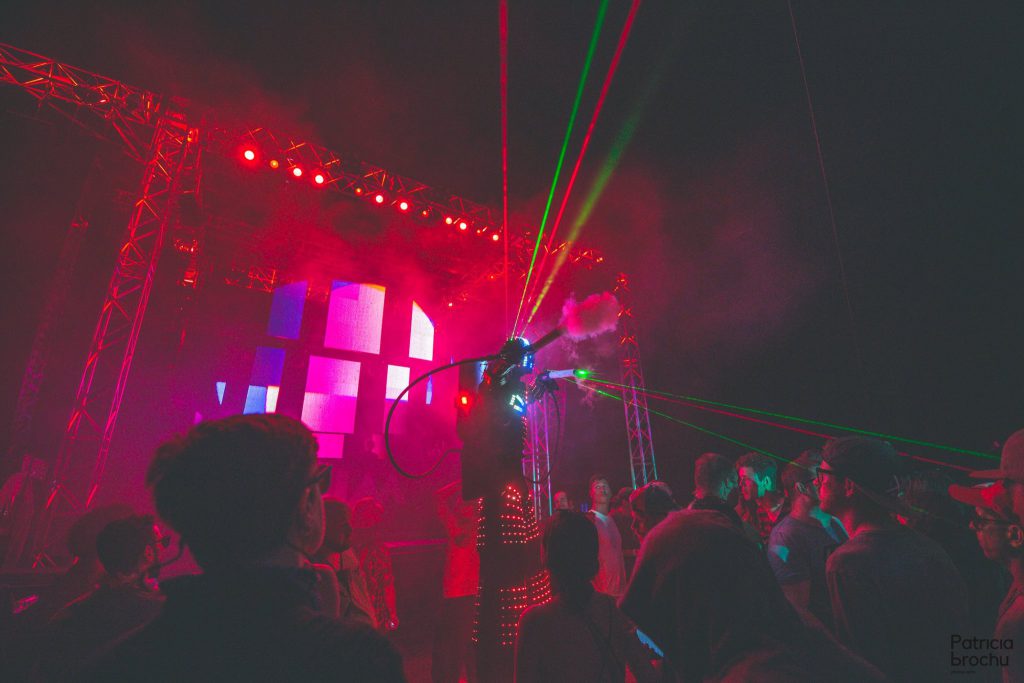 With a last minute cancellation by Simon Patterson, Sneijder and Sean Tyas caused mayhem and raucous with an extended set.

Unfortunately, Simon Patterson, who I'd deem the headliner of the festival, couldn't attend. The organizers split his two-hour segment between Sneijder and Sean Tyas. Both guys are famous for throwing everything and the kitchen sink at the crowd in terms of energy. Give them five hours to play with, and consider yourself lucky to survive the mayhem! Over the past year, Sneijder changed to a stripped down, underground tech-trance sound. This is not the type of music that goes well at home. Instead, it's perfect for a club-like experience in the middle of the night. It's gritty, it's driving, and most importantly, energetic to the core.
For the second half of the set, he transitioned to the sound most people know him for. Given Simon's absence, he even played one of his classics. From past experience, those tracks always go down incredibly well. That's something quintessentially trance about old Simon Patterson productions. All in all, after two and a half hours, the crowd was in dire need of break at the AIM Festival.
Well, it seems that Sean Tyas had other plans. Throughout his entire DJ career, Sean has become synonymous with one thing. No prisoners! At most festivals, Sean plays last and goes full guns blazing from the first beat. It's not a question of whether other DJs can follow him. It's a question of having a crowd still standing. Not long into his set, the victims appeared. As if this wasn't enough, his set featured predominantly full-on psytrance. The name is adequate. Mid 140 BPM, high energy with barely any breakdowns is the name of game. After 15 minutes you already need a break, so you can imagine how it felt once it ended two and half hours later.
While the crowd thinned out significantly throughout his mix, I respect everyone single one that tough it out. Seeing the sunrise certainly gave us a much-needed energy boost. Come 8AM, half of those left were sitting on everything they could get their hands on. Rocks, chairs, lying on the grass, you name it.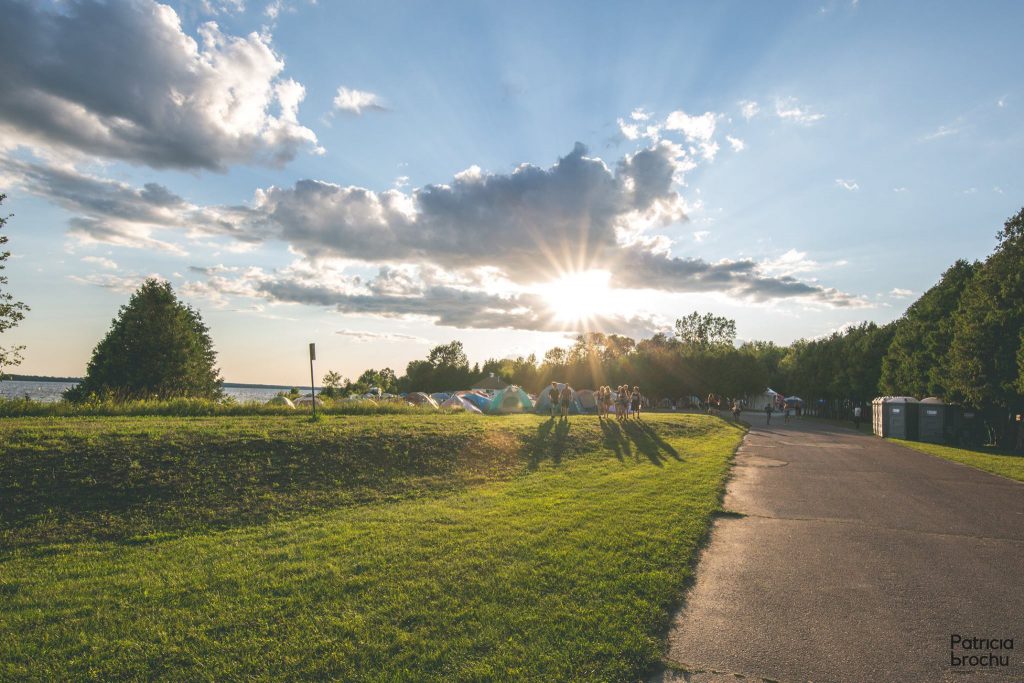 The best set of the weekend was Will Atkinson playing an appropriate sunrise set with relaxing beats and creating an Ibiza-like vibe.

The last set I attended was by Will Atkinson. Boy, am I glad I stuck around! After the reckless hours of the night Will finally gave us the break we earned. He brought the pace down. The focus shifted to melodies instead of drive. He created an Ibiza-like vibe. The sun was out and shining brightly. From behind the decks, wearing his shades, he gave the impression of being a boat captain. He guided us from the rough sea to calmer waters.
As the few of us remaining slowly recovered, Will brought it back up. Relaxing beats gave way to harder, driving tunes. The energy level never reached the peak of the night, however, nor was it necessary. The mark of a good DJ is to read the crowd and push it to the limit, but never beyond it. He knew this was all we could take. I simply wish that more of us could be present to witness what I rate as the best set of the entire event.
AIM Festival Montreal 2017 continues to impress in its 3rd year with the addition of the world class lineup at the dedicated trance stage.

AIM Festival is still a young festival that's establishing itself. If you take into account that trance is at its debut this year, what they've achieved is impressive. A world class lineup behind the decks. A unique approach by offering 32 hours of non-stop music. A friendly and open atmosphere where you can do what you want. Camp, hang out, or of course, enjoy the music on offer. As with any event, some things require improvements and I'm sure they'll be in the future. However, that list is small when considering this is only the 3rd installment of the festival. Most importantly, over the course of my 18 hours, there were only a handful of dull moments. How often can you say that about any 18 straight hours in your life?
---
Follow Montreal AIM Electronic Music Festival on Social Media:
Website | Facebook | Twitter | Instagram
Featured Photo Credit: Patricia Brochu