Party Thieves Talks Australia, "Realm", & More!
---
Hailing from the city that never sleeps, Party Thieves knows how to take your night from zero to one hundred faster than most artists out there. Known for his short videos that hype up his new tunes, he has been rising to the top of the bass music scene since launching his career in 2013. After generating serious support from some movers and shakers in the bass music community, he made his mark around the globe with tours that bring the party wherever he plays. This New Yorker has a devoted following, the Theft Army, which reaches around the world and has helped his beats infect sound systems near and far.
Most recently, Party Thieves has released collaborations with artists like JayKode and Wells, original tracks like "Farewell", and some insane remixes too. We sat down with him to chat about his current work, upcoming plans, and more!
Check out Party Thieves' epic hype video for "Realm" on Facebook:
---
One of the biggest draws to your sets is that they truly are quite the party. What's your secret in finding the right combination of hype tracks and melodic breaks?
I stay very up to date on new releases, edits, bootlegs, etc. My team also does a fantastic job at making sure there is not one hype track missing from my sets. Teamwork makes the dream work.
Recently you collaborated with Wells on track "Realm" which has already taken off massively! What led to the collaboration?
Wells and I have been pretty close over the last few years. He is an unbelievable producer and when he sent me a rough version of 'Realm', I knew I had to put my touch on it and get this one out to everyone.
Your remixes are just as massive as your original tunes. How do you decide which tracks you want to remix, and is there a process you go through when breaking it down?
To be honest, I haven't released many remixes lately due to touring so much and releasing original content. When I was releasing remixes it was really all about how the original was received by the fans and then putting my own spin on it. Really bringing the record back to life!
Something that you do differently than many artists is your approach to releases, by building hype with short videos. Do you feel visual elements bring more life to your tracks?
100%. My demographic and the demographic of this industry love to see visual elements along with the song. It really helps capture the hype of the record if you were to hear it out live. It truly adds to the overall experience of the release and record itself.
This month and early next month you'll be taking the stage down under in Australia! Are you excited for the trip and will you be approaching your sets any differently for that crowd?
I am a regular now out in Australia so I am always excited to play back in my second home. My sets will always remain the same type of hype and high energy for a full 60 to 75 minutes. When people go out of their way to come to my shows I feel like I have to leave it all out on the dance floor. From minute 1 to minute 75, the energy will be at 100%, if not more.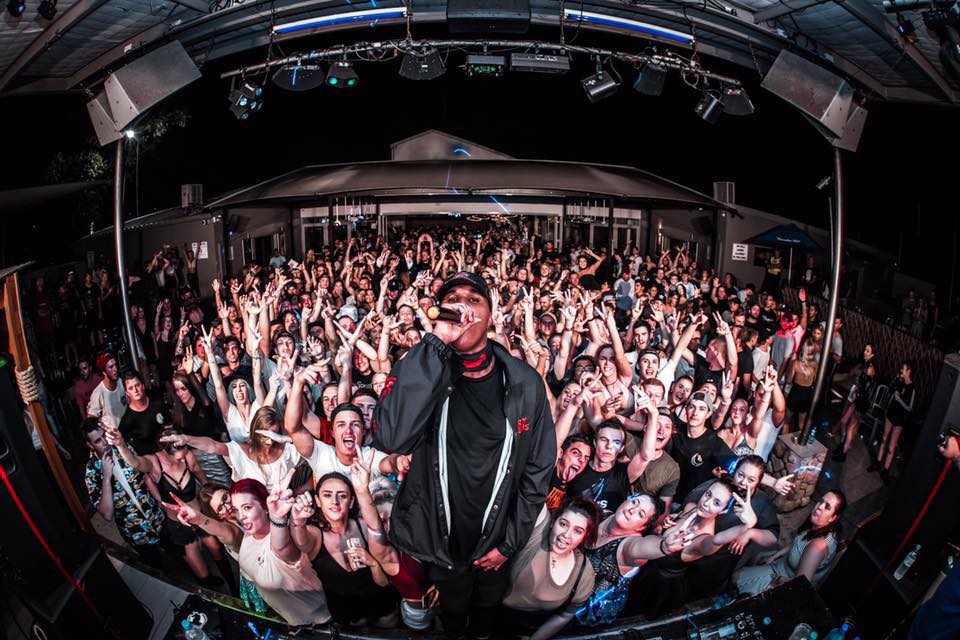 How does the scene in New York compare to other cities you've performed in?
New York will always have a special place in my heart, for one because that is where I grew up. The history, the culture, doesn't compare to any other city. Each city has its own unique spin on the industry. It is sad to see Webster Hall shut down for a bit so I hope NYC will be expanding their scene over the next few years.
Since launching your career in 2013, what has been your greatest accomplishment so far?
Every day I am accomplishing something new in my career. Definitely coming off my first World Tour was a huge accomplishment. To be able to play in North America, South America, Australia, and Asia were crazy and something I will never forget it. Now it's time to take it up a notch and hit every continent on the next tour!
Your most loyal fans and followers are part of the 'Theft Army'. Do you have a message you can share with them?
From the bottom of my heart, thank you. You are all the reason for my success and you are all part of this movement. I promise to continue to keep growing as an artist and as an individual. This is definitely only the beginning!
What do you have in store for the rest of 2017?
I have a few more original releases along with a bigger EP coming towards the end of 2017. Make sure to keep following on socials and you'll be updated with all the news as it comes out.
Finally, since you're from New York, you most definitely have a favorite place to grab a slice. Where is it, and what toppings do you get?
For sure one of my favorites is right outside MSG, called Pizza Suprema. I am for sure an original slice type guy. You must make sure the pizza is crispy, cheesy, and topped off with amazing red sauce. You cannot go wrong in NYC!
---
Connect with Party Thieves on Social Media:
Website | Facebook | Twitter | Instagram | SoundCloud | YouTube