Lane 8's This Never Happened concert series returns to Colorado on July 29 for an intimate daytime experience.
---
Last summer, Lane 8 embarked on a unique musical journey with This Never Happened – a run of shows, held in intimate venues, centered around the concept of no phones and no photography at the events. While the idea may sound like a nightmare to members of our plugged-in society, the shows were extremely well-received, prompting a return this season with a series of daytime shows in Colorado, San Francisco, and New York.
The Colorado stop is the first on the tour. Set in scenic Poudre Canyon at the Mishawaka Amphitheatre, fans will make the trek via car and a number of shuttle buses owing to the venue's remote location. The lineup for the day features three sets: first, a two-hour warmup set from Lane 8, stylistically represented by the first half of his summer mixtape; then, a set by special guest Luttrell; and finally, a three-hour closing set reminiscent of the sounds of the mixtape's second installation.
You won't be able to record this experience. For all intents and purposes, it never happened – which is all the more reason to be there in person to see for yourself.
Listen to Lane 8 – March Of The Forest Cat via SoundCloud:
---
Lane 8 @ Mishawaka Amphitheatre – Essential Info:
Date: Saturday, July 29
Hours: 2 pm – 9 pm
Venue Address: Mishawaka Amphitheatre – 13714 Poudre Canyon Road, Bellvue, Colorado 80512
Tickets: HERE
Shuttle Reservations: HERE (Note: Only CSU/Fort Collins shuttle options remain – Denver shuttles are sold out)
Facebook Event Page: HERE
---
Lane 8 @ Mishawaka Amphitheatre – Announcement Flyer: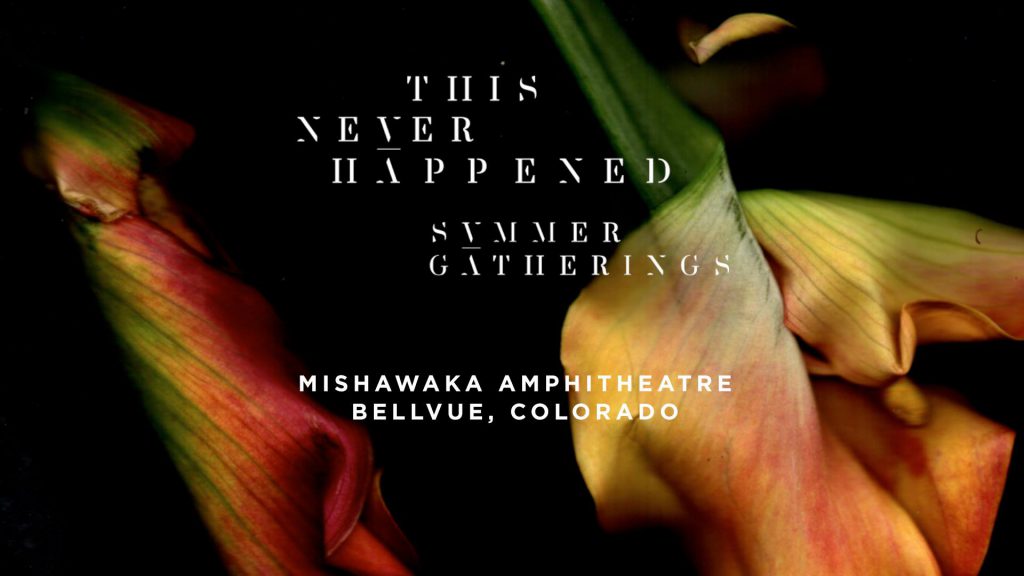 ---
About This Never Happened:
The response to our This Never Happened tour last year completely blew me away. The shows were among my favorite club experiences ever – and to see you all embrace the concept and make those shows so incredible was one of the proudest moments of my career. I truly feel that we developed a connection with music and each other that needs to be built upon and nurtured.
I've had a little dream of doing a series of extended daytime events since we launched the TNH concept. So, this summer, we are excited to bring TNH back, with a twist, for the Summer Gatherings – three extended daytime parties in three unique locations with an extra focus on positivity, character and atmosphere.
I've always felt there's a special magic that comes together at the best daytime events, so my team and I have been searching high and low for locations that have that unique and positive vibe. I'm really excited to announce the first three – the stunning outdoor Mishawaka Amphitheatre in Colorado, the outdoor courtyard of The Well in Brooklyn and an amazing warehouse space in San Francisco.
Each has its own unique character and vibe, and we'll be putting in extra touches to make the events even more special.
We're also changing the format of the events to create a more expanded musical journey. I'll start each of these shows with a 2-hour warmup set – then our special guest Luttrell will take over, before a 3-hour closing set from me.
Once again, though, the dancefloor will be a phones-free space with no photos or filming – just each other, the music and the special connection that happens when those things interact.
This experience we share together may, by today's standards, have never happened. But those who dare will always know – something special did happen here.
Love, Daniel (Lane 8)
---
Follow Lane 8 on Social Media:
Website | Facebook | Twitter | Instagram | SoundCloud | YouTube