Electric Forest started out as a pipe dream and ended up being a festival for the books…
---
This would be my first Electric Forest and I was more than ready to embrace the experience as I boarded my final flight for Grand Rapids. I landed before midnight; my friends Claire and Josh were there to pick me up and take us to the nearest grocery store, then to Rothbury, Michigan. The goal was to grab groceries at Meijer, assemble the squad and then all head in together – a task that would prove much more difficult than we expected. After all was said and done, our group of 6 cars had become 14 cars. The expectation of an hour or two at the store had become a four hour wait time. We kept reminding each other that it didn't matter what time we got into line, but that we were all together.
The caravan started smoothly, but corralling 14 cars through dense forest highways is not as easy as you might think. After a few mix ups, half the cars getting separated, and a U-Turn on a road that was way too narrow for it, we were able to regroup at the gate. A few of our group had to go to will call. The box office was located off to the side of the car entry point. There was no line given that it was 4 in the morning. Within a half hour, we were lined up and ready to get placed into our camping spots.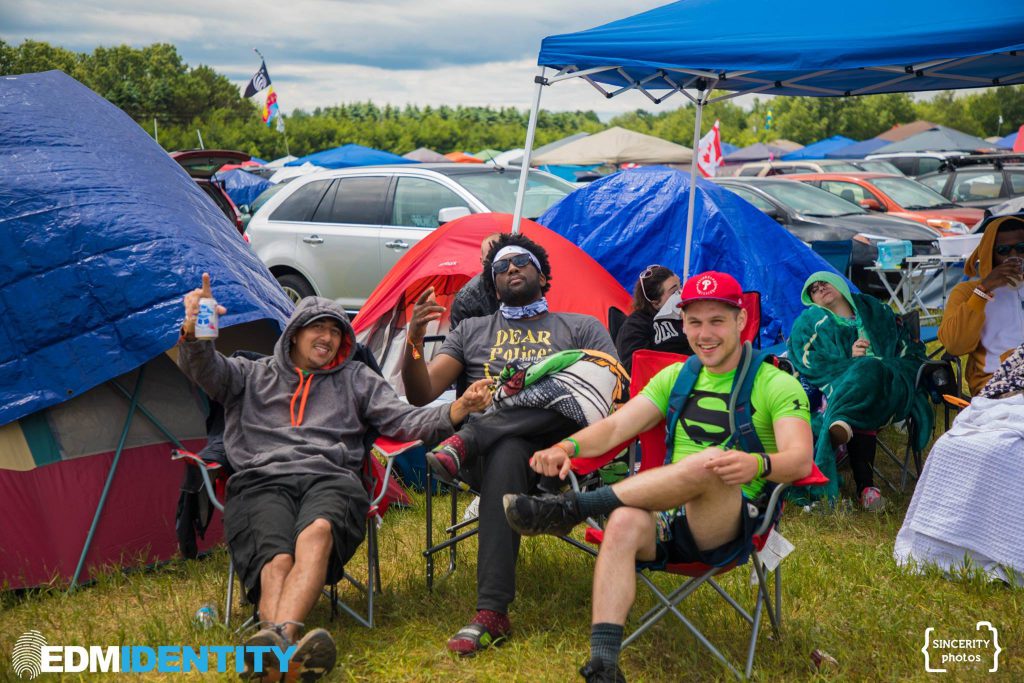 That feeling when you take action just in the nick of time, yes, that happens to us a lot
Everyone started unpacking their cars as soon as we parked. Tarps were being thrown all over the ground as we knew it would be raining later that day. No sooner had we gotten our tents and canopy set up, it started raining. We huddled under the canopy between our tents and toasted to the great start of the weekend. It wasn't long before we realized that the tarps were pooling water. After a brief moment of panic, we rolled the tarps up in the hopes that the grass would be enough to absorb the extra moisture. We lasted a few hours before we all wanted to get some sleep and wait the rain out.
When we awoke it was almost late afternoon, but we still had plenty of time before gates opened. Getting ready was a slow start due to the periodic sprinkling. Everything was wet but water hadn't pooled anywhere nearby too badly. As we walked toward the gates to enter the venue, we realized the rest of the campground was not nearly as lucky. Walking on the sides of the road to avoid any deep mud would be our challenge for the next couple of days.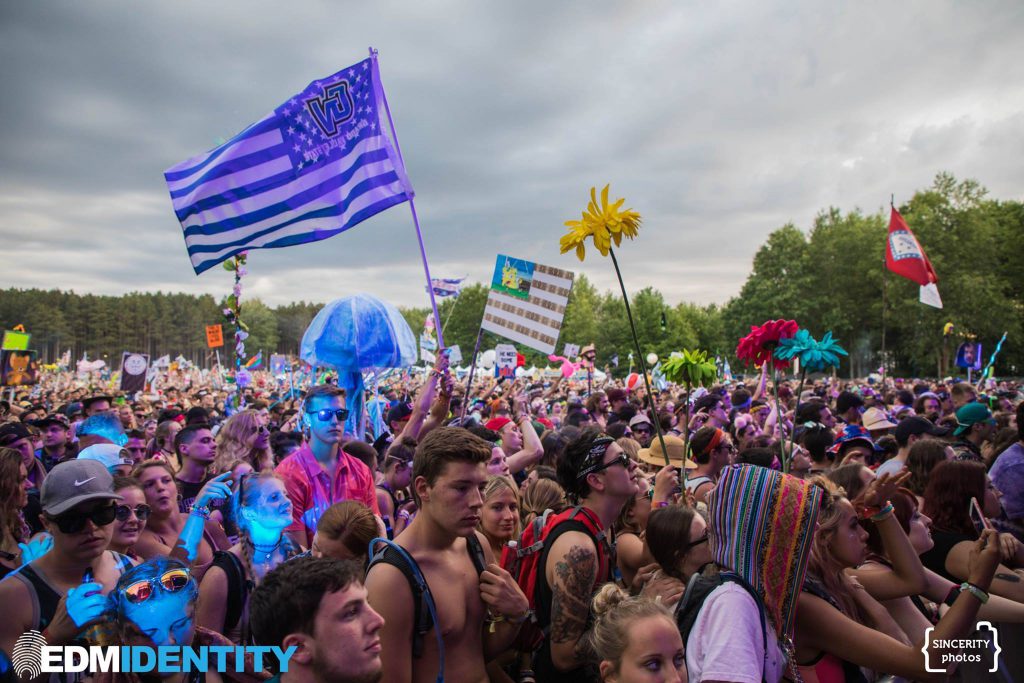 Rain has the effect of slowing everything down, but it doesn't stop us
We arrived at the gates not much later than they had opened, and to our dismay, realized that we should have waited. Our group split up; some went inside the festival and the rest of us went back to camp to wait it out. Unfortunately, for those that stayed in line, it took close to 2 hours to get inside. It was not completely unexpected since it was the first day of Electric Forest and the rain let up for a few hours. The rest of the weekend, regardless of what time we went in, did not take anywhere near as long.
As we entered the venue, we faced the jungle temple ambiance area, Tripolee. The grassy, open area had stone pillars with shade providing rings scattered throughout. The stage itself had two large stone-esque guardians on both sides. Their heads and top torso would swing and rotate bringing the whole stage to life during sets. Along the back were the bathrooms, a Newport experience booth, a bar, and various vendors selling food or alcohol and a water refill station.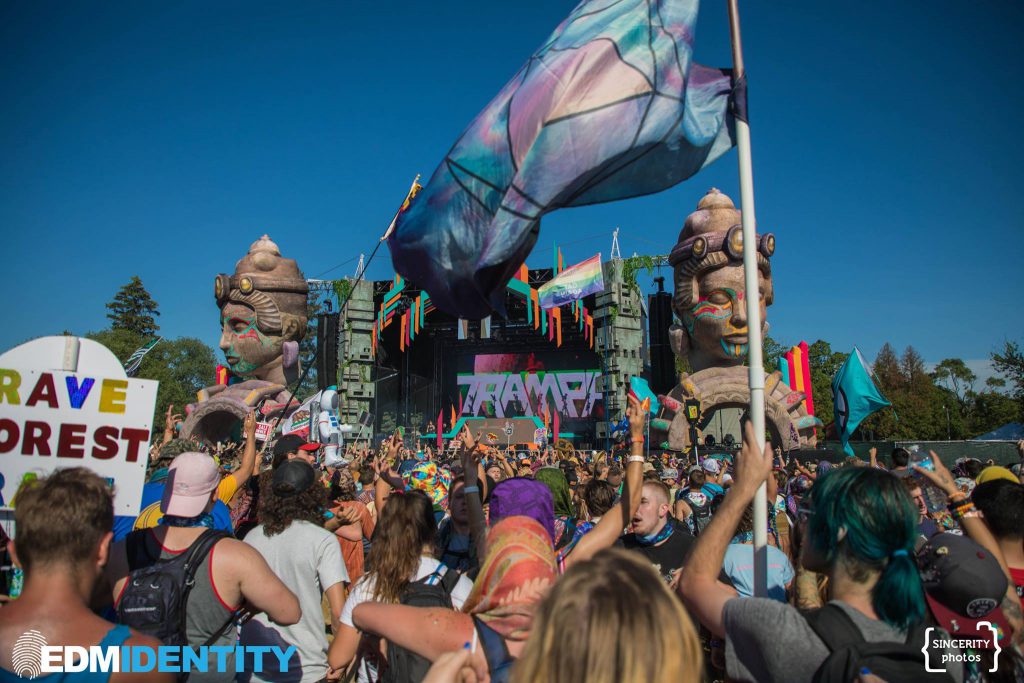 Many interactions within the forest center around the idea of giving.
Between Tripolee and the Ranch Arena was The Giving Tree. Many things at Electric Forest centered around the idea of take something, leave something. The Giving Tree is like something straight out of a fairy tale. It featured a tall white barked tree with gently flowing branches lightly leaning down over those who stood under it. It was consistently busy with people coming to trade their items. A slew of flashlights, kandi bracelets, books, journals, and even snow globes surrounded the tree.
On our way to the Ranch Arena were again met with more food booths, a candy shop, two more water stations, and a bar. The Ranch Arena was one of the biggest stage areas surrounded by the forest and trees throughout. The whole area contained nice grass great for sitting or laying – which many people used. Groups of hammocks were all over the forest; the whole venue was like a natural playground. The stage itself reminded me of a kind of old school theater stage. It had an Electric Forest emblem that would light up throughout the night. The stage also featured two LED screens shaped like an old school television with its curved edges. Even the sound booth had an intricate, electric theme with giant light bulbs adorning the top of it.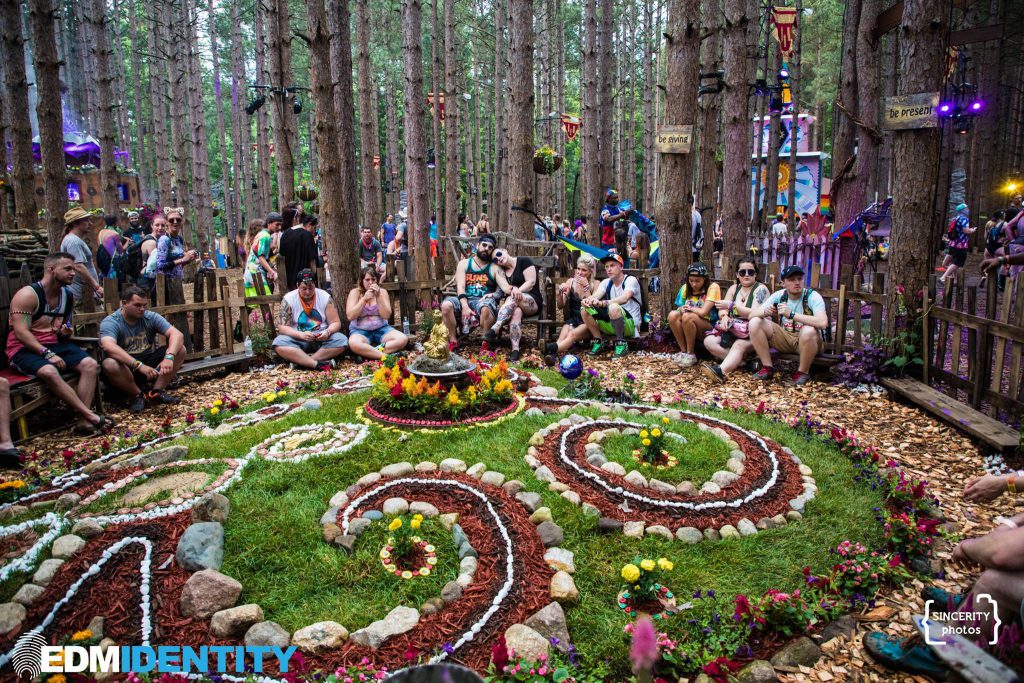 It was beautiful, it was strange, it was electric…
We continued down the main path and into the woods toward the Forest stage. Shrouded by the trees, the stage was carefully tucked away in the corner of the pathway. Made almost entirely out of what looked like freshly cut wooden beams. Overhead were various art displays. Past the rainbow painted archway were parasols hanging upside down. Each one intricately colored and slowly swaying in the breeze. The iconic Lady Vine watched over foresters. A goddess made of wood, steel, and vines whose presence caused many to stop and stare in awe. The wedding chapel was one of the strangest experiences of our weekend. Trust me, you had to be there to understand the extraordinary events that took place there.
Along with the silent disco, the forest also contained a library. The library was a bunch of bookcases built into the trees where you could take a book and leave one. As we walked between the shelves, our friend Claire gave us bookmarks to place inside books. They were small pieces of paper with positive affirmations. Most of the group found a comfortable bathtub to sit down in, while David and I went to place the bookmarks. The variety of books ranged from actual textbooks to foreign classics. David and I found a couple of books and placed them carefully for some unsuspecting person to find.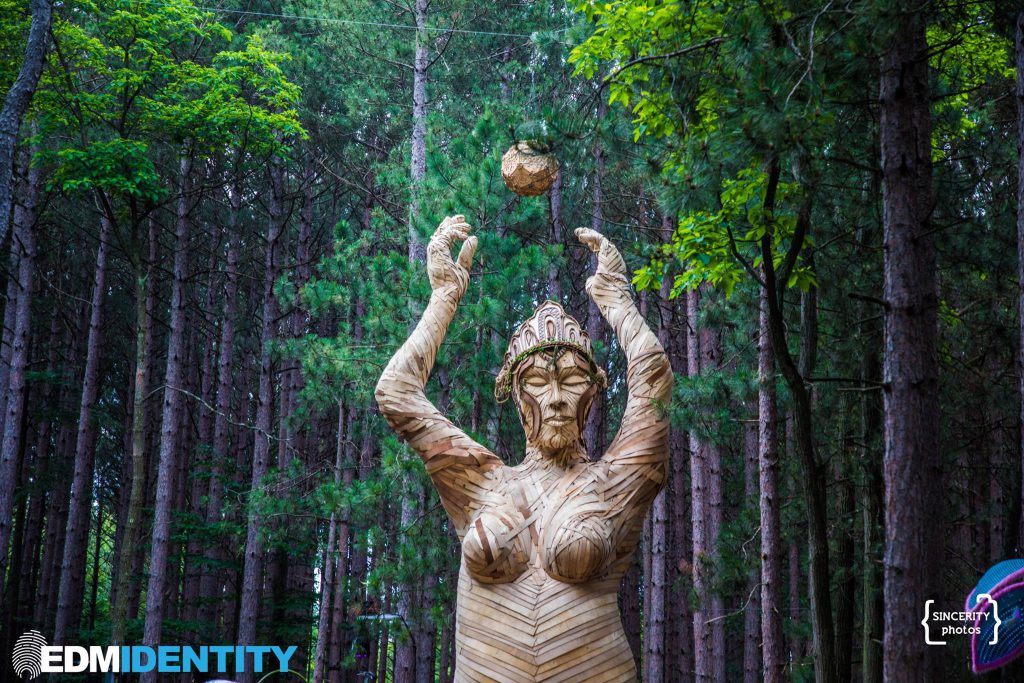 Every area of the Forest had its own set of secrets you just had to be willing to explore.
As we walked out of the Forest, we came to the Sherwood Court stage. The design had a different type of temple feel. Above the center was an elephant design and on either side were temple-like pillars. The space was again completely open and grassy. Lining both sides of the area were again more food vendors and bars. There was a noodle vendor that we frequented the entire weekend. The variety of food covered the gambit. It featured traditional fair food to health-conscious options. There was a wide variety of vegan and vegetarian options. Unfortunately, some of the food labeled vegan was actually vegetarian. Some food featured cheese in or on a lot of things.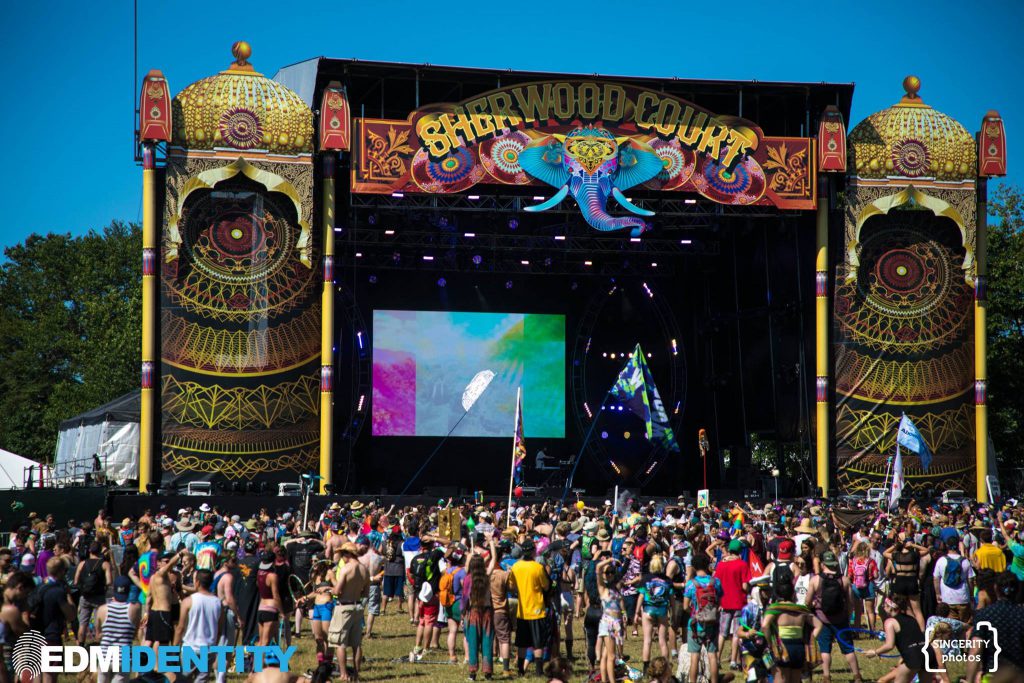 Past Sherwood Court was the Hangar and Jubilee stages at Electric Forest. The Hanger was exactly that: a hanger. The backside of a building completely open. Once you walked inside there was a variety of rooms on the sides. There was a place you could get buffed, like a back massage using a handheld buffer. Also, there were rooms where you could sit and enjoy some air conditioning. We found secret rooms that blended into the surrounding. Jubilee was a large purple tent that got darker the deeper you went inside. By the time you were at the front of the stage you could barely tell it was still daylight outside. Jubilee hosted a wide variety of genres from Electronica to Hip-Hop and even R&B. I can't say I spent a lot of time there, but the variety of music speaks for itself.
Each stage was beautifully designed and unique in its own way.
Lasers were present on all the main stages as well as within the woods themselves. Another aspect of why the Forest is truly electric: at night everything came alive with light. The Ranch Arena and Sherwood Court blasted streamers and confetti. It happened only a couple of times throughout the weekend most likely for the cleanup aspect. There weren't any pyrotechnics but I wouldn't have expected them considering we were in the woods. The sound system on each stage was exceptional and the spacing between stages ensured zero noise interference. Their attention to many of the production details was impressive.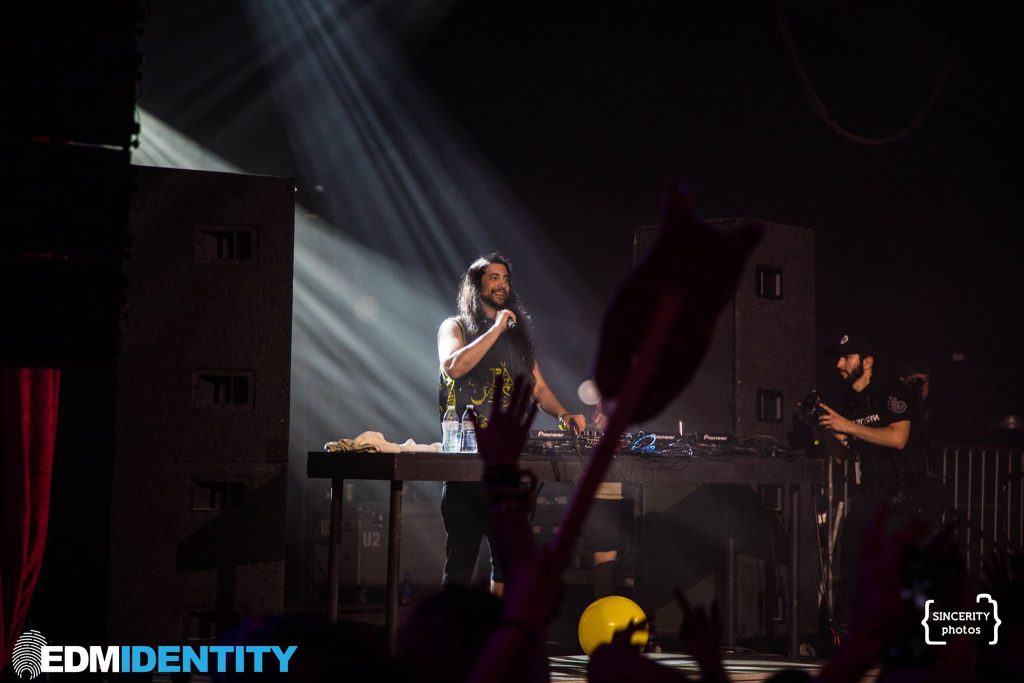 Music is life and Forest did not disappoint in the slightest!
I mostly choose festivals based on the lineup. This year's lineup featured a lot of artists that I don't get to see very often. It was nice being able to catch their sets. The first day I enjoyed Girrafage and his contemporary blend of R&B and electronic. After I started heading back to Tripolee for the Birdhouse-hosted event. Sonny Fodera and Walker & Royce killed it. I had never seen either and it was a struggle leaving them but Above & Beyond was calling me.
We found a spot near the sound booth while it was sprinkling for Above & Beyond. The atmosphere was perfect and everyone in the crowd was amazingly nice. In a search to find my friends, a banana came up to me and got me to dance. It was a nice distraction from finding my friends but definitely fun. Above and Beyond's set was beautiful, my friend Bianca and I loudly sang Sun & Moon right before the downpour started. It was so unexpected, but there was a scream in the crowd and then a torrential flood. There would be two of them during the set but it didn't matter to us. By the end, we were soaked. We walked over to see Claude VonStroke for a bit, but being soaking wet is a pretty big annoyance so we called it a night shortly after that.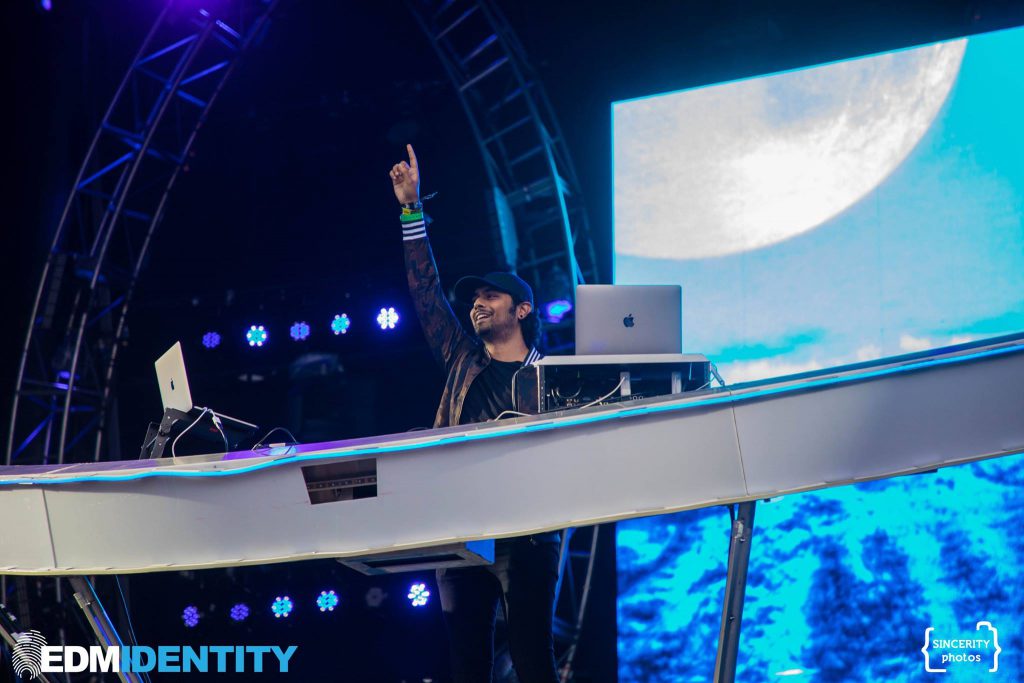 The second day of Electric Forest we again spent a lot of time at Tripolee since it was being hosted by Bassrush. From Dimond Saints straight into Trampa and Liquid Stranger b2b Space Jesus, the bass was real. Each stage was self-contained with drinks, water stations, and vendors. We could have stayed there all day but we took a break for Jai Wolf. While at his set a colorful parachute arrived. I'm talking about those parachutes we all used to play with in school. During the middle of his set, the crowd opened one up and did every activity that would make you nostalgic. They threw balls on top and waved it, they got under it and waved it above people. Yes, people even gathered the edges to run inside and sit down creating a colorful bubble.
Some artists I had never heard of, and many that I had heard of dropped new releases, it was perfect.
At the end of Jai Wolf's set, there was also a proposal! We would end the night with a little bit of Tycho before heading to see Odesza and NERO. I don't get to see Odesza very often and thought their set was amazing! When they played Late Night I never wanted to leave. NERO was on the way out of the venue, which was the perfect way to end the second night there.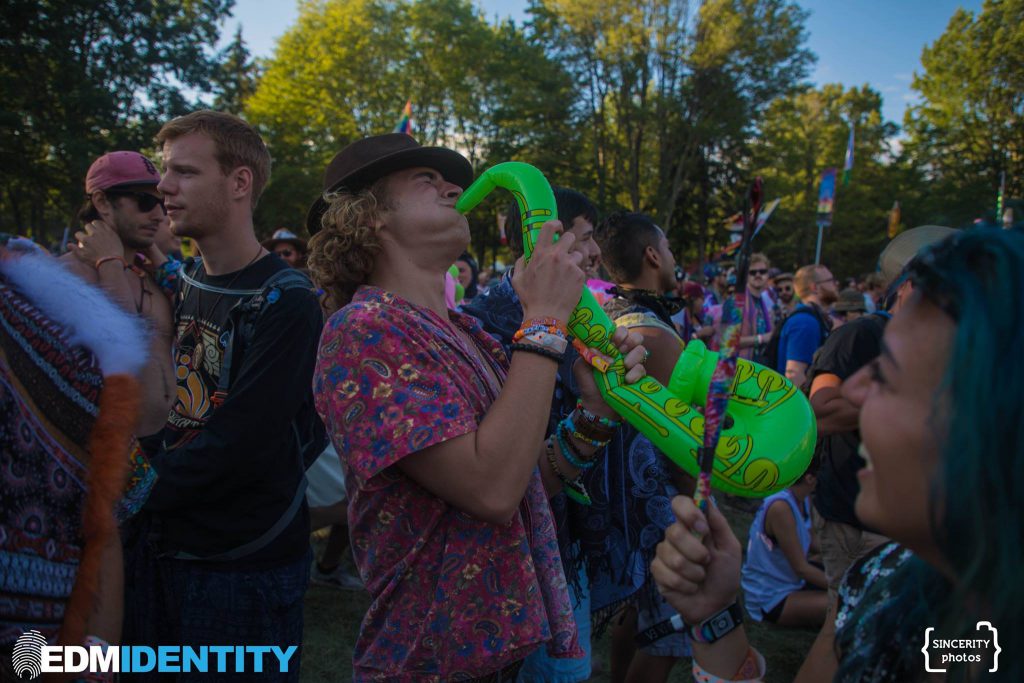 The third day was a day to wander.
We all started at The Floozies which can only be described as the embodiment of happiness. We danced, laughed, and rolled around on the grass. It was such a groovy, funky, fun experience. We all made a game plan to meet up back at Tripolee, but in the meantime, the sets were up to us. I wandered to Jubilee for This Song is Sick Secret Set. It was mostly trap, but I hadn't gotten a lot of that in the weekend so I was content. Next, I ended up going into the Forest for Win and Woo, who were a pleasant surprise of the weekend. I hadn't heard of them but their remixes of Burn Fast and Swing made me an instant fan.
Our group met up and went deep into the Tripolee crowd for Ganja White Night followed by Liquid Stranger and Rezz. Each set was better than the last, although hands down Liquid Stranger melted the crowd. His set was filled with energy; there was a moment where the crowd felt like it was moving in slow motion. I don't know many DJs that can get the audience to do that. For Bassnectar, we chained together and started walking out as Rezz dropped a "Shelter" remix. Bassnectar's incredible sets are never quite the same. This was the first time I got to see him play him play "It's Just a Ride." Holding friends close and experiencing his set is a moving experience. A beautiful recognition of how temporal life is.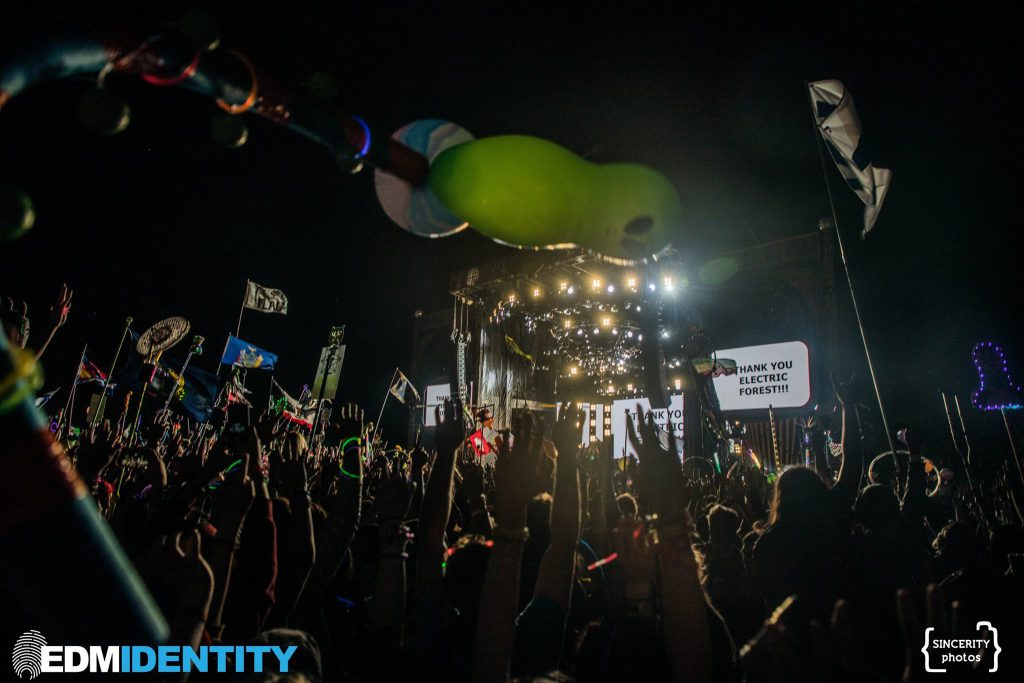 A part of me felt like I had been in the Forest for years, and at the same time, 5 seconds.
The final day of Electric Forest came and it felt like it had been a short journey and a long one at the same time. I started my day early and caught a little bit of Pluto. His future house sound had the crowd bumping early in the afternoon. We headed to see Whethan in the Forest followed closely by Minnesota at Jubilee. I appreciated both their sets. Whethan's future bass music always put a smile on my face. Minnesota mixed a variety of electronic, rap, and other feel good songs.
We headed to Sherwood Court for Snakehips and got close to the front row. They played every fan favorite and I loved every minute of it. We actually started walking away as they played Don't Leave which we sang straight into the woods. We got to Ranch Arena before Dillon Francis began. His set was bouncy and fun, like his set at Coachella. It was definitely a throwback that was much appreciated. Finally, we ended the night with Big Gigantic. They are classic artists whose live saxophone sound never gets old.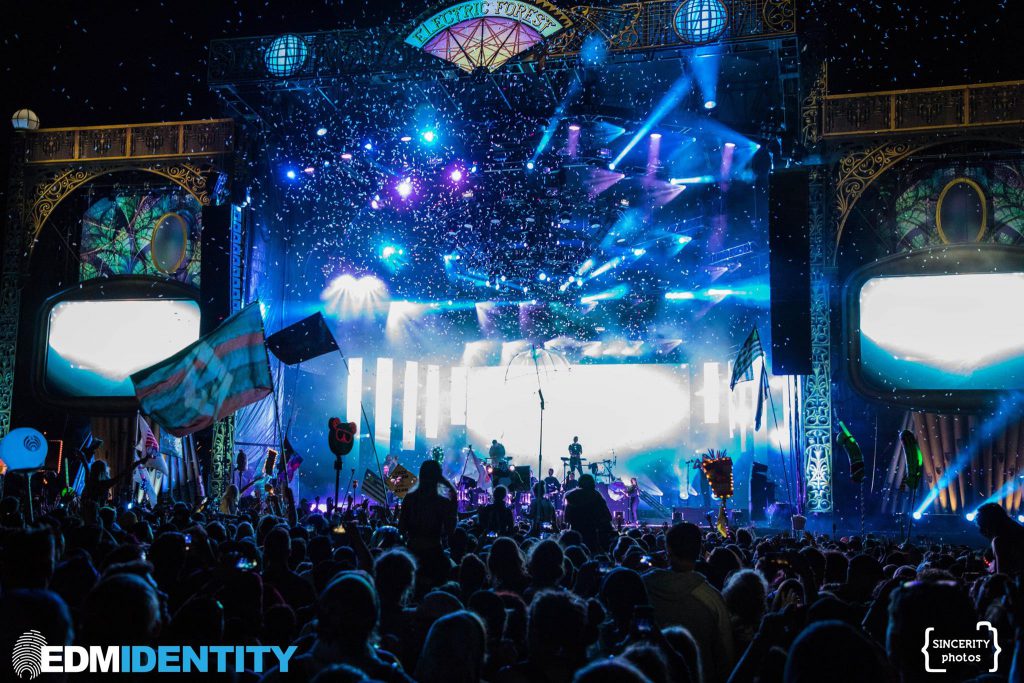 The Forest is Magic – a phrase that you don't truly understand until you've been – but trust me, it is!
Attending Electric Forest started out as a pipe dream for me. Many of my friends had been before and they talked highly of it. I couldn't help but be hyped. Everything they described always ended in "the Forest is magic." The weeks leading up to Electric Forest, I met some incredible people at other festivals. We got together to form one of the largest camping caravans I've been a part of. By the end of the weekend, we were closer than I ever could have imagined.
Electric Forest is a place that you can make your own adventure. There is so much going on beyond the music. There were moments that, if you stood still for a second, something beautiful would happen and that is what makes this festival magic. There are few festivals that I would put on the same level as my very first, but this is definitely one. The Forest will forever have a piece of my heart, a piece I may have to visit again next year.
Be sure to check out the rest of our photos from Day 1, Day 2, Day 3, and Day 4.
---
Connect with Electric Forest on Social Media: