As we dance in America for Independence, perhaps you'll be taking part in the "Flamenco"!
---
Back in 2006, Sub Focus was still a blooming young talent coming up in the Drum & Bass circuit.  This is before the era of Dubstep even came into existence really, so groovy Drum & Bass was what was impacting the scene.  After his breakout hit on RAM Records with X-Ray/Scarecrow, he returned with the energetic "Airplane"… and a gem on the flip side that still sounds fresh today — "Flamenco."

The guitar riff in "Flamenco" is instantly infectious, making the listener want to dance.  The groovy in the bass is sublime — simple, effective, without any over the top frills.  It is also worth noting that Airplane/Flamenco was really the first record where Sub Focus found his format for his style of Drum & Bass productions.  The flow is very much verse, chorus, break – sans vocals of course – and lends itself to a really pleasing listening experience.
"Flamenco" was always a tune I could drop at any point in a DJ set as well. Its groove was perfect for winding the energy up or winding it down – and the break between the guitar riff and the drop made the transition very easy.  It also helps that the track generally follows a continuous build loop, or in another manner of speaking… the track progression is circular.  Indeed – there really is no middle into end progression in the traditional sense.  If you wanted, it could likely be looped almost infinitely.  Let's also call attention to the mid-track break.  The subtle addition of claps, some bongos, a heavy breath, and a small amount of overdub on the guitar is simply stunning – especially given the style of productions in 2006.
The track continues to be a forward-thinking influence.  Its methodology continues to permeate the production background, and its sound remains this true-to-form Drum & Bass.  If you're looking for a groovy Drum & Bass track, look no further than "Flamenco."
Oh… and fun side note — This author was lucky enough to pick up a Picture Disc when the track released.  Never seen a Picture Disc?  It was a vinyl pressed with the album artwork onto the actual vinyl record.  Curious what it looks like?  Check out the disc below, which was taken far better than what I can provide: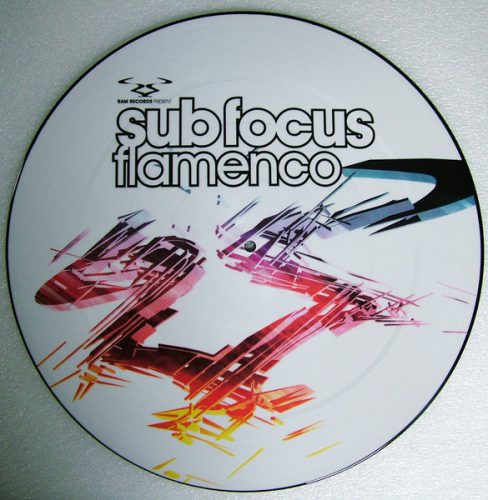 Check out Sub Focus – Flamenco on YouTube:
---
Follow Sub Focus on Social Media:
Website | Facebook | Twitter | SoundCloud | YouTube | YouTube VEVO