Ultra Worldwide just dropped the lineups for four upcoming Road To Ultra shows on leg two of the Asia tour!
---
The team over at Ultra has continued on their journey for global dominance this year, and it is clear that no one is stopping them anytime soon. After unleashing some epic editions of the event during the first leg of their Asia tour in Singapore and South Korea, they are moving deeper into the continent and expanding into a new region via their Road To Ultra event series.
The Road To Ultra series not only serves as a way to get fans from all over the globe hyped for the big show in March in Miami but also works as a way for them to explore new markets. Today, Ultra Worldwide has announced the lineups for the Road To Ultra shows in Taiwan, Hong Kong, and their latest expansion, India. Get info on the events below, and scroll down for the full lineups!
---
The Road To Ultra India will feature not one, but two different cities hosted over two days in the country. Running in Mumbai on September 7, and New Delhi on September 8, this debut in the country will feature sounds from The Chainsmokers, REZZ, Sam Feldt, and more. This is huge news for Ultra fans in India, as the brand has dotted Asia with festivals nearby, but never so close to home.
Tickets for the Road To Ultra India can be purchased here on July 9, and prices start at INR.2000 with multiple packages available.
Slated for September 10 this year, the Road To Ultra Taiwan will also feature The Chainsmokers, but with support from the likes of Lost Kings, Nick Martin, and more too. The one-day event will take place at Da Jia Riverside Park, and is expected to break its own record of attendance in the country's history that they set with their 2016 edition. This is one of the premiere events in Taiwan, so make sure to grab your tickets soon if you plan on attending. This event will most definitely sell out!
Early Bird Tickets have already sold out for Ultra Taiwan, but you can grab some here at Tier 1 starting at $3600NTD!
Closing out the announcements, and slated for September 16, the Road To Ultra Hong Kong is set for a grand return this year. Heading back to the Nursery Park in the West Kowloon Cultural District, this year's edition will feature a new layout and larger stage. Of course, there will be some quality artists too, as Hardwell, Kygo, and ZEDD will be taking the stage as headliners with Getter, Slushii, and REZZ in support!
Grab your tickets for the Road To Ultra Hong Kong now before it sells out, here! Advance tickets begin at only HKD 990+!
---
Road To Ultra India 2017 Lineup: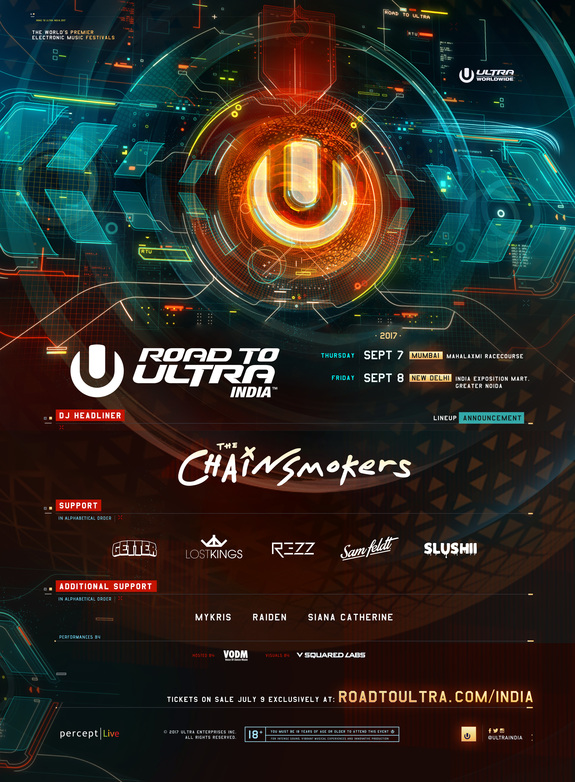 ---
Road To Ultra India 2017 – Lineup By Artist:
Headliner
Support
Getter
Lost Kings
REZZ
Sam Feldt
Slushii
Additional Support
Mykris
Raiden
Siana Catherine
---
Road To Ultra Taiwan 2017 Lineup: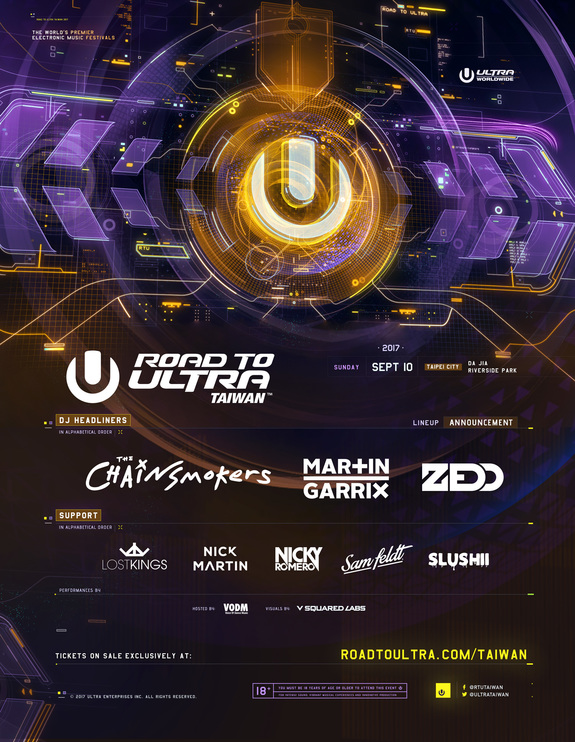 ---
Road To Ultra Taiwan 2017 – Lineup By Artist:
Headliners
The Chainsmokers
Martin Garrix
Zedd
Support
Lost Kings
Nick Martin
Nicky Romero
Sam Feldt
Slushii
---
Road To Ultra Hong Kong 2017 Lineup: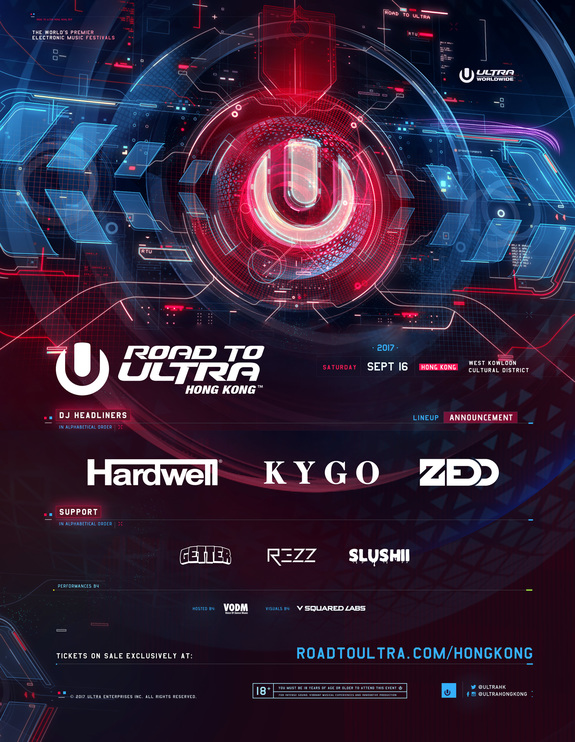 ---
Road To Ultra Hong Kong 2017 – Lineup By Artist:
Headliners
Support
---
About Ultra Worldwide:
Choosing to follow a unique and creative vision and a wholly organic growth focused on its true love for music, artists and fans alike, the ULTRA and ULTRA Worldwide™ brands represent not only the world's biggest and most successful remaining INDEPENDENT electronic music festival brand, but also the most international festival brand in the world. Event organizers continue to transport the unrivaled experience from the Miami flagship festival to an ever-growing number of destinations and Ultranauts all over the globe.
Over the past eighteen years, thousands of the world's most iconic DJs, producers, and live acts have mesmerized audiences with awe-inspiring sets at ULTRA festivals in ARGENTINA, BALI, BRAZIL, CHILE, CROATIA, IBIZA, JAPAN, KOREA, SOUTH AFRICA and of course MIAMI, as well as ROAD TO ULTRA® events in BOLIVIA, CHILE, COLOMBIA, JAPAN, KOREA, MACAU, PARAGUAY, PERU, THE PHILIPPINES, PUERTO RICO, SINGAPORE, TAIWAN, THAILAND and the USA. Each new global edition has been founded on the same successful recipe that has been perfected over eighteen years in Miami, combining the most diverse electronic talent with the most technologically advanced, large-scale festival productions in the world.
---
Follow Road To Ultra India on Social Media:
Website | Facebook | Twitter | Instagram | YouTube
Follow Road To Ultra Taiwan on Social Media:
Website | Facebook | Twitter | Instagram | YouTube
Follow Road To Ultra Hong Kong on Social Media:
Website | Facebook | Twitter | Instagram | YouTube
Featured Photo Credit: Ultra Worldwide