Get to know artist Eric Riggsbee in this week's Artist Spotlight!
---
Coming to you from Oakland, California, Eric Riggsbee has made serious waves in the DJ community in NorCal over the years. Known for his unique style and epic breaks sets, it is impossible to not get down and dirty when he is behind the decks. Eric's roots stem from a serious musical background that transitioned from piano to drums, as he explored rock, jazz, and more in his early years.
Finding a passion for electronic music in the 90's, he discovered the breaks scene and hasn't looked back since. A resident DJ at the monthly show in SF, Faultline, you can catch one of his sets at their current location, Underground SF (UGSF) every 5th Saturday. Not just solely a DJ, he has also explored the other digital mediums, hosting a show on YouTube titled 'Select Start'. The show features Eric along with other guests who join him to play video games and discuss music, the community, and more.
The next edition of Faultline features Omega Squad and is slated for July 29. Grab tickets to the show here!
Stream EDMID Guest Mix 072 || Eric Riggsbee on Mixcloud:
---
What was your inspiration in becoming a DJ, did you have a musical background already before jumping behind the decks?
I started to play the piano at age six and then stopped at age nine. I just was not really feeling it; maybe it was my age, maybe it was other things. I am a kid of the 80's so I remember all the pop radio hits during that time and was really drawn to the drums. So when I was over playing the piano I asked my Mom if I could play the drums. Reluctant to purchase me a drum set, since we had rented a piano to have in our home while I was learning, she told me I could take drum lessons but would have to stick with it a while before getting my own drum set.
So, from age ten to nineteen I took drum lessons once a week. I got my own kit around age twelve, started my own band, played, recorded, and toured with bands until I was twenty-two. I played a range of music styles from Rock to Metal, while continuing to play in the Jazz, Symphonic and Orchestral Bands in Junior High, High School, and College. I guess you could say I am a classically trained musician.
What was the original draw to the breaks genre for you? Was there a specific artist or track you remember standing out from the rest?
I remember hearing songs like "Block Rockin' Beats" by The Chemical Brothers as well as albums like Vegas by The Crystal Method in 1997 and thinking to myself, "okay, if we can do this with drums now, I need this sound to be my future." There was a place in Berkeley called Daddy's Records, I remember there was a guy named Buna and when I asked for that sound, he was like, "dude, what you want is called breaks and it's over here." I was really drawn to the Florida breaks scene when I started to DJ in 1998 because that was where all the breaks records were coming from. A few of my early favorites were Huda Hudia, Sharaz, and of course DJ Icey.
Where do you feel breaks place is in the current electronic music scene?
I knew this was coming, the genre discussion. I have an interesting take on this because I was DJing back when you could count electronic genres on one hand. I think as times change so do classifications. When rock went hard and turned into metal, it was still rock music at the core but it was a different sound, so we needed to slap a label on it. Metal became more than just a label for marketing though, it developed into a counter-culture movement, much like electronic music has. Some of the producers that I just put on my new, The Armory Podcast, were playing in the sandbox when I was starting to DJ so their idea of what breaks might be is different, and that is the best part! They don't have a tie to what it "should" sound like.
As many people know, all the genre bins on Beatport have shuffled around. In my opinion, this has happened because of two things:
1) New producers are not in a so-called "breaks scene" and probably produce 90% house music. But, one day they just feel like removing a few kick drums here and putting them there, and it becomes a breaks track but to them, it's just music, no genre necessary.
2) A dissociation from the word breaks. House did the smart thing decades ago where it used genre classification to its advantage. House tracks that were too deep sounding were classified as "deep house," and tracks with a filtered out disco sound became "disco house." Breaks never did that and to its detriment, a lot of people associate the breaks genre with all kinds of things.
I love breaks, breakbeat, broken beat, whatever you want to call it, and at Faultline we try to showcase all forms of it to show people it is a genre with a wide range and appeal. We try to remind people of its origins while keeping in mind breakbeats possibility for the future. There are pros and cons to genre classification but I think at the end of the day, it should be more about a vibe and less about a genre anyways.
As a member of the Breaks N Bass crew, you host Faultline in San Francisco every 5th Saturday! What has it been like working with this crew and series?
Seems like just yesterday we started this but we have been going since January of 2014 and are about to have our thirty-fourth show! We have been through so many evolutions over almost four years. We started as a monthly in Oakland for the first two years, some members are not with us anymore, we are at our fourth venue location, and we have new residents that have joined the group. We have hosted thirty-five DJ's and have gained a lot of great fans and friends along the way. We have an amazing community and friends at our venue, Underground SF (UGSF) in Lower Haight, which we have been at for the last two years. Faultline is made up of members DJ Justin Johnson, DJ LUV-le, VJ Pixelpusher and myself.
Having played a variety of shows and events, are there any that stick out as memorable or special to you?
Opening for The Crystal Method in 2016 for Opel's Fourteenth Anniversary at the Public Works in San Francisco was especially amazing. It was also The Crystal Method's retirement show performing as a duo. How is it that the group that got me into all of this in 1997 is who I am now opening for almost twenty years later? It is a memory I will always look back on and smile about. The mix was recorded and can be found here.
Playing at The Breakfast of Champions 2017 this year was also a dream come true. I have been a big admirer of The Space Cowboys for a long time and being able to finally play a party I have wanted to play at for over a decade was dreamlike. The mix was recorded and can be found here.
Of course, as far as Faultline shows are concerned, being able to host and DJ with living legend Jeno, from Wicked, as he did a two-hour, classic breaks set was also surreal.
Hosting your show, Select Start with DJ Eric Riggsbee on YouTube, what led you to bring video games, music, and an interview all together in one place?
I have always been a fan of video games, ever since I saw that Italian plumber run around in the mushroom kingdom. I did get out of video games for a long time, during my teenage years and twenties when I was much more focused on learning how to play the drums and to DJ than play games all day. I got back into video games about five years ago with the Nintendo Wii U. I figured it was as good of a time as any to introduce my kids to all these great characters I grew up loving like, MegaMan, Link, Zelda, and yes, of course, Mario. In the past few years, I have really been getting into YouTube as a content creation outlet in its various forms.
I had been a fan of the Angry Video Game Nerd for over a decade now and always liked making silly videos and movies in the early 90's as a kid on my tape camcorder. Around this time, Wes Smith started his interview show on YouTube and I really like the idea of giving DJs more outlets to discuss themselves. I started to think of ways to merge all the things that I love in one place; the concept of the "Let's Play" was also an inspiration for me. The idea of a person or people just sitting on the couch, playing video games and ribbing off of the game or just having a conversation is more casual than an interview that could potentially come off as stiff or more formal.
It finally hit me that I could use the casual nature of the couch co-op experience a lot of us had as kids, where we would hang out and play video games all day, and merge it with an interview show format, having a list of questions and a guest DJ. I plan the game around the guest and so far I have done four episodes. We have even been fortunate enough to have Vinyl Dreams record store in San Francisco sponsor our show on two occasions.
Will we be seeing more episodes of this series in the future?
Absolutely! I have the next two planned with regards to questions and game choices. The guests for those episodes will be DJ Orkid and Faultline member Justin Johnson. I will be adding a few new elements to episode five that I think will help round out the show. The best part of this project is figuring out its footing and I believe I'm close.
What is a dream venue you want to play in the future?
I would love to get more involved with the summer festival circuit and to tour more. In the future, I would like to get the opportunity to play at Outside Lands. I enjoy playing for people in different city's to see what their local scene is like. I love that DJing has connected me to so many amazing people across the world.
Do you feel that the Bay Area's electronic music scene is significantly different from other places you've visited or played? If so, why?
I would say that the amount of people doing something involved in art or in the electronic music scene is really high in the Bay Area. The Bay Area is an area of the country that has long drawn artists and creative types. There is a large concentration of people here who happen to be in the electronic music scene, which makes the scene that much larger, with that much more music available to hear.
I think that this is really what makes the scene in the Bay Area different from other places, is that there is not just one style of music being produced or played, but unlimited amounts of creativity being poured into something that people love.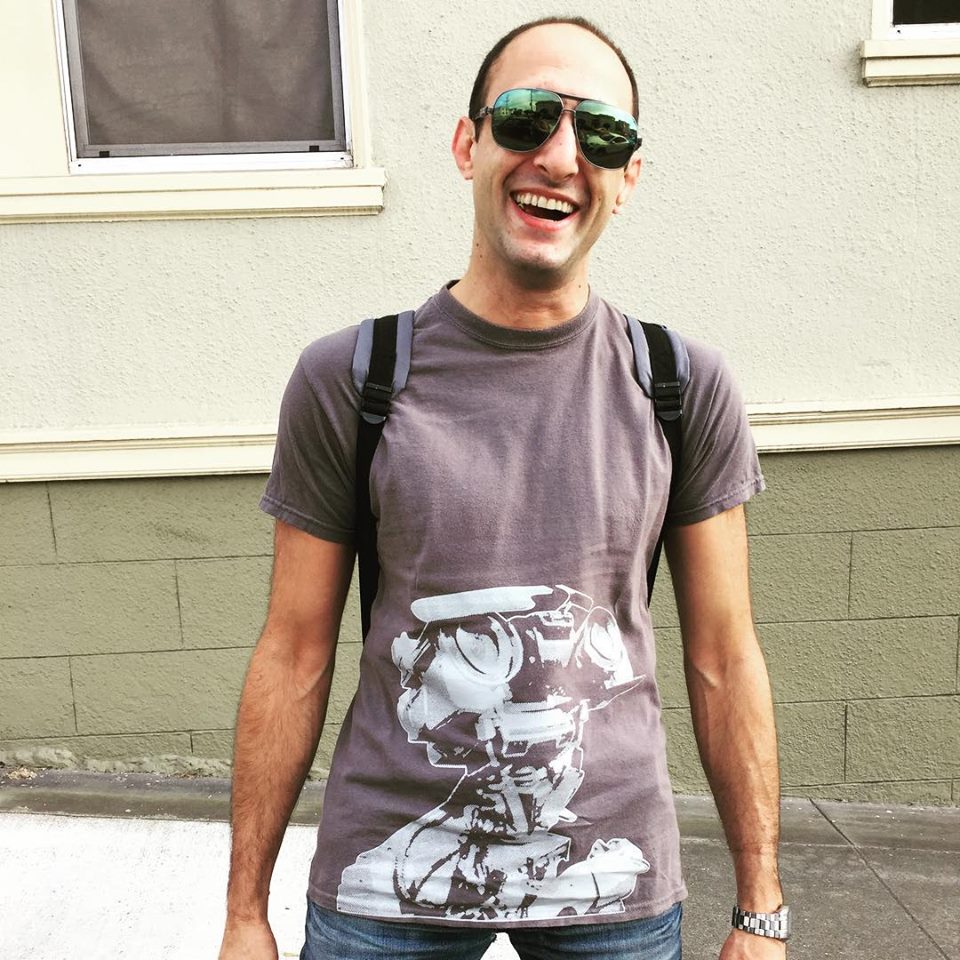 What is in store for fans of yours in the rest of the year?
We have the Faultline Sessions mix series that comes out once a month. Faultline Sessions is a place for past guest DJ's of Faultline and also our own resident DJ's to showcase the various forms of the broken beat. Those mixes can be found here!
Our Summer Faultline event at Underground SF in San Francisco, July 29, 2017, featuring Omega Squad from San Diego. (Click here for info this show!)
Faultline Renegade Sessions in Oakland which is our day party BBQ events. Continuing to put out Select Start with DJ Eric Riggsbee episodes monthly.
Finally, the Bay Area is known for its quality food. Where is your favorite place to grab a bite to eat in the region?
In Oakland my favorite restaurant to go to is Pizzaiolo. They have a menu that changes daily along with always having a few of their classics available as well. In San Francisco my favorite restaurant to go to is Nopa. Like Pizzaiolo they also have a rotating menu and they both always play the best cross-section of music; A jazz trip-hop groove fusion is what I like to call it. Mind you, these are my favorite restaurants to book a reservation at a month in advance and "treat yo' self."
The Bay Area also has a huge food truck scene originating with the various taco trucks that can be found in East Oakland. My favorite taco truck parks off of High Street in Oakland, La Penca Azul, which serves up some of the best grilled fish tacos in the area. Or, when searching for authentic Vietnamese food, Pho Ao Sen on E 12th Street in Oakland is my go-to.
---
Follow Eric Riggsbee on Social Media:
Facebook | Twitter | Instagram | SoundCloud | YouTube | Patreon
Follow Faultline on Social Media: