Cooking at a festival is a great way to save some money and eat healthily, and it doesn't have to be hard! Check out our festival cooking tips to save yourself some time and energy at your next event.
---
When you're at a festival, prepping a meal and cooking it might sound like one of the last things you want to do. All the same, festival food can get expensive very quickly, and it is tough to feel your best when you're eating a steady diet of festival fare in the hot summer sun. Fortunately, if you do it right, cooking while camping at a festival can be easy, cheap, and dare I say… even fun? Check out our tips for some time-saving hacks, money-saving tips, and tasty festival cooking recipes!
Looking for our Essential Festival Camping Guide? Click here for all of our top items to make your experience an epic one!
Five Tips For An Easy Festival Cooking Experience
---
Tip #1: Make a plan and be realistic.
Some have accused us of planning too much, but I would argue that the most important factor in your success when it comes to festival eats is planning ahead. Perhaps this seems like a no-brainer to some, but we've found that thinking ahead just a little bit can help to avoid some common pitfalls.
When I'm planning for my festival weekend, I usually want to know a few things:
How many people are we actually camping and cooking with?
The number of people you go with changes what you need and how much. I also usually take into consideration the type of people I'm camping with. Are we all going to be on the same schedule, or will people be in and out? That will determine if we make big meals together or if we just have food available to grab and go.
What kind of cooking are you allowed to do?
Some festivals are located in areas that have active burn bans, which restrict the types of cooking you can do. It's generally safe to assume that you won't be able to cook over an open flame, but some festivals don't even allow propane stoves or grills in certain conditions. Other festivals ban knives or other cutting tools, so you'll want to understand that, too.
We do most of our cooking with an inexpensive propane stove or a propane-powered grill. Both of these are versatile, easy to use, and take standard propane cylinders so you aren't dealing with any specialized fuel or open flames. The grill gives you the option to whip up burgers or brats with virtually no prep or cleanup, and can also be used as a stove in a pinch.
How much are we really going to want to cook?
The biggest consideration when you're festival camping is how much you and your crew are actually going to want to cook during the festival. There are a lot of factors that play into this. For example, if the venue is small and you can bounce in between seeing shows and your campsite, you might be more likely to whip up a meal when you're on a break between sets. Similarly, I really don't like to cook when it's extremely hot outside, so I'd much rather put together a sandwich or plan to buy a meal or two. Thinking about this ahead of time will help to make sure you only pack as much food as you plan to eat, particularly when you will need to store it in a cooler.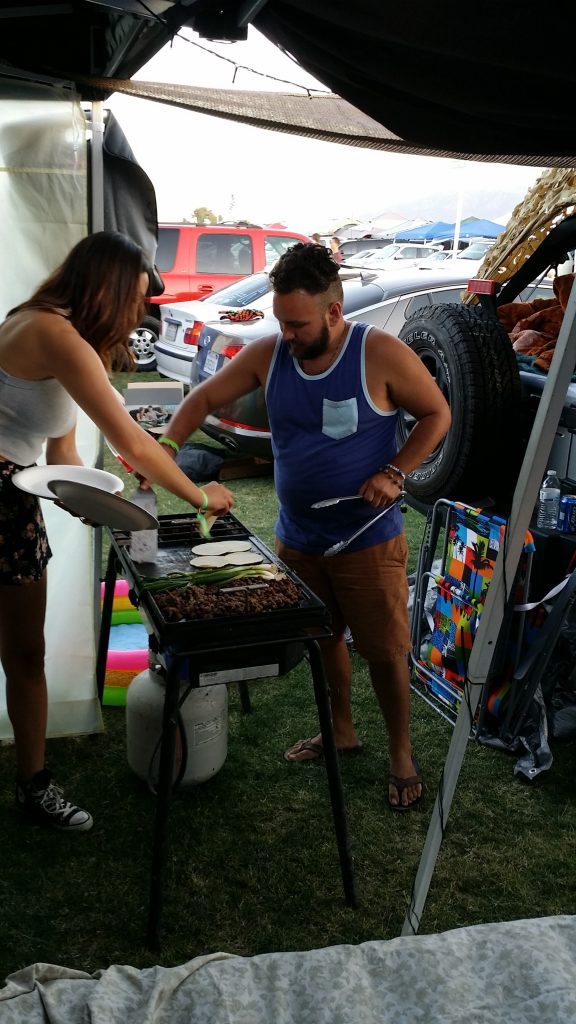 ---
Tip #2: Cut down on your festival ice budget.
Festival ice prices are crazy. If you know you're going to a camping festival that is going to last four days, be wise: don't spend your money on ice! Anything you can freeze will keep longer and will also keep the items around it cold. We recommend freezing at least half of your water bottle supply to help keep your food cool. You can also freeze juices, meat, or anything else you won't need the first day. You can also prolong the life of your ice by having separate coolers for food and beer. This prevents the cooler containing food from being opened too much, which will save you money and keep things fresh!
If you have the money and you go to a lot of festivals, a durable cooler like one from YETI or RTIC might be right up your alley. They keep ice cold for days, even in hot conditions, and are great for camping outdoors as they are bear-resistant. In the very least you should be looking to purchase a cooler rated for 7 to 10 days, and try to get one that is marine rated too. This Coleman cooler would work perfectly!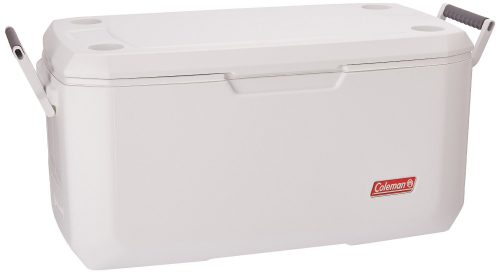 ---
Tip #3: Avoid leaks by storing ingredients in heavy-duty containers.
There is nothing worse than opening up your cooler to find your eggs free-floating between your drinks. For items that don't come in durable containers, just replace them, especially if you'll have a lot of people in and out of your cooler during the day.
Eggs are common victims: paper crates and coolers do not mix. You can either buy one of these plastic egg containers or for a cheaper fix, crack your eggs into a reusable plastic water bottle before you leave. If you go the water bottle route, just shake when ready and you're already halfway to scrambled!
Meat also often comes in leaky containers but is usually something that you don't need on hand daily. Before you freeze it, put it in a Ziploc bag or vacuum seal it to avoid it leaking in your cooler and making a mess.
---
Tip #4: Prep, prep, and prep some more.
If you want to increase your chances of success, do as much cooking prep as you possibly can before leaving for the festival. All of this depends somewhat on how much cooler space you have available: the more cooler space you have, the more prep you can do.
The easiest option is simply not to cook at all.
Unless you're the sort that absolutely has to have a hot meal, you can feed yourself with no cooking whatsoever and still have some tasty food options. No-cook meals are usually best for the beginning of the festival and include things like sandwiches or fruit, both of which are more perishable than other items. You also have the option of preparing things that don't require cooking at all, like these delicious homemade energy bites. You can even purchase no-cook options right from the store: many campers swear by no-fuss meals like Uncrustables sandwiches or yogurt with some fruit and granola thrown in to pack a healthier punch.
Pack ready-made meals that you only have to heat to eat.
For this method, you'll want to think along the lines of "gourmet chef meets McDonald's-level convenience." This entails cooking your meals a night or two before departure and packing them away so the only effort required during the festival is to heat it and eat it. Manipulating this ideology opens up a portal to various levels of culinary wonder because you have the luxury of utilizing your kitchen to create whatever it is your crew desires.
There are a ton of delicious meal options using this method of prep. You can whip up some breakfast burritos or taquitos, lunch quesadillas, or even handheld dinner pizzas. It all depends on what you feel fits best with your camping style. If you're the type to munch while you roam around the festival grounds, these walking tacos are another great option!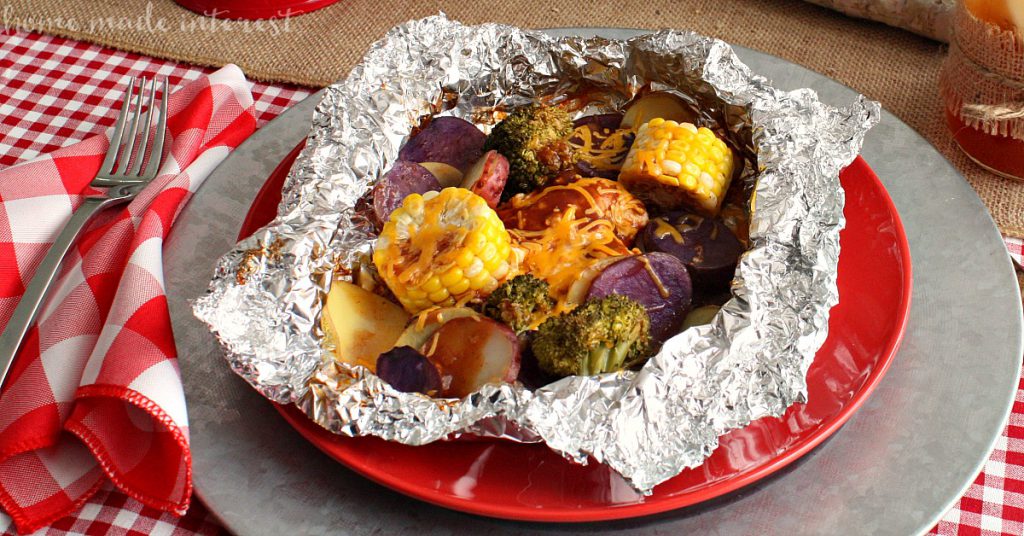 Make delicious meals hassle-free with foil packets.
After only a few minutes of research, we came to the realization that foil wrapped, single-serve meals seem to be the way of the future when it comes to primitive campfire cooking. This requires only one step:
Step 1: Throw every ingredient for a specific recipe into a foil pouch and toss it on the grill or over the fire.
The great part about these recipes is that your cookware doubles as your serving dish. Have some sandwiches left over from day one? Make them into the easiest grilled melts by wrapping them in foil and heating them up! If you're having trouble thinking of a recipe to cook in foil, fear not: this list of ten foil packed recipes will be sure to inspire the chef within you.
Prep your ingredients to make festival cooking quick and easy.
Many of us still really enjoy actually cooking at festivals, and while it requires a little bit more work, with more tools comes greater possibility. The real trick to cooking efficiently is to prep as many ingredients as possible so you can keep the cookware to a bare minimum.
Our personal preference is to prep anything you can and store them in the cooler in Ziploc bags or containers. This way, you can pre-cook your meat for those walking tacos and quesadillas and leave them unseasoned so that you can use them for several recipes. You can also pre-chop vegetables or any other ingredients you'd like to add to your meals so more time can be spent enjoying the festival. You can even store fruit for pancakes. These bags can double as travel-sized snack packs, and you can add nuts or granola for extra energy.
If you're a 'pancakes and eggs' kind of crew, you can decrease the dishes you need by storing your pancake mix in an old ketchup bottle and squirting out the amount of mix when you're ready for it. Most grocery stores also carry shake and pour pancakes, which basically offer the same convenience with little to no prep. You can even make an omelet in a bag, which is about as efficient and self-contained as eggs can be.
If none of that is your style, no sweat: the biggest thing to keep in mind about camping cooking is to keep it simple. By prepping a few ingredients, you can make something simple and delicious like breakfast burritos with a fraction of the time and effort.
---
#5: Make cleanup a snap.
If you've followed the advice above, you should already have very little to do in the way of cleanup. But if you do have some dishes, you need two things: warm water and biodegradable soap. We like CampSuds – it's biodegradable, environmentally friendly, and it works with cold water in a pinch if you need to do your cleaning that way.
As for warm water, you have two real options: heat up a pot or pan on your stove, or use some water from a solar shower that you hung up earlier in the day. The second option also allows for warm water for other purposes on demand throughout the day, too.
---
Are you planning to indulge in some fantastic camp cooking this festival season? Do you have great festival cooking tips? Tell us about them in the comments!
Featured Photo Credit: Fresh Off The Grid