Making the trek to Paradiso this weekend? We've got you covered with all the essential information!
---
Take a journey to USC Events' Paradiso Festival at the amazing Gorge Amphitheatre! The set times are finally here, so check them out and make your plan to enjoy your favorite artists and fresh talent.
Will you be at the Digital Oasis listening to some Chris Lake or going hard at the Wreckage stage? Be sure to check out a sunset performance by any of the artists playing at the Paradise main stage for some unforgettable memories.
Not sure who to check out at Paradiso? We've got Lisa's Top Picks for the fest right here.
---
Paradiso 2017 – Essential Info:
Dates: June 23rd and 24th, 2017
Show times: 2 PM – 1:30 AM
Venue Address: The Gorge Amphitheatre – 754 Silica Road NW George, WA 98848
Ages: 18+ with bar areas for 21+
Box Office Hours of Operation at the Gorge:
Thurs:  12pm- 10pm
Friday: 12pm–10pm
Saturday: 12pm–10pm
Locker Reservations
Reserve a Locker for Paradiso Today! Click HERE!
ACCEPTABLE FORMS OF ID
Valid Government issued passport
Valid State/Province issued driver's license or photo identification card (hard copy)
Combination of paper (temporary) State/Province issued driver's license or identification card AND expired government issued hard copy photo ID (must have both)
Valid US military ID
Valid Merchant Marine ID
Valid Tribal ID (not all accepted)
Valid US Possessions issued ID
Citizens of countries other than the US or Canada must show the following:
Valid government issued passport (A photocopy of a passport is not an acceptable proof of age and will not grant entry)
UNACCEPTABLE ID
School ID
Consular ID
Licenses issued in countries other than the U.S. or Canada
Expired ID of any kind
Birth certificates
Xerox copies of any identification
Fishing licenses
Health Cards
Temporary Paper State/Province ID unless accompanied by an expired government issued hard copy photo ID (must have both)
---
Ticket Info:
No Single-Day passes are being sold. Only Two-Day passes are available for purchase.
The Two-Day GA Pass will be a single ticket for each day. No wristband or lanyard will be issued for GA tickets.
---
Paradiso 2017 Set Times: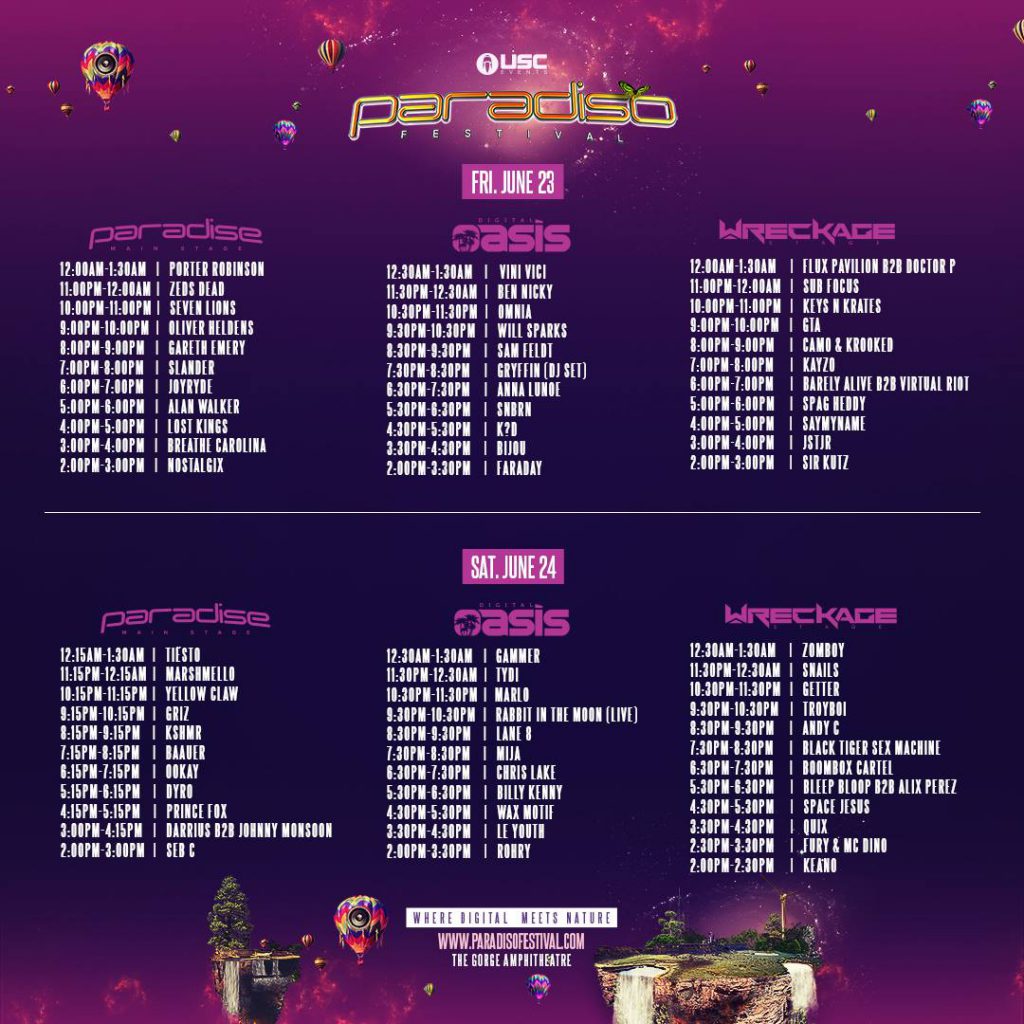 Download the  Paradiso Festival 2017 App in iTunes or Play Store. 
---
Paradiso 2017 Festival Map:
COMING SOON 
---
Paradiso 2017 Camping Info:
The campground will open at 1:00 pm on Thursday, June 22nd and will remain open until Sunday, June 25th at Noon. Plan for long lines entering the campground.
The Paradiso Festival Campgrounds will have fun campground activities for those looking to do more than sleep. You will be able to make kandi and totems. Attendees can also enjoy some gentle flow yoga or ACROVINYASA™ classes. Those interested in the flow arts can take hooping classes.
Looking to get your hair and makeup done in the campgrounds? The campground activities zone will have face gems, flash tattoos, mirrors, hair ties, and more to help you get ready for Paradiso! Click here for the full campground activities schedule.
Not sure what you can bring to Paradiso Camping? See Rules and Info Here!
Check out the Paradiso Camping FAQ here!
Need to buy a camping pass? Purchase here.
---
Paradiso 2017 ADA Info:
If you require assistance or special accommodations, please contact the Gorge/Live Nation ahead of your trip to Paradiso by calling (800) 653-8000.
More information about ADA can be found HERE!
---
Reminder To Mind Your Belongings
Unfortunately, many people have reported pickpockets, bag slashings, and theft of wallets, smartphones, purses and other valuables during this festival season. While this small number of bad apples in the bunch doesn't define an entire crowd, there are opportunistic people who come to these events to take advantage of unsuspecting party goers and it's important to be mindful of your valuables while at Paradiso.
Pay attention to who's around you and what's going on around you. Keep your wallet and phone in your front pocket(s) if you can. Treat your phone the same way you would treat cash; don't set it down on a table or bar and look away. If a friend isn't standing behind you in a crowd, be careful of your backpack or purse, and don't put valuables in a pocket that could easily be unzipped by someone behind in a crowded spot without you realizing.
Festivals, in general, are very densely populated and are a well-known place where pick-pocketing of unsuspecting people occurs. It's easy to find yourself in a crowded environment in a line, at a stage in the festival, elevator, or even out on the street where someone could slip your wallet or phone our of your pocket or bag in a matter of seconds. Stay alert, be careful, and make sure to not carry more than what you need!
---
Paradiso 2017 Do's & Don'ts:
Approved Items
Disposable camera
Small non-professional still camera. (No removable lenses or flash)
One 20oz factory sealed bottle of water
Small (10″ x 10″ max) bag or backpack – subject to search
A Ziploc bag of snacks (Ziploc bag must not be larger than 1 gallon and all snacks inside must be factory sealed themselves)
Sealed Packs of Cigarettes or Sealed Tampons
Non-aerosol Sunscreen (aerosol is not allowed)
Hula Hoops (will be searched)
Poi, staffs, and other flow toys (will be searched)
Powdered Makeup
Sealed chapstick and lip-gloss
You can bring Prescription Medications if accompanied by a script from your doctor with the name matching your ID.

In addition, you can only bring them in the original bottle with the name matching your ID and only the dose for that day. No Narcotic medical will be allowed.

You can bring a totem

Maximum of 10 ft tall
No solid metal
Must be made from a lightweight material (e.g. foam, PVC, light wood)
Inflatables attached to totems must be deflated upon entry

You can bring in water containers including Camelbaks.

Hydration pack/camel bak bags do not have to fit the 10″ x 10″ bag rule, but cannot have more than two main compartments and one smaller compartment
All water containers must be empty upon entrance
All water containers are subject to search
Prohibited Items:
Alcohol
Marijuana
Any beverages other than one 20oz factory sealed bottle of water.
Glass Bottles or Cans
Zoom Lens Cameras
Coolers
Large Purses, Backpacks, or Bags (anything over 10″ x 10″)
Lawn Chairs
Illegal Substances
Drug Paraphernalia
Laser Pointers
LED Gloves or micro lights (unless part of clothing)
Animals (except service animals)
Recorders (audio or video)
Collapsible camera telescoping extenders that follow the above guidelines are OK (e.g. lightweight/hollow aluminum/polycarbonate)
Firearms, Knives or Weapons (any sharp objects)
Pepper Spray/Mace
Fireworks
Glow sticks
Massagers (including massage gloves)
Aftershave
Pacifiers or Dust Masks
Masks with Mentholated Products
Markers, Pens or Spray Paint
Large Chains or Spiked Jewelry
Stickers, Flyers, Banners or Posters
Balloons, Balls or Frisbees
Large Umbrellas
Oversized Blankets or Tarps (Small Blankets Permitted)
Stuffed Animals or Dolls
Open Packs of Cigarettes
Unsealed Tampons (upon entry)
E-Cigs
Video cameras (including Go-Pros)
Squirt guns
Non-Prescription Medications (Aspirin/Tylenol/ibuprofen will be available inside the venue)
Liquid Makeup
Unsealed ChapStick and lip-gloss
Selfie sticks
Drones
---
Connect with Paradiso on Social Media:
Website | Facebook | Twitter | Instagram | YouTube
Featured Photo Credit: Turk Photos for USC Events