Your newest festival must-have is here–the Baserock hydration backpack that vibrates right along with the music.
---
If you thought festivals couldn't get any better, you clearly haven't tried on the Baserock. This cutting-edge backpack picks up bass frequencies from music playing out at an event, or straight from the music playing through your headphones. It adds a whole other element to your festival experience.
Just imagine being right up next to the speaker, feeling the bass vibrate throughout your body, without sacrificing your ears to the booming sound. Having personally tried on the Baserock at various festivals, I can attest to its greatness! It allows the music completely envelop you. It's the perfect investment for any avid festival goer. With a hydration pack inside and space for carrying personal items, you've got everything you need for a good time all in one backpack!
Click here for full details on the Baserock Kickstarter!
We had the chance talk with two of Baserock's founders, Jared Becker and Gannon Daynes. They discussed specifics of the product, how they came up with the idea and some unforgettable stories from people trying on the Baserock for the first time! Read on below for more on your newest festival necessity!
---
Can you tell us a little about your backpack product, Baserock, that is the main focus of the Kickstarter?
Baserock is a versatile hydration backpack that allows wearers to physically feel music by vibrating bass frequencies throughout the body. Equipped with a microphone input for use at a live show, as well as an auxiliary input, so it can be used with a phone or computer and headphones or speaker.
The main focus of the Kickstarter is to get funding for our initial run of manufacturing by selling a large number of units on pre-order at a drastically discounted price.
Who or what inspired you to come up with the idea for the Baserock?
The inspiration behind Baserock was that Jared and I (two founders) loved attending live shows and wanted to develop something that would optimize our physical experience while at these events. But after showing our prototypes around festivals and speaking with hundreds of other music lovers, we realized that this technology was so much bigger than just enhancing the live music experience and was applicable to every aspect of a music lover's life.
How does the backpack work when you're at live events versus when you're using it with headphones plugged in?
The output (vibrations) of the backpack works the same whether you are at a live event or plugged into your headphones it simply listens to the music that is being played and reacts in sync with the bass of that music.
When at a live event it as simple as turning on Baserock and adjusting the intensity to your liking. That is it.
When listening to your own music simply turn on Baserock and adjust the intensity to your liking, plug in your auxiliary cord and headphones and dance the night away.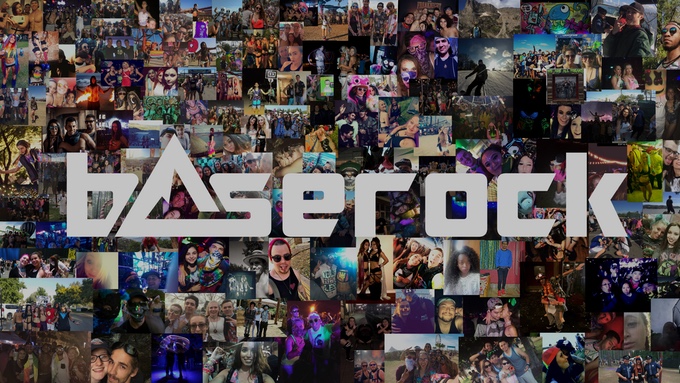 Is there a certain type of music provides the best experience with the Baserock on?
The genre of music that provides the strongest experience is definitely EDM due to the heavy amount of bass in every song. However, that being said it works well with any music that has bass so even Reggae and Rock and others have their own unique experience where you are really synced to the drummer and bass player of the band adding a more intimate experience to the music.
The backpack also functions as a hydration pack, what is the capacity of the bladder?
It has a 2 Liter hydration reservoir.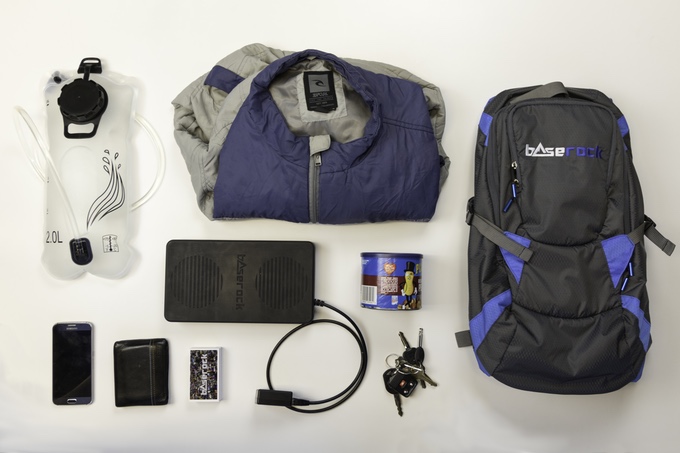 We know you've spent a lot of time testing out the backpack at various events, what have been some of the best reactions from people who tried it out?
The typical reactions we get at an event are as follows:
We approach a group of people and say "hey try on this backpack" and they look at you like you are crazy….like why are you asking me to put on your sweaty backpack? They put it on and start to freak out like…"Ohhh it vibrates…that's sick!" And then after about 5-10 seconds their brain finally links the vibrations with the music and then they really freak out….."OMG no way! Ohhh!" Then they immediately turn to their group of friends and they're like…"You have to try this on!"
We had one girl at Beyond 2016 try Baserock on and start to tear up out of excitement and then jokingly refuse to give it back. We had a guy at Nocturnal 2016 try Baserock on and immediately turned to his significant other and said…."Hug me from behind! We are synced on the same heartbeat of the music." We had a girl at Lucidity 2017 try Baserock on and give us the reaction of…."Ohhh! It's like it is sound hugging you!"
What was your favorite personal experience with the Baserock?
My personal favorite experience with Baserock was at Northern Nights 2016 when we had just built our second round of prototypes and were having people try them on throughout the weekend and we had so many people try them on that there began to be this buzz around this these magical music backpack at the event and when we would approach someone new and the majority of the time they had heard about it. It was exciting to watch this idea that we had worked in our garage for months on be reacted so positively by the attendees.
What kind of impact do you hope the Baserock will have on users?
Our mission with Baserock is to empower the music lovers of the universe to immerse themselves in the experiences they love. At Baserock we genuinely believe that life is about experiencing the things you love and we have developed something in order to make these experiences you love that much more enjoyable and memorable.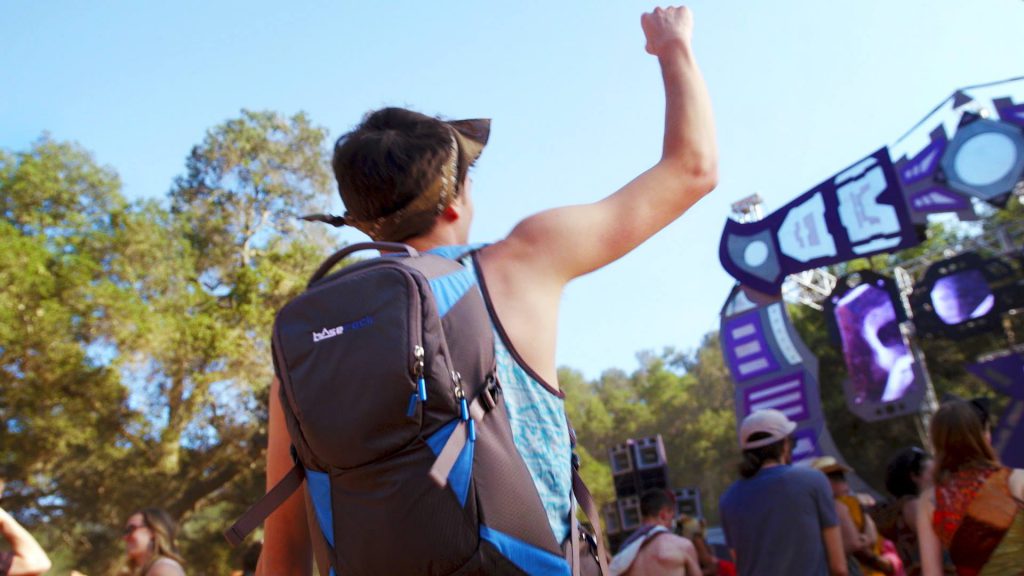 When can we expect to be able to buy our own Baserock?
Baserock will be available on Kickstarter starting June 13th at 9:00AM PST. This will be the first time that Baserock will be available for purchase and will be offering 50% off the first tier of units to reward the ones who pick up the first Baserocks.
Are there any perks for joining the Kickstarter early?
The perks for joining the Kickstarter is that you will have the opportunity to get Baserock at 35% – 50% off MSRP which there will be a limited number of units available along with being one of the first people to receive and own a Baserock when we ship.
After the Kickstarter finishes, where will these backpacks be available for purchase?
After the Kickstarter finishes there will be a period of time where Baserock will be available on pre-order on our website (www.getbaserock.com) however will not be delivered until after the initial run of Baserock's from the Kickstarter have been fulfilled. So it is important that if you would like one sooner rather than later to get it during our Kickstarter campaign.
Make sure to check out founder Jared's ID Spotlight here, and Gannon's here! 
---
Connect With Bassrock On Social Media:
Website | Facebook | Instagram | Twitter 
Featured Photo Credit: Baserock