Escape: Psycho Circus had its fair share of both ups and downs over Halloween Weekend…
---
Let me just preface this entire review by saying that I love Escape, I really do. It is one of my favorite Insomniac Events and one that I look forward to annually. Something I know is that the draw of events for people seems to really come down to two things, the lineup and the experience. Whichever you value more has never really mattered for Escape: Psycho Circus, as the Insomniac Production Team pulls out all the stops and they book quality names too. This year was no different, as the top-level of the lineup boasted of massive names like Kaskade, Eric Prydz, Claude VonStroke, and Armin van Buuren. Rising stars in the scene were represented as well over the weekend, with notable artists like BlackGummy, Kayzo, and Lost Frequencies playing some great sets as well. For me though, the experience is really what brings me back year after year, and everything from the circus theming to the largest haunted maze at a festival ever was definitely on point this year.
Escape: Psycho Circus 2016 marks my sixth time attending the Halloween event from Insomniac, and the third time I have covered it as media. This year was a first for me though, as I did not have a large group of friends who were attending together. Instead of a rave family going as one I had pockets of friends spread throughout the festival on both days, most of whom I have met through the years of festival and event attendance, all of which have different tastes and preferences. Not having a core group was liberating for the most part. Not being tied to a group allowed me to bump between friends, leave sets I didn't care for, meet new people, and really experience this event in a different way than prior. Sure, there were moments of loneliness that hit me, in which I wished there were people by my side, but with cell service being above average this year many people were just a text away. One of the mantras of the rave community also echoed true throughout the weekend "We Are Your Friends", and for the most part that seemed to be 100% the case with Escape's attendees.
The latest edition brought a slightly altered layout, and the megastructure moving to the center definitely dominated the sightline of the venue.
The food and vending was highly concentrated behind the Ghoul's Graveyard, which actually made great use of the area that usually was underutilized for me. I thought the additional bars outside and sitting area, as well as a DJ spinning for those looking to relax for a bit were great additions. I briefly checked out the vendors to see the usual rave type items available, if I vaped I probably would have loved the Vape Village area a bit more. Food options were definitely better than in years past, and I honestly never waited long to get food or beverages over the weekend. Speaking of which, I loved the addition of a booth for Dreamstate. It was great getting to meet the people working the booth and I'm glad that Insomniac is trying expose attendees to their newer brands and upcoming events.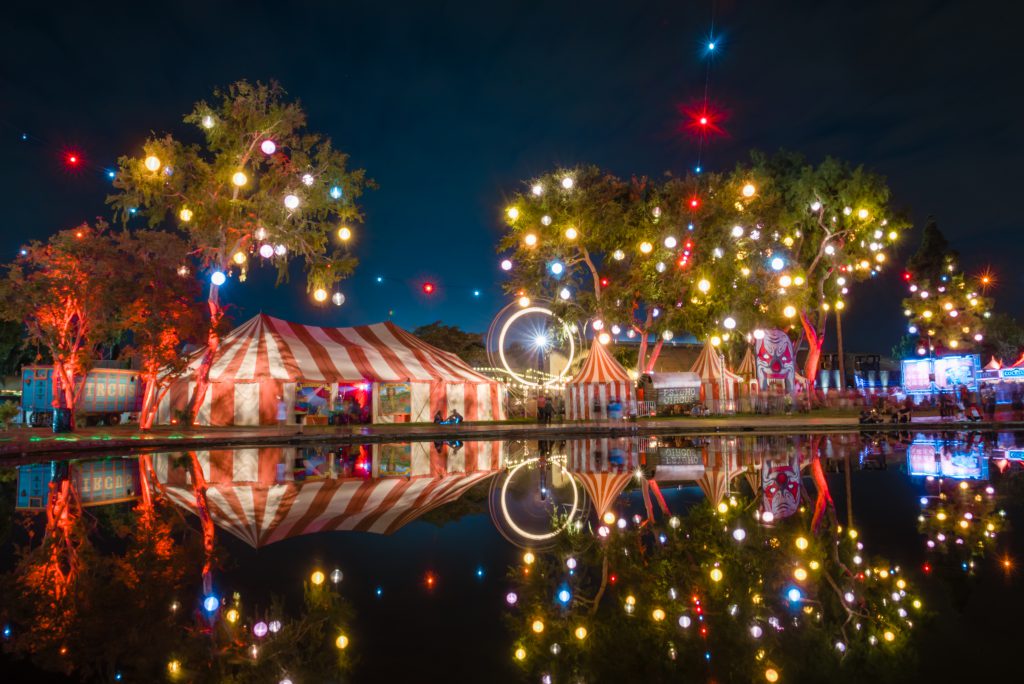 There was also an old-fashioned carnival that was full of rides and shows throughout the weekend. It was also filled with costumed performers who fit the vibe perfectly, spooking attendees from time to time. The lake, pond, whatever you want to call the body of water in the center, has always been a favorite of mine at this venue. I'm glad that they decorated the surrounding area and even gave some seating options for attendees to relax and chill.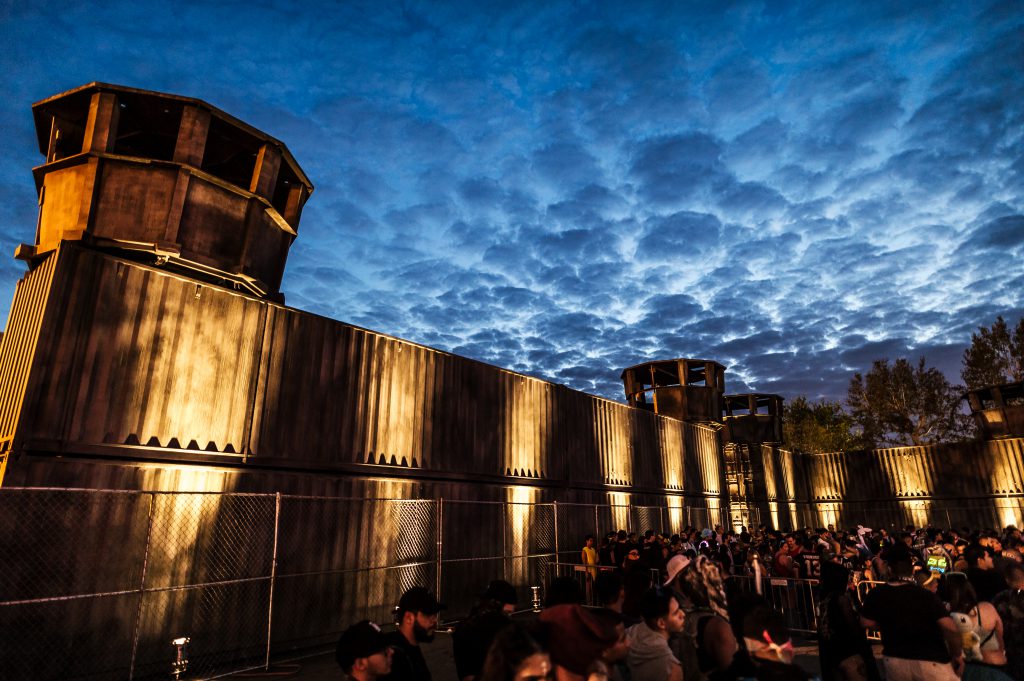 Although I never entered the Asylum, I heard nothing but amazing things about what was inside.
The experience that people had seemed to be fairly mixed on if it was actually scary or not, but the theming was definitely there and I love the live interpretation of the trailers over the past few years. Situated at the back of both the Ghouls Graveyard and Slaughterhouse were branded bars for Jaegemeister and Corona, both of which provided their own unique take on the Halloween festivities while giving those who were 21+ a few cool drink options. Corona Beach reached to it's mexican roots with a lit up skull, that actually made a great point to meet up at before trekking around the Slaughterhouse area. The upper deck for the Jaegermeister Bar was actually a great place to check out the action going on in the Ghouls Graveyard, I just wish that they had better signature beverages.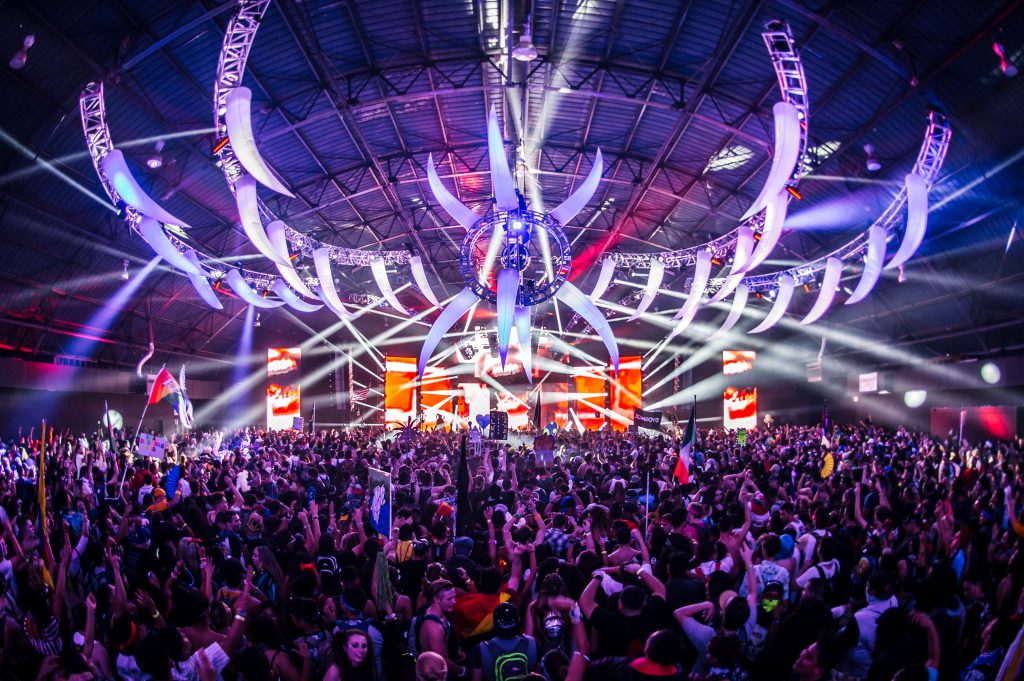 Let's talk about the stages for a second…
We can start off at the stage I spent the least amount of time at, which apparently is also the stage who most people had a problem getting into. The Chopping Block was actually really cool looking on the inside, and I felt the sound quality was great. Utilizing the Damus Building once again, when inside for Spag Heddy there was plenty of room to dance, but apparently that changed much later. Only catching partial sets there initially, I returned to check out Kayzo later and there was simply no way I would get in with my friends, so instead we went to other sets. Cannibal's Tea Party once again took residence inside the Citrus Building, although gone are the days of Enter. and now are the days of Factory 93, who hosted the stage this year instead. Utilizing the diamond piece that hangs above the crowd, this stage definitely was pumping out great beats with minimal lighting and production elements. It was dark inside for the most part and definitely gave off that underground vibe with it as well.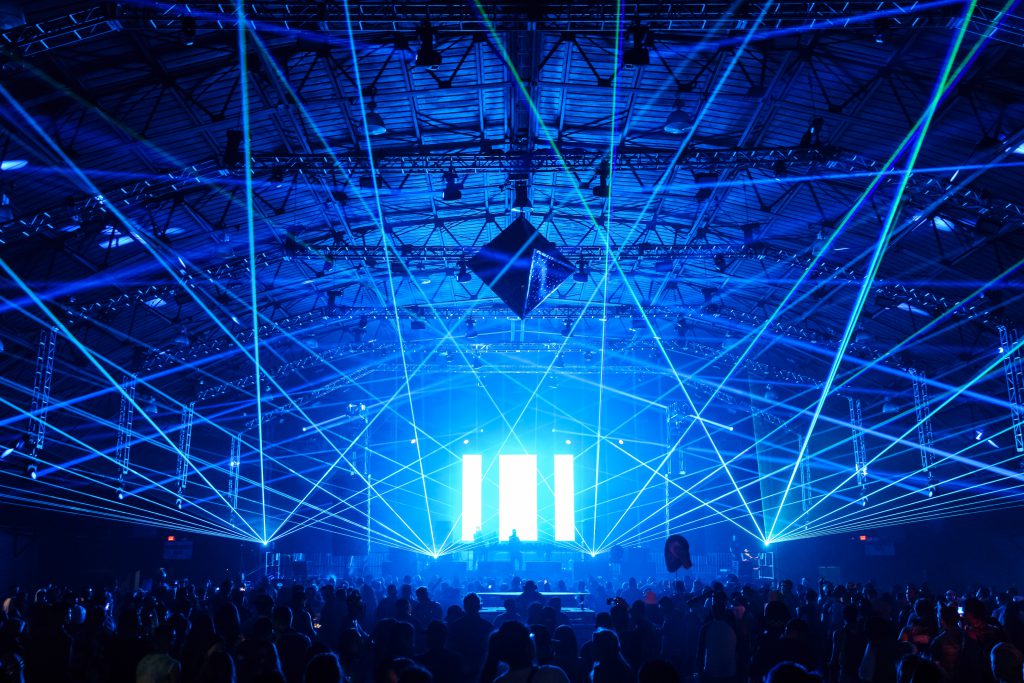 Moving the megastructure to become the new Ghouls' Graveyard was actually one of my favorite things about this event, and I felt that the increased size gave artists who played there a much better ability to show off production elements than in years past. The new lasers and lights that were used were simply insane, and while I am not a huge fan of the DJ being so far away from the crowd…I was stunned set after set by how amazing the production was. Finally, the Slaughterhouse shrunk significantly in size compared to the megastructure in previous years, and there was definitely a packed house underneath the tent. Utilizing a circus style tent, which I believe actually was the same, or similar tent to the one used at Beyond Wonderland SoCal this year, was a great idea but maybe not for the main stage. I felt that every time I did try to enter that stage, I found myself just sticking to the back outside of the tent or giving up trying to get inside. It was nice that they added video boards outside of the two over-crowded stages, so that others could at least see what was going on inside.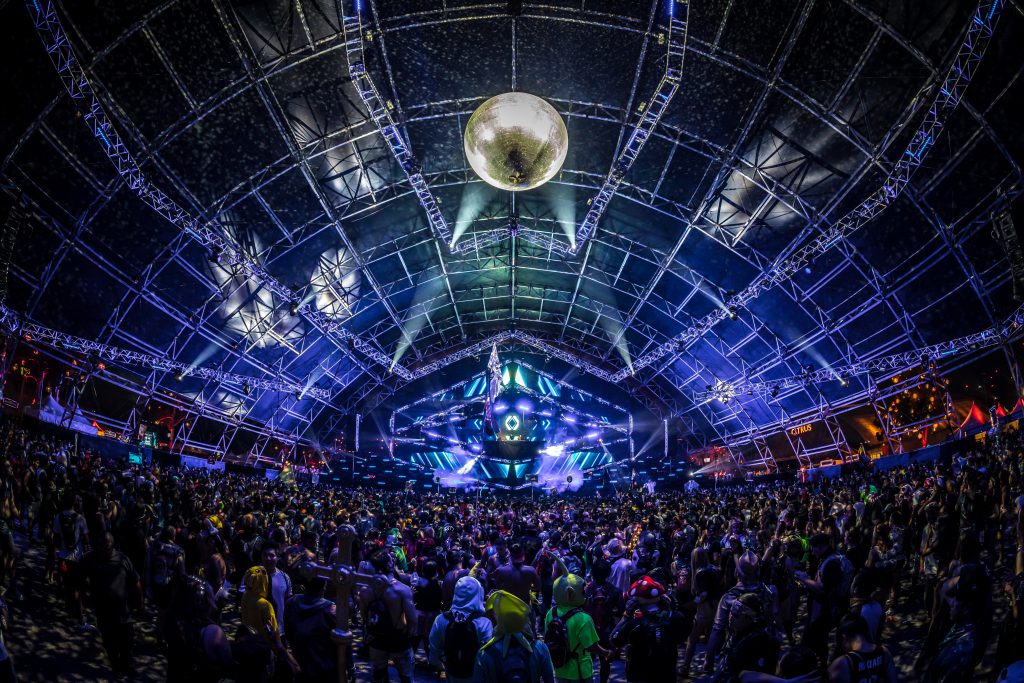 This year's edition of Escape: Psycho Circus was plagued by some problems both new and old, and some of which were completely out of Insomniac's control.
Entering the festival each day took significantly longer than usual, and I don't know if that is just security being slow or the need for more security guards to be checking. I do know that from my perspective, entering in via the VIP entrance both days, that there were far too few guards checking the amount of people trying to enter. Carlos, James, and Tamlyn also reported long wait times to get in both through GA and VIP…and that is really something that should be a breeze now after years of events at NOS Events Center. The gatecrashers that tried to jump the fence are something completely out of Insomniac's control, as people do try to sneak into events no matter what the cost or lineup is. That being said, they could definitely improve upon the layout of barriers or fences, and prevent those without tickets from getting close enough to a fence that they can apparently hop over to directly end up inside the festival.
As someone who constantly advocates for people to upgrade to VIP and usually loves the offerings that are available, I was let down this year.
Look, the VIP area next to the Slaughterhouse was actually really awesome, but honestly the rest of it did not make me feel as if people were getting their money's worth. The VIP area for the Ghouls Graveyard was a joke, and I felt that Insomniac just threw all their funding at the main stage. Please fix this problem, if people are spending more money than GA they deserve that enhanced experience. Even some bathrooms or something similar at Ghouls Graveyard would have been nice, anything more than just a bar, some tables, and viewing area. To top it off, the VIP line entering was slow, and the VIP parking was "first come first serve" which should have been handled better.
The last major problem I saw was at the Damus Building on the day in which Bassrush made it's home there. With a capacity of around four to five thousand, there has been a need for these artists to move to a bigger space since Insomniac returned to this venue in 2014. In fact, I'm surprised that they continually place Bassrush in there, and the location of the water refill station this year also contributed to that chaos. Other complaints I did see also included sound issues, which I did not personally experience. For those that complain about the music being "far too quiet" I almost wonder if you guys have protected your hearing properly at past events.
Pasquale has addressed many of these concerns in his post on Facebook after the event. I do hope that these problems are addressed next year and for future events at NOS. Click HERE for Pasquale's Statement regarding Escape this year.
Regardless of the negatives, the music was still amazing and I had an awesome time dancing to the beats and meeting new people.
The first day was full of house vibes with a dash of bass for me. Catching sets from BlackGummy, Spag Heddy, Benny Benassi, Jauz, Armin van Buuren, KSHMR, Mano Le Tough, Patrick Topping, and Tchami, you can sort of see that house music in some capacity or another really dominated this festival. The closer that I chose to stick with, and never even second guessed about, was Eric Prydz. Dropping one of the best sets of the weekend, and one of my favorite from recent memory, I loved how he utilized the Ghouls' Graveyard production to its fullest extent.
The second day echoed the first, as once again house music took the Halloween candy and ate it too. The background music to my night was provided by Mark Sixma, Lost Frequencies, Duke Dumont, Andrew Bayer, Chris Liebing and Firebeatz. I took a chance on Yellow Claw, who I mostly ended up meeting some new friends while making kandi during, and thought about who I would close my night out with. I started with Kaskade, leaving mid-way through to head to Richie Hawtin, and the last track I heard was from Dash Berlin as the event was ending. I rarely regret leaving a set, but after hearing the recordings of Kaskade's set completely I am definitely feeling some FOMO about that decision. Still, everyone I was able to catch was great, and I enjoyed everyone that I did spend some time on.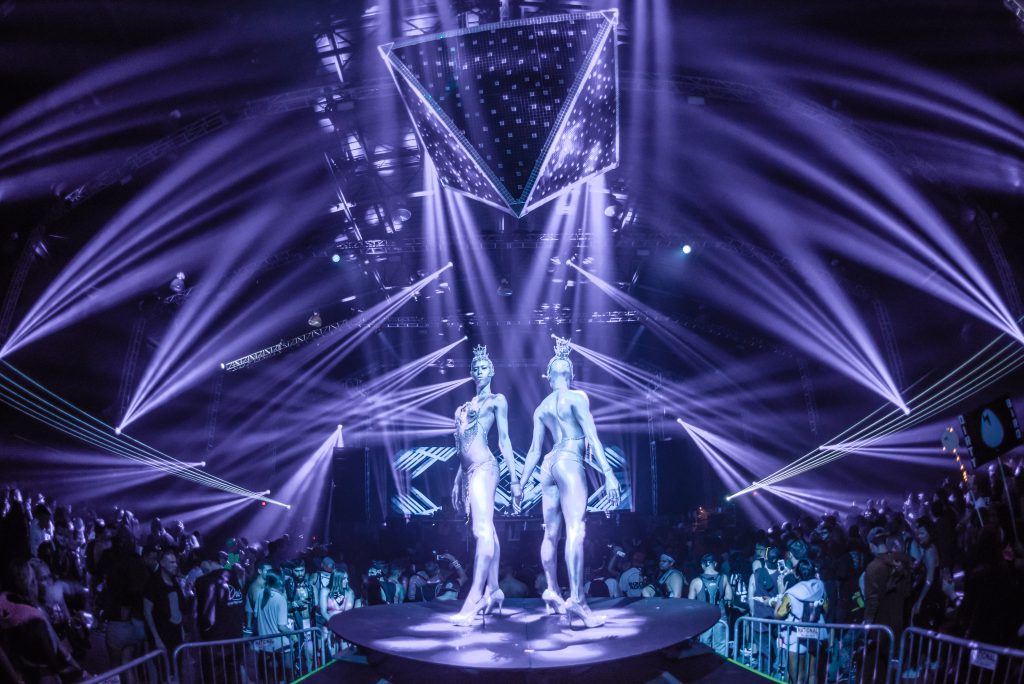 One last message about the vibes before I go…
I have heard so many different things from people regarding the vibes at this year's event, but honestly, I didn't really receive anything as negative as what I read. Sure, there were some pushy people in crowds, and there were definitely people who were a bit more aggressive than others, but I did meet quite a few people who were also really nice too. A common theme that seems to continue to circle around this community is the lack of acceptance of newcomers to the scene. Were there a lot of people at this event simply because artists like The Chainsmokers were on the lineup? Yes. Did many of the people at this event not really understand what PLUR is all about or what our culture in general is? Yes. Does that mean we should continue to belittle and shun those people from this community? No.
When I entered this scene, I was just like many of these people today. I entered just loving the music and not really understanding the culture. I had many people help me along my way, show me what it was all about, and I fell in love with everything about the electronic music scene because of that. These people who are coming in are no different from anyone else who is just entering the scene for the first time. We need to teach them about the scene, and let them grow into the real ravers that they can become. If we do that, then maybe we can save many of the things about this scene that we grew to love over the years and continue to push out the positive vibes that this community is all about.
Grant's Top 5 Sets:
Eric Prydz
Kaskade
Lost Frequencies
Tchami
Duke Dumont
---
Connect with Escape: Psycho Circus on Social Media:
Website | Facebook | Twitter | Instagram
Featured Photo By: Adi Adinayev