Still searching for the perfect look for EDC Las Vegas? Have no fear – we've got you covered!
---
It's incredible how fast time moves when you're looking forward to something. With the conclusion of Ultra and Coachella, the next mega-festival that ravers have to look forward to is EDC Las Vegas. Insomniac's brainchild has been a constant topic of conversation over the past few weeks and EDM lovers from coast to coast (and in different countries for that matter) are all prepping for one of the biggest festivals of the year.
Everyone wants to shine at EDC but what's the best way to stand out in a crowd of more than 150,000 people? We've partnered with iEDM to bring you ten EDCLV outfit ideas for any of you who are looking for inspiration, a new look, or somewhere to start.
If you don't find what you're looking for here, visit iEDM for more rave wear inspiration and festival fashion.
Use promo code: EDMIDENTITY for 15% off your purchase!
---
1. Glow Them Away With a Huboptic LED Mask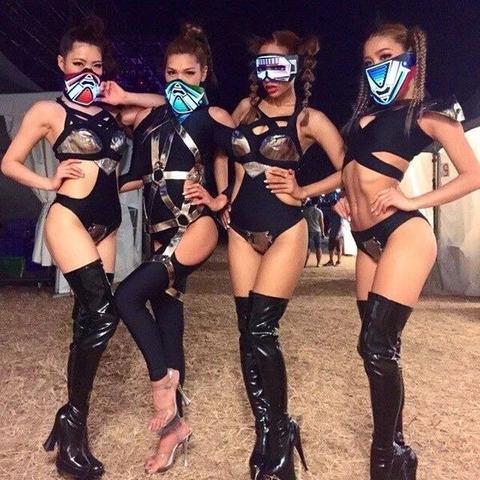 A great outfit can be a simple one accentuated by an eye-catching accessory. If you add a Huboptic Mask to your outfit, it's sure to be the talk of the festival. The sound reactive masks allow you (and those around you) to experience the builds and drops in a set in a whole new way. You can combine these masks with a simple black outfit for a sleek effect that makes the mask the star of the outfit, and you the star of EDC.
---
2. Rock Your Favorite Pokemon Character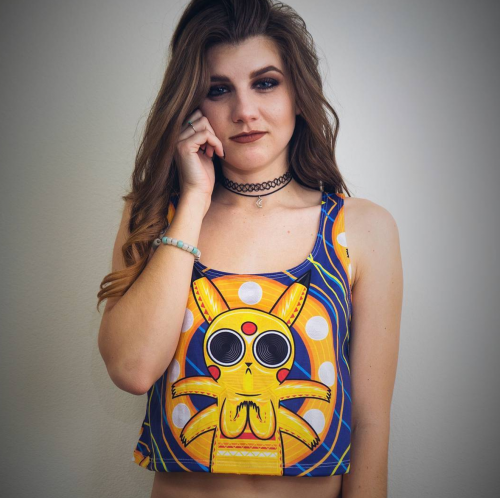 Pokemon-inspired outfits are sure to be a crowd-pleaser, no matter what event you attend. The Acid Pikachu Tank Top features everyone's favorite electric Pokemon tripping out. This top works with any outfit you may choose, pair it with leggings, shorts, or even fluffies.
---
3. Mesmerize With a Fiber Optic Space Whip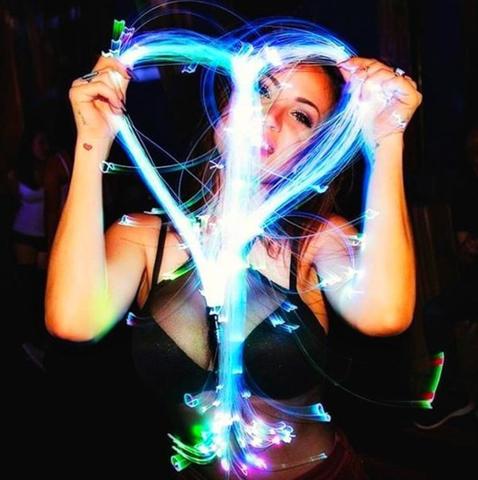 While not traditionally part of an outfit, glow gear is always a good idea when dressing for the Electric Sky. Space whips are one of the biggest up and coming members of the flow art community. Whips can be used to put on jaw-dropping light shows or draped over your shoulders while you rest for a luminescent scarf effect. The fibers and lights attached to the whips glow different colors and will turn heads as you walk by.
---
4. Dress Out of This World With Kaleidoscope Goggles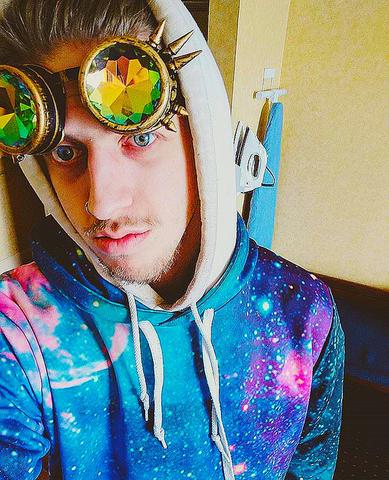 The best outfits feature a combination of different looks, and the pairing of a galaxy hoodie with the Copper Bolt Kaleidoscope Goggles make for a fun and colorful look. EDM clothes are meant to be vibrant and express yourself.
---
5. Light Up the Electric Sky With Your Own Light Show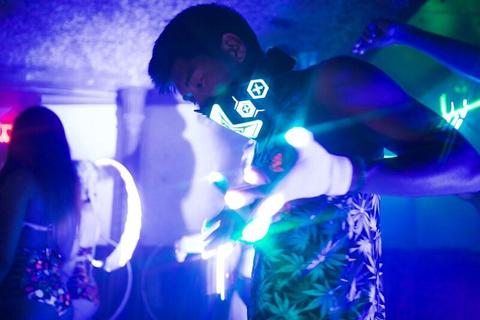 While LED gloves are banned at Insomniac Festivals, you should still stock up on glow gear. Illuminated outfits and accessories are all the rage at music festivals and especially at a mega-festival like EDC, you want to rock some glow gear.
---
6. Unleash Your Wild Side With Your Spirit Animal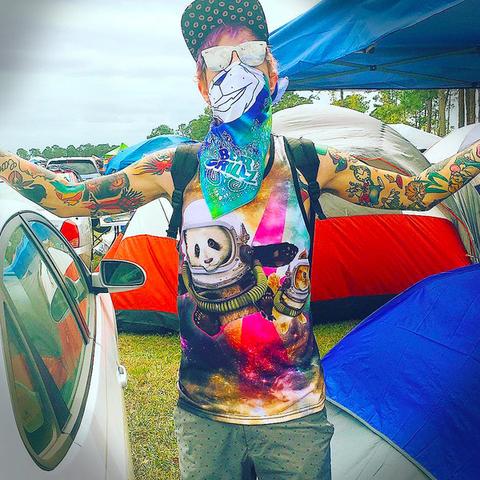 If you're looking for a colorful, playful and whimsical top, iEDM Astronaut Pals Shirt may be just what you're looking for. This fun design features both a panda and a cat (obviously a win-win) on a celestial space-inspired background.
---
7. Rock Out With the Trippiest Threads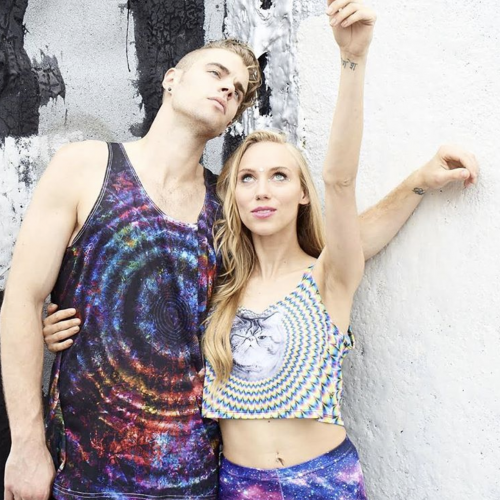 Sometimes the best outfit is a simple tank top with a trippy design. From trippy Pokemon looks, to mind-boggling sacred geometry, to artsy vibes, you can find a design to express yourself. EDC is a place to get weird, so don't be afraid to rock something you wouldn't wear to class.
---
8. Let Your Booty Bounce in Rave Shorts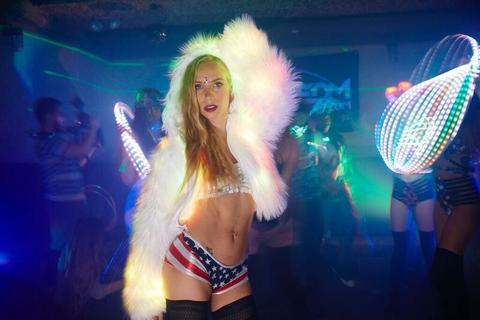 Booty shorts are a festival season staple and for good reason. In a pair of our booty shorts you can dance, shuffle, jump and bounce to every song in a DJ's set. The best thing about booty shorts is the sheer number of outfit possibilities that they create.
---
9. Melt Faces With Kaleidoscope Glasses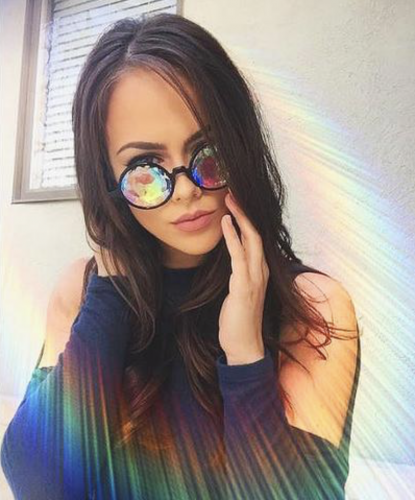 Fun eyewear is one of the most popular festival accessories and kaleidoscope glasses will let you see festivals in a whole new way. Pair your lenses with your favorite outfit for a cool and unique look.
---
10. Next Level Your Kandi Trades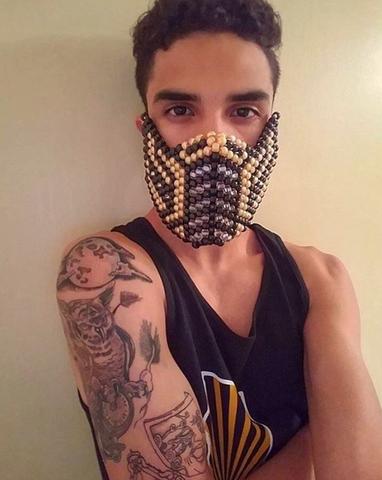 Kandi is a festival must-have and so important to rave culture. iEDM Kandi Masks provide a cool alternative to our illuminated Huboptic Masks. Kandi Masks come in a variety of designs from superhero inspired looks to some of your favorite DJs. But why stop at masks? Kandi cuffs are a must-have accessory and will elevate your look to the next level.
Didn't find an outfit idea that you love? Not a problem. iEDM has curated an entire collection dedicated solely EDC Las Vegas filled with festival favorites that will match the vibes and feels of the electric sky.
---
Follow iEDM on Social Media: