Skyline: Art, Music, Food was the perfect, intimate one-day to ease Los Angeles and LA Historic Park back into hosting more prominent electronic music festivals!
---
When you live in Los Angeles you're privy to a lot of amazing things. We have a mixture of cultures, an overabundance of amazing food, amazing weather, beaches and so much more. Living in LA makes you pretty spoiled. Many amazing artists make sure to include tour stops at one of our many venues. We get a mixture of bass music, trance, electro house, techno and practically every genre in and outside of electronic music. However, something we lack is proper festivals, so when Skyline: Art, Music, Food was announced my interest was piqued.
Ever since EDC LA in 2010, city officials have been wary of massive electronic events. A good example of this was very recently, in fact, when Jamie Jones hosted "Paradise in the Park" in Los Angeles. Two of the artists, Doc Martin and Skream, were not allowed to play as they were considered "Rave DJs." So while this stigma against electronic festivals continues to exist, Radio Hill Events set out to make a statement with Skyline: Art, Music, Food.
Skyline had so many positives aspects to it, and hopefully ushers in a new age of festivals in Los Angeles.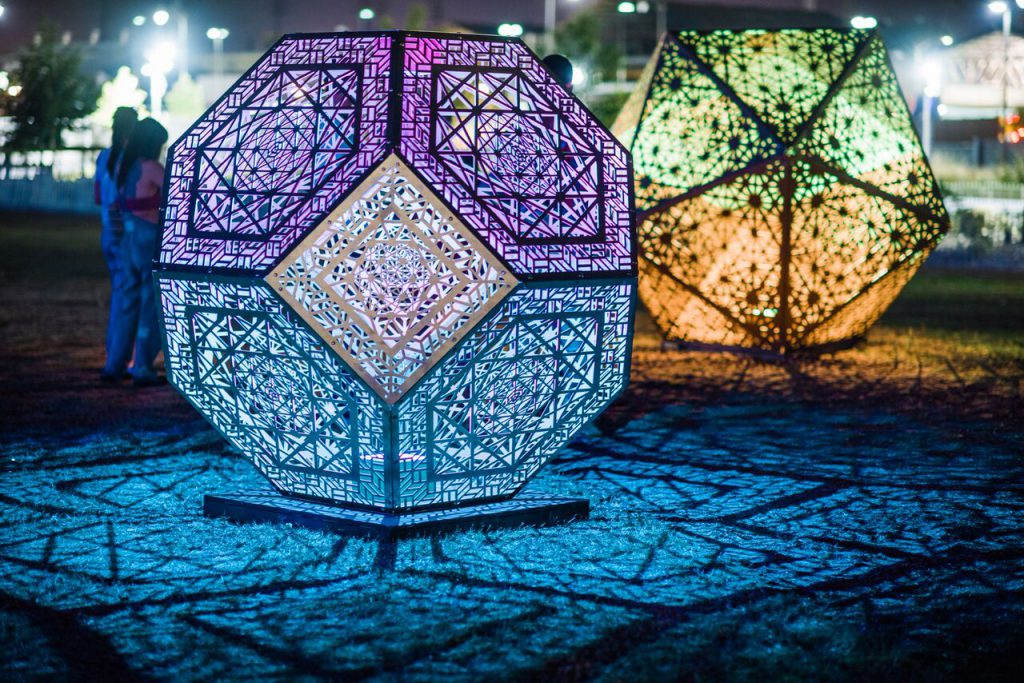 When I stepped into the park, I instantly knew this set-up was going to be an Instagram wonderland.
There was enough space for pictures at multiple angles and multiple art pieces were spread around the area. I mention this because when I later search "#SkylineLA" I saw just as many if not more pictures and selfies of the art as I did of the music. The three main pieces at Skyline were Master of Shapes' mirrored portal which beautifully framed the LA skyline, Media Pollution's video installation that replicated the LA skyline and a set of polyhedral installations by HYBYCOZO. All of these pieces were truly wonderous and adaptable. In the daytime, they were beautiful. Then each radiated different energy once the sun set.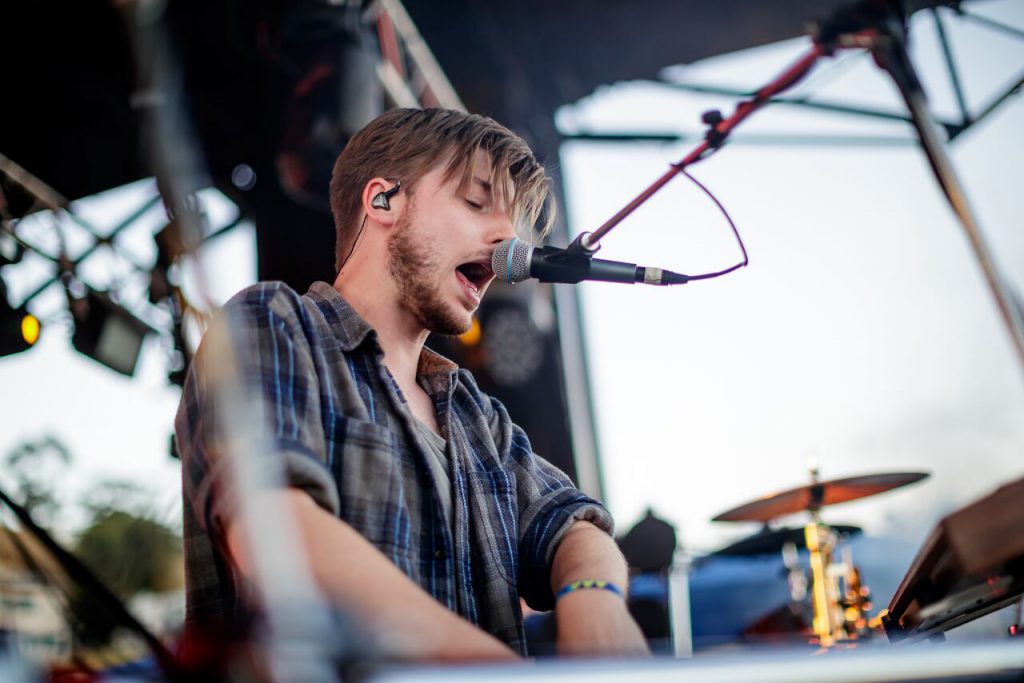 KCRW is known for its eclectic playlists. This was clearly reflected in Skyline's intriguing lineup.
I personally found it refreshing to watch artists that had not graced multiple big name festivals this year. Going in, I was most familiar with Jason Bentley, Lido, and Duke Dumont. I looked forward to getting to know more about the other artists.
The majority of the artists played during the daytime, which was both positive and negative. The only negative about that was the sweltering heat which affected people's desire to arrive early enough to watch some of the acts. The closer it got to dusk, the more attendees flowed into the park.
My personal favorites were Jason Bently, Elohim, Lido and Duke Dumont. Bentley was the perfect opening act. The KCRW Music Director and host of "Morning Becomes Eclectic" set the tone and vibe of the event by throwing down deep and chill house music. Elohim surprised me by masterfully mixing hip-hop and R&B with interesting electronic tracks. Lido was as amazing as always and played a dynamic set full of drum kits perfectly timed with the sunset. Lastly, Duke Dumont was an excellent choice for a closer! He helped the crowd wind down with his groovy 90s sounding beats.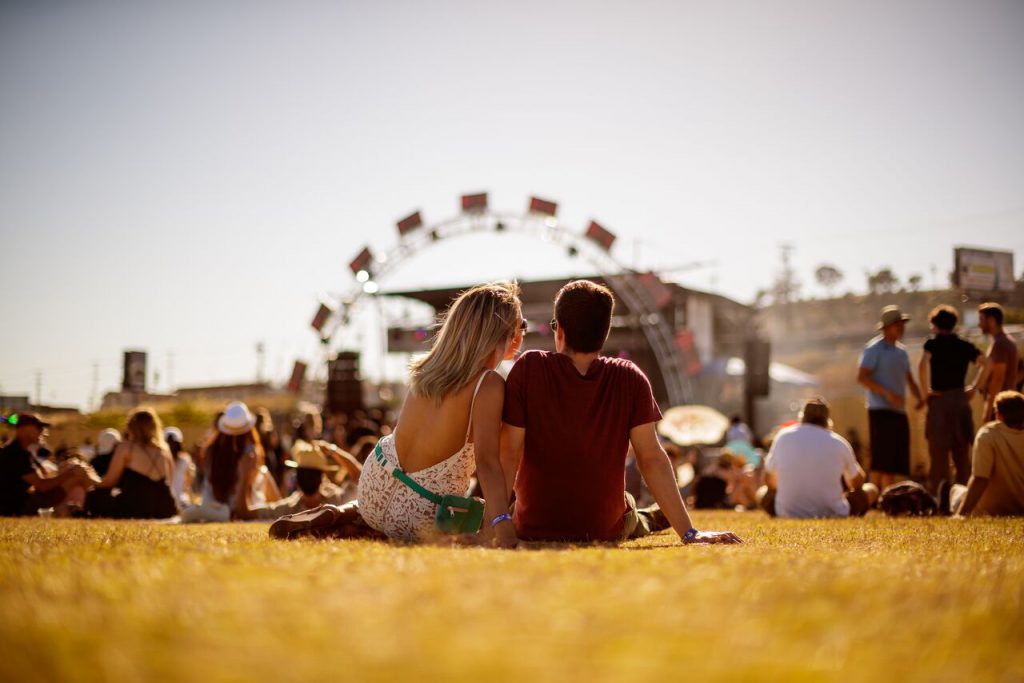 The thing that stood out to me the most was the ambiance. There were good vibes all around and positive people everywhere.
I arrived at around 3 but the venue did not begin filling up until about 5 or 6 pm. Even at its max, Skyline never felt crowded and there were always pockets of space to chill. The older age of the crowd may have also made a huge difference in the overall relaxed vibes emanating from attendees.
In terms of the setup, there were food trucks and beer stations very close to the entrance with additional alcohol spots throughout the park. There was ample seating under canopies which was amazing when the sun was at its brightest. VIP had additional seating, one extra food option, and about 3 additional alcohol stalls. Initially, it was weird to see only one free water station, but given the size, it made sense. I will say that every time I went to refill my water bottle, the there was hardly ever a line. The entire set up was very well thought out and made the process seamless.   Also, I was amazed that there was
Also, I was amazed that there was hardly ever any trash on the floor! Seriously, shout-out to Radio Hill KCRW, The Well, DoLA, and Space Yacht for ensuring that there were more than enough trash cans and individuals literally sweeping up the trash throughout the festival!
Final Thoughts
Skyline was honestly an amazing event! It was small enough to never feel crowded but large enough to offer a variety of food, art, and music. It was great watching a fresh set of artists as well as vibe with an older crowd. I love that it was easily accessible by the metro and that I didn't have to travel a great distance to go back home. I can only hope that Skyline returns next year and the organizers who put on this event, come together again to create another amazing event!
---
Follow Radio Hill Events and Skyline: Art, Music, Food on Social Media:
Facebook | Twitter | Instagram
Featured Photo Credit: Da Black Swan