Skyline: Art, Music, Food brought music back to LA Historic Park, check out our favorite things about this intimate event.
---
Radio Hill Events teamed up with 89.9 KCRW to bring some music back to the renowned venue that is the LA Historic Park with the first-ever edition of Skyline: Art, Music, Food. After shutting down for roughly three years to get a fresh facelift and redevelopment, the LA Historic Park is back and more beautiful than ever. Some of you may remember this venue as playing host to major events like HARD Summer, Swedish House Mafia's One Last Tour, and more, so it was exciting to see what was in store for fans. While it was definitely one of the hottest days of the year temperature-wise, the music and vibes were definitely on point. Read on for our five reasons that we fell in love with this festival, and get a feel for what may be to come from this promoter and venue in the future!
---
The Intimate Feel
Okay, okay, we know that 5,500 attendees overall isn't considered small, but it fit the venue perfectly. As someone who constantly sees and hears complaints about crowd sizes and venues being "too packed" this was a breath of fresh air. Getting into the festival took absolutely no time, and there was plenty of room for people to dance or just hang out.
I figured that as the sun went down the venue would get more packed, but while the number of attendees rose it didn't cause problems. Even as Duke Dumont came on for his set, the feeling of intimacy was retained inside the venue. It was definitely a relief to not be enveloped in a sea of people. The LA Historic Park is actually much larger than what the festival took up size-wise too, so there is plenty of room for expansion in future years.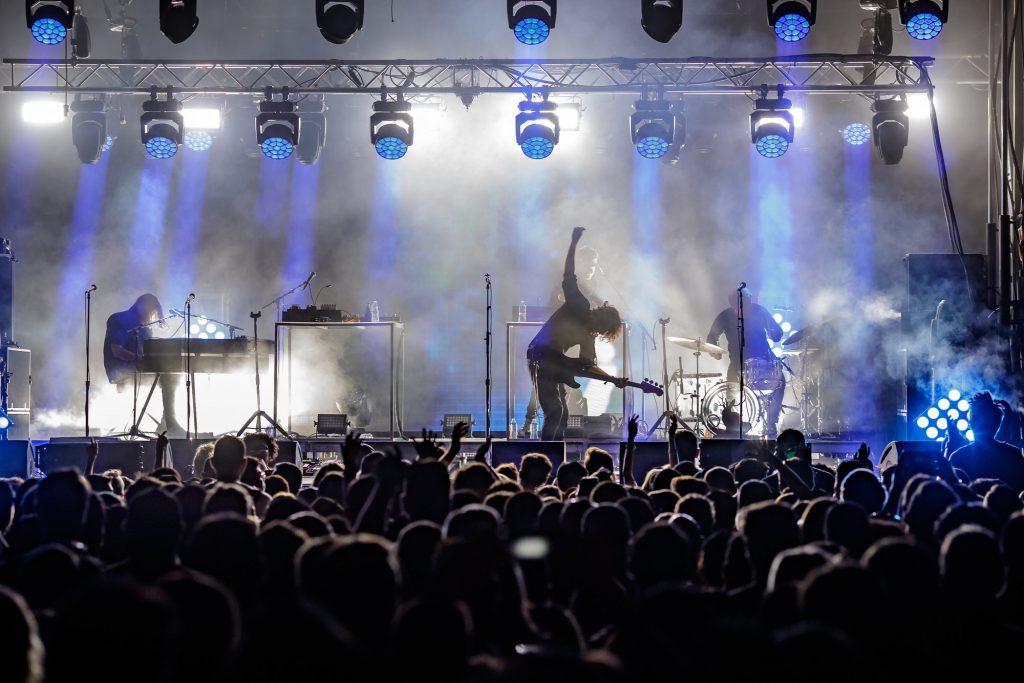 The Variety Of Artists
Los Angeles can't seem to shrug off their dislike for electronic music. I don't understand why, I really don't, because not every electronic artist is going to cause problems and it is insane to lump them all together. Skyline seemed to remedy the situation by not booking "rave DJs" in response. The lineup was a quality mix up of both electronic artists and live acts, and it was reminded me of what I would catch at the CRSSD Festival's main stage or even at Coachella. Lido was a favorite of mine, and his set had a lot of power behind it, while Miike Snow absolutely slayed theirs as well.
I think that Duke Dumont's set was a solid blend of his own work and some fantastic hits too. He had the crowd going hard to close the night and even dropped Eric Prydz' track "Opus" towards the end of the set, which seemingly came out of nowhere. Perhaps Duke playing this festival sets the stage for artists who could potentially play this venue like Gorgon City or Rudimental, which would be quite a bit of fun too!
A More Mature Crowd
There is something to be said about the 21+ crowd and the type of atmosphere it brings with it. While it isn't always the case, almost every 21+ event I attend has great vibes and people who can handle themselves quite well. I'm not saying that those under 21 can't do that, nor am I saying that those over 21 always fit that mold, but more often than not it brings a far different feel than an all ages or 18+ event. Not having to get carded to go anywhere or buy anything is a huge bonus for me, and carrying my drink everywhere was great too. What also stood out was that everyone I met, spoke with, or was surrounded by never seemed to be problematic, aggressive, or rude. It was an insanely chill event full of people who clearly loved the artists who were playing, you can't beat that.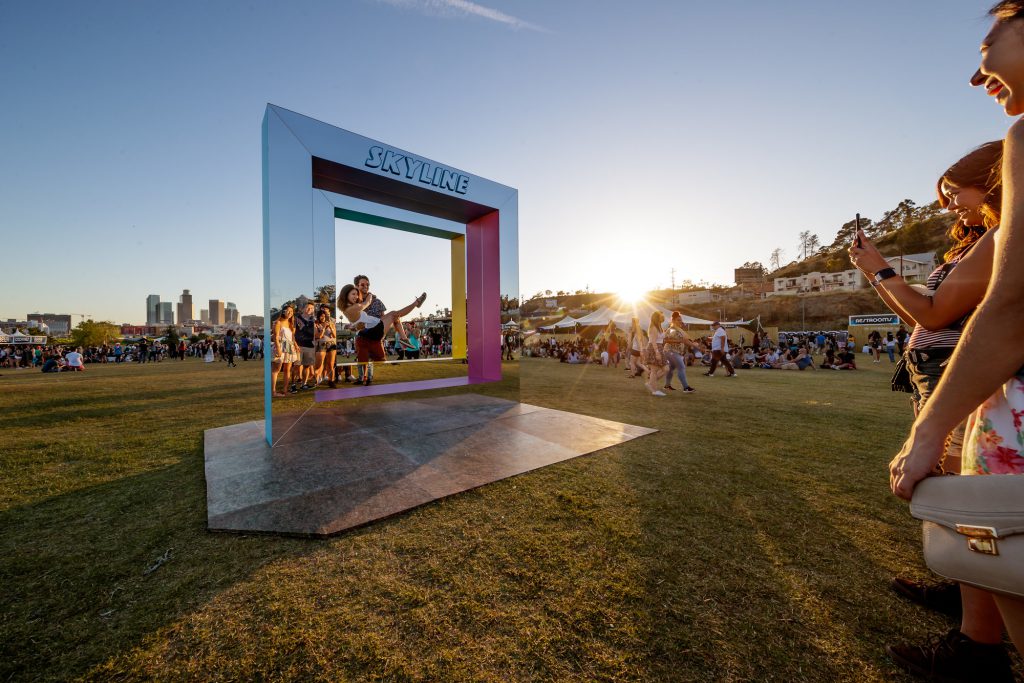 Quality Food Options
I love eating food at festivals, I really do. I try to write about the food offerings as much as possible because it's something that tends to be thought of last-minute or overlooked by many. Overall, I felt that they had a nice variety of food options at Skyline, and that's good since "Eat" is on the headline itself. While I didn't grab a coconut, I sprung for the Orange Chicken which was pretty good. Others I was with enjoyed the Lobster Mac N Cheese and Chicken Strips, both of which also looked delicious. The day was so hot, and so was the early night, which made Afters Ice Cream a blessing in disguise. While I've been watching my diet a bit lately, I just had to splurge and grab a scoop of their "Cookie Butter" Ice Cream which was seriously delicious!
The bars at the event were placed throughout the grounds, so you didn't have to wait too long to grab a drink. My only complaint is that they wouldn't pour any doubles, but that could have just been a permit issue. Cost-wise the food and beverages weren't really breaking the bank, you could get dinner and a drink for about ~$20 total, not bad for an event!
Music's Return To LA Historic Park
I never frequented LA Historic Park like many other people I know, but I definitely have some memories at the venue. The last time I was on those grounds was for Swedish House Mafia's final show back in 2014, and due to the refurbishment of the park there hadn't been an event there I've attended since. With the metro being so close, the parking situation under control and cost efficient, and a plethora of after party options available close-by, I am hopeful that this event sparks more to come in the future. As I mentioned earlier, it was clear that the venue could fit more people and expand deeper, so there is definitely room to grow. I think a second stage on the other side of the venue would be a valid addition, as long as they make sure the sound bleed problems that could arise would be handled.
Oh, did I mention the fantastic view of Downtown Los Angeles that the venue has? It's definitely magical and made it pretty clear why they named the event "Skyline". Ending the event at 11pm was a letdown initially, but with Factory 93 close by and plenty of other venues hosting parties that night, it wasn't necessary to run much later than that. I expect to see future editions take off in a similar manner to how CRSSD Festival runs down in San Diego with official afterparties hosted at nearby venues.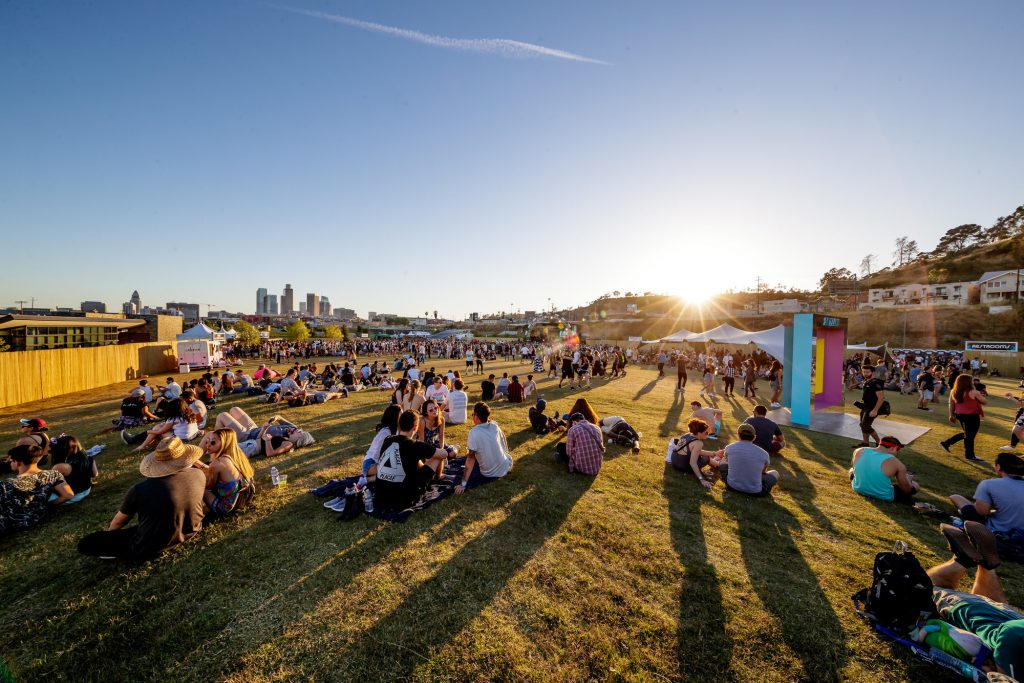 ---
Follow Radio Hill Events and Skyline: Art, Music, Food on Social Media:
Facebook | Twitter | Instagram
Featured Photo Credit: aLIVE Coverage