Sasquatch! Music Festival 2017 Set Times, Festival Map, & More!
---
Just like that, Sasquatch! Music Festival is nearly here! Despite the disappointment that accompanied Frank Ocean's recent cancellation, the release of the official schedule tonight has reminded us that this year's lineup is still packed with exciting artists that I personally can't wait to see. From parking to all the festival do's and don'ts, we've got you covered.
And if you missed it, you can check out our essential camping guide, here!
---
Music Festival 2017 Essential Info:
Dates: May 26th – 28th, 2017
Show times: Campgrounds open at 1PM on Thursday, May 25th. Gates open at noon Friday – Sunday.
Venue Address: The Gorge, 754 Silica Road NW Quincy, WA, 98848
Ages: All ages welcome!
---
Wristband Registration Info:
Make sure to register only YOUR wristband with the correct name and information, HERE!
Don't forget to register your wristband!
Before entering the festival, put your wristband on your RIGHT wrist
When tightening your wristband, slide the clasp up in order to ensure that your wristband doesn't fall off.
Remember, no wristband no entry! Treat your wristband like cash and don't lose it!
Sasquatch! Music Festival 2017 Set Times: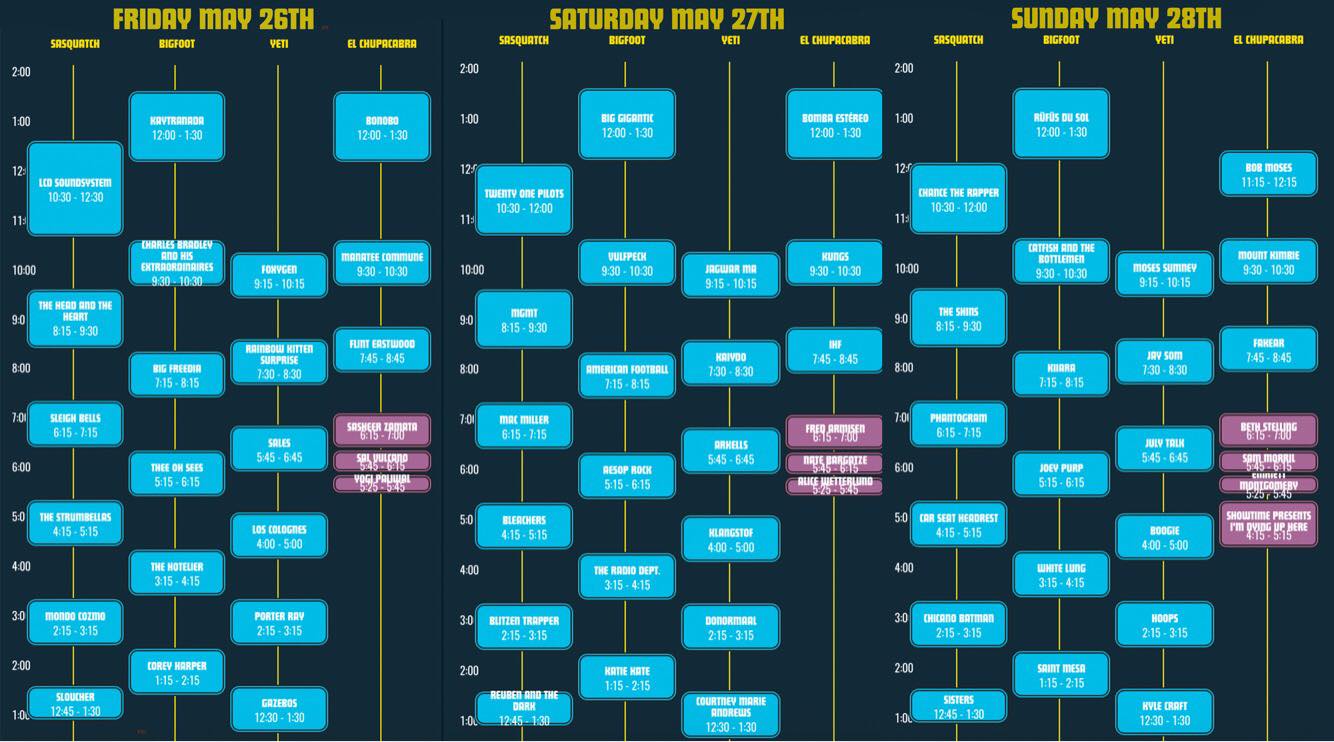 Check out the lineup HERE!
---
Sasquatch! Music Festival 2017 Festival Map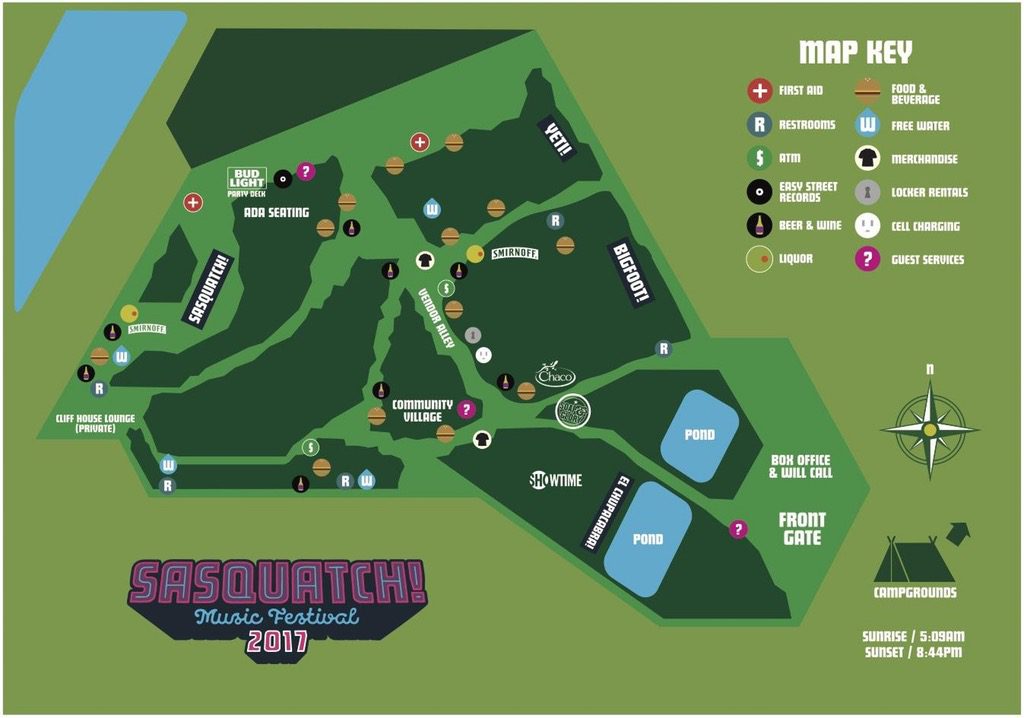 ---
Sasquatch! 2017 Day Parking Info
Parking lot gates open at 9 AM starting Friday, May 26th
No overnight parking permitted
ABSOLUTELY no parking on country roads or private property adjacent or leading up to the venue
No consumption of alcoholic beverages in the parking lot (will be strictly enforced)
---
Box Office Info
The Gorge Box Office is located near the Gorge Amphitheater main entrance
Will call will be open: Thursday, May 25th Noon – 10 PM and Friday – Sunday 11 AM – 10 PM
---
Reminder To Mind Your Belongings
Unfortunately, many people have reported pickpockets, bag slashings, and theft of wallets, smartphones, purses and other valuables during this festival season. While this small number of bad apples in the bunch doesn't define an entire crowd, there are opportunistic people who come to these events to take advantage of unsuspecting party goers and it's important to be mindful of your valuables while at Sasquatch! Music Festival 2017.
Pay attention to who's around you and what's going on around you. Keep your wallet and phone in your front pocket(s) if you can. Treat your phone the same way you would treat cash; don't set it down on a table or bar and look away. If a friend isn't standing behind you in a crowd, be careful of your backpack or purse, and don't put valuables in a pocket that could easily be unzipped by someone behind in a crowded spot without you realizing.
Festivals, in general, are a very densely populated place, and are a well-known place where pick-pocketing of unsuspecting people occurs. It's easy to find yourself in a crowded environment in a line, at a stage in the festival, elevator, or even out on the street where someone could slip your wallet or phone our of your pocket or bag in a matter of seconds. Stay alert, be careful, and make sure to not carry more than what you need!
If you don't want to carry around your jackets and extra items all day, 3-day personal lockers are available for rent on site (with cell phone chargers inside, yay!!)
More info on lockers HERE!
---
Sasquatch! Music Festival 2017 Do's & Don'ts:
Acceptable Items
YES disposable camera
YES small camera with no zoom, lens or flash
YES a stroller (if you have small children)
YES one 20-oz., factory sealed bottle of water
YES a small bag or backpack
YES a small (1 gallon), clear bag of snacks
Prohibited Items
NO alcohol
NO beverages, other than one 20-oz., factory sealed bottle of water
NO glass bottles or cans
NO zoom lens cameras
NO coolers or large bags
NO lawn chairs
NO illegal substances
NO laser pointers
NO animals (except service animals)
NO recording devices (audio or video)
NO weapons
NO bicycles
---
Connect with Sasquatch! Music Festival 2017 on Social Media:
Website | Facebook | Twitter | Instagram
Featured Photo Credit: Parallax