Lightning in a Bottle 2017 Set Times, Festival Map, & More!
---
This is not a drill! There are less than two weeks until Lightning in a Bottle returns to Bradley, CA for Memorial Day weekend. As if the festival couldn't get any better LiB recently announced the addition of interactive floating art installations and the set times for the four main stages. If you are still planning out camping details be sure to check out our festival camping guide for tips and find out the essential LiB info below! As more information about the festival becomes available we will update the content.
Lightning in a Bottle 2017 Essential Info:
Dates: May 24 – 29, Memorial Day Weekend
Pass Details & Arrival Times:
Early arrival pass grants early festival access on Wednesday, May 24th to the High Grounds campground (until Box Office closes at 11pm). Only works as an add-on to a 4 Day Weekend Pass. Does not grant festival access on its own.*
4-day weekend pass grants access to all Lightning in a Bottle activities and stages from Thursday morning (when gates open) to Sunday night. Includes walk in access to campgrounds for tent camping. Camping equipment not included. Campgrounds will close on Monday morning.
A car camping pass means you can bring your car inside the designated campgrounds. Camp inside or with your vehicle and enjoy all the comforts of nearby vehicle access. Please note: Car Camping Passes are in Limited Quantity and entry to the festival requires a 4-Day Weekend Pass.
If you do not have a car camping pass, but still want to tent camp you can! All 4-Day Weekend Passes include tent camping in the festival. Tent Camping means that you can camp anywhere in the campgrounds without your vehicle. Those with cars will park in the general parking lot and walk or use the gear shuttle to get to the campgrounds. If you would like to camp with your vehicle, you'll need to purchase a Car Camping Pass in addition to your festival pass.
---
Wristband Registration Information:
You don't have to register your wristband, but it is strongly recommended that you do! Registering your wristband shows both us and Eventbrite that the wristband belongs to you, and lets you supply emergency contact information should anything happen to you.
Click here for wristband registration
You can only register a wristband once, so make sure you have all of that person's required information on hand. To register, you'll need their:
FULL NAME
EMAIL ADDRESS
BIRTHDATE
WRISTBAND ID NUMBER
EMERGENCY CONTACT NAME, EMAIL, and PHONE NUMBER
Venue Address: San Antonio Recreation Area; 2091 New Pleyto Road, Bradley, CA 93426
Ages: Everyone under 18 must be accompanied by a parent or legal guardian.
• Children 5 and under = FREE
• Children 6 – 12: $50 CASH ONLY (available for purchase at the on-site box office only)
• Children 13 – 16 = $135 CASH ONLY (available for purchase at the on-site box office only)
• Anyone 17 or older = REGULAR PRICE
---
Lightning in a Bottle Set Times: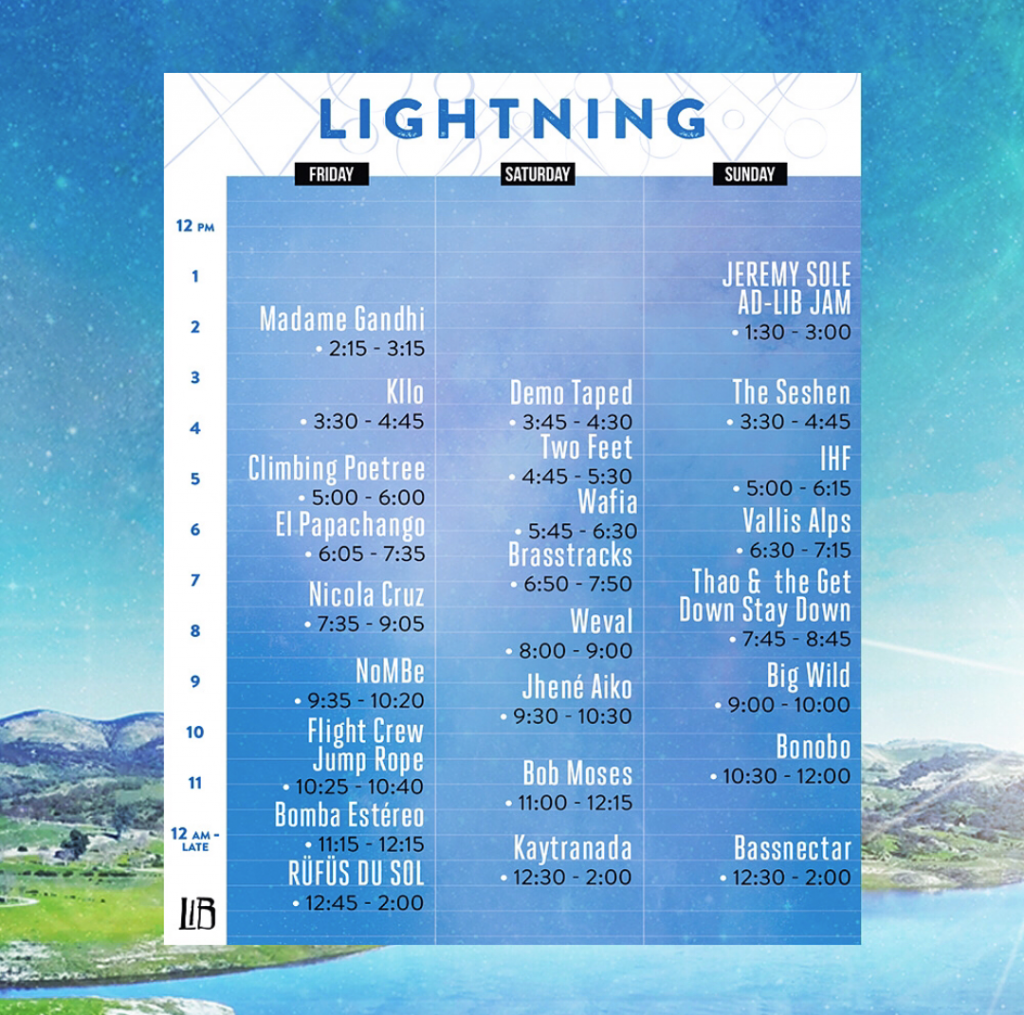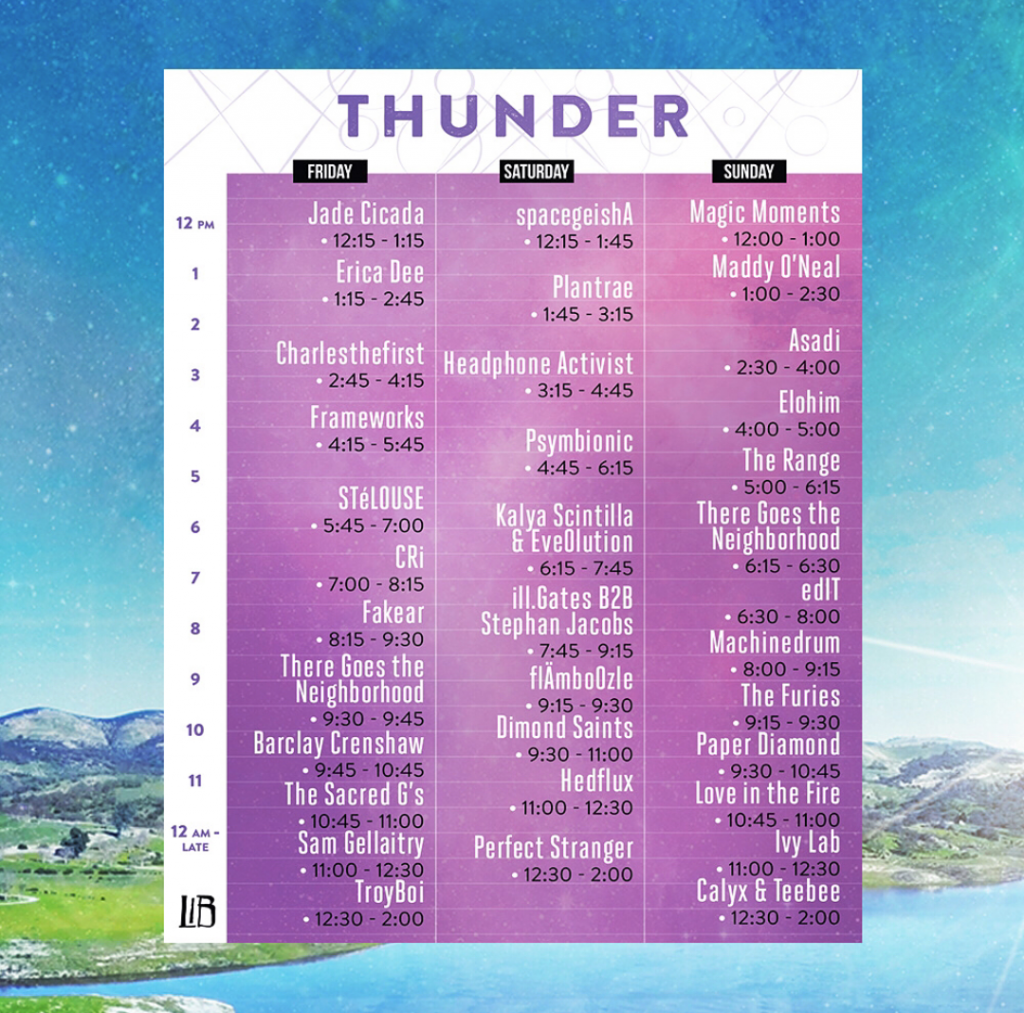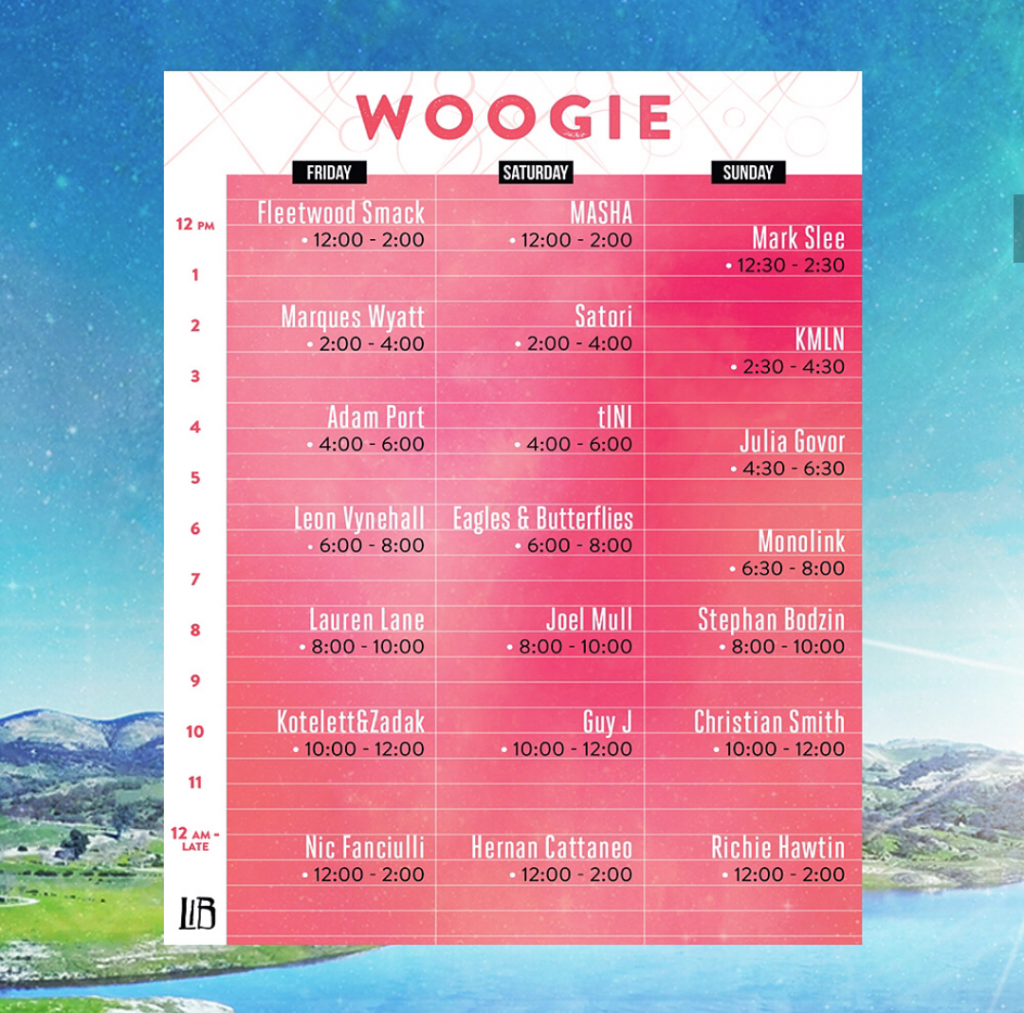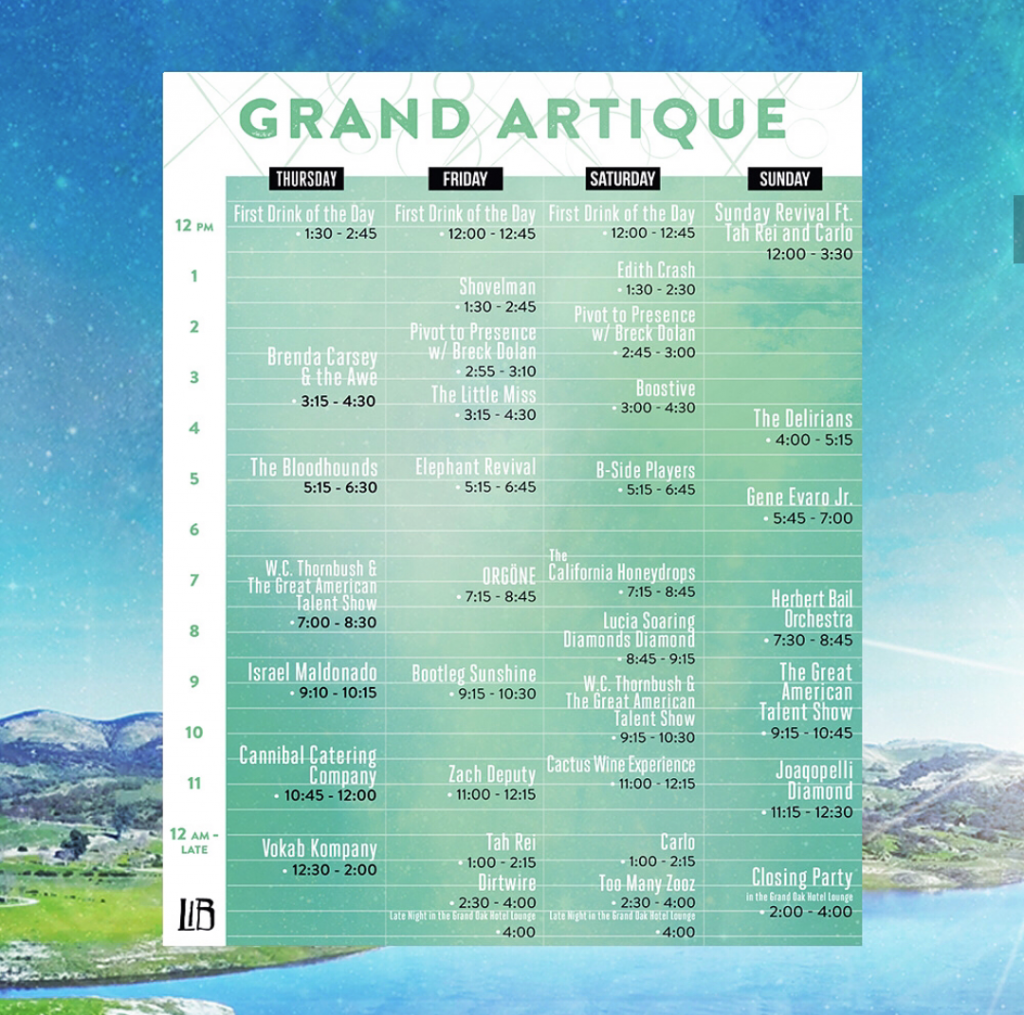 ---
Lightning in a Bottle 2017 Festival, Camping, and Parking Maps: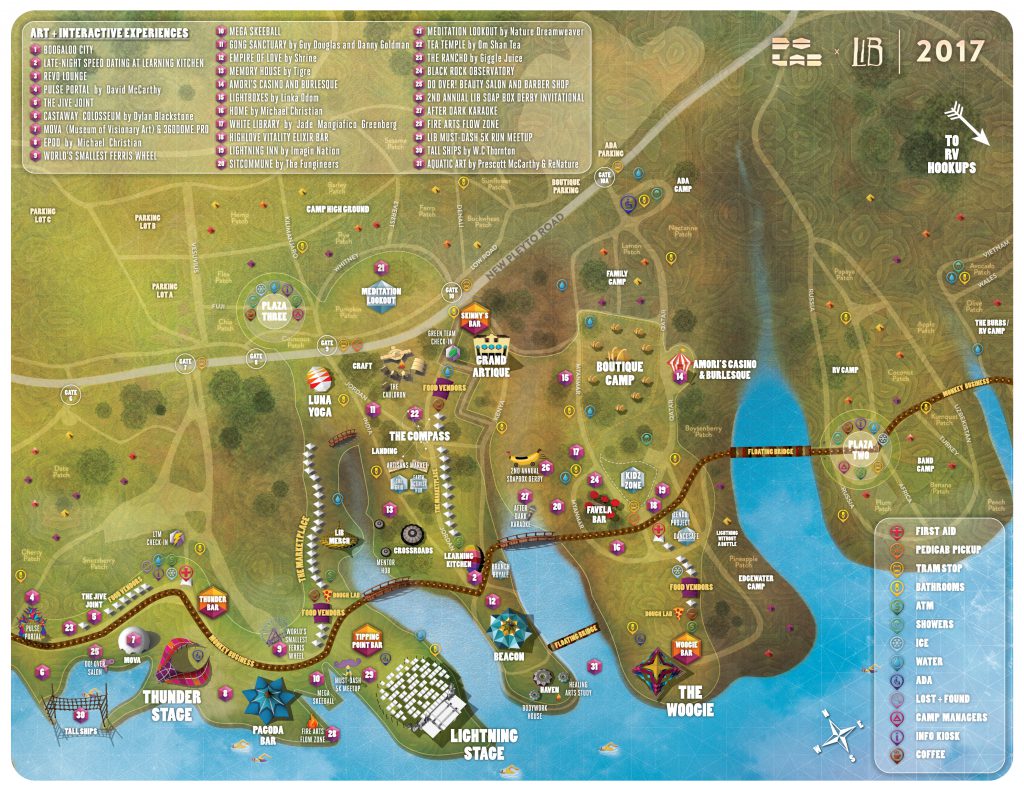 ---
Lightning in a Bottle ADA Info:
Lightning in a Bottle will be accessible to all guests with disabilities. It is their goal to continually make the festival more accessible so everyone can enjoy their experience at this year's festival. Please visit the ADA page for any additional information, click here!
---
Lightning in a Bottle Do's & Don'ts:
Acceptable Items
YES! Enclosed propane stoves
YES! Good Vibes
YES! Backpacks
YES! Cameras
YES! Alcohol. A reasonable amount for personal consumption but only in plastic bottles or cans
YES! Coolers in Campgrounds
YES! Following our simple rules to make LIB a safer and stress-free place to be
Prohibited Items
No public nudity
No glass bottles or glass containers i.e., beer, soda, hard liquor (plastic and cans are ok)
No illegal drugs of any kind
No weapons (including things like machetes for opening coconuts – no weapons at all)
No fireworks, fire tools or fire lanterns
No pets (service animals are ok with documentation, email [email protected] for further instruction)
No fires outside of designated fire pits
No Space Saving as in roping off area for your friends who arrive later. Please arrive together or meet new neighbors.
Your respect of these rules allows us to come back year after year to offer you a new experience! Thank you!
---
Connect with Lightning in a Bottle on Social Media:
Website | Facebook | Twitter | Instagram 
Featured Photo Credit: Collin Worrel