Show your mom how much you love her with some cool gifts that she can take with her on the dance floor this Mother's Day!
---
So, Mother's Day is this Sunday, May 14, and maybe you have racked your brain trying to pick out the perfect gift for the most important woman in your life! Well, if you have a mom who loves to get down on the dance floor to those glorious electronic dance music beats then we have some great Mother's Day gift ideas that she will absolutely adore! Make this Mother's Day extra special and put a smile on her face with something outside the norm of just candy, flowers, and teddy bears! Mother's Day is the perfect day to show your mom how much you love her and with these gifts, you will also show her how much you understand her! Happy shopping my friends!
---

Sun & Moon Sheer Kimono
Your mom will love iHeartsRaves exclusively designed Sun & Moon Kimono as it is the perfect addition to her summer wardrobe! She can wear it as a bathing suit cover-up, with some shorts and a tank or as part of an adorable rave outfit. Adorned with this gorgeous flowing kimono, your mom will be the best-dressed lady on the dance floor!
Price: $21.95
Purchase: HERE (Amazon)
---

Full Print Visionary Art Hydration Pack
Keep mama hydrated this season with a visually stunning hydration pack from Infinite Wonder Camp! The pack in the above photo is printed with the artwork "Space" by Samuel Farrand and is just one example of the gorgeous packs that this company has to offer. Made with lightweight, durable, ripstop material, this pack contains three large storage pockets with the option of using the water reservoir from the front zipper pocket or back velcro pocket. There is also a small hidden pocket for cash and coins and an easy-click lock to prevent mouthpiece leaks. Click on the link below to see all the packs that Infinite Wonder Camp has to offer!
Price: $80.00
Purchase: HERE (Etsy)
---

Tank, Sweater, or T-Shirt From Electro Threads
Electro Threads is any raving woman's one stop shop is she is looking for colors that pop and designs that will leave you breathless. The goal of Electro Threads is to inspire, uplift, and spread positive vibes throughout the world. They believe in the power of a positive state of mind and strive to design clothing that radiates positivity. Pictured above is one of my personal favorites from their collection, the Hippy Lion Flowy Racerback Tank. But, I urge you to check out their site and choose the right design that fits your Mother's own unique style and personality. I guarantee you will find something that she will adore!
Price: Womens clothing & apparel begin at $12.99
Purchase: HERE (Electrothreads)
---

Feather Headband From Vivid Bloom
Now, every lady needs something to spruce up their hairdo every once in a while and with this stunning headband handcrafted with a beautiful mix of black and red feathers and matching beads, your mom will be ready to turn heads this festival season! The feathers on this particular piece are attached to chained hemp string and the headband looks great with both long or short hair. And what's better? Sliding bead makes headband adjustable to every head size! Feathers may vary slightly. This item is ready to ship!
Price: $35.00
Purchase: HERE. For more Vivid Bloom styles, click HERE! (Etsy)
---
Gracety Ultra Portable Wireless Bluetooth Speakers V4.0 
Give your mom the gift of portable sound! This adorable Bluetooth speaker boasts the HIGHEST WATERPROOF RATING: IP67 allowing it to be the excellent choice to use around the pool, beach, bath, boat, car &golf cart and all water environments. It can be submerged in 3 feet of water, for 30 minutes, without issue. In addition, this speaker can float on the pool for over 24 hours! It is also dust proof and drop resistant with a soft ABS cover. The Bluetooth 4.0 Compatability makes this little gem compatible with all Bluetooth-enabled devices. Connect to your iPhone /iPod/iPad/Phones/Tablet/Echo dot in 3 seconds and with a built-in microphone it enables use as a speakerphone, so you can enjoy hands-free calling! But it doesn't stop there! Breathing LED & a built in FM radio will help her keep up with the newest Breathing LED 7 colors Bluetooth speaker technology but without forgetting good old FM digital radio! The FM radio tuner WITH auto-scan presets allows for easy programming so listening to her favorite stations is only a few speaker button clicks away. Finally, the Speaker packs the power of Hi-fidelity, room-filling surround sound, in a compact, elegantly portable speaker with super clear sounds. 
Price: $35.00
Purchase: HERE (Amazon)
---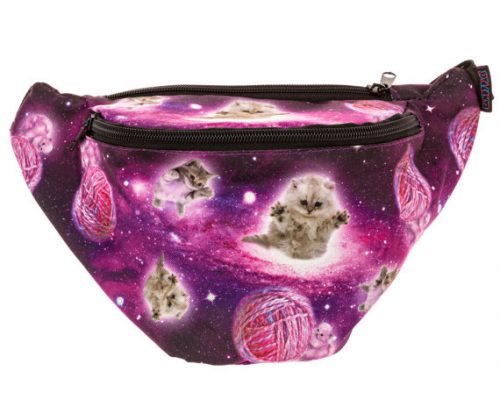 Galaxy Cat Fanny Pack
From KANDYPACK Official I present to you the Galaxy Cat Fanny Pack! Any woman would be crazy not to fall in love with this adorable pack! Seriously, there is nothing worse than having to tote around a giant purse everywhere and let's be honest, most fanny packs are simply not fashionable enough to convince anyone to wear them. But with Galaxy Cat, the days of avoiding the fanny pack are over! Boasting a cute Galaxy Space Cat print, 2 zippered compartments,1 hidden pocket at the bottom, and adjustable waist strap with buckle, your mom can leave her purse at home and leave her hands free to practice all her best moves on the dance floor!
Price: $19.95
Purchase: HERE (Etsy)
---
Eargasm High Fidelity Earplugs
Protect your Mother's ears from harmful noise levels at loud events! Eargasm High Fidelity Earplugs promises to protect sound quality with their patent pending innovative attenuation filters, reducing noise evenly to maintain the full spectrum of sound while protecting hearing. These plugs won't muffle music or voices as foam plugs do and their discreet ready-fit design with triple flanges fit any ear, effectively blocking out harmful noise. Clear silicone provides low profile for subtle use with easy removal with a tug on the integrated pull tab. The Hypoallergenic soft silicone is non-toxic and comfortable for prolonged wear and they won't cause itching or pressure pain. Plus, they are ideal for all-day wear at festivals! The ergonomic aluminum case is over 35% shorter than competing brands for easy storage on your keychain and the waterproof rubber seal ensures their protection from moisture, dust and debris.The 12dB Noise Reduction Rating (NRR) on her earplugs provides a significant drop in decibels so she can continue raving while minimizing the risk of hearing loss!
Price: $25.88
Purchase: HERE (Amazon)
Click HERE for other suggested earplug options!
---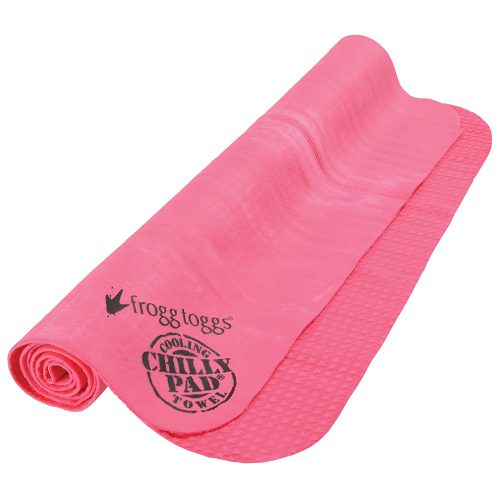 Frogg Toggs Chilly Pad
Help keep your mom cool as she dances the night away at any outdoor summer event! Let's be honest, some of the most popular festivals are in regions where the summer temperatures can reach well over 100 degrees! And the last thing we want is for our moms to fall ill from heat stroke! Frogg Toggs Chilly Pad cooling towel has got her covered providing hours of cooling relief, activating quickly, and cooling up to 30 degrees! Reinforced with a tough athletic mesh for years of use, this is the gift that truly keeps on giving! 
Price: $13.66
Purchase: HERE (Amazon)
---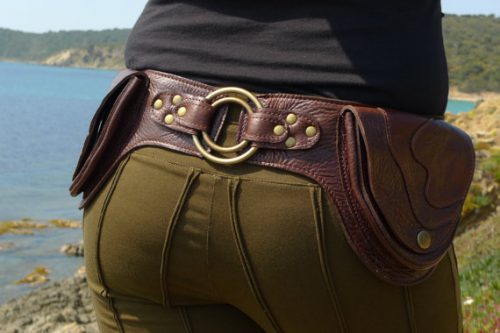 Leather Utility Belt
For the moms with a taste for something less colorful, we present to you the high-quality designer hip bag made from 100% Genuine Leather and handcrafted with love & passion. This pocket belt is a vital accessory for your moms modern nomadic urban lifestyle. Perfect for traveling in some exotic location, riding around the city or dancing all night long at music festivals and concerts with her most crucial personal items safe and close to her. Complete with inside pockets this belt provides a fashionable way to dance the night away without a care in the world!
Price: $125
Purchase: HERE (Etsy)
---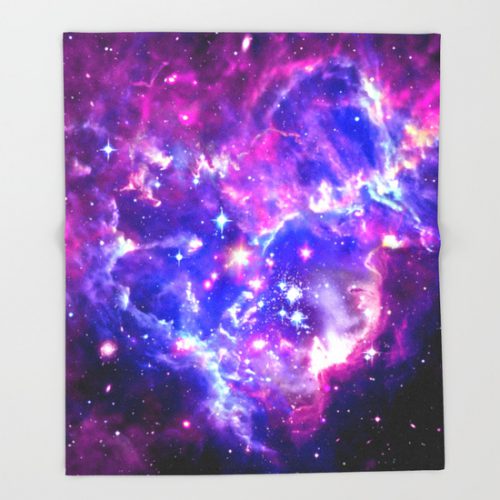 Galaxy Throw Blanket
Keep your mom warm on those chilly festival nights with this stunning Galaxy throw blanket by Matt Borchert. This blanket is ridiculously soft and available in three sizes, featuring vividly colored artwork on one side. Made of 100% polyester and sherpa fleece, these might be the softest blankets on the planet, so be assured that your mom will stay warm and toasty when the temperature begins to drop!
Price: $39.20 +
Purchase: HERE (Society6)