Desert Hearts will be spreading the love around the world this year with stops in Costa Rica, Ecuador, and more!
---
San Diego-based Desert Hearts has already made their mark on 2017 with takeovers of the Do LaB Stage at Coachella, and of course their infamous Desert Hearts Festival in late March. Announced today, Desert Hearts Summer 2017 shows off the latest takeovers and tour dates that the crew will be heading to in the coming months. The Desert Hearts Crew, composed of Mikey Lion, Lee Reynolds, Marbs, and Porkchop, has been serenading fans with their unreal vibes and now you can catch them at a variety of venues or festivals close to you.
Beginning this weekend with Mikey Lion and Lee Reynolds heading to South America for two shows, the Desert Hearts crew will hit festivals like Sonic Bloom before closing out their tour at Oregon Eclipse in August! Club shows in the US will also be on the horizon, with notable dates at ExchangeLA and Trade in Miami. Beyond anything though, this tour shows off the fact that Desert Hearts has risen to a massive level of popularity, not just here in the states but also abroad. It has been really cool to watch their style develop and grow into what it has become since launching a few years ago. Bringing people together under one vibe and one sound is something that many others have attempted to accomplish, yet few have succeeded at. Don't miss this crew when they come to a city near you!
Click HERE for more information on dates, venues, and tickets!
Get ready for a summer of love with Holt Blackheath's "Kick Back":
Desert Hearts Summer 2017 Flyer: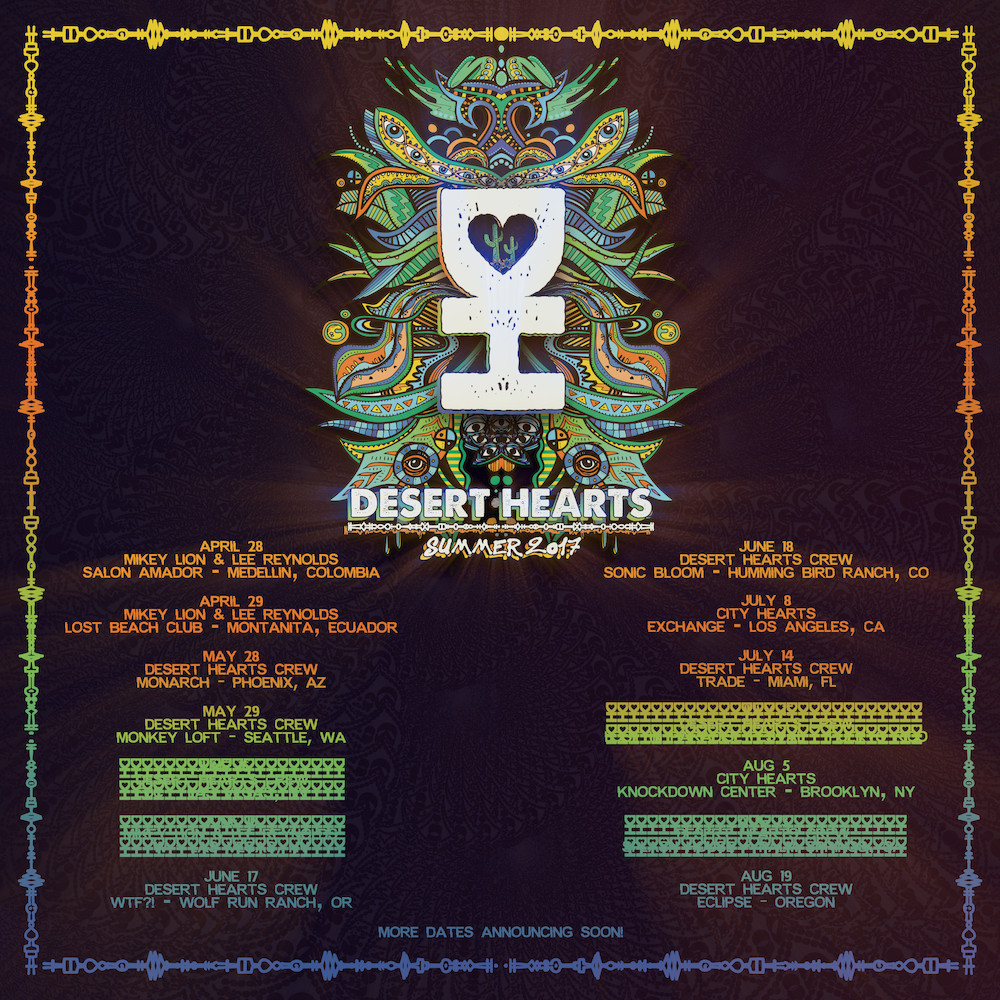 ---
Desert Hearts Summer 2017 Dates & Venues:
April 28 – Mikey Lion & Lee Reynolds – Salon Amador – Medellin, Colombia
April 29 – Mikey Lion & Lee Reynolds – Lost Beach Club – Montanita, Ecuador
May 28 – Desert Hearts Crew – Monarch – Phoenix, AZ
May 29 – Desert Hearts Crew – Monkey Loft – Seattle, WA
June 17 – Desert Hearts Crew – What The Festival?! – Wolf Run Ranch, OR
June 18 – Desert Hearts Crew – Sonic Bloom – Humming Bird Ranch, CO
July 8 – City Hearts – Exchange – Los Angeles, CA
July 14 – Desert Hearts Crew – Trade – Miami, FL
July 15 – Desert Hearts Crew – Lost in Paradise – Puerto Rico
Aug 5 – City Hearts – Knockdown Center w/ Devoted – Brooklyn, NY
Aug 19 – Desert Hearts Crew – Oregon Eclipse Festival – Oregon
---
Connect with Desert Hearts Festival on Social Media:
Website | Facebook | Twitter | Instagram | SoundCloud | YouTube