After a successful Lots Of Stuff In A Store in New York City, Deadmau5 is bringing it to the West Coast!
---
Back in March, Deadmau5 kicked off his tour in New York City with an exclusive shopping experience for mau5heads coming in from near and far. The 'Lots Of Stuff In A Store' Pop-up Shop was filled with exclusive items to make any mau5 fan's dream a reality. With so many unique items for collectors to purchase or even just check out, it was no surprise that the West Coast would be getting their own special edition when the tour headed to Los Angeles. Earlier this week, it was announced that the Lots Of Stuff In A Store Pop-up would indeed be hitting LA, and fans were delighted to hear the news!
The shop, located at 346 N. Fairfax Ave. in the Fairfax shopping district between Melrose Ave and Beverly Blvd, will be open to the public this Friday, April 28 and Saturday, April 29 from noon to 8:00 pm each day.
What makes the Los Angeles edition stand out, is the expansion on many of the items found at the New York City store. Of course, limited edition items will also be available for purchase here, like the deadmau5 x Ron English vinyl toys. Apparel from collaborators like Kid Dangerous will be available, as well as official deadmau5 merchandise and music will also be available. I know that I have my sights set on grabbing some exclusives ahead of the show on Friday!
Additionally, the store will have many of the mau5heads on display, showing off the immense personal collection that Joel has developed over the years. The special one-of-a-kind mau5head that Ron English created at the NYC pop-up is available online now HERE, with all proceds going to the charity, Win! So keep bidding and support a good cause which provides shelter to the homeless and supportive housing services to women and families in New York.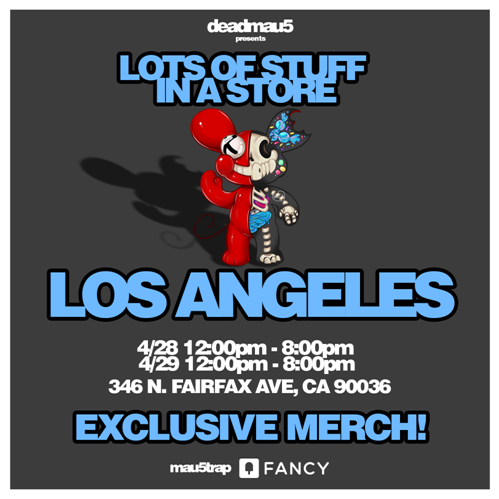 Deadmau5 offers an exclusive Behind The Scenes look at the work that goes into building his new Cube 2.1 ahead of the 2017 Lots Of Shows In A Row tour.
Check out the video For Deadmau5's Cube 2.1 on YouTube:
Download or purchase your copy of Deadmau5's latest album release, 'W:/2016ALBUM/' right here!
Check out our review of Deadmua5 – 'W:/2016ALBUM/' right here!
---
About Win and Omaze:
Win is the largest provider of homeless shelter and supportive housing services for women and families in New York. Every night, Win provides shelter for over 4,500 people – including more than 2,500 children. Win provides services to 10,000 people per year, and has helped more than 800 families transition out of shelters and into homes of their own in 2016.  Partnering with Win is Omaze, an online fundraising platform that offers exclusive merchandise and once in a lifetime experiences to support global causes.
---

 See Deadmau5 on his remaining 'Lots Of Shows In A Row' dates:
Tuesday, April 25 – Oakland, CA @ The Fox Theater
Friday, April 28 – Los Angeles, CA @ Shrine Expo Hall
Saturday, April 29 – Los Angeles, CA @ Shrine Expo Hall
Thursday, May 4 – Chicago, IL @ Aragon Ballroom
Friday, May 5 – Chicago, IL @ Aragon Ballroom
Tickets are selling out fast so make sure to grab your ticket today! Tickets can be purchased by clicking here! 
---
Follow Deadmau5 on social media:
Facebook | Twitter | SoundCloud | Website