Tickets for Above & Beyond Group Therapy 250 at The Gorge are officially on sale tomorrow and to celebrate let's take a look back at some Group Therapy history!
---
On September 16th and 17th, The Gorge Amphitheater in the beautiful state of Washington will come to life as Above & Beyond and friends take us on a glorious journey of life, love, and freedom with beats that will dance over the Columbia River, reverberating off of the Cascade Mountains and straight into the heart and souls of all who attend. It is almost as if the union between such a picturesque location and the style of dance music that Above & Beyond has become known for was written in the stars. Ticket holders for this event are in for quite the weekend as they will camp out under the stars surrounded by nature and incredible views. But that's not even the half of it! The Group Therapy event has expanded to 2 days, the second of which will be presented by the talent from Anjunadeep, all the more adding to the anticipation and excitement. Yes, the world is abuzz with all that is, Above & Beyond so, let's take a look back at some Group Therapy history with a little timeline of past events. See you in September!
Although presale tickets sold out like hot cakes, have no fear! The official sale begins tomorrow, April 18, at 10:00 AM PDT. Click here for more information and to grab your tickets!
Check out the teaser for Above & Beyond presents Group Therapy 250 at The Gorge Amphitheatre, Washington on YouTube:
---

Above & Beyond Present Group Therapy 
Since the release of their second artist album, Group Therapy, back in 2011 and the launch of Group Therapy Radio in 2012, Above & Beyond have toured the stadiums and concert halls of the world delivering the sweet sounds of progressive trance to all who would listen. To kick the momentum into gear, Above & Beyond embarked on their biggest UK tour to date taking flight at London's most prestigious concert venue, Brixton's O2 Academy on Saturday 7th April 2012, with support from Arty and Jaytech. This event was followed by performances in Birmingham, Leeds, Liverpool, Newcastle, and Glasgow, bringing the full Group Therapy production with them and setting the pace for future Group Therapy events. Yes, this was the event that started it all! In fact, it was so well received, with tickets selling out at a record pace, that they decided to keep the party going with a very special ABGT Easter Sunday event featuring Above & Beyond, Sander van Doorn, and Mat Zo.
Enjoy a clip of Above & Beyond opening their set during Group Therapy at Brixton's O2 Acadamy on YouTube:
---

Above & Beyond Present Group Therapy 50
On Saturday, October 26, 2013, Jono, Tony and Paavo celebrated their Group Therapy radio show's landmark 50th episode with a live 6 hour broadcast from the legendary Alexandra Palace in London, one of the UK's most historic venues. Following two sold-out Brixton Academy shows in 2012, ABGT 50 would go down in history as Above & Beyond's biggest ever show in the capital, selling out a 10,000 person capacity venue, making their only major London appearance of 2013 one for the books! Support for Above & Beyond was delivered by fan favorites Arty, Andrew Bayer, Boom Jinx and Guy J and for one incredible night, London was lit up with the type of emotional therapy that only music can provide!
Enjoy Above & Beyond's Group Therapy 50 live set on SoundCloud:
---

Above & Beyond Present Group Therapy 100
On Saturday, October 18, 2014, Above & Beyond broadcasted the show's 100th episode from a DJ booth within New York's iconic Madison Square Garden, with a live video feed just to tantalize fans watching from all over the planet! This particular Group Therapy event, with supporting acts Mat Zo, Andrew Bayer, and Ilan Bluestone, sold out in 12 short hours and would become the sneak peek for the group's forthcoming album, We Are All We Need. With fans flying in from all corners of the globe, decked in homemade Group Therapy-themed banners and clothing, the Madison Square Garden event confirmed Above & Beyond's status as the most fanatically followed act in the electronic music sphere. This was only confirmed on Friday when fans gathered in Times Square for the premiere of the new video for album title track, "We're All We Need", where police moved in with horses to disperse the enormous crowd.
Watch Above & Beyond live at Madison Square Garden for Group Therapy 100:
---

Above & Beyond Present Group Therapy 150
On Saturday September 26, 2015, in front of a sold-out crowd at Sydney's Allphones Arena and a massive global audience watching via the online video feed, Above & Beyond celebrated the 150th episode of their Group Therapy radio show in style, demonstrating again why they're one of the most in-demand acts in electronic music. Tickets for ABGT 150 sold out months in advance and in record time with attendees traveling from all four corners of the globe, lining up early to catch opening sets from Anjunadeep's fastest rising star Lane 8 and Anjunabeats' progressive favorite Grum, before staying late for an epic closing set from Anjunabeats' hottest talent Ilan Bluestone after the iconic Above & Beyond brought the house down with one of their greatest sets to date. The frenzy from fans in the arena and from everyone watching at home ensured that #ABGT150 reached the number one trending topic on Twitter, just as #ABGT100 had done from New York's Madison Square Garden in 2014.
Watch Above & Beyond live at Allphones Arena for Group Therapy 150 on YouTube:
---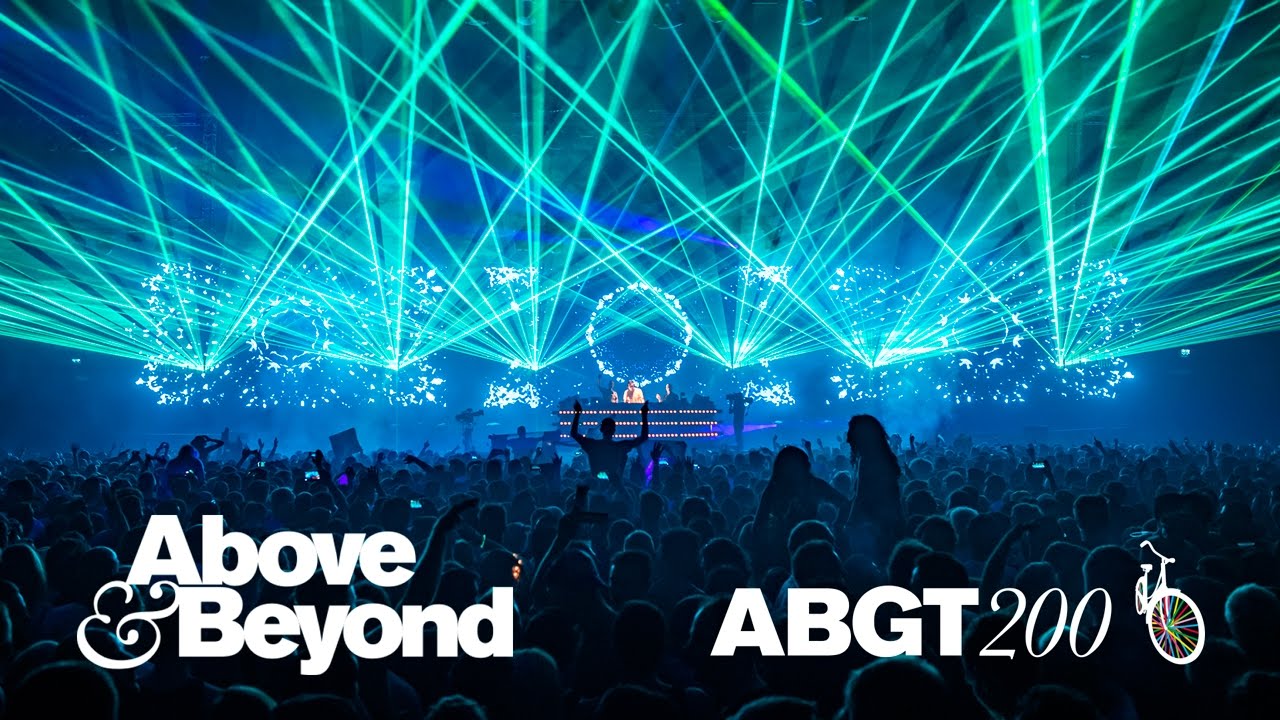 On Saturday, September 24, 2016, Above & Beyond, along with Anjuna heavy-hitters Andrew Bayer B2B Ilan Bluestone, Cubicolor, Grum, Jason Ross, and Yotto, took to the stage at Ziggo Dome, Amsterdam for a Group Therapy event unlike any that had come before. The pace had been set from similar milestone shows held at Madison Square Garden in 2014 and the Sydney Olympics venue also known as The All Phones Arena in 2015, but what set the 200 event apart was that it would be the first time the trio brought their annual AGBT celebration to mainland Europe, not to mention their biggest ever headline show on the continent. Of course, they would once again offer a live stream for the rest of the world, allowing Group Therapy to work its magic on all corners of the globe.
Watch Above & Beyond live at Ziggo Dome, Amsterdam for Group Therapy 200 on YouTube:
---
With Group Therapy's beautiful history as a backdrop, Above & Beyond is excited to be bringing their incredible event back to the United States come this September!
As an Above & Beyond fan, I can honestly say that to witness these men in action is a divine experience. Their hearts and souls speak through every track they select and their passion for not only the music but for their beloved fans is something matched only by few. Group Therapy has become a household name for trance addicts all over the world. Whether you first fell in love with the release of the album which included hits like "Sun & Moon", "Thing Called Love", "Alchemy", and "On My Way To Heaven", have become privy to the genius that is Group Therapy Radio, or have attended a Group Therapy event in the past, then you know that Above & Beyond only deliver music with a real heartbeat. Those who descend upon The Gorge Amphitheater in Washington will be in for quite the treat as old friends come together, new relationships are forged, and lives are changed, all through the beauty of music and Group Therapy!
---
Follow Above & Beyond on Social Media:
Facebook | Twitter | SoundCloud | Website