Reliable industry source tells EDM Identity that Mysteryland USA 2017 is set to be cancelled!
---
UPDATE: Sources inside the festival have confirmed that Mysteryland USA 2017 will be cancelled.
Mysteryland USA has gone radio silent two months after a less than stellar lineup was announced alienating fans of the culture & arts festival held on the original Woodstock grounds in New York. The festival originally started in the USA with a focus purely on electronic music, but after facing an uncertain future due to its parent company filing bankruptcy, there was a push to cater towards the Coachella audience.
Our reliable industry source tells us that Mysteryland 2017 will be cancelled. The festival did not gain the traction it needed to over the past few years; it was unable to reach the ticket sales required to cover costs.
At EDM Identity, our PR contact for Mysteryland USA has not updated us with any additional information past the initial 2017 lineup, and publicity communication was put on hold earlier this year. In addition, there has been no activity on the official festival Twitter account since March 31. This is similar inactivity to what we've seen before from festivals that have been cancelled, the EDC UK cancellation being our most recent example.
Performers announced for Mysteryland USA 2017 varied between rock, metal and EDM. You can view the comment thread on our Mysteryland 2017 Lineup article to get a taste of how fans this year reacted.
EDIT 4/14 2:20 PM PST: 
Mysteryland artist, Ekali, has also confirmed via Reddit that he was told that the festival has been canceled.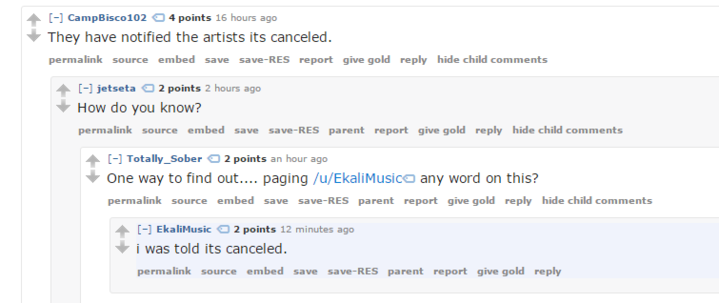 Mysteryland dropped a lineup for 2017 with two headliners who this year have done a number of collaborations with top 40 artists. I would argue this choice was geared toward widening the appeal of Mysteryland to attract a more generic but wider audience (based on an interview where they said they wanted to be more like Coachella). They hyped a lineup for months they knew, in my opinion, was not in the spirit of past lineups so they would not impact early bird ticket sales, and then dropped widely palatable headliners to attract people to Mysteryland who may not normally attend an EDM festival. Combined with the fact this is first year they have opened up camping to 19+, the money grab becomes widely apparent. The onus is on my. I paid for a ticket before the lineup was announced based on what Mysteryland told me it was; I just wish Mysteryland told me this year it wanted to be something different. Shit like this is the consequence of making everything "accessible" to everyone, you sacrifice what made it special and unique in it's own right.
Mysterland USA 2017 Lineup: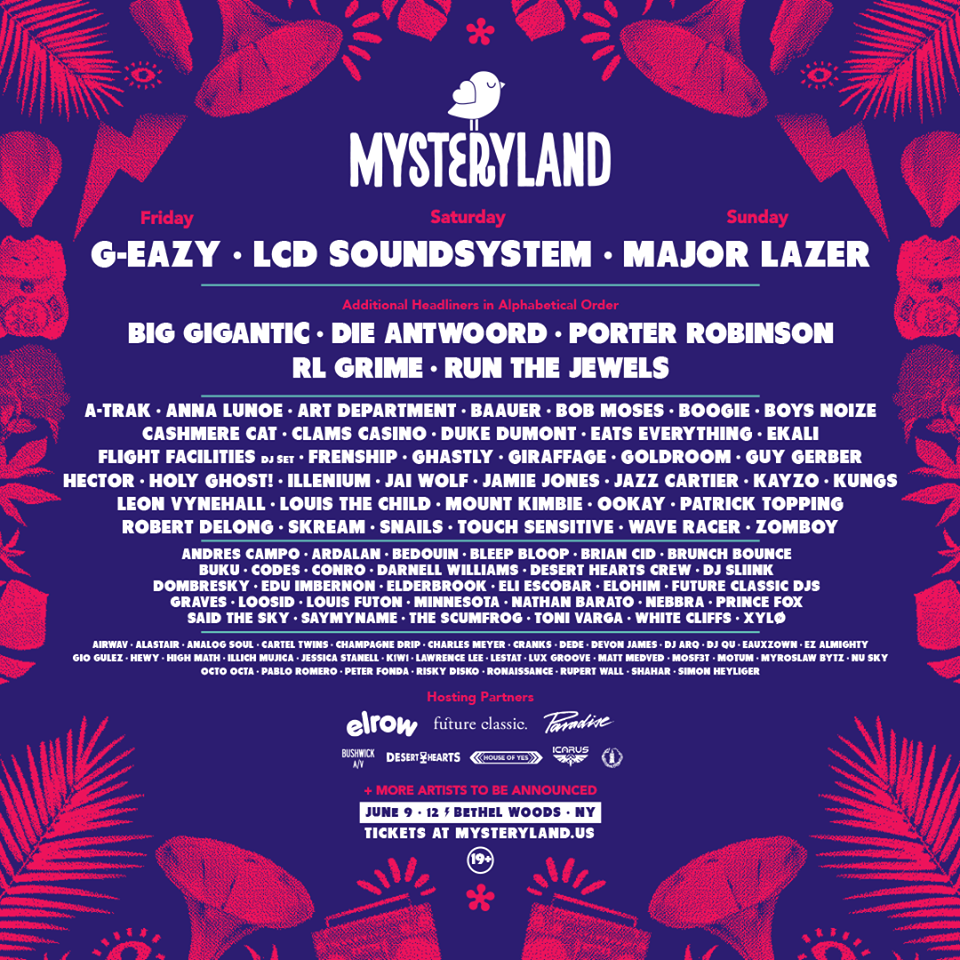 We are sad to see Mysteryland USA, which was an artistic success, never gain the momentum needed to become the premier EDM event on the east coast scene. What are your thoughts? Let us know in the comments!
---
Connect with Mysteryland USA 2017 on Social Media:
Website | Facebook | Twitter | Instagram | YouTube | SoundCloud