USC Events stuns with their latest lineup for Paradiso Festival! Who are you most excited to catch?
---
Hosted at one of the most picturesque venues around the globe, The Gorge, there are few festivals that are quite as breathtaking as Paradiso Festival. Considered by many as one of the Pacific Northwest's best-kept secrets, this USC Events-run production is quickly picking up in popularity. Taking place on June 23 and 24, this festival that combines dope beats with a beautiful backdrop is sure to impress with their lineup for 2017.
Click HERE for more information about Paradiso Festival, and read on for the full lineup!
Paradiso Festival 2017 Lineup: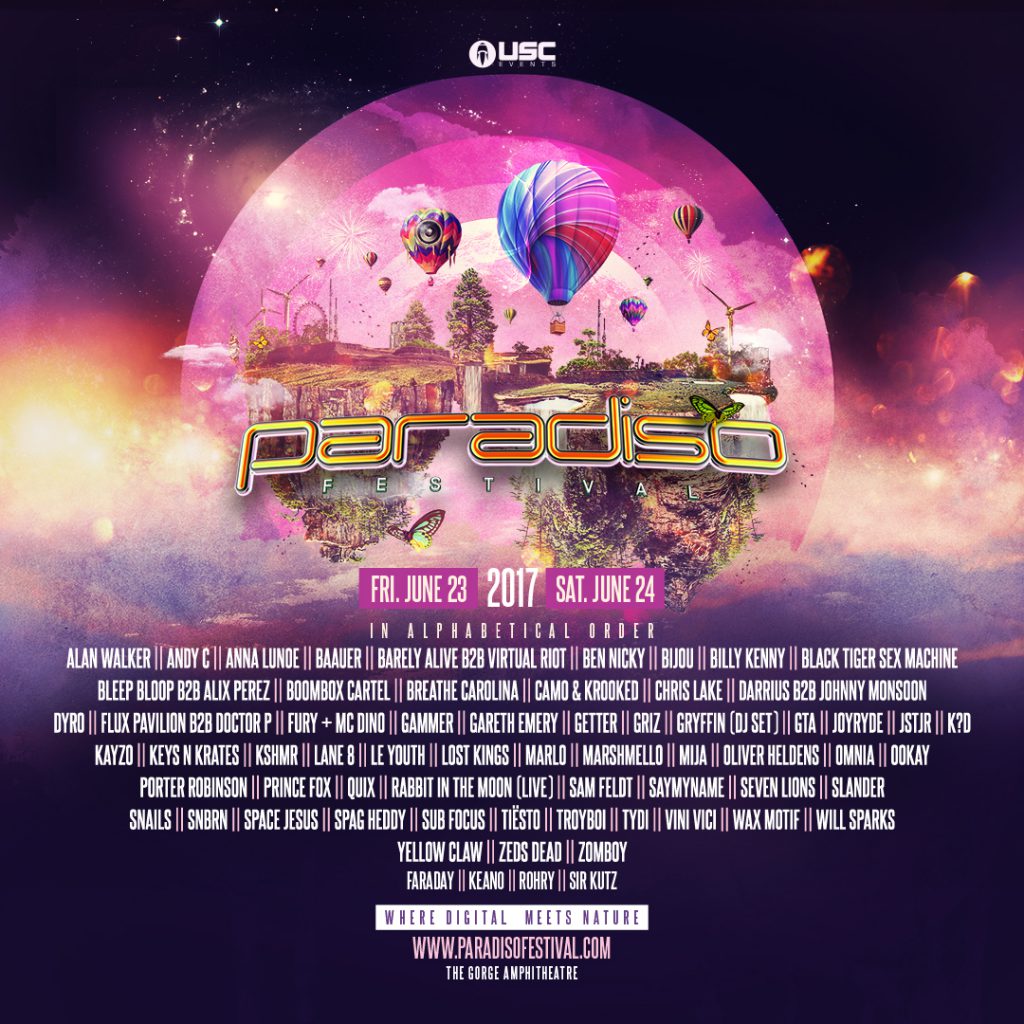 ---
Paradiso Festival 2017 Lineup By Artist:
ALAN WALKER
ANDY C
ANNA LUNOE
BAAUER
BARELY ALIVE B2B VIRTUAL RIOT
BEN NICKY
BIJOU
BILLY KENNY
BLACK TIGER SEX MACHINE
BLEEP BLOOP B2B ALIX PEREZ
BOOMBOX CARTEL
BREATHE CAROLINA
CAMO & CROOKED
CHRIS LAKE
DARRIUS B2B JOHNNY MONSOON
DYRO
FLUX PAVILION B2B DOCTOR P
FURY + MC DINO
GAMMER
GARETH EMERY
GETTER
GRIZ
GRYFFIN (DJ SET)
GTA
JOYRYDE
JSTJR
K?D
KAYZO
KEYS N KRATES
KSHMR
LANE 8
LE YOUTH
LOST KINGS
MARLO
MARSHMELLO
MIJA
OLIVER HELDENS
OMNIA
OOKAY
PORTER ROBINSON
PRINCE FOX
QUIX
RABBIT IN THE MOON (LIVE)
SAM FELDT
SAYMYNAME
SEVEN LIONS
SLANDER
SNAILS
SNBRN
SPACE JESUS
SPAG HEDDY
SUB FOCUS
TIËSTO
TROYBOI
TYDI
VINI VICI
WAX MOTIF
WILL SPARKS
YELLOW CLAW
ZEDS DEAD
ZOMBOY
NORTHWEST FAVORITES: FARADAY, KEANO, ROHRY, SIR KUTZ
---
About Paradiso Festival:
In a world of constant flux and chaos, we must take a moment to recognize the beautiful things that never waver. Our annual return to Paradise allows for these moments. Music will always bring us together in a world full of forces aiming to pull us apart. It allows for us to celebrate the unity found within our diversity. Life is ever-changing – yet here we are, another year around the sun – soon to find ourselves back home, together again.
Every year, we collectively leave behind the worries and stresses of our everyday lives as we embark on a journey through Paradise. On June 23rd and 24th 2017, we invite you to gather as the United State of Consciousness as we welcome the return of Paradiso Festival at the breathtaking Gorge Amphitheater. We will embrace the fusion of modern technology and nature's purity in a land where digital meets nature. Prepare to gather from far and wide to embark on the adventure of the summer!
Join us for a weekend of unforgettable fun, awe-inspiring adventures, top-notch visual & audio production, and mind-bending music! This is what you've been waiting for… See you in Paradise.
---
Connect with Paradiso Festival online:
Website | Facebook | Twitter | YouTube
Featured Photo Credit: Turk Photos