Lucky took over the Tacoma Dome for a legendary Saturday night filled with bass-heavy tunes, crazy outfits, and good vibes.
---
It's been a few years since I attended Lucky and I was thoroughly impressed with the new venue and lineup. The event consisted of three stages which were completely separated from one another. Each stage had a consistent stream of talented artists throwing down the heaviest of sets. It was hard to choose which sets to catch and which ones to sacrifice to the night. The theme of the night was bass and the killer lineup delivered just that on this epic night.
Stage Designs are one of USC Events' strong suits and tonight was no exception. I could hardly believe my eyes when I first laid my eyes on the main stage. On either side of the stage, massive LED panels loomed over the crowd and brought the Tron vibes. It honestly felt like you were gigging on The Grid. Accompanying the mind-blowing visuals was a non-stop delivery of bass starting with local legend, Sharps. Always great to see USC keeping it real with the Seattle talent. From here, the rest of the night honestly seemed like one long headliner set. Continuing the good times, Dr. Fresch brought the groovy house tracks while the various squads around the edges of the crowd got the dance circles moving.
Halfway through Dr. Fresch I made my way to the bass stage that was in a side auditorium, filled to the brim with bass heads just trying to get their wub fixes (myself included). The stage was simple, but the music was heavy. Buku was playing while I made my way to the front and center. From there, he continued to serenade the crowd with original bangers as well as some treats sprinkled in. His style gets you moving, there is no doubt about that. Pitch bends aplenty and on-point synth design gives him his flair and he owns it. The one hour set was way too short in my opinion, but that's my fault for not getting there sooner!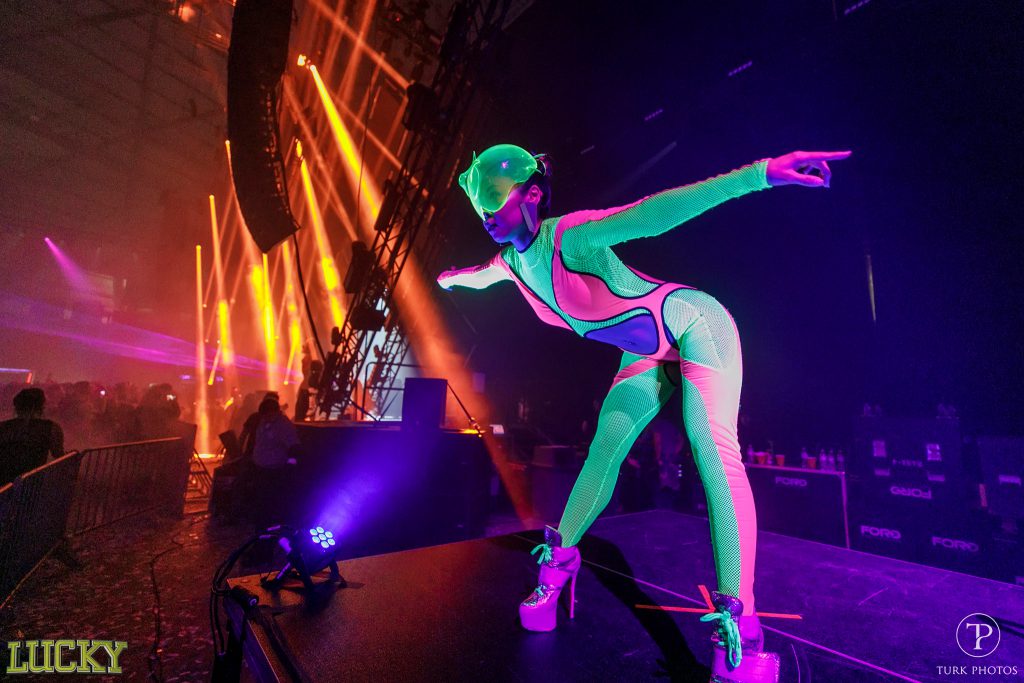 Leaving the Leprechaun's Lair (Bass Stage) was tough, but it had to be done for TJR's set on the main stage. Another first for me, TJR blew me away and had the whole crowd jumping along to his Jersey-style house beats. I don't know enough of his originals to name-drop songs, but everything he played seemed gold. There was never a dull moment during that hour. I was planning on leaving his set early for UZ, but had to remain to hear every last song. TJR is a legend and should be on everyone's must-see list for festivals to come.
Waiting to make my way over the bass stage was a mistake because, on arrival, the auditorium was overflowing with eager bass-heads already getting down to UZ's set. And let me tell you, he meant business from the get-go. Right from the start, UZ was breaking it down with heavy sub bass and his stylish trap-style drum patterns. Pitched snares and high hat rolls for days. This was my favorite second favorite set of the night, but that is probably because I have waited years for it.
Moving back to the main stage, I was greeted by Borgeous, who was masterfully mixing between bass music, future tunes, and trap. The drops were huge and the reactions were even bigger. By this point, the main stage was an endless mass of bodies stretching almost to the back of the venue. It was a vast sea of neon lights and green colors. Cutting the end of this set, I had an appointment with a certain Canadian DJ who's been keeping it real since the early days of modern dubstep. No high pitch wails or complicated drops, just bass.
The Canadian DJ who I am referring to is named Liquid Stranger and he is certainly on par with the likes of Excision and Datsik when it comes to quality tunes. Right as I walked in, I caught him on the mic saying, "let's party" right before an insane drop. This was my third time seeing him and he did not disappoint. I didn't return to the bass stage again, but I heard later in the night that Sigma and Datsik both brought the heat.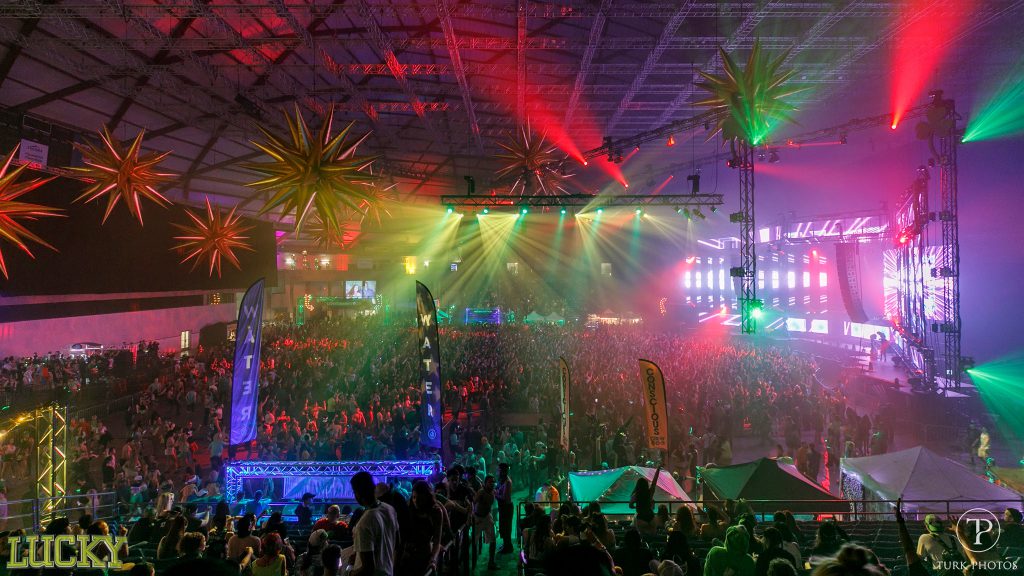 Meanwhile, in the Lucky Arena, NGHTMRE was igniting the venue, bringing heavy tunes including a dope Kernkraft 400 remix and the huge RL Grime remix of the classic, "Satisfaction". For this being my first time seeing NGHTMRE, I was impressed. His massive producing style is complimented by his mixing abilities. He certainly knows how to control a room. This was my top set for the night. I am hooked on NGHTMRE after seeing him kill it live.
Finally, the night was closed out by Nicky Romero and Knife Party. The main stage party was non-stop through the night and Nicky Romero kept this trend alive. His energetic electro house ignited the whole crowd all the way to the back. On the outskirts of the crowd, I had views of fans shuffling away and groups jumping to their favorite jams. Halfway through his set, I realized that I had seriously underestimated Nicky Romero coming into this night. I remember his tunes from a few years back, but he got lost in the sea of producers out there these days. I'm stoked I got to catch his set, and especially on a night as epic as this was.
Following Romero was Knife Party. I never pass up an opportunity to see former Pendulum lead, Rob Swire. As always, they electrified the crowd with mind-bending drops and an absurd amount of confetti raining down from above. These are the moments that make USC Events truly special and I thank everyone involved in this year's Lucky Festival. Overall, it was a hell of a ride featuring a star-studded lineup, amazing stage visuals, and a friendly crowd. Special thanks to the Goon Squad for giving me some water when I was in the middle of the main stage crowd, you guys rock.
---
Connect with Lucky on Social Media:
Official Website | Facebook | Twitter | Instagram
Featured Photo Credit: Turk Photos