A late night treat for fans of the Heineken House at Coachella as an unconfirmed lineup has been leaked!
---
While we weren't quite expecting this lineup to drop until late March or early April, this leak comes directly from one of the artists listed on the Heineken House lineup itself. Nearly three hours ago, a post on the Coachella Subreddit surfaced from user FeDiddy98 that contained the following message "This screenshot was taken by myself this morning from BJ the Chicago Kid's Instagram and quickly removed. I think that this pretty much confirms the legitimacy of the lineup that Heineken will unveil later. Looks pretty good imo." The screenshot of the lineup posted by BJ the Chicago Kid is below: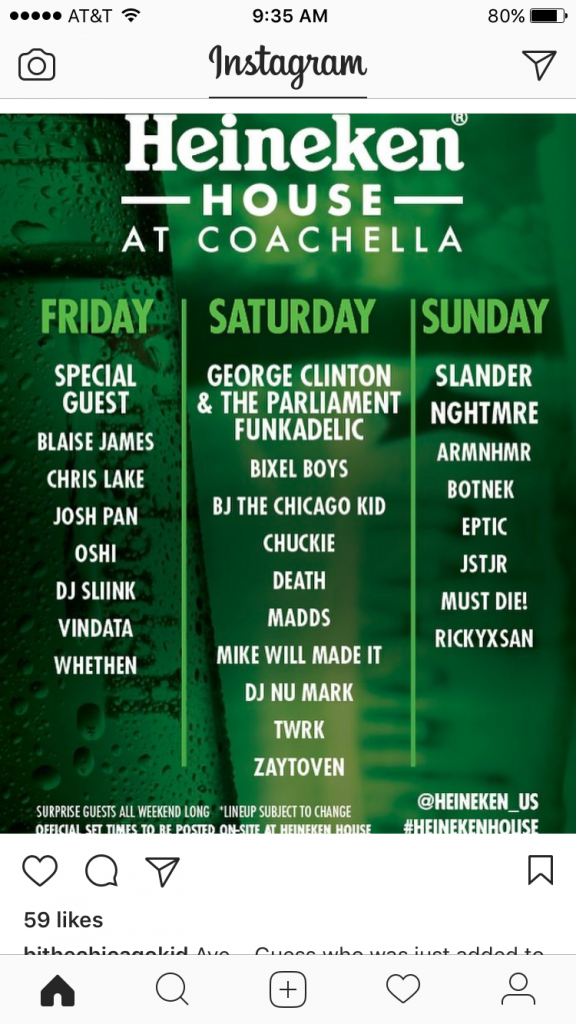 While this is definitely an unconfirmed lineup, it features names that seem to work with other acts playing at the festival itself. Of course, if it is in fact real we are stoked to be seeing some names that we love represented throughout. The Bixel Boys, Josh Pan, ARMNHMR, Chris Lake, and of course Slander and NGHTMRE have all been having a massive rise to the top, and these additions will definitely make bass fiends go wild. A performance by George Clinton and the Parliament Funkadelic just caps off an amazing series of acts who are potentially set to perform. Expect the lines to be as long as ever for the Heineken House this year, as this will become one of the most desired stages yet again at Coachella.
What are your thoughts? Is this lineup for real? Who do you think is the surprise guest? Let us know  in the comments!
H/t: /u/FeDiddy98 and EDMGuru
---
Connect with Coachella 2017 on Social Media:
Website | Facebook | Twitter | Instagram | YouTube
Happy Coachella!