Are you ready to arrive beautiful and leave ugly? Dada Life: The Compound Evolved is taking over San Francisco's Bill Graham Civic Auditorium for a night you'll go bananas at!
---
Need help preparing for the madness, here's everything you need to know before arriving at Dada Life: The Compound Evolved! For those of you who haven't attended a Dada Life show get ready for inflatable champagne bottles, pillow fights, and other amazing activities. You'll never know what surprises await you when this Swedish-duo puts their heads together.
We wanted to expand and evolve the Dada Land Compound show. This time we wanted to focus on bringing the experience into the crowd. There's going to be lots of new activities in and around the venue–and not just during our set–but from doors opening until the very end. Some things will be easy to find, other's will be harder. We're also looking forward to playing a lot of new music that we've been working on and getting ugly with all our proud Citizens of Dada Land!

– Dada Life
Dada Life: The Compound Evolved SF Essential Event Information:
Date: Saturday, March 11, 2017
Hours: 7:00pm-12:00am (Doors: 7:00pm)
Location: Bill Graham Civic Auditorium – 99 Grove St, San Francisco, CA 94102
Event Page: HERE
Tickets: Purchase HERE
*The show is 18+ and you must provide government issued photo ID for entrance. This must be a physical, original form of ID and a photo or copy are not acceptable.
---
Dada Life: The Compound Evolved SF Lineup: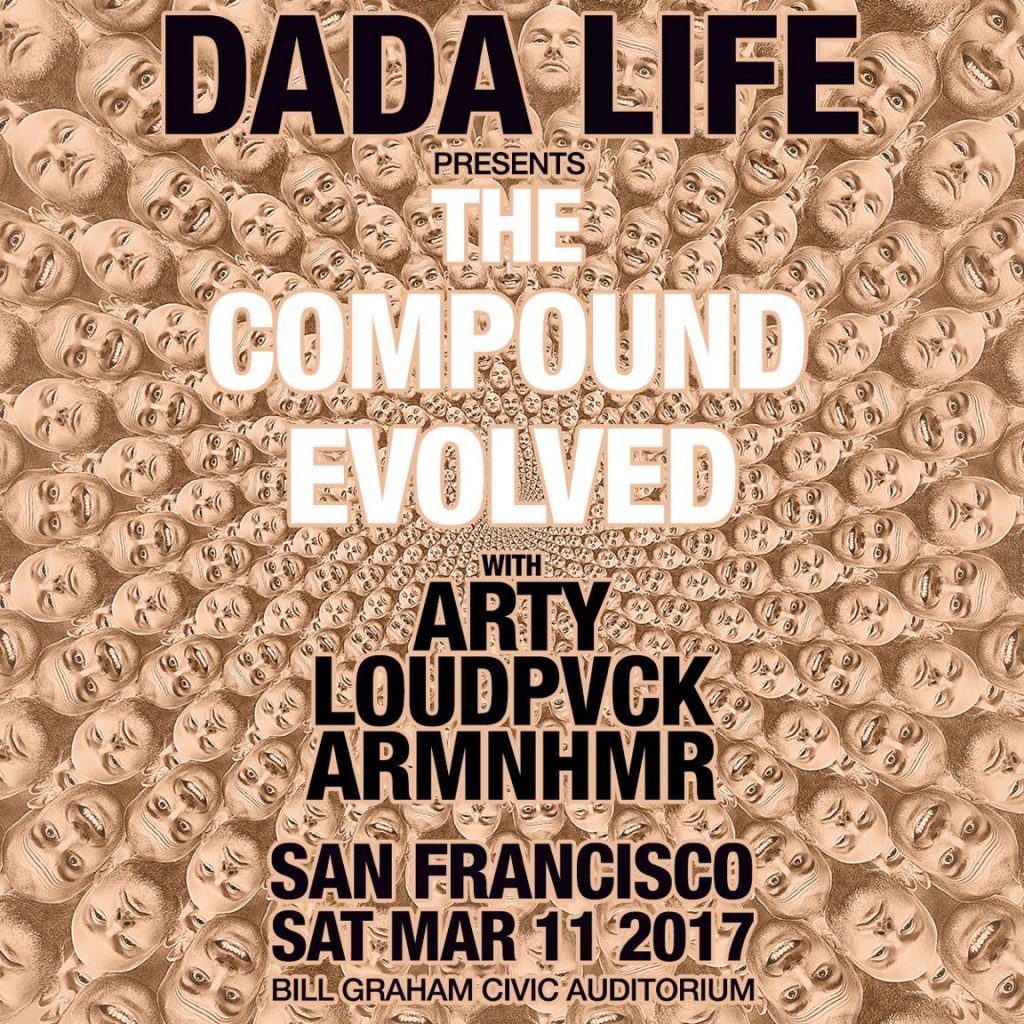 ---
Dada Life: The Compound Evolved SF Set Times:
The expected schedule is below; please note that these times are subject to change.
7:00PM – Medii
7:30PM – ARMNHMR
8:15PM – LOUDPVCK
9:15PM – ARTY
10:15PM – Dada Life
---
Box Office Information:
The box office will open at 5:00pm and the doors will open at 7:00pm. Please note that the show will begin promptly at 7:00pm. This show is entirely General Admission with no assigned seating. We highly encourage you to print your tickets prior to arrival if you chose the "Print At Home" option. If you are picking up tickets from will call, please make sure your photo ID matches the name on the order. This show is 18+ and photo ID is required upon entry.
---
Dada Life: The Compound Evolved SF Do's & Don'ts:
Items Allowed In The Venue:
• Factory sealed water bottles
• Personal food items
• Empty Camelbak
• Empty refillable water bottle
• Personal cameras
• Totems (no taller than 6ft. and no thicker than 1/2 inch; made of light material such as swim noodles, foam, cardboard tube, fabric, yarn, light plastic, baloons, inflatables)
• Personal sized bags, purses and backpacks
Items Prohibited In The Venue:
• Weapons of any kind
• Illegal substances
• Alcohol (sold inside the venue)
• Wallet chains or spikes
• Professional video or audio recording equiment, including GoPros
• Weapons of any kind
• Professional still camera with detachable lens
• Selfie sticks or handles
• Tablets and iPads
• Objects that can be used as projectiles, such as glow sticks
• Glass bottles, containers or cans
• Fireworks
• Laser pointers
• Large banners or posters
• Skateboards, scooters or personal motorized vehicles
• Strollers
• Pets (with the exception of service animals)
• Drones
• Coolers
• Umbrellas
• Stickers
There will be a coat check available, located in the basement.
---
Mind Your Belongings:
Unfortunately, many people have reported pickpockets, bag slashings, and theft of wallets, smartphones, purses and other valuables. While this small number of bad apples in the bunch doesn't define an entire crowd, there are opportunistic people who come to these events to take advantage of unsuspecting party goers and it's important to be mindful of your valuables while at The Compound Evolved.
Pay attention to who's around you and what's going on around you. Keep your wallet and phone in your front pocket(s) if you can. Treat your phone the same way you would treat cash; don't set it down on a table or bar and look away. If a friend isn't standing behind you in a crowd, be careful of your backpack or purse, and don't put valuables in a pocket that could easily be unzipped by someone behind in a crowded spot without you realizing.
---
Follow Dada Life on Social Media:
Website | Facebook | Twitter | Instagram | SoundCloud | YouTube