Gareth Emery and HALIENE wowed fans who attended the Saving Light Tour at Exchange LA!
---
Let's start off by saying that I am a massive Gareth Emery fan, and whenever he's in playing in Los Angeles, I am always ready to go! Luckily for Angelenos, Emery is based here so he pops up at different venues quite often. The last time he played at Exchange LA was back in December of 2015 so club goers were in need of another Gareth Emery show. Those calls were answered as, Gareth brought his amazing energy and vibes back to the venue on his Saving Light Tour!
Read our latest interview with Gareth Emery, HERE!
After arriving at around 10:40pm, I breezed through the line. On this night it seemed that a majority of people purchased tickets so there wasn't a need for the multiple lines that are typical for Exchange LA. For those of you who don't know, before this venue became a renowned nightclub, it was the home to the Los Angeles Stock Exchange, which explains its amazing size and stunning layout. I love the fact that there are multiple rooms full of music so you always have a choice of what you want to hear.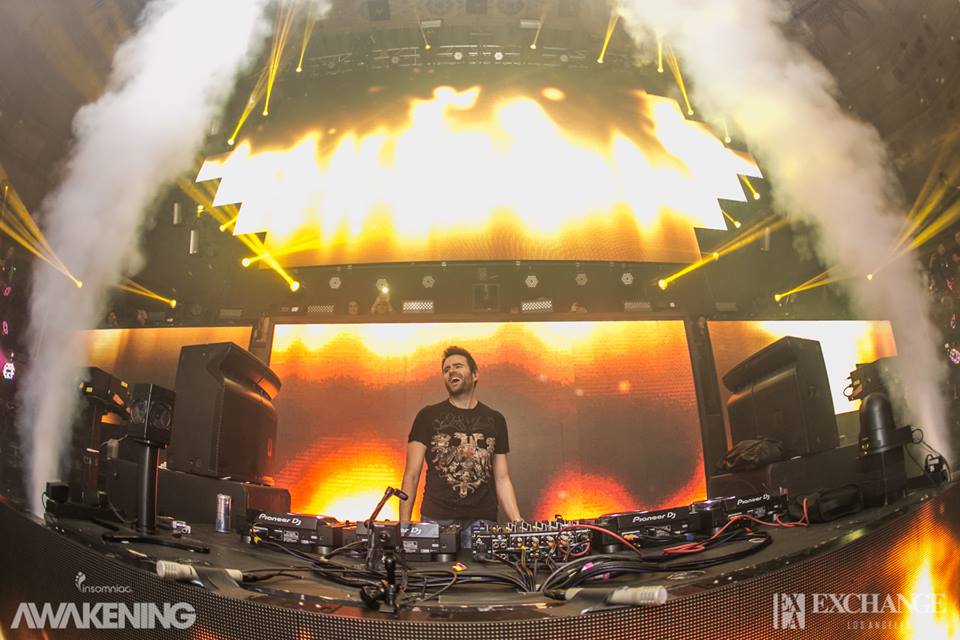 Around 11pm Louis Vivet stepped on the decks.
Typically, Louis Vivet made up of two DJs but that night only one was present. I was happy to be able to see a full set as I missed their set during Gareth's Palladium tour. The music selection was a perfect opener. They played high tempo jams but didn't wear the crowd out. To be honest, the set was "a mini Galantis show", as my friend put it since multiple Galantis tracks were played out. Mixed between these tracks were some from Martin Solveig, Porter Robinson, and Mat Zo too. At one point he played Post Malone's "White Iverson" which I felt was an odd choice. I think he realized that the crowd wasn't feeling it because he quickly changed their tune. Louis Vivet rounded out the set with bass heavy tracks and around 12:40am geared up to transition to the headliner.
Gareth Emery burst on the stage at around 12:45am.
He was full of energy, chugging a Red Bull all while grooving on the decks. He showed support for his record label by wearing a shirt that depicted the Garuda bird-like creature. I absolutely love that he started off his set with pure progressive tunes. About one-third of his set was entirely progressive and reminiscent of his short-lived alter-ego, Digital Blues.
From there, he transitioned to some of his new set staples such as "Lost," "Sansa" and "Bury It." Interestingly enough, he played mainly remixes of the 100 Reasons to Live tracks, as opposed to his original mixes. This really distinguished this set from his 100 Reasons to Live Tour. Throughout hs set, confetti would fly through the sky and the audience would roar with enthusiasm with each track he played. It was easy to tell that the room was full of fans. All around me were people with homemade Gareth Emery perlers, Electric for Life shirts and homemade "Saving Light" memorabilia.
Close to 2am, HALIENE stepped on the stage and mystified the crowd with her melodious tones.
She appeared just as excited to attend as the audience and paid an amazing amount of fan service to the crowd. You could see the joy on fans' faces as they sang along with the powerful lyrics. After she finished "Saving Light" she gracefully stepped off the stage and Emery resumed his set.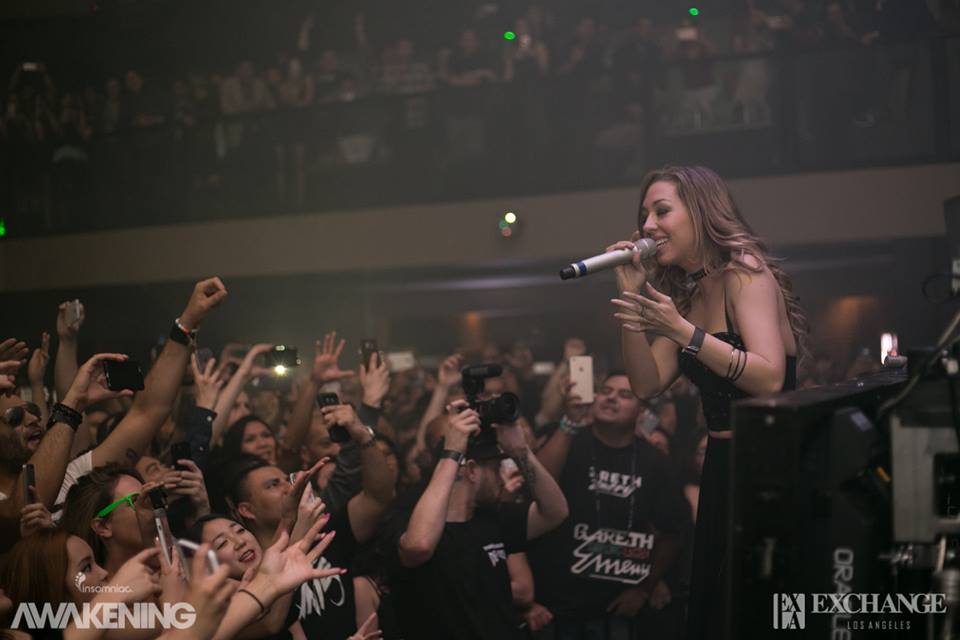 Gareth continued on by playing an eclectic mix of sounds. The breadth of tracks included Craig Connelly's "Black Hole (Reprise)" as well Fat Boy Slim's "Star69". It was nice to hear his range of playing, but I will admit that I enjoyed that he ended with a majority of trance tunes. His last few tracks included Mark Sixma's "Restless Hearts" and his own classic, "Concrete Angel". In true Gareth Emery fashion, he closed out his set with "Long Way Home." and the night began to end with Notaker's bass heavy tracks. By that time it was time for me to leave, however, I heard from many people that his set was amazing!
If you attended the 100 Reasons to Live Tour, the Saving Light Tour was admittedly very similar. However, it was clear that fans did not seem to mind at all. They grooved to the remixes of the tracks and were moved by HALIENE's powerful voice. It was nice to hear more progressive sounds and it sounds like Emery plans to continue this trend. In my opinion, he always puts on a great show and I look forward to seeing him play again.
---
Missed out or want to relive the moment? Check out Guerilla McGavin's recap of the Saving Light Tour:
---
Connect with Gareth Emery on Social Media:
Website | Facebook | Twitter | Instagram | SoundCloud
Connect with HALIENE on Social Media:
Website | Facebook | Twitter | Instagram | SoundCloud