MOSIMANN Talks "Never Let You Go", Coaching On The Voice, & More!
---
A Swiss-born artist who calls Paris his home, MOSIMANN is not just a DJ, but a producer, singer, and songwriter as well. Growing up with the influence of quality musicians like Daft Punk and Jean Michel-Jarre, it is no surprise that he has won the hearts of many with his electronic beats and sensational performances. A world-renowned phenom, MOSIMANN has gained notoriety with both his original tunes and remixes the most recent being his hit track "Never Let You Go". To add to the fun, he also has been a Coach on the Belgian edition of The Voice, finding a victory in the first season ever with his contestant, Roberto Bellarosa! He will be returning to coach for a fourth season this year, so stay tuned. Now signed to Warner Music's Parlophone Records, fans both new and old can expect to see more quality releases and news coming from the mind of MOSIMANN soon!
Stream MOSIMANN's House Bless You #113 from February on SoundCloud:
---
You've produced quite a few different styles of music, do you feel that type of versatility is important for artists in electronic music?
Indeed! Electronic music is the result of numerous influences and styles of music. In fact, this is that mix or melting-pot which is interesting. My basics of jazz or techno can be found in my music today, I guess… To my opinion, it's essential to be open to any kind of music, it feeds the inspiration and during my own story it was a part of the growing. I had to learn, touch, create different styles to find my own way, my identity as a producer. But I keep composing pop music, techno, R&B music for other artists. This other part of the job (songwriter) is complementary with my project as an artist. Really, I think producers are richer of modeling music in all its forms.
What led to the artistic direction of the music video for "Never Let You Go"?
Actually, the story of 'Never Let You Go' is that one day in the subway, I saw a beautiful girl in the train coming and I didn't have time to tell her anything and I thought "Maybe she was the one and I'll never know…". So I figured that if I had the chance to cross her way again, I wouldn't let her go. Instantly, I got the melody in my mind! Therefore, for the music video, I wanted something really connected to reality and our close future. That fact that technology can allow us to reach amazing things and actions, but also the fact that this is dangerous and won't ever replace real human relationships. I was feeling really sad about seeing people who don't talk, don't look each other, don't love each other anymore, as they're focused on their cellphones and other "love apps". So I wanted a true message in the music video: the great director David Tomaszewski understood it perfectly. The future is now, and it's big. I'm really happy with this sad-ended love story, impossible to reach even through haptic technology, the message is a bit violent but can strike the upcoming generation.
Have you tried a VR Headset before? If so, what was your impression of the technology?
I just had one at Christmas actually! I haven't got time to play a lot yet but this is amazing. It's brilliant and we realize we're in 2017 already… Anything is possible, soon we'll be able to create touch, feelings, human avatars and who knows what else?! It started already with the iPhone 7 main button which is actually not a button whereas we have the impression to click on something. It's a bit disturbing, it's like diving in another world, feelings are different because all the senses are upside down. I think it's very exciting, I just hope the possibilities will stay "healthy" and that technology won't be used more than like a game.
Did you originally create the track with the vocals from Joe Cleere in mind?
Actually, this is how I usually work, starting from some toplines and vocals to create the production around. And for the first time, it didn't happen this way for 'Never Let You Go'. As I told you earlier, I got the melody quite instantly after a current daily life situation and at that time I was in the studio in Paris with a Dutch friend and songwriter also. So we went to the lab and created the song, I was singing on it first. I was supposed to be the vocalist on this one, I didn't even know if it was supposed to be for my own project or just composing for other artists. But I was convinced something was missing, a little bit of magic. My publisher introduced me to Joe Cleere, I fell in love with his voice. He's amazing and so nice! We really created a bound together. The first demo of his vocals he sent me on the song, I shed a tear. And I even kept this first demo for the final mix! He truly put the song on another level, I'm so glad to have him on my side for this song.
House Bless You is your monthly broadcast that always has some quality tunes in it. What is the track selection process like for these shows?
Thank you, it means a lot! I really take time to create a quality podcast, I look for all new releases on Beatport so it's always updated, I listened to many promos and demos I receive weekly; sometimes I do some exclusive vocal covers on some crushes I have. I build the radio show as a live DJ set. If you listen to it well, it's crescendo, I start easy with a smaller BPM and then move to 128, but never more.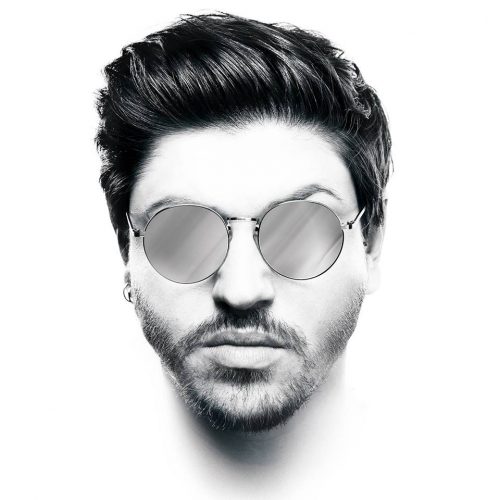 As a tastemaker, who are some artists that you're currently listening to?
I'm really into electro-house music that grooves. So I'm into Kryder, all Sosumi records, Dave Winnel, Tom Staar, Shapov … But as I also have a techno heart, I listen to a lot of techno artists like Laurent Garnier, Woralks, N'To… I listen to a lot of music every day so the choice would be very large!
Having played at venues all over the world, where has been your favorite venue that you have played so far?
Wow, quite hard to say… As clubs, I have my favorite places like Mad Club at home (Lausanne, Switzerland) or Illuzion (Phuket, Thailand), but as festivals I really enjoyed Summerfestival (Anvers, Belgium) which is quite the little sister of Tomorrowland, Tomorrowland of course, Electrobeach Festival in France, Sundance Festival in Switzerland, Francofolies in Belgium, Festival Village Springbreak in Spain, Palmesus Festival in Norway… And so many others who trusted the show I wanted to propose. By the way, thank you to all the promoters who support me by making me come in their venues and then allow me to share amazing things with great audiences. 🙂
You'll be returning as a coach on The Voice in Belgium next month! Is there something specific you listen for when deciding to select a contestant?
It's a great adventure, I met wonderful people there, and some gold nuggets I stay in touch with. During the Blind Auditions, as you can't see the contestants, you're really focused on technics and every little mistake is caught in the ear… But I always say that I forgive every bad breathing, stress or sour note when I get the emotion. When someone has a very special voice or a voice you can hear the cracks on, the path, the feelings… Then I push the red button! I can't wait to start the show, it's all about artistic sharing.
If you could travel back in time to the beginning of your career to tell yourself one piece of advice, what would it be?
Interesting question… As I always trusted my guts, it wouldn't be the usual "listen to your heart" but I would have certainly told myself to think twice before saying some things. As every young artist, I was impatient, crazy, full of tiring energy lol… That was a part of me, I accepted it. I'm still impatient but more wisely! *laughs* In terms of actions, I wouldn't change a thing. I have a long story, coming with good and less good things, but it made me who I am today, and I'm still gonna learn from what I'm doing now. I never look at the past, always focused on the future, not even enough on the present times. So I'm not sure that traveling back in time would be a good experience for me! *laughs*
Finally, what is in store for fans of MOSIMANN this year? Will you be making any stops in the US?
A lot of things! First I'm promoting "Never Let You Go" and remixes on each territory so meeting a lot of people. My remix for Robin Schulz & David Guetta on "Shed A Light" just came out so also working on promoting it. Of course, a lot of tour dates worldwide are coming and I hope so in the US, we're working on it! I have a special surprise for them (especially the French fans) this summer which I'm really excited about. Besides, I'm working hard on a mainstream (pop electronic) album for Warner Music and also on club tracks and remixes for other labels. I will keep developing my own electro-house label Change Your Mind records with more releases to come. Well, I'm very busy and therefore very lucky! 🙂
---
Connect with MOSIMANN on Social Media:
Website | Facebook | Twitter | Instagram | SoundCloud | YouTube