Middlelands is shaping up to be one of the most interesting festival experiences this season!
---
As fans are clamoring for more information about the inaugural edition of the festival, C3 Presents and Insomniac have given us some of what we've been asking for. Released last week, the inaugural edition of Middlelands now has its very own festival map, which mainly covers the layout of the entire venue and shows off how massive it truly is. Held at the Texas Renaissance Festival Fair Grounds on May 5-7, you can glance below at the expansive map and get a feel for just how large the camping areas at this event will be. This may lead some to purchase camping packages closer to the main entrances, but it is definitely nice to get a feel for the layout ahead of time. Also included on the map are the names of the stages areas and a general layout of what is in store for fans once they enter into another world.
Notable features seen on the map include Middlelands Arena, which is a converted jousting ring, and Trinity Vale which is set in the middle of the grounds and will feature shops and more alongside some great music. The Stronghold and Castle Northwoods are both set to the left of the festival, and a drawbridge must be crossed to gain entry into the Castle itself. Of course, if you're in VIP camping you can easily find a secret passage into the festival itself as well. Finally, the Wench's Bay is at an undisclosed, secret location inside the venue itself, so we are sure more is to come regarding the exclusiveness of that area.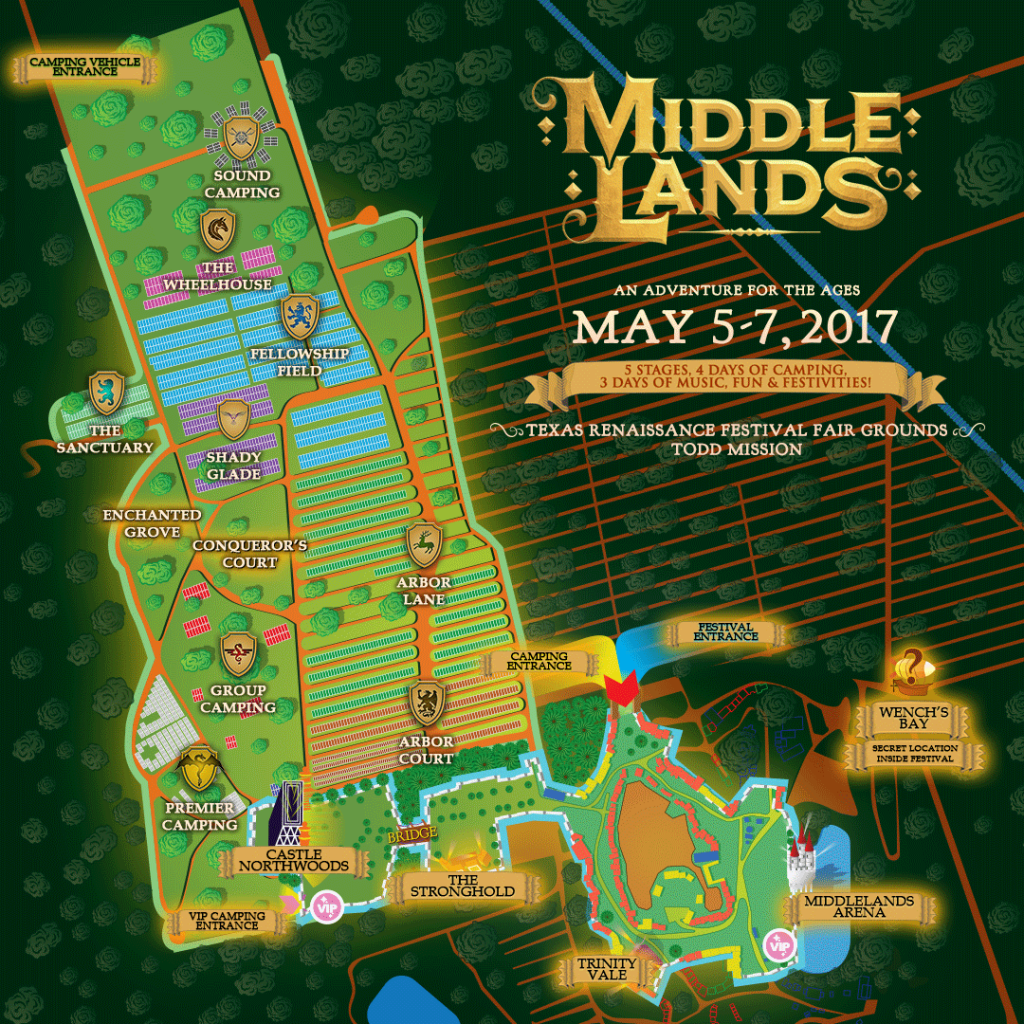 ---
But the news doesn't stop there! Single-day tickets are now available too!
Also announced was the addition of single-day tickets and a lineup by day as well, for those looking to only spend a short amount of time at the festival. Starting at $95 (+fees) for GA and $185 (+fees) for VIP, you can now pick and choose the days in which you decide to attend. Only want to catch your favorite artists? Now is your chance! Layaway plans will be available until March 31, so make sure you plan ahead!
Looking to grab those single-day tickets? Click HERE to access GA, and HERE to access VIP!
Middlelands 2017 Lineup By Day:
---
Get amped for the festival with the Middlelands 2017 Lineup Video:
---
Connect with Middlelands on Social Media: