My single self, plus House of Yes' Valentine's Day party, The Story of Red, what a match made in heaven!
---
A place with spunk, self-expression, and a bit of kink, what more could one ask for? House of Yes has always been known to do things a little, or way different I should say, and that's just what they did this Valentine's Day, with their, The Story of Red party, where dinner, live music, and even BDSM were all in one on this night full of love.
I'll be quite honest, I did not know what to expect when I arrived that Tuesday night, but from the moment I walked into House Of Yes until the moment I departed, I was completely shocked and satisfied.
Immediately when I walked through the doors, the ambiance was so different from anything I had previously experienced. Dimmed red lighting filled almost every room, going perfectly with their theme and of course Valentine's Day itself. There was the usual couch seating area to the left, all along the wall, filled with people mingling among one another, which later would be turned into a giant bedlike lounge area. To the right, I saw the bar, and I noticed something different about the people who were congregated near there. It was their attire. Hard to explain, but it seemed to be a mix between burlesque, dapper, and BDSM attire, which you don't see going on at the average nightclub. Immediately I wished I would have dressed up.
As I made my way to the main room, there were dinner tables set up, everything with very intricate designs to them, which made me realize just how much effort and thought was put into the night's festivities.
Live music was coming from the stage, a very seductive voice followed by live instruments, which included a harp that only heightened the erotic theme. One by one, we were all blindfolded and told that when we heard the bell, we could take the blindfold off of our face. At first, I didn't see the whole concept to it. But as the faint red colors and shadows pierced through the blindfold, combining itself with the live music, suddenly there was something so sensual and artistic about this method. I really appreciated it. The bell rang so the blindfold came off. In front of me, dangling from the ceiling was a human chandelier, as I would call it. This had to have been my favorite part of the entire experience. Topless dancers created this human chandelier as they maneuvered consistently through and around one another as the music played on. By far one of the most artistic acts I have seen at a venue thus far.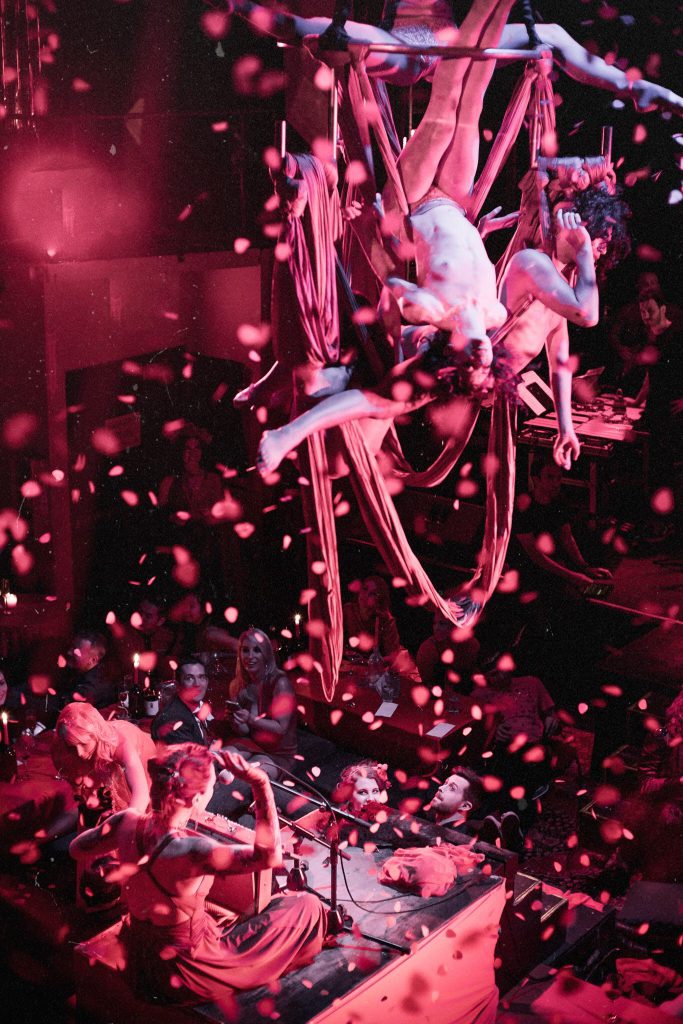 The dinner came to an end so immediately staff cleaned and transformed the once dinner decorated room into a dance floor in about ten minutes.
Resident house DJ, Playsuit, started spinning as some dancers hung from the ceiling while dancing and others caged danced. Now, I have to admit that house music is not my favorite genre, but that night I was loving it. It was so groovy and just very lively. I also think this had so much to do with the people surrounding me. House Of Yes in general, attracts and provides a jjudgmentfree zone. Everyone seemed to be who they wanted, wore what they wanted, and without judgment being passed. It created good vibes all around and made me not want to leave.
Without a doubt, I hope to attend more events House Of Yes holds, simply because they put so much effort into making the attendees feel catered to and at a place where they can express themselves effortlessly. I mean how many other venues can you say you went to with a separate BDSM kink space and rooftop jacuzzi?
---
Connect with House of Yes on Social Media:
Website | Facebook | Twitter | Instagram
Featured Photo Credit: Inna Shnayder (@Inna.Shnayder) for HouseofYes.org