House of Yes has done it again with an epic and wild Valentine's Day party, The Story of Red!
---
House of Yes certainly knows how to throw a great party. They are consistently bringing immersive, interactive and innovative elements to their Brooklyn venue and pushing the boundaries, redefining what nightlife could and should be. For Valentine's Day, they delivered The Story of Red, an erotic evening complete with dinner, champagne, cocktails, and a dance party with plenty activities to keep the crowd engaged and interested.
Around 10 PM, we stepped into the elaborately decorated main room which had a beautiful red tint. We found party goers dressed in fantastic red costumes and fetish wear. The crowd was so dolled up and well dressed for the evening that it was actually difficult to tell the difference between attendees and House of Yes employees, who are always dressed for the theme of the evening.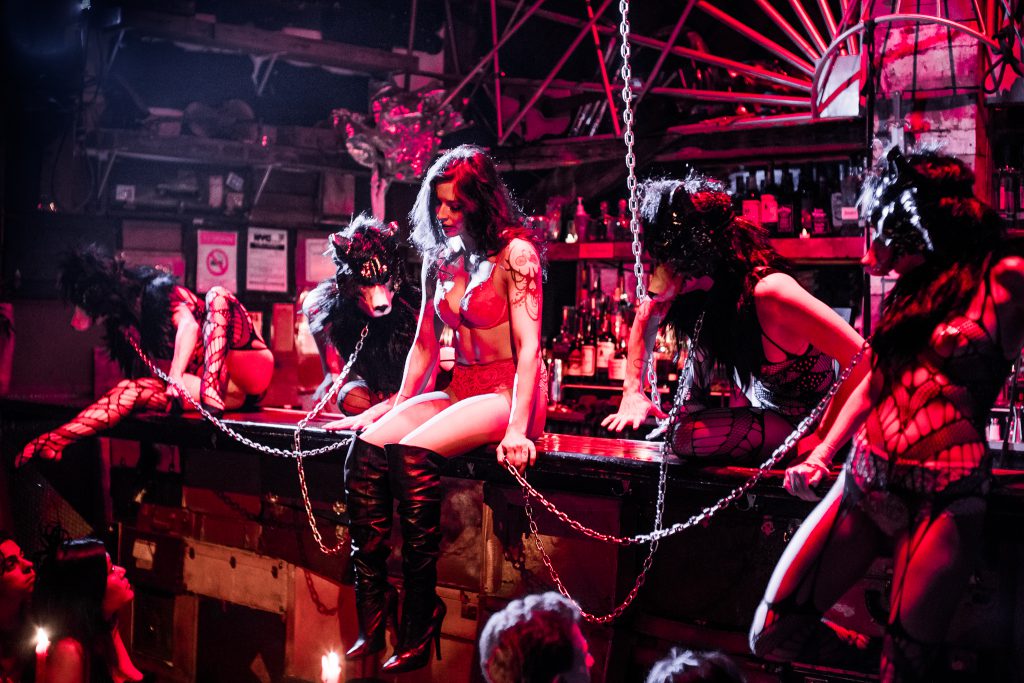 Adjacent to the bar, there was a section of comfortable looking couches placed next to a dancing pole, where couples were getting cozy together with champagne, and experienced pole dancers occasionally performed. The full bar served themed cocktails as well, cleverly dubbed "The Liquid Handcuffs" and "Sex on Fire". Hors d'oeuvres were served, and there was even a beauty parlor where attendees were getting dolled up by a makeup artist.
Inside the next room was a large performance space that often hosts DJs and sometimes even musicals, dancers suspended from the ceiling wowed us with aerial acrobatics to accompany house music from Playsuit. As one of House of Yes' regular DJs, Playsuit kept the funky deep house vibes going and I was impressed at her ability to keep the beats pumping throughout quite literally the entire night. Massages were available in the performance space, which also had another bar.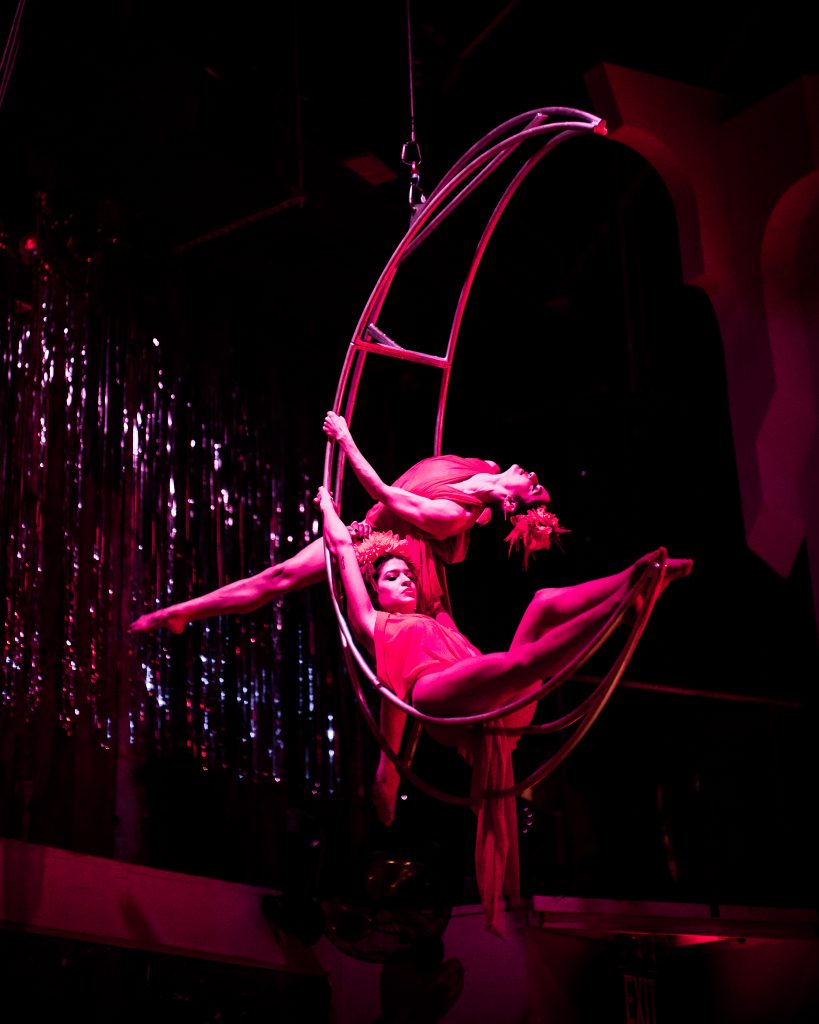 The outdoor patio area provided areas for guests to sit and chat, giving those attending The Story Of Red a nice break from the action. As if all these activities weren't enough to make one's head spin, there was an indoor BDSM kink space adjacent to the patio for individuals wishing to explore and partake too. Space was limited, but I was able to take a peek inside and it seemed like a welcoming and safe environment for those wishing to engage. There was even a rooftop hot tub!
Because it was a Tuesday night, House of Yes was not overcrowded. I've attended events House of Yes a number of times, and it is almost always a full house. It was quite nice to be able to move about quickly but had it been a weekend, I'm certain that the place would have been totally packed. The guests themselves, however, were nothing but kind and friendly. We were offered coats and scarves when we were outside, and many of the guests we spoke to had delightful things to say about the accepting nature of the venue, it's staff, and it's parties. House of Yes is for everyone.
---
Connect with House of Yes on Social Media: