House of Yes is hosting an immersive and sensual evening dinner and dance party for singles, couples, and everything in between this Valentine's Day!
---
House of Yes always seems to outdo themselves with every party or event they host. Alternative theater and Burning Man pre-parties, and 18th Century Victorian themed parties complete with free pastries and champagne are just a handful of events the EDM Identity team has had the pleasure of experiencing this year, and whether there is a specific reason to celebrate or not, House of Yes is always a good time. On Valentine's Day, they are bringing a rouge-themed, costumes mandatory dance party celebration to their Brooklyn venue, The Story Of Red. Express your creativity with couture in fabulous shades of red!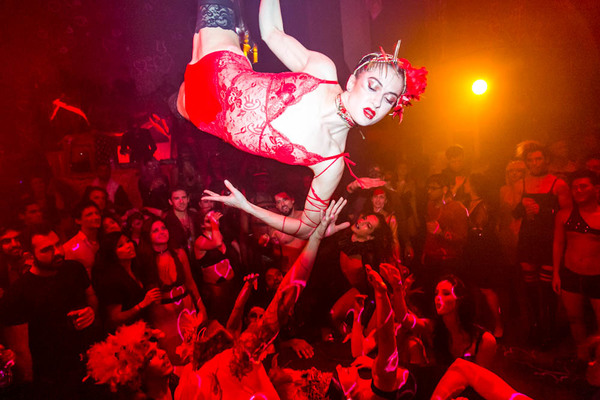 For those wishing to enjoy an evening with dinner and wine, champagne or cocktails with their loved one(s) or significant other(s) before the dance party begins, the Erotica, Passion and Love packages for the evening include a three course dinner with cocktail pairings and perks such as a personal escort for the evening, 15 minute massages, and so much more beginning at 7 PM. Those interested in the dance party can opt for the Dance and Seduction package, which includes entry to the dance party at 10 PM.
Here is a list of activities you can expect at The Story of Red!
Shadowbox of Pleasure: an installation space for those interested in anonymous exhibitionism
BDSM kink space
The infamous rooftop hot tub in action for onesomes, twosomes, threesomes and more!
Private heart openings: a one-on-one experience with an energy clearing love specialist witch
Tarot Sessions
Divination readings using relics and ruins
Massages
Aphrodisiacs
But of course, we can't forget about the amazing music to tie the evening together. The YES Ensemble will be complimenting choreographed aerial performances, and Dutch DJ Alex Cruz and groovy house DJ and House of Yes regular Playsuit will be bringing the beats all night long. With immersive performances and music, delicious food and hors d'oeuvres, and a plethora of seductive and sensual activities to keep party goers entertained and help you explore your wild side, this Valentine's Day event is absolutely worth checking out.
---
The Story Of Red – Ticket Package Information
Erotica Ticket: $300
Personalized fantasy fulfillment, customized for your personal deepest and darkest desires. Perfect for pleasure-seeking partners looking to explore their sensual natures and lustful connections. In addition, we will provide one bottle of premium champagne per couple for the evening as well as guestlist entry to 3 additional guests per person for the after dinner celebration and erotic dance party. Entry at 7 PM.
Passion Ticket: $225
Exclusive performances and intimate interactions, Aphrodisiac cocktail pairings with each course, personal escort and priority to experiences, Amuse Bouche offerings from the kitchen, specialty dessert, 15-minute massage, private fortune reading, in addition to everything included with the Love Ticket. Entry at 7 PM.
Love Ticket: $140
Initiation love potions and cocktails upon entrance, hors d'oeuvres, immersive performance, and interactive experiences, entry to the afterparty celebration, 3-course dinner, champagne and wine paired with the feast of red. Additional libations and specialty cocktails will be available for purchase. Entry at 7 PM.
Dance and Seduction Ticket: $40
Join us after the feast for a night of dancing, debauchery, and deeper sensuality. This is for lovers of life, partners in pleasure, sexy soloists and every human looking for the kind of night that changes your life, opens your heart and creates the connections you crave. Feel the heat on the dancefloor and explore the kink room, shadowbox of pleasure, intimate performance spaces and our pop-up strip club. Entry at 10 PM.
---
Valentine's Day: The Story of Red – Event Information:
Date: Tuesday, February 14, 2017
Ages: 21+
Hours: 7PM – 10PM for dinner; 10PM – 4AM for the dance party
Venue Address: House of Yes – 2 Wyckoff Ave, Brooklyn, New York
---
Consent is Sexy:
Always ask before making moves and getting intimate. House of Yes' dancefloor is a sacred space, let the ladies (and everyone) feel free to express themselves. Anyone who cannot follow House of Yes' simple rule will be escorted to the sidewalk.
---
About House of Yes:
House of Yes opened its third iteration in Bushwick at the beginning of 2016 to become a beacon of NYC nightlife after shuttering its doors too soon in East Williamsburg three years ago. Original partners Anya Sapozhnikova and Kae Burke, teamed up with Ilan Telmont and Justin Ahiyon to build out the best venue ever with a little help from their friends, seeding a Kickstarter campaign for $92,340 (original goal: $60,000).
House of Yes has been dubbed "NYC's coolest new nightclub" by USA Today and co-founders Anya Sapozhnikova and Kae Burke have recently been featured in Brooklyn's 30 Under 30 Mag for House of Yes' successful events and its unique contribution to New York City nightlife.
The space includes an art-deco restaurant parlor, a spectacularly decorated warehouse-sized performance space, a courtyard with kitschy repurposed decor, and a clandestine mini-club. House of Yes is now the home of circus spectacles, immersive cinema, burlesque and cabaret shows, aerial extravaganzas, nightlife parties, morning raves, brunch, BBQs, and bubble baths, all with superior sound and exemplary service. Each night is specially curated to create an immersive experience with music, theatrics, and performances to titillate the senses and expand your mind, unlike any other venue in Brooklyn right now.
---
Connect with House of Yes