Insomniac Events brings the heat with this epic lineup for their latest edition of Basscon: Wasteland!
---
Hard dance enthusiasts rejoice, Insomniac's Basscon brand is back with another massive edition of Wasteland! The 3rd edition of Basscon: Wasteland will be heading to the NOS Events Center and held inside the beloved Damus Building, giving shufflers plenty of space to get their groove on. Slated for April 28th and 29th, this two-night hard dance spectacular is going to be one not to miss. THIRTY artists were announced on the lineup, which features notable names like Zatox, Da Tweekaz, and Wildstylez. Also included in the lineup are the US debuts of Toneshifterz and Miss K8, giving fans their first look at these acts that have made a name for themselves in the hard dance community too.
After selling out to a crowd of over 6,000 last year, and having stage takeovers at EDC in Las Vegas and Mexico, as well as at Nocturnal Wonderland, it is clear that the hard dance movement is coming at us full force. This year's theme is going towards an Egyptian style, and we are sure that the creative team at Insomniac will be wowing fans once again with a unique stage design.
Presale tickets are now available HERE and the general sale will begin Monday, February 6 at Noon PT!
"Insomniac and its community are filled with people who love all forms of music, and it's important for us to create experiences where fans can come together and celebrate the music that they're passionate about, Hardstyle has legions of fans worldwide, but here in America the sound was being underserved. Basscon was created to support the movement and its loyal fan base."
---
Basscon: Wasteland 2017 Lineup: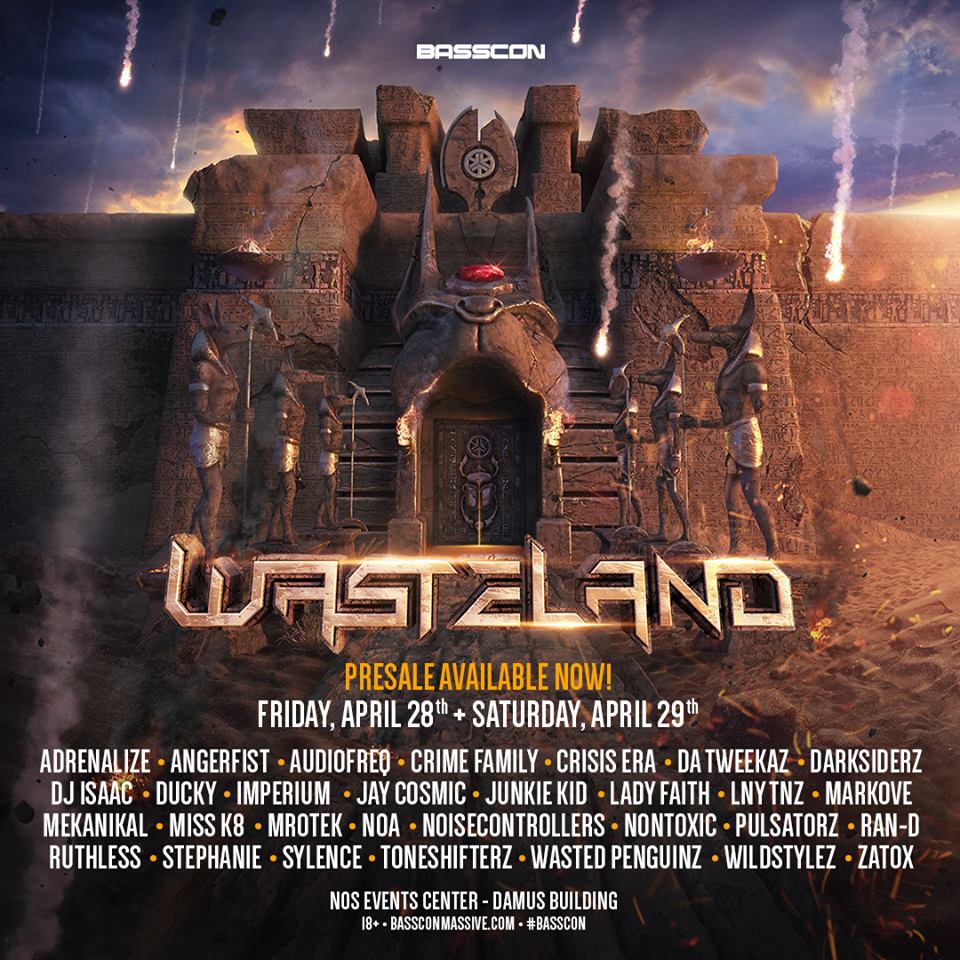 ---
Basscon: Wasteland 2017 Lineup By Artist:
Adrenalize
Angerfist
Audiofreq
Crime Family
Crisis Era
DJ Isaac
Da Tweekaz
Darksiderz
Ducky
Imperium
Jay Cosmic
Junkie Kid
LNY TNZ
Lady Faith
Markove
Mekanikal
Miss K8
Mrotek
NOA
Noisecontrollers
NonToxic
Pulsatorz
Ran-D
Ruthless
Stephanie
Sylence
Toneshifterz
Wasted Penguinz
Wildstylez
Zatox
---
Get to know the artists on the lineup with this sweet playlist!
---
Connect with Basscon online:
Website | Facebook | Twitter | Instagram
Featured Photo Credit: Skyler Greene for Insomniac