The Moonlight Oasis is making a reappearance this year at Okeechobee, bringing the Yogachobee experience back with it.
---
The Okeechobee Music and Arts Festival will once again feature a cultural epicenter for 4 days of exploration, relaxation, growth, enjoyment, and connection. The Yogachobee Area within the grounds will provide consistent daily programming. It is an umbrella of awareness practices consisting of three main areas: the Healing Sanctuary, Yogachobee "proper" and the newest addition, Earth Arts Academy.
Complete ticketing details and payment plans can be accessed by clicking here!
YogachoBeing's will have a variety of options throughout the and even into the night
Yogachobee is the original home to the Yoga and Movement workshops. There will be a range of class including Power and Acro Yoga, meditative sessions that will dive into the water of our internal systems, relationships, astral travel, sensory deprivation, and more. Additionally, this year several classes will feature live DJs and bands that will enhance the music festival experience, including an Ecstatic Dance featuring a live set by Momentology.
Festivals are new, constantly evolving, worlds of their own. People at festivals tend to come with their hearts and minds a little more open than they would in their day-to-day, and there is a wild chance for growth and change. The Healing Sanctuary is donation-based with this in mind. It is here to invite everyone into the ongoing healing process and to offer up the possibility for total renewal.

– Brooke Rosen, Director of Programming at Yogachobee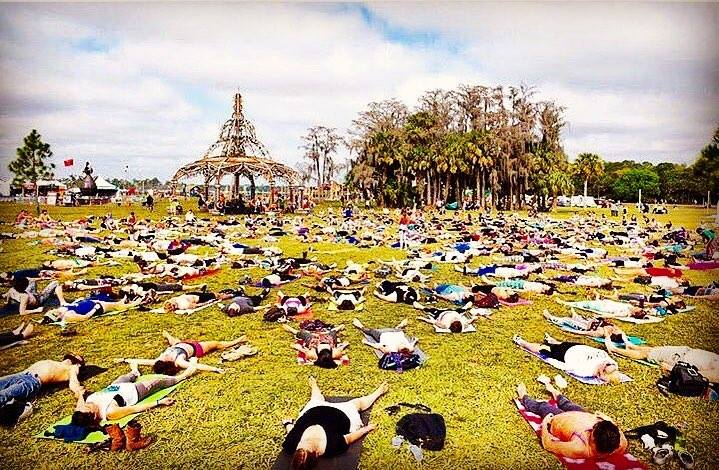 A sacred space: the Healing Sanctuary
Each day the Healing Sanctuary will be offering daily morning meditations, all-day Thai Massage, Neuromuscular and Connective Tissue Therapy, and Biodynamic Cranial touch, followed by a shamanic or healing arts workshop. After the main stages have closed the Healing Sanctuary will reopen with Sound Healing and Thai Yoga. It will be a healing space of stillness and deeply present calm amidst the flourishing arts all around.
Many secrets are being revealed. Awakening to the interconnectedness of the cosmos, the year 2017 presents itself with the theme of unification. With that in mind, at Yogachobee we acknowledge the light and darkness as meaningful energies for evolution and celebrate through what I like to call, 'Divine Play'. Join us in transformative 'Divine Play', learn and be inspired through the transmission of amazing Yoga teachers and presenters who will be sharing their gifts and wisdom to all of us at the Okeechobee Festival. Join us as we come together with the focused intention to facilitate healing from our fragmented culture by consolidating community. Join us to see that we are what we've been waiting for.

– Joaquin Antonio, Yogachobee Co-Curator
Understanding our relationship to the Earth and the elements
The Earth Arts Academy will be an experiential workshop over the course of three days where each session will build upon the others. If a person takes all three sessions from the same teacher they will have a much deeper understanding of the topic.  The classes will touch upon subjects ranging from Urban Super Herbs and Elemental Herbalism to Permaculture and International Music Improv and what it means to be human in this time on Earth. Each night a Sacred Fire ceremony will occur at sunset and will feature live medicine music and drums into the late night.
Earth Arts Academy is our home of learning from the ground up. This newly implemented area is a diverse hub of sacred, holistic knowledge – an area where you can be sure to relax from the rest of the festival, get your hands involved & mind stimulated. With our beautiful team of healers, speakers and teachers, you will be able to cultivate newfound skills and gain practices to possibly enhance your everyday lifestyle, the natural way.

– Samantha Benowitz, Lead Curator
---
About Okeechobee Music and Arts Festival
Okeechobee Music & Arts Festival, is a diverse, multi-genre event celebrating the start of spring with world renowned and on the rise performers, art installations to inspire with awe, yoga and meditation to cleanse the soul, great food, and friends new and old to enjoy it all with. The second annual edition of North America's most exciting new festival will take place from Thursday, March 2nd through Sunday, March 5th at Okeechobee, Florida's beautiful Sunshine Grove, located on over 600 acres of pristine grasslands, clear lakes, and exotic tropical woodlands. Artists performing at the 2017 festival include Kings of Leon, Usher & The Roots, Bassnectar, Sturgill Simpson, The Lumineers, Flume, Wiz Khalifa, Pretty Lights, Solange, Logic, Rae Sremmurd, Young The Giant, Porter Robinson (Live), Anderson .Paak & The Free Nationals, and many more.
---
Connect with Okeechobee Music & Arts Festival:
Website | Instagram | Twitter | Facebook | SoundCloud | YouTube