Gem and Jam Festival 2017 Set Times, Festival Map, & More!
---
For the 11th time, Gem and Jam Festival will be occurring this weekend at the Pima Country Fairgrounds in Tuscon, Arizona and we can't wait! The lineup features 50+ artists that will have us jamming into the wee hours of the morning. Additionally, there will be experiential art installations, workshops, gem and mineral vendors just to name a few. Are you ready to get down and funky with some groovy vibes? Be sure to look out for us this weekend!
Gem and Jame Festival 2017 Essential Info:
Dates: Thursday, February 2nd, 2017 – Sunday, February 5th, 2017
Show times: Thursday 4pm – 1am, Friday-Sunday 9am – 4am
Venue Address: Pima County Fairgrounds – 11300 S Houghton Rd, Tucson, Arizona
Ages: All Ages
---
Gem and Jam Festival 2017 Set Times: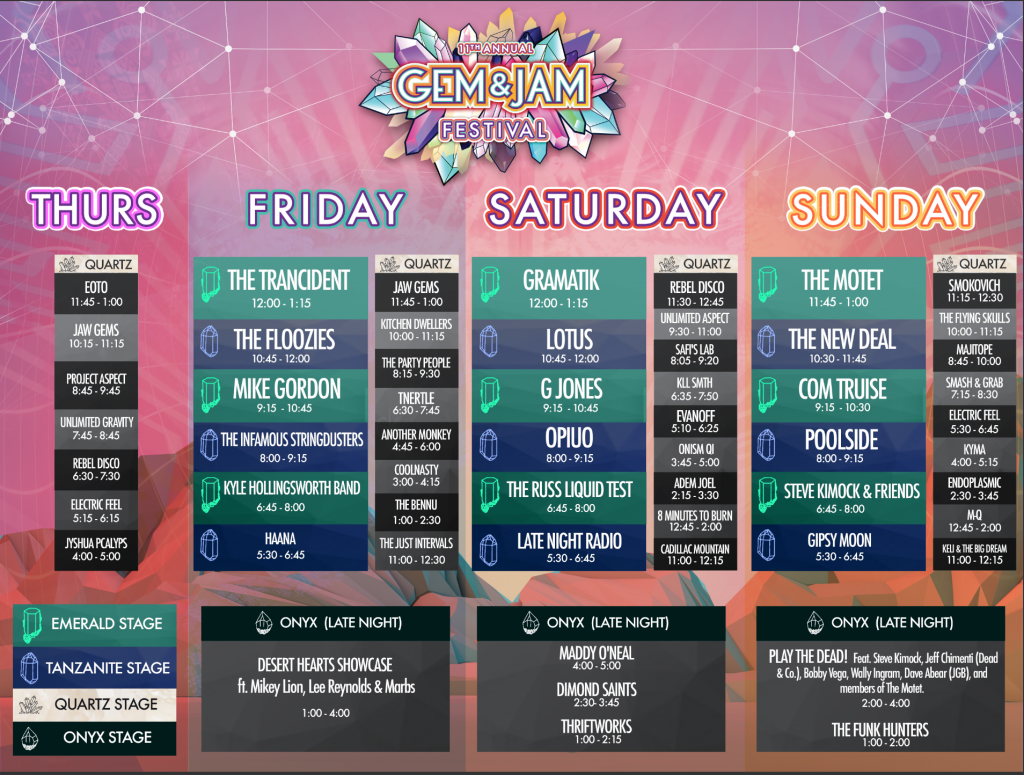 ---
Gem and Jam Festival 2017 and Parking Maps & Weather
There is parking available at the venue in case you're not camping, but be sure to bring cash as it will cost you. The weekend weather looks extremely cooperative for this rain or shine event. Mid 70's all weekend with some cloud coverage and 0% precipitation should keep us in a fairly comfortable clothes all weekend.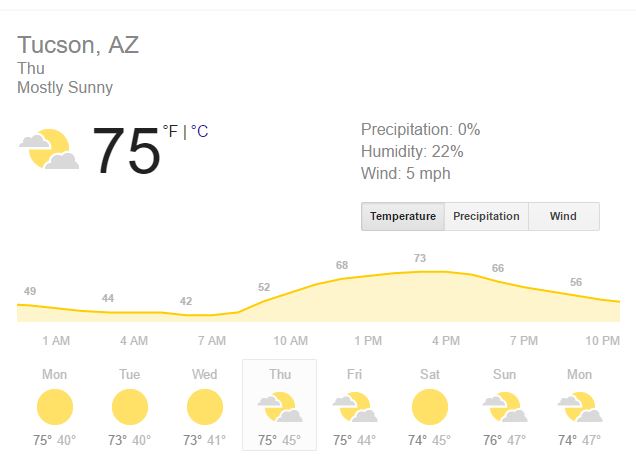 ---
Reminder To Mind Your Belongings
Unfortunately, many people have reported pickpockets, bag slashings, and theft of wallets, smartphones, purses and other valuables during this festival season. While this small number of bad apples in the bunch doesn't define an entire crowd, there are opportunistic people who come to these events to take advantage of unsuspecting party goers and it's important to be mindful of your valuables while at Gem and Jam Festival.
Pay attention to who's around you and what's going on around you. Keep your wallet and phone in your front pocket(s) if you can. Treat your phone the same way you would treat cash; don't set it down on a table or bar and look away. If a friend isn't standing behind you in a crowd, be careful of your backpack or purse, and don't put valuables in a pocket that could easily be unzipped by someone behind in a crowded spot without you realizing.
Festivals, in general, are a very densely populated place and are a well-known place where pick-pocketing of unsuspecting people occurs. It's easy to find yourself in a crowded environment in a line, at a stage in the festival, elevator, or even out on the street where someone could slip your wallet or phone our of your pocket or bag in a matter of seconds. Stay alert, be careful, and make sure to not carry more than what you need!
---
Gem and Jam Festival 2017 Do's & Don'ts
NO OUTSIDE FOOD OR BEVERAGES
NO COOLERS OR ICE CHESTS
NO WATER BACKPACKS OR CAMELPACKS,
NO CHAIRS
NO VIDEO OR PROFESSIONAL PHOTOGRAPHY EQUIPMENT
NO AUDIO RECORDINGS
NO UMBRELLAS OR TENTS
NO SQUIRT OR WATER GUNS
NO SKATES, SKATEBOARDS OR BIKES
NO STICKS, BATS, OR CLUBS
NO MUSICAL INSTRUMENTS
NO DRUGS OR DRUG PARAPHERNALIA
NO REFUNDS OR EXCHANGES:  RAIN OR SHINE
---
Connect with Gem and Jam Festival on Social Media: