Plastik Funk Talks Groove Cruise Miami, Armada Music, & More!
---
With long careers in the electronic music scene, Plastik Funk has definitely made their mark on the house music community. Known best for their "Bliss House" sound, this upbeat duo always brings some amazing vibes with them wherever they go! First meeting all the way back in 2002, Rafael Ximenez and Mikio Gruschinske realized their passion for electronic music and taste in music fit together leading to the collaborative effort now known as Plastik Funk. Playing in multiple countries and outstanding venues around the globe, their career has been dotted with success after success. They've worked with countless artists and received support from many others while working their way through the scene. Get to know this duo from Düsseldorf in our featured interview today!
---
You're playing Groove Cruise Miami this month! What are you most excited about for this festival?
I heard so much about Groove Cruise and can't wait to combine Djing and my first cruise ever next week. Most excited I'm about the fact that all the guys of our US agency and a lot of DJ friends will be on board. So it will be some kind of a family party. I know there are some real party animals with us, so I'm expecting to get not that much sleep 🙂
Coming from Düsseldorf, Germany, how do you feel the electronic music scene there compares to other cities?
I love my city and 3-4 years ago it was one of the party capitals in Germany. Don't get me wrong, I still love my city, but it's pretty dead at the moment. We don't have clubs or big events going on. There is just one club which is amazing and one of my favorites in Germany, it's called 102 and a REAL club. I think we have a good scene in Germany, but we had better times. It will be ok in 2017 I hope.
Playing shows all over the world, where has been your favorite venue to spin at?
It's difficult to pick one party or venue. It's been so many amazing shows last year. Some of my favorites are Neuraum Club Munich, Privilege Ibiza, Mixx Club Pattaya (Thailand), Fclub Singapore, 102 Düsseldorf, Noa Club Croatia and there were so many festivals last year… one of my favorites is definitely the Holi Gaudy festival tour through Germany. It's such a crazy event!
If you could go back in time and replay one show over again, where would it be and why?
There were special moments in our career which changed things a lot. I would say the gig at Tomorrowland, the show we played for and with Avicii at Ushuaia ibiza were very important milestones in our career and I would love to do it again.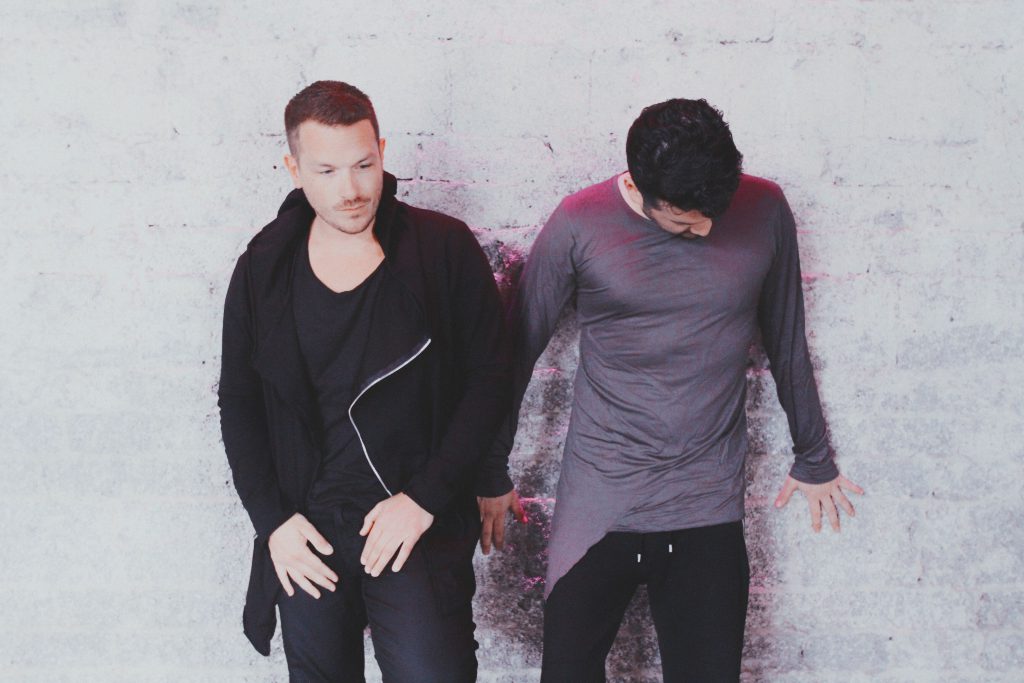 Bliss House is a great way of describing your upbeat sound. Is there a story behind how that term came to life?
Some time ago, we were looking for a genre name for our music. Every time, somebody comes up and asks, what that sound is called that we are playing, we were just trying to explain with existing music styles like: "It's a happy future house" kinda thing…and never really got to it. So we decided we needed a name. BLISS sounded great to us, as it perfectly explains what the sound stands for: "Happiness, euphoria, paradise, heaven, rapture, joy.
What has it been like working with Armada on many of your releases recently?
Armada is such a big company, super professional and the perfect way to bring our music to the world. On the other side, Armada makes you feel like being a part of a music family, working together on your music. We started working together beginning of 2016 and it's been a great year!Your recent release "Sunrise" features vocals from Katt Rose. Was the track built around her vocals or did you guys have the beat in mind first?
Your recent release "Sunrise" features vocals from Katt Rose. Was the track built around her vocals or did you guys have the beat in mind first?
The track was built around the vocals. We received the vocals from our a&r manager of the armada office and were so crazy about it that we went to the studio the same day and fixed 70% of the track in some hours. Her voice is so unique, it's 100% bliss house feeling and was the perfect final of a great 2016!
With careers spanning over two decades, what has been your favorite change the scene has made over the years?
I think the biggest change we had in the scenes was the move to digital music. I'm missing the vinyl sometimes because every vinyl (every track) was so special. On the other side, the change to digital music made it easier to prepare special edits, remixes, it definitely brought Djing to a different level. I can't imagine a DJ set without the loop functions on CD players anymore to give an example. Also playing acapellas and doing all kinds of creative djing got easier and brought so many new possibilities to rock a crowd. Traveling also got easier…. back in the days traveling with 3 cases of vinyl was a tough one. 🙂
Is there anything that you miss about a different era of electronic music?
It's difficult to say I miss something because every new era has good and bad sides. But sometimes I would love to have a scene without social media and without fake hype around music. Sometimes it would be better to let the music speak like it was back in the days. Nowadays you see tracks in the charts and you don't know if they are hyped or if people really love it.
What have been your proudest moments as artists?
I think every time you hear your music played on the radio or played by other respected djs, it's a proud moment! Also when we saw all the feedback from our fans after we announced the Tomorrowland gig, that was just crazy and we were super proud as well.
With the new year comes new shows and releases, is there anything on the horizon that you can share with fans?
I'm super happy to say that it looks like we will play even more shows in 2017 (and 2016 was already unbelievable). Tours to the USA, Brasil, Asia, Mexico and all over Europe plus summer residencies in Ibiza are already confirmed. So I just can't wait to play all these amazing stages. Already 2-3 tracks are in the pipeline with our armada team. And last but not least we are releasing our fist "house of bliss" compilation with armada in February to teach people more about Blisshouse. It's the start of a compilation series, super excited about it!
---
Connect with Plastik Funk:
Facebook | Twitter | Instagram | SoundCloud