Nicole Moudaber took over Factory 93 on a rainy night full of great beats and unreal vibes!
---
Well overdue for a night of quality music, I was excited to return to Insomniac's Warehouse in Downtown Los Angeles for the latest edition of Factory 93. Driving up early to grab a bite to eat prior to the show, my car was bumping Night Owl Radio during the trip North from San Diego. In fact, while clocking in at nearly two hours every episode, Night Owl Radio has become a standard soundtrack of mine while heading to Los Angeles or San Bernardino for an event or festival. Pasquale guided us through his show as we made our attempt to miss traffic, and quicker than I thought we had arrived in the city of angels. Grabbing a quick bite to eat at Grand Central Market, we met up with friends at Iron Triangle Brewing to grab some beers and then headed over to the Factory 93 Warehouse to get down to some beats.
After months of being cooped up in my house, it was time for me to let the music take control of my evening. Outside of a few events earlier in the month, I had been constantly working and doing my best to spend time with family and friends. Now it was up to Nicole Moudaber to really set the MOOD and teleport me to electronic bliss. The rain hadn't quite picked up yet as we arrived at the venue. Parking in the secured lot was $15, which seemed to be standard for anywhere in Downtown LA that was close to any venue. I chugged an energy drink as I headed to the line around 10pm, knowing that ahead of me was six hours of music to dance to all night. Security was quick and I was in, having a flashback to the first event that I attended back in May of last year.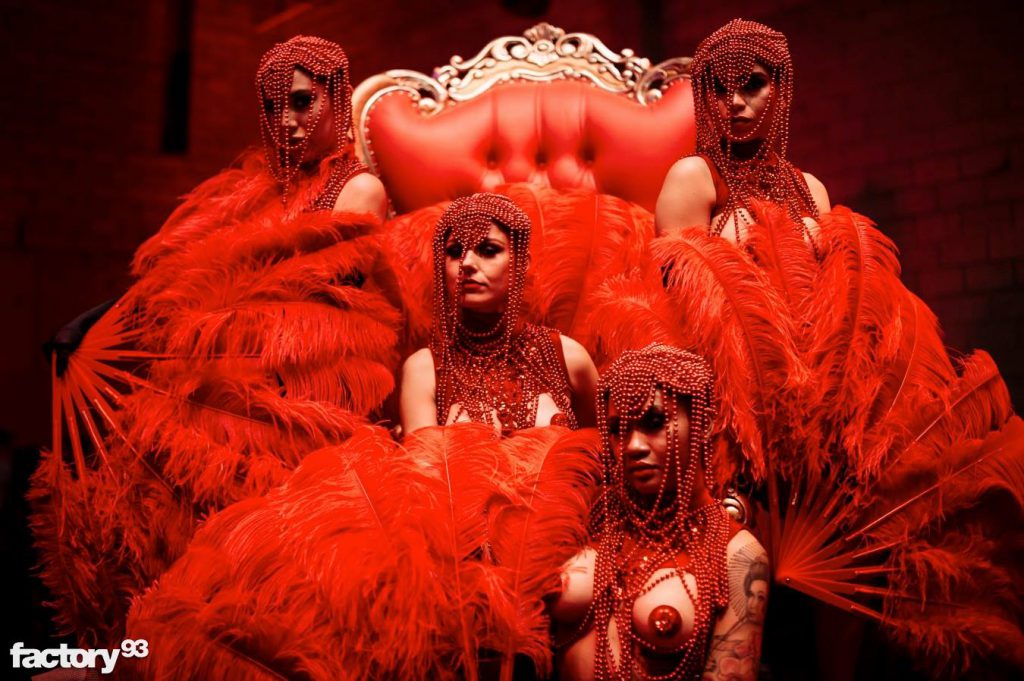 There really isn't much you can do to alter the venue for Factory 93, yet Insomniac still improved on the layout.
Factory 93 is exactly what its supposed to be, back to the basics, just a two-room warehouse with an outside area to get some fresh air. Entering the second room, where the stage was, I noticed that the direction had shifted to allow for a larger dance floor area. That was definitely a great change that they made, which apparently had happened at a previous edition in December. Instead of jostling with the crowd, we were able to quickly exit to the outside area, which was dotted with heat lamps to hang out under. We chatted with friends, both new and old, as we listened to the beats while waiting for the woman of the hour to take the stage for her four-hour set!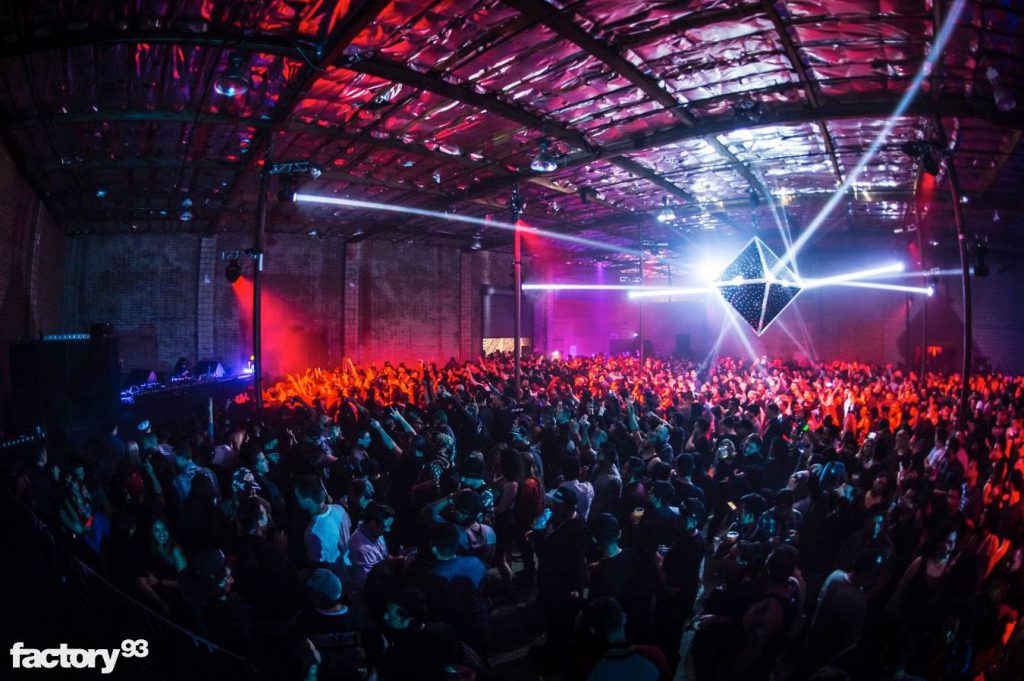 Quick Rant: This is something that I noticed, and honestly is my only issue with the entire event. I get that drinks can be priced at $15 in Los Angeles, I regularly will pay that at events too, so this isn't the problem although I do wish they were a bit more reasonable. What really blew me away was the cost of the food inside the venue. I was happy to see the additional option outside of the grilled cheese truck that was there last time I attended, but my god the prices were a bit steep. I understand that people have to make money, but come on. The cheapest grilled cheese I saw was $12, so I settled for the three street tacos that clocked in at $9 because I was pretty hungry. But seriously, I wish these vendors wouldn't murder us on pricing. This even seemed even more expensive than regular festival pricing for similar things, and as someone who actually enjoys eating at events it turned me off entirely. Charge less and I'll probably end up buying more over the night…instead I just completely dropped the idea of returning after finishing my first order.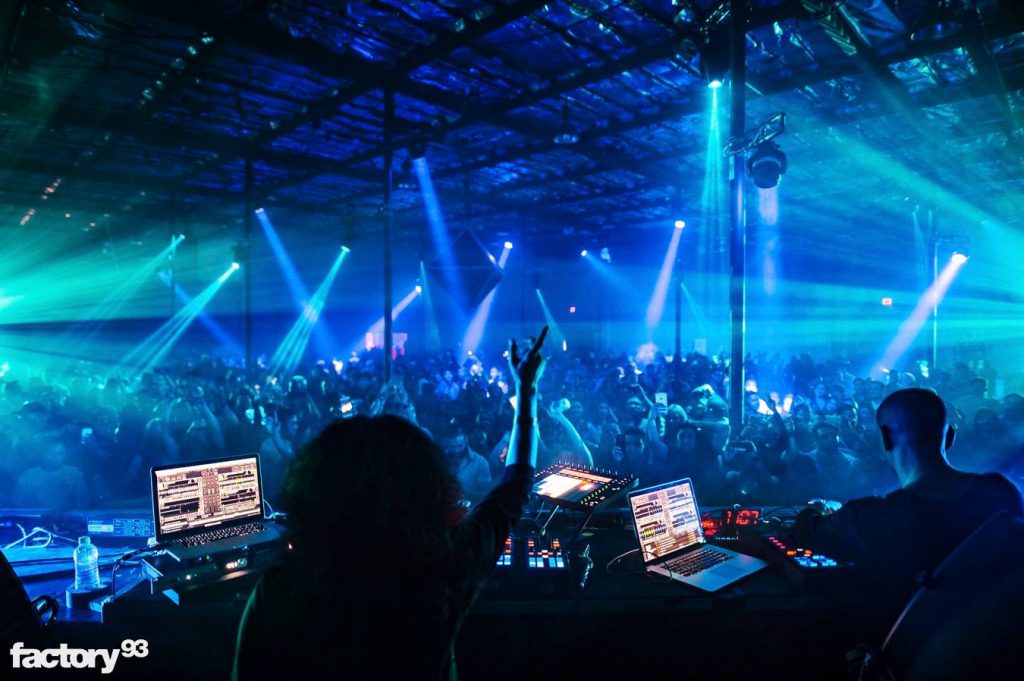 Anyways, back to the good stuff.
The dance floor was really going strong, and I seriously appreciated the lights and lasers inside the venue. The diamond-shaped disco ball dangled above a crowd full of eager electronic music lovers, all of which were grooving in their own way. The flow from outside to inside moved like the tides, as the outdoor area would fill up with people only to have them rush back inside after the rain began to pick up. The rain actually pushed people back onto the dance floor, and without hesitation, many of them began to just dance their hearts out. Whether it was Victor Calderone, Raíz, or Nicole Moudaber on stage, there was nothing but flawless music being pumped out of the speakers throughout the night.
What really made Factory 93 stand out to me was the vibes that went with the great beats.
A few hours into Nicole's set, the mood had definitely overtaken the venue and I didn't see a single person who was in an unhappy state. Legs tired, I looked for a place to sit down for a moment, remembering that the first room had a chillout area. Something that I've noticed about the smaller, genre-specific events that Insomniac has been throwing lately is that the vibes have been totally unreal. As someone who has only been following their shows since 2011, I had lost hope for a while about finding genuine people at events, but just as I experienced last May this was definitely the right place to be. In the chillout area, people were mixing and mingling with each other, and meeting new friends too. I spent time hanging out with some friends and relaxing a bit as well on the seating provided, getting to know new people while reconnecting with friends I haven't seen in a while.
I think that may have been one of my favorite portions of the evening, aside from the music of course. The social aspect of events is something that really drew me to the rave scene to begin with, so it's great to see Factory 93 bringing that back into play. It was close to ending and the inevitable drive back to San Diego would begin shortly, yet nights like these are the reason that I willingly take these trips. See you all at the next edition in April, it's sure shaping up to be yet another unforgettable evening!
---
Connect with Factory 93 on Social Media:
Website | Facebook | Twitter | Instagram
Featured Photo Credit: Insomniac Events